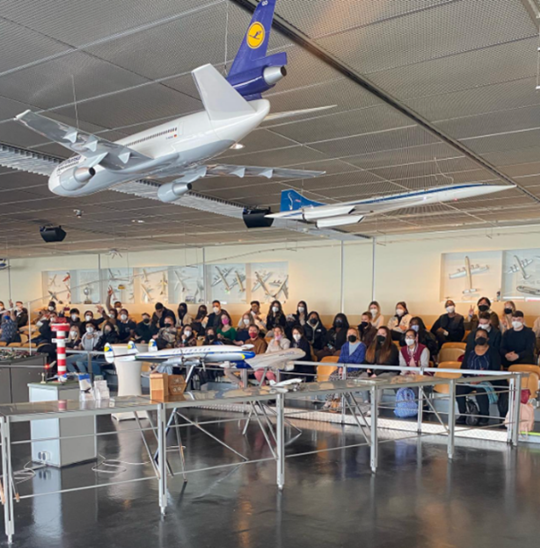 Welcome to our Department of Hospitality and Tourism
Thank you for taking the time to come and check out what we offer at University College Birmingham, the highest ranking university in the region as voted by students at the 2023 Whatuni Student Choice Awards. Our student support is award-winning too, as is our provision for international students.
If you are looking at joining us to carve out a career in hospitality, tourism, events or aviation, here is a glimpse into our student and staff community - with insight into the placements and enrichment we offer - to see if we are the right choice for you.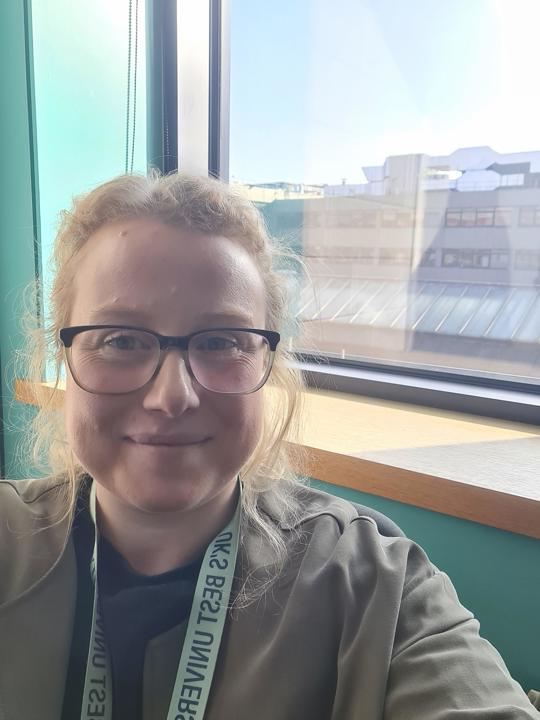 Welcome from Kathryn
If you are considering joining us, great news! Hospitality, tourism, aviation and events are all really exciting industries and demand for skilled managers and leaders in these areas has never been so great. There's so much to look forward to on our courses with exciting industry visits, live projects and placements in fantastic locations in the UK and overseas, along with award-winning support.
Our lecturers are all industry experts and bring the classroom to life with their experiences and excellent industry links. Our graduates include head sommeliers, hotel and airport managers, stadium conference managers, financial controllers and small business entrepreneurs, and have worked for companies including Visit Britain, British Airways, Hotel du Vin, The Ritz, Virgin and more. Many have become regional and managing directors – the opportunities are endless!
*Kathryn worked in the tourism and aviation sectors in a range of roles, including product management, digital and social media marketing and B2B/trade relations, before starting her career in education.

"This really is a university where you will not only receive a high quality teaching and learning experience, but support at the very highest level. We pride ourselves on our industry connections to give you the best opportunities to gain the graduate advantage."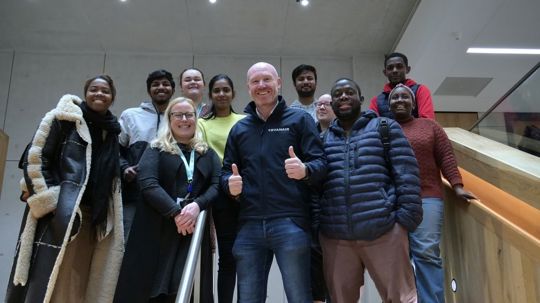 Visits from the experts
Our travel and tourism students buckled up for an informative talk from the Head of Talent at Ryanair, Mark Duffy. Mark's talk provided an insight into graduate outcomes and what would be expected from students when looking to develop their careers in the industry. Scroll for more >>>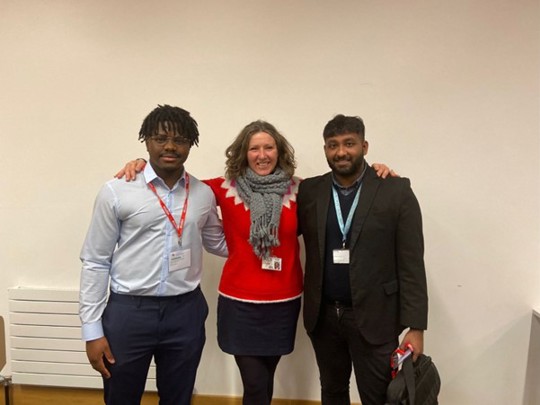 Visits from the experts (cont'd)
We also had a riveting guest talk from two of our Aviation and Airport Management graduates, Maadesh Raveendran and Terencio Afonso Fonseca Silva, who now work in management for TUI airlines. Scroll for more >>>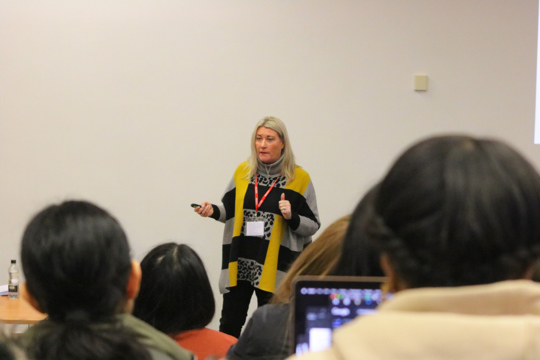 Visits from the experts (cont'd)
As part of growing links with Merlin Entertainments, we welcomed Dominique Sidley, Global Trade Strategy Director, to talk to our tourism, hospitality, events and business students about careers and placements, as well as discussing the firm's commitment to diversity, equality and inclusion in recruitment.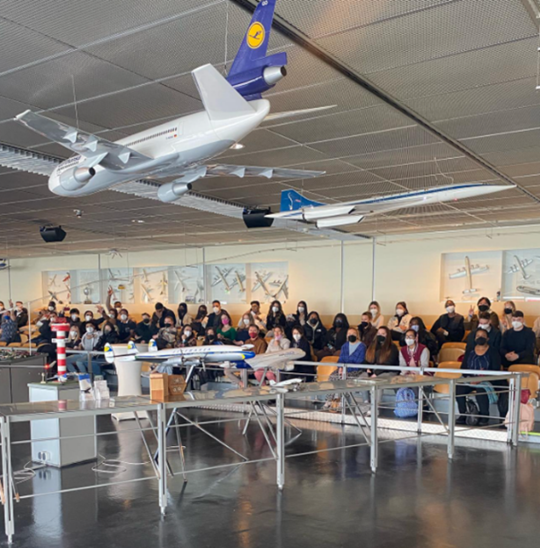 Aviation and tourism highlights
In recent years, aviation students have had an Airbus factory tour in Hamburg, reviewed aircraft handling at New Istanbul Airport and visited Turkish Airlines for a conference on the airline and its Aviation Academy. Scroll for more >>>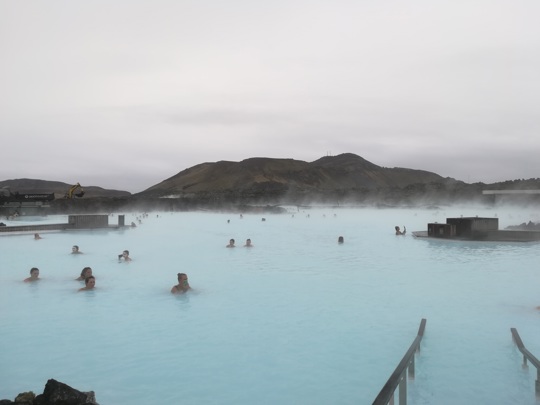 Aviation and tourism highlights (cont'd)
Our final year undergraduates visited Iceland and experienced the Blue Lagoon and tour of the Golden Circle tourist attraction. Second year tourism students spent four days in Palma, Mallorca, visiting a major hotel and the famous Coves del Drach and Macia Batle winery. Scroll for more >>>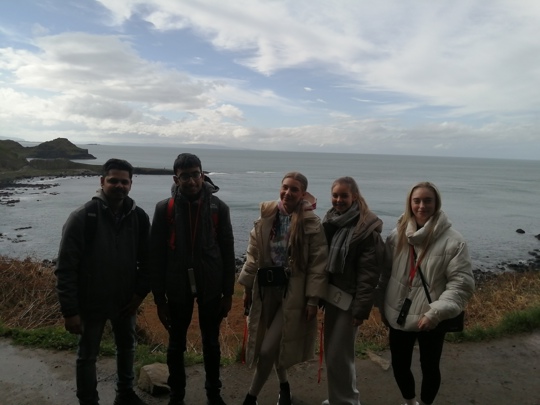 Aviation and tourism highlights (cont'd)
In spring 2023, our tourism students got to visit the Titanic Museum and incredible Giant's Causeway in Belfast, Northern Ireland.


Events and hospitality highlights
Final year students went to Budapest, Hungary, visiting a top spa hotel, a Hungarian folklore experience and Gellert Spa, as well as enjoying a cruise along the River Danube. Second years travelled to the city of York, visiting York Racecourse, Castle Museum and the National Railway Museum. Scroll for more >>>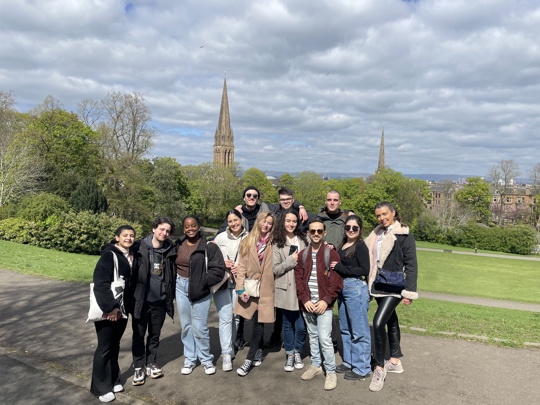 Events and hospitality highlights (cont'd)
Hospitality students visited Edinburgh, including Edinburgh Castle, a half-day guided tour and the Scotch Whisky Experience, as well as a food tour in Glasgow. In Barcelona, students enjoyed a guided city bus tour, visited Montserrat caves and Freixenet Cava house and cellars (with tasting) and Palacio del Flamenco.
Beyond the classroom

At University College Birmingham, we offer education and training that goes far beyond everyday classes and lectures. We are committed to providing additional enrichment opportunities for our students, from industry trips and expert visits to linkups with local charities, entry into competitions and much more.
Scroll through the slides to find out more about what's been going on recently in our department: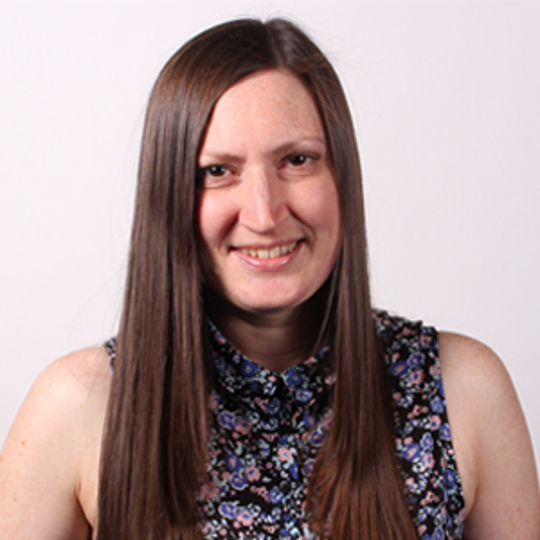 Meet Nicky Millard
We're really proud of our links and partnerships with employers and alumni. At the heart of what we do is preparing you for a graduate career in your industry. Our industry partners regularly visit to speak to students, set projects and provide job graduate employment opportunities.
We're also really proud of the outstanding support we've been recognised as providing for students while on their journey with us. It gives us great pleasure to pass on our skills to the next generation and your future starts here. We are ready to kick-start your career and we look forward to seeing you soon!
*Nicky gained her degree with us before launching a career in hotel business management in the USA and the UK before moving into HR and lecturing


Our teaching and learning
Whether you want to manage a hotel, plan marketing for a tourism destination, plan new flight routes or manage world-class events, our aim is simple - to support you on the journey. We have an award-winning reputation for a learning experience that sets us apart from bigger universities.
Our degrees are designed to develop you personally and professionally, with graduate advantage, employability and enrichment sessions threaded throughout the curriculum, sitting alongside really interesting theory modules. Our partnership with the University of Warwick, a top-ranking Russell Group university, also brings extra opportunities including access to guest speakers and additional resources.
Our courses are developed and taught by experienced lecturing staff with diverse backgrounds working in various industries. Lecturers can draw on their industry expertise and years of experience to make scenario-based discussions, debates and concepts come to life, supporting the linking of theory to practice within the context of global trends and challenges.
You will learn so much from our lecturing teams, who are passionate about their profession and eager to inspire and nurture the next generation of hospitality and tourism professionals.
This is enriched by an international body of guest lecturers who share their knowledge and experiences to inspire you and enhance your learning. Students also have a lot to bring and as a team, we will also learn a lot from you! We encourage you to share your perspectives and viewpoints, especially when reflecting on your own life and placement experiences.
Industry live projects feature in many modules and this provides students with a hands-on opportunity to work with an industry client to propose solutions to a current issue or challenge. Examples of past live projects have included the planning and management of live charity events, sustainable airport practices at Birmingham Airport and Commonwealth Games legacy planning with the West Midlands Growth Company. 
Students have access to industry software platforms such as Opera Property Management Systems and HOTS (hospitality), CAPA (aviation) and Cvent (events planning). Furthermore, as an Institute of Travel and Tourism (ITT) Centre of Excellence, students benefit from attending our annual ITT Future You student conference to network with industry professionals.
We have a fully functioning aviation suite – a specialist teaching facility where, in some modules, students (aviation and tourism programmes) can learn about cabin crew operations and management, and ground handling operations within a realistic airport/airline environment. In addition, our award-winning on-site restaurant is the base for students on hospitality programmes developing their front-of-house skills.
Placements are also key to success as employers want you to have real experience. We have excellent links with international hotel chains, world-leading airlines and attraction venues across the region and beyond, as well as globally.
Our support is exceptional, so much so, our students voted to make us the winner of the Student Support award at the Whatuni Student Choice Awards 2022.
Throughout your studies, you will not only have a personal tutor, but a link tutor during placements and module leaders to support you through academic modules. And we have a whole range of additional support services available, providing you with as much or as little support as you need to succeed in your degree. Our smaller teaching groups enable all students to grow and flourish, with strong peer support and friendship.  
Our Learning and Teaching Strategy 2021-24 is key to how we approach the educational journey, focusing on three main pillars that set out our commitment to your learning and teaching experience while you are studying with us.
Pillar 1 – Provide accessible and inclusive teaching and learning across a wide range of vocationally-led courses
Pillar 2 – Develop next generation opportunities and skills through innovative, future-focused curriculum and pedagogy
Pillar 3 – Shape local and global sectors, promoting sustainable futures and global citizenship
Our facilities
Our university facilities were shortlisted in the 2022 Whatuni Student Choice Awards and in our department, they include:
Our state-of-the-art Aviation Suite – part of a real Boeing 737 cabin, a check-in and departure lounge and live links to Birmingham Airport
Restaurant at Birmingham College of Food - our AA Gold-accredited training restaurant, where students get to put their training into practice with real guests
Virtual reality – we can't visit everywhere, but we can bring some of this to you! Our students experience airports and a range of destinations through our VR headsets
100-seat and smaller lecture theatres, workspace pods, ThinkSpace glazed study pods to discuss projects, 150+ brand new top-spec computers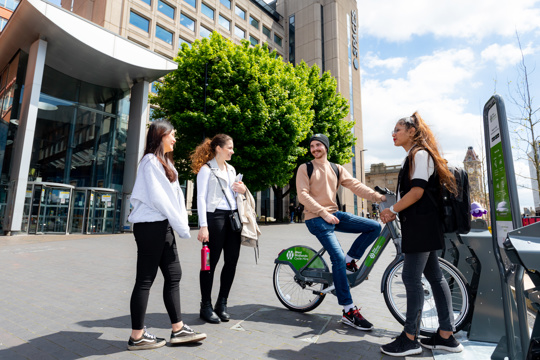 We look forward to seeing you on campus
As you prepare to join us, here's a refresher on some of the essentials: