Feeling unsure about anything while studying?
Our Student Engagement team at University College Birmingham is here to support all students during their university life, ensuring you have a single point of contact to discuss any issues you may be having while studying. Our aim is to provide the best advice, guidance and support available, to manage your concerns and allow you to continue with your studies.
We work to improve communication between students, academic staff and support services at University College Birmingham, and to organise university-wide events, collaborating with the various courses and schools to enhance the student experience for all our higher education (HE) students.
We also provide a HE mentoring scheme which helps to develop your academic knowledge, skills and understanding. It aids career development, including advice on personal skills, image and profile. Enhancing personal growth and increasing confidence, the scheme teaches the skills required to help students take responsibility for themselves, their careers and their own development – supporting students in coming to terms with a difficult or new situation, for example, induction integration into the organisation or a new role.
The Student Engagement team is here to raise aspirations, develop the community and support transition through one-to-one sessions and workshops.
Student Engagement Team
Get in touch:
Ground floor at The Link
0121 604 1000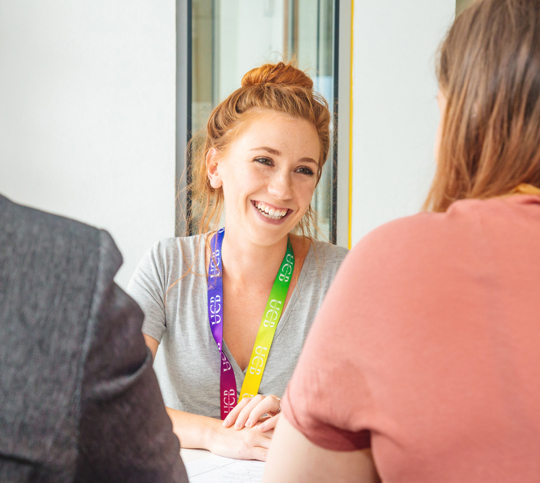 Open door policy
The Student Engagement team offers an open door policy that is available for any students seeking support or advice. This could be around academic matters, financial issues, personal situations, or anything that may be a barrier to studying. If you are on campus, you are welcome to drop in.
You can find the team on the ground floor of The Link, while for general enquiries you can contact us by sending an email to studentengagement@ucb.ac.uk.
If you wish to discuss more complex matters and would like to book an appointment, please use the booking form below.