Looking for accommodation?
International students studying at University College Birmingham for the first time will be offered accommodation in halls of residence if:
UCAS and the University have received your firm acceptance of an unconditional offer at University College Birmingham.
Your tuition fee is paid in full.
The accommodation manager receives your completed residency agreement, deposit and pre-payment by the offer date.
You are unaccompanied (i.e. you do not bring any dependants such as a partner and/or a child) unless agreed in advance by the University.
Contact us
If you would like more information please contact the Accommodation team: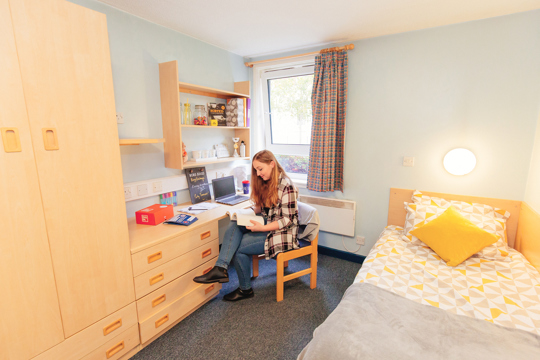 Arranging your accommodation
We expect our international students to reside in or close by the city of Birmingham, while studying at University College Birmingham. Long commutes are exhausting, time consuming and expensive. Living far from campus may have a negative effect on your academic performance, engagement with the course and compliance with visa conditions. If you plan to live outside the city, you should aim to not exceed a distance of 35 miles from Birmingham.
It is very important that you apply for your accommodation as soon as you receive an offer (i.e. conditional/unconditional). If you are booking University College Birmingham accommodation, once you receive this offer, it is vital you return the relevant documentation within 14 days.
Unfortunately, if we do not receive the information on time, this will result in your accommodation being cancelled. You must contact our accommodation officer prior to the expiry of the 14-day period if, for any reason, there is a delay.
For further information, you should contact our accommodation service at accommodation@ucb.ac.uk.
If you are travelling from abroad, you can pre-book all your bedroom and kitchen equipment through our partner UniKitOut, using the code UCB10 to receive a 10% discount. All orders will be delivered to your accommodation before you arrive.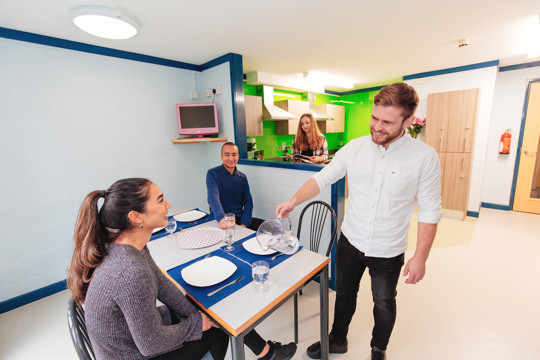 Why choose our halls of residence?
Living in our halls of residence is the perfect opportunity to build relationships within our diverse student community, which is especially important for international students embarking on a whole new adventure overseas.
Our halls of residence are high quality, safe, affordable and happy environments as a 'home from home' for your academic and social life. In addition, we have a dedicated service that's open throughout the academic year to help you and our friendly halls managers are on hand to offer support and look after your welfare and security.
Erasmus
Students participating in an Erasmus+ programme from one of our partner institutions can also apply for student accommodation at University College Birmingham. Erasmus students can elect to complete either one or two semester programmes. If you are completing one semester, your accommodation contract will be for 21 weeks, or 42 weeks for a two-semester programme.
All Erasmus accommodation applications will be allocated in July, providing you have received formal confirmation of acceptance to the course of your choice. Application requests that are received after July may not be guaranteed accommodation.