We have the best student support in the region, as voted by students.
Life as a student is exciting and fun, but it can also feel daunting at times. We want you to make the most of your time here at University College Birmingham, overcome any barriers to your learning; and reach your full potential. 
his page contains an introduction to all of the different information, advice, guidance and enrichment support services that are available to our college and sixth form students. As well as a guide with all the information you need, to help make the transition from school to University College Birmingham as smooth as possible!
Check out our guide
Read through or download our Support Guide for College Students and learn what support is available at University College Birmingham.
Jump to the support information you need
Learning support
Our learning support teams are committed to giving all our students the advice, skills and practical tools to discover their full potential.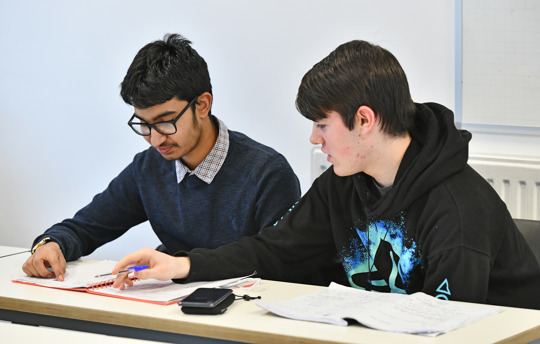 Disability support
We welcome everyone, regardless of physical disability, medical conditions, or other specific special needs. Support for students who disclose a disability or health condition, including mental health conditions, starts from application and continues throughout your studies. 
Did you know? We have an open door policy throughout the University.
This means that all staff are available to guide and support you during your studies. You are welcome to walk into any department and ask for help – please do take us up on this offer, we are here for you.
Health and wellbeing
We have a free and confidential Health and Wellbeing Service, open to every student, that strives to promote and encourage healthy lifestyles, positive mental health, and wellbeing. We understand these things are fundamental for effective study and a positive student experience.
Personal development and careers support
Your time with us is not just about the classroom – or study time. It is just as much about making sure you are prepared for life after college - whether that be heading straight into a job, or continuing on to university to study for a degree. We aim to ensure you have the experience, life skills and personal qualities to help you make a success of whatever you choose to do next. And there are various services, tools and resources available to help ensure your personal development.
Fees and finance 
It is important to manage your finances well whilst at college, and to ensure you access any financial support you are entitled to. College students can apply for support with the following:
Help with travel costs
Help with the costs of Uniform and Equipment
Free College meals and meal support
Childcare
Please note: All forms of support have specific requirements for eligibility.
Take a look at our college finance page for more information on all of the above, including eligibility criteria; as well as links to where you can find information on your general course fees.

Save money around campus

Our cafes sell affordable food – watch out for discounts and sales after 3pm. And if you are in need of pampering or relaxation, our on-site hair and spa services often offer discounted or free treatments.
Our library at The Link has a huge variety of books (including fiction), so you don't have to spend your money on these either. And, don't forget that hundreds of retailers, both on the high street and online, offer student discounts. You just need to show your student card, or link to your student account.
Discover our facilities

Get a part time job - to earn some extra cash

Our Hired team can help you find part-time work, or summer jobs, to fit around your studies. This will not only boost your income whilst you are a student; but give you valuable experience for your CV – and be a first step in preparing you for the workplace.
Find out more

Free food and drink for all students
As part of the support that University College Birmingham is putting in place to help students who are facing increased costs, we have introduced some additional food offers for all students:
Toast and juice will be available, free, from the 5th floor Summer Row Café, between 8am and 10am each weekday. This is available for all students.
Free soup will be available from 3pm to 4pm each day, from the 5th floor of Summer Row Café.
Hot water is available from all catering outlets - should you need it for making your own hot drinks, or otherwise (and we are also in the process of getting a hot water dispenser). This water is free if you bring your own cup, or 20p for a take-away cup. 
We also have microwaves available for students to use in McIntyre House (in the seating area, near the exit to Moss House), for ease of heating up any food that you bring in from home.
Where to find your student support team
Student Services

Student Services is based on the Ground Floor of The Link and is the one stop shop for all students - providing information, advice and guidance on non-academic matters – across our range of support services.
There is no need to arrange an appointment, just drop in and speak to a member of the team.
Find out more

Student Engagement Team
The Student Engagement Team work to improve communication between students, academic staff, and support services at University College Birmingham.

They help to organise university-wide events, collaborating with various courses and schools to enhance the student experience for all our college students.
The Student Engagement Team can also help direct you towards the right support team, information, or key services; to help address your concerns.
Find out more

Academic Matters
Lessons and assessments
Your individual course information will tell you everything you need to know about your specific course modules and assessment. But, if you are looking for additional information on the assessment style and process, and how we ensure academic fairness here at University College Birmingham, you can find all of this information over on our Policies & Regulations page.
You will also find information on what you can do in unfortunate or unpredicted circumstances such as not being able to submit work on time, or not receiving the grades that you had hoped for.
Rules and regulations
Similarly, to make yourself familiar with academic procedures, rules and policies, and see what we have in place to make sure every student has a safe, welcoming, and fair space for them to nurture their academic talents; you can also access the Policies & Regulations page for all information.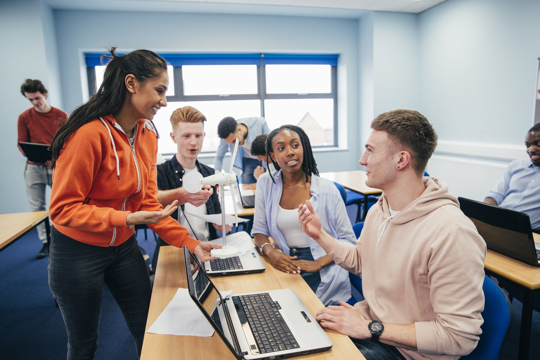 Come and see for yourself
An open day is the best opportunity for you to experience University College Birmingham for yourself – and get a better understanding of our student experience. Book your place on one of our upcoming ones - we'd love to welcome you. Can't make it? Find out about our virtual open days.
Looking for more information?