Why should I choose this course?
WORK PLACEMENT – Arm yourself with invaluable work experience on a 48-week paid placement – past students have worked in the UK, USA, Canada, Hong Kong and beyond
SPECIALISE YOUR STUDIES – Develop specialist knowledge through your own research project and a wide range of optional modules related to your chosen career pathway in hospitality, tourism or events management
INDUSTRY APPROVED – Gain professional recognition with a degree accredited by the Institute of Hospitality
AWARD-WINNING UNIVERSITY – Study at the highest-ranking university in the region according to student choice (Whatuni Student Choice Awards 2023)
Our facilities
University College Birmingham is renowned for its outstanding food and hospitality training facilities. Our award-winning restaurant on campus provides the perfect environment for students on our hospitality courses to boost their skills across different service styles.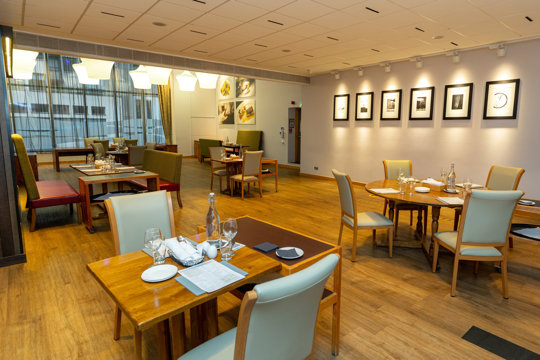 Open to the public, our AA Rosette Highly Commended restaurant on campus – Restaurant at Birmingham College of Food – will arm you with hands-on skills, serving a variety of styles and developing knowledge of a range of cuisines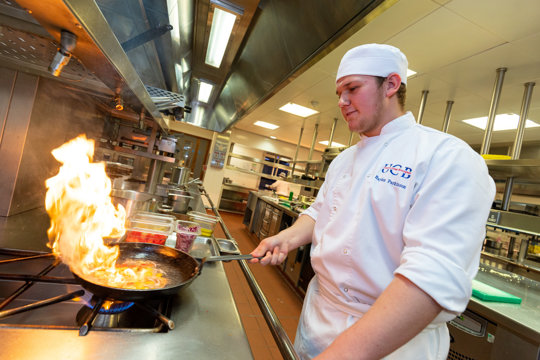 Our training restaurant and industry-standard kitchens provide you with a unique behind-the-scenes view of the hospitality and catering industry during your studies
Course breakdown
Students on the FdA have the option of progressing onto the final year upon completion of the foundation degree.
Year 1
Year 2
Year 2/3
Year 3/4
Hospitality Principles and Practice
It is essential that service providers understand the needs and wants of their customers. In order to be successful we need to identify who our customer is and what their characteristics are. This module will provide practical training in our award-winning restaurant and bar as well as examining the customer journey and developing trends.
Digital Hotel and Resort Management
Hotels and resorts are a very important, challenging and one of the largest sectors of the hospitality and tourism industry. This module aims to develop your understanding and skills for how to efficiently manage rooms operations through each stage of the guest journey. The module explores contemporary digital technologies to enhance guest experience and includes practical sessions where you will gain proficiency in one of the world's leading property management systems.
International Organisational Management Skills
This module introduces you to the competencies required by managers in the international business environment, while developing your skills in critical areas of personal effectiveness and relationship management. Through the use of international case studies and contemporary management theory, you will reflect on organisational structures, individual and group behaviour, responsiveness in changing business situations and the influence global trends have on the increasing 'connectedness' of organisations and people in a cross-cultural environment.
Dynamic Tourism Environment
This module will examine the dynamic nature of the global tourism environment and the response strategies of tourism businesses. Critical themes include the changing nature of the tourism industry and consumers, safety and security, digital technology, the ability to travel 'freely' (or not) around the world and how businesses are striving to implement more effective sustainable tourism policies. This module will enhance your employability skills with a focus on data trend analyses, industry audits and the identification of critical challenges and best practice across the sector.
Work Placement (optional)
You will gain valuable work experience on a 48-week work placement. This is an exciting opportunity to put what you have learned into practice, broaden your experience and demonstrate your abilities to potential employers.
Revenue and Profitability Management
In this module, you will develop skills in the interpretation and analysis of financial and management data to positively influence profitability and cash flows. You will build your understanding of the critical aspects of delivering profitable hospitality and tourism businesses. You will also have the opportunity to demonstrate your mastery of these principles in an innovative hospitality and tourism management simulation. The simulation will support learning, and you will critically evaluate the impact of your decisions on the creation of revenues, efficient use of costs controls, maximisation of profits and viability of cash flows.
Marketing and Social Media Management
The hospitality and tourism industry faces a huge challenge in terms of adapting and promoting services in an interconnected world. Marketing is essential for any business to remain competitive and successful, so you will examine the use of marketing tools. You will examine the tactics, strategies and ways that marketing managers use social media communications to secure business.
Resource and Talent Management
Within this ever-changing and dynamic business environment, now more than ever before, organisations must be able to assemble teams of people with the necessary skills, attitudes and behaviours to meet their business objectives. To this end, our managers will need to be actively involved in recruiting, engaging, developing and retaining the right talent. Taking an inclusive perspective, all employees have the potential to make a real contribution to the achievement of the business, and therefore talent management of all staff must be a key management focus.
Gastronomy and Sustainable Food Management
Gastronomy is the study of the relationship between culture and food. As a module developed for food lovers it will provide you with an appreciation of food within various cultures. Also, current trends and food issues such as sustainable practices and how they impact the industry today and into the future will be studied.
Dynamic Events and Experience Management
You will explore the dynamic nature of the events industry and experience economy, the importance of effective stakeholder management, policy-related issues, contemporary event trends and the overall role of events for tourism and destination development. Event impacts will be analysed and event typologies will also be reviewed. Based upon well-established models, you will gain a sound understanding of planning and designing event experiences within the contemporary environment, as well as the effective implementation and evaluation of event projects.
Managing Bars and the Night-time Economy
The bar sector and night-time economy offer some of the hospitality industry's most dynamic and challenging operating environments. This module evaluates a range of both the more traditional aspects of bar-retailing, such as ensuring profitability through inspirational management while operating within the scope of current licensing regulations, and exciting opportunities now being presented by digital technologies in enhancing both the customer experience and operational efficiency.
Tourism Operations and Innovation
Providing a competitive visitor experience, while generating profits, is the ultimate performance goal for tourism operators. This becomes increasingly challenging in a very competitive and dynamic environment. Accordingly, tourism operators must seek innovative solutions to performance gaps to ensure long-term success. This module will examine the current practices of tourism operators in terms of revenue management, capacity management and offering an outstanding visitor experience. The above will develop essential professional and employability skills.
Independent Research Project
This module provides you with the opportunity to demonstrate your capabilities in researching, planning and delivering an industry-related macro or micro-based project independently. You can either self-select your own topic or choose from a list of contemporary industry projects. This project focuses on cultivating the desired graduate attributes of professionalism, critical enquiry, problem solving, enterprise, creativity and innovation and in enhancing your professional profile to enrich and facilitate independent learning and development for graduate career opportunities.
Strategic Financial Management
In this module, you will build upon both practical and theoretical financial concepts developed through earlier modules. You will gain commercial awareness and understanding of strategic organisational finance and will learn how to synthesise and evaluate business performance and strategy.
Strategic Change Management
In an increasingly fast-paced and changing global environment, it is more important than ever that a business can navigate its way to a successful future. This module will evaluate different strategic change management tools in supporting businesses to seize new opportunities and treat risks/threats.
Business Process Improvement
This module provides you with the ability to identify how a process within the business can be improved. A process is a sequence of activities that takes an input and transforms it into an output. Activities consume time and other resources. One way to improve performance is to redesign processes so that they consume less time and resources.
Tourism Trends and Futures
This module will review tourism trends and strategic challenges facing destinations as they strive for sustainable competitive advantage and future-proofing their offer. Various macro forces continue to influence the strategic direction of destinations with new risks and opportunities arising. Destinations are implementing more inclusive and sustainable strategies to navigate their way through a more turbulent environment. But the question remains, can they successfully future-proof themselves? You will develop your professional skills and knowledge in destination management, trend/data analysis and strategic management of destinations.
Global Expansion Strategies
This module complements the international dimension of the programme and aims to promote the complexities and issues hospitality and tourism organisations face when attempting to enter overseas markets to seek growth globally. Hospitality and tourism organisations increasingly seek to operate outside of their own boundaries in diverse and less understood market environments. Management skills are required to successfully exploit new overseas market opportunities through the use of both traditional channels and new media opportunities to deliver integrated marketing strategies offered by the latest innovative technological developments.
The modules listed above for this course are regularly reviewed to ensure they are up to date and informed by industry as well as the latest teaching methods. On occasion, we may need to make unexpected changes to modules – if this occurs, we will contact all offer holders as soon as possible.
Entry requirements
International Hospitality and Tourism Management BA (Hons)
A-levels: An A-level grade profile of CDD.
T-levels: A T-level graded Pass with a core component of grade C.
BTEC: A BTEC grade profile of MMP. This can be achieved from either an Extended Diploma or a combination of smaller BTEC qualifications.
Tariff: Other Level 3 qualifications are accepted for entry. A minimum of 80 UCAS Tariff points will be required.
Access to Higher Education Diploma: 80 UCAS Tariff points including a minimum of 15 Level 3 credits at Distinction.
International Hospitality and Tourism Management FdA
A-levels: An A-level grade profile of DD.
T-levels: A T-level graded Pass with a core component profile less than C.
BTEC: A BTEC grade profile of PP. This can be achieved from either an Extended Diploma or a combination of smaller BTEC qualifications.
Apprenticeship: Achieve an advanced apprenticeship (Level 3).
Tariff: Other Level 3 qualifications are accepted for entry. A minimum of 32 UCAS Tariff points will be required.
Access to Higher Education Diploma: 32 UCAS Tariff points.
Non-tariff: Non-UCAS Tariff-based Level 3 qualifications are also considered for entry. Please complete our enquiry form here to check your eligibility.
Work-based: We also give equal consideration to applicants who are currently in work and wish to apply to University College Birmingham. To apply, you must have a minimum of 3 years' relevant work experience, demonstrating management or supervisory duties. Your application must also include a reference from your line manager supporting your entry to higher education. For further details, please contact Admissions.
Key information
Note: Indicative information only – actual timetables and assessment regimes will be issued at your induction.
Teaching
Example of a typical teaching week (up to 19 contact hours):
Large group teaching – 4 hours
Smaller group teaching – 5 hours
Practical classes (Year 1) – 6 hours
Tutorials – 2 hours
Industrial placement tutorial – 1 hour
Field trips and visits
You will also need to commit around 20 hours per week for individual study time.
Assessment
Estimated breakdown of assessment for this degree course:
Coursework – 65%
Practical assessment – 35%
Our teaching and assessment is underpinned by our Teaching, Learning and Assessment Strategy 2021-2024.
UK students
If you are a UK student enrolling on a standard-length Foundation Degree or a BA/BSc at University College Birmingham, your fee for this academic year will be £9,250. A half-year tuition fee is £4,625. There will be no change to this tuition fee for the forthcoming two academic years (2023/24 and 2024/25).

View undergraduate fees
International students
If you are an international student enrolling on a full-time foundation degree or a BA/BSc in 2023/24, your fee for this academic year will be £13,500 per year. The course fee for academic year 2024/2025 is £14,000 per year.
If you complete a placement year, there will be an administration fee of £500 for a full year or £250 for a half-year placement.
This course requires a uniform and kit costing approximately £250-300, depending on the items you purchase. (Prices are subject to change each year – exact costs and information on how to order required items will be provided to you prior to enrolment).
As a new student studying this course full-time, you will receive £300 per year through our Kick-Start Scheme (UK students only, eligibility criteria applies). This scheme will support your studies and future career by contributing to course-related materials, uniform or selected items on campus. You may also qualify for an additional £500 per year.
Find out more about the Kick-Start Scheme here.
Unibuddy Community - meet other students on your course
Starting university is an exciting time, but we understand that it can sometimes feel a little daunting. To support you, you will be invited to join our Unibuddy Community, where you can meet other students who have applied for the same course at University College Birmingham, before you start studying here.
As soon as you have been made an offer, you will be sent an invitation email to complete your registration and join the Unibuddy Community. For more information, check out our Unibuddy Community page.
Join the conversation and check out the latest updates from our Department of Hospitality and Tourism.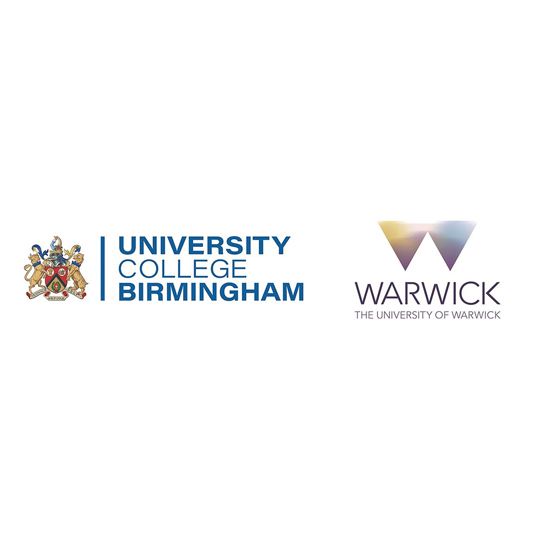 This course is accredited by the University of Warwick.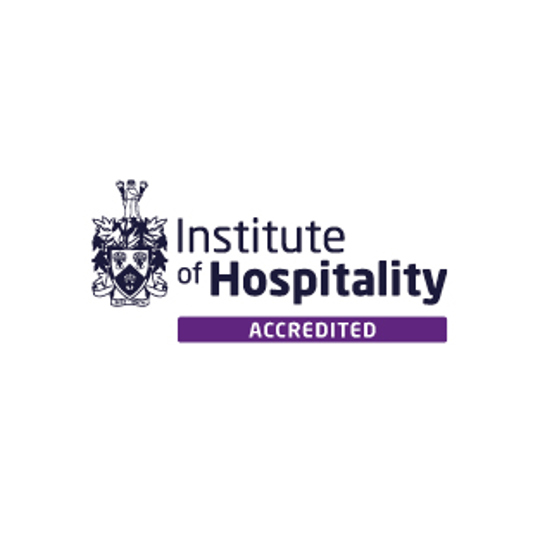 This course is accredited by the Institute of Hospitality.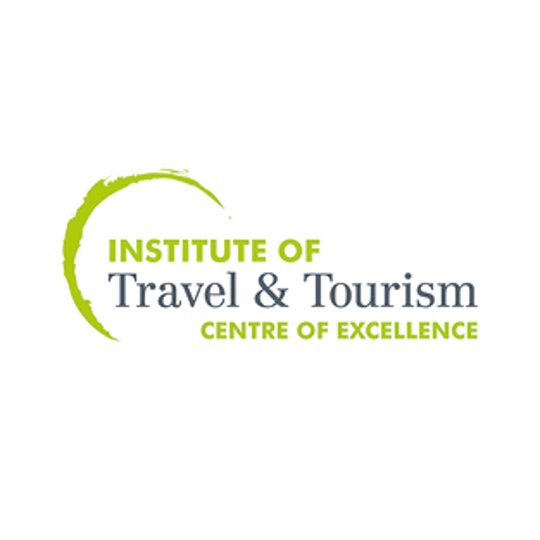 University College Birmingham is a recognised Institute of Travel and Tourism Centre of Excellence.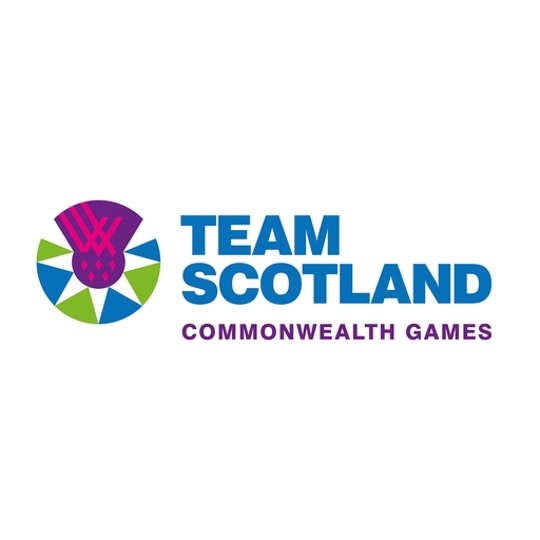 University College Birmingham will be the home of Team Scotland at the 2022 Commonwealth Games.
Accreditations, endorsements and partnerships
University College Birmingham works with a wide range of organisations to ensure you receive the best possible training and qualifications recognised by industry.
of graduate employers say relevant experience is essential to getting a job with them
Work placements
Work placements are vital for gaining real-life experience and for building your confidence and skills before you finish your course – and they may even lead to a job when you graduate. Our Hired team can help find the ideal placement for you.
Our FdA and BA International Hospitality and Tourism Management courses both feature an optional 48-week paid work placement, during which you will not incur any tuition fees.
Work alongside experts in your sector
A snapshot of some of the employers we have worked with:
Wequassett (Cape Cod, Massachusetts)
The Savoy (London)
The Peninsula (Hong Kong)
The Sea Pines Resort (South Carolina)
Westin Hilton Head Island Resort and Spa (South Carolina)
Ritz Carlton (Naples, Florida and Colorado)
Dunboyne Castle Hotel and Spa (Ireland)
Ashford Castle (Ireland)
The Greenwich Country Club (Connecticut)
Andrew Brownsword Hotels (whole collection)
Fairmont St Andrews (Scotland)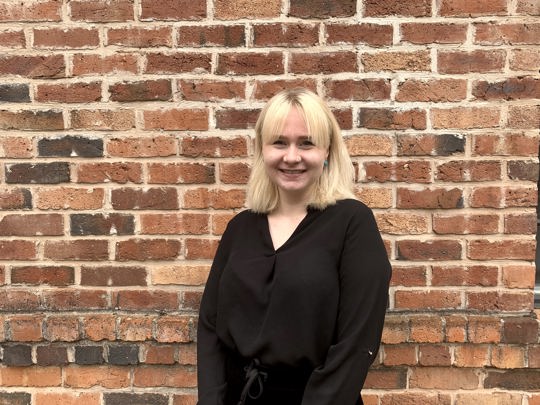 University College Birmingham has a great reputation and offered a course with a work placement option, which enables students to get lots of experience. Not only did my placement help with my development, both personally and professionally, but it also helped me decide that I wanted to work in hospitality.
Career opportunities
The example roles and salaries below are intended as a guide only.
Conference centre manager
Average Salary: £36,000
Theme park manager
Average Salary: £31,000
Event manager
Average Salary: £33,000
Marketing executive (graduate)
Average Salary: £37,500
Tourist information centre manager
Average Salary: £30,000
Hotel manager (small hotel or deputy of larger hotel)
£27,500 - £31,000
Hired
We are here to support your career goals every step of the way.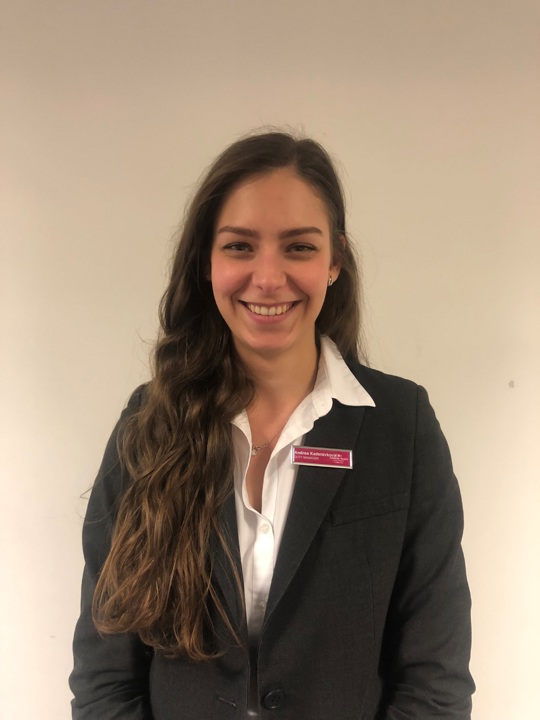 Andrea's Story
Andrea is making her mark and is now a senior supervisor with the leading hotel chain she did her course placement with.