By Kanyi Bubacarr
Share post: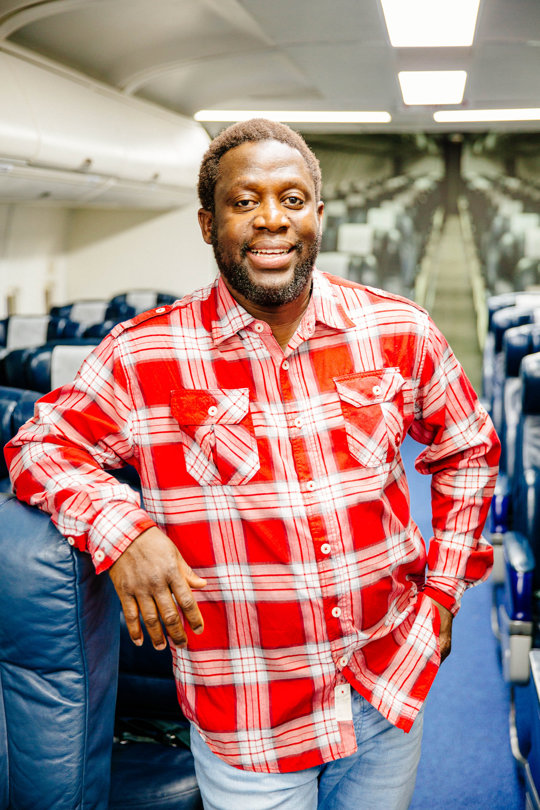 Kanyi Bubacarr
Aviation Management MSc
Accredited by the University of Warwick
Aviation expertise on a higher plane
Retired from the British Navy through injury after serving in both Afghanistan and Iraq, Kanyi was working for HM Customs and Excise in London when he made a key life decision: to go back into education.
Contemplating either forensic science or aviation, he decided he wanted a career in a more civilian capacity and discovered the Aviation and Airport Management foundation degree at University College Birmingham.
"I'd spent 18 months helping to build what was then the Camp Bastion military airbase in Afghanistan, which had got me really interested in aviation," he said. "University College Birmingham kept popping up in searches and I'd known quite a few people who had gone there while I was overseas."
Impressed by the University and enrolling on the course, Kanyi was able to learn the behind-the-scenes skills that operations teams need to avoid "chaos and delays" and keep things running smoothly in the University's Aviation and Tourism Suite, complete with replica fuselage and check-in desks.
Topping up to and completing his full BA (Hons) degree, Kanyi – who lives in Birmingham city centre – then saw that the master's course in Aviation Management was set to be accredited by the University of Warwick.
"This was a huge part of my reason to stay on at postgraduate level," he said. "There are so many opportunities for both our universities to explore together.
"University College Birmingham is a specialist in aviation, University of Warwick is a specialist in research-led areas of business, and we can work together to bring out our distinct strengths to influence and benefit the industry.
"I have already spoken to students at Warwick about a possible African Aviation and Business Conference, an area my research project was based on and the type of collaboration and linking up we should be striving for to benefit both sets of students."