Why should I choose this course?
RESIDENTIAL VISIT – Gain unique industry insight by undertaking an overseas project, with essential trip costs covered by the University – past destinations have included Dubai and Istanbul
PRACTICAL APPLICATION – Put your theory into practice working on real aviation projects and studying in our cutting-edge Aviation and Tourism Suite
SPECIALISE YOUR STUDIES – Develop specialist knowledge of an area of the aviation industry that interests you for your final research project
INDUSTRY APPROVED – Study at an ITT Centre of Excellence, with enrichment opportunities available including tourism and travel industry events on campus
Our facilities
Students on our aviation courses at University College Birmingham have access to outstanding simulation facilities in our new Aviation and Tourism Suite. You will also have the chance to study in our new Digital Creative Studio, where you can learn an array of skills for producing digital content including video and audio.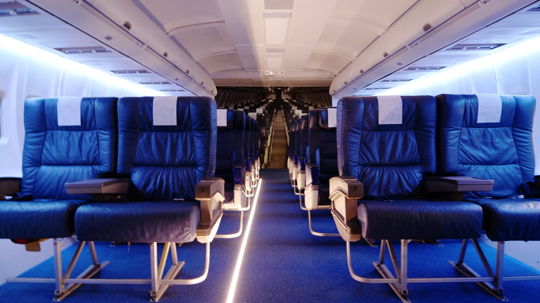 Our new Aviation and Tourism Suite features a state-of-the-art mock plane cabin, as well as check-in areas and Galileo GDS system for training students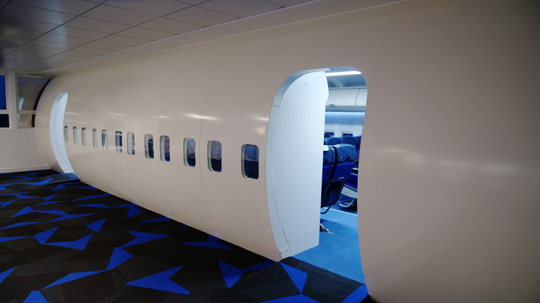 Our new Aviation and Tourism Suite features a state-of-the-art mock plane cabin, as well as check-in areas and Galileo GDS system for training students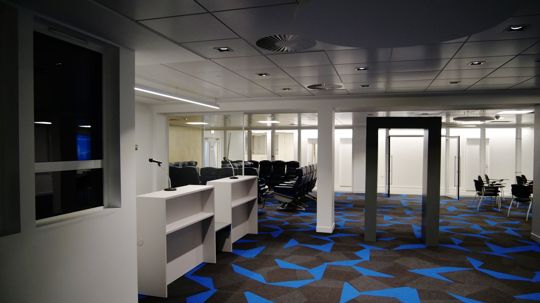 Our new Aviation and Tourism Suite features a state-of-the-art mock plane cabin, as well as check-in areas and Galileo GDS system for training students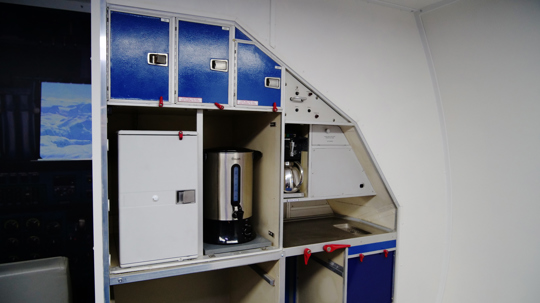 Our new Aviation and Tourism Suite features a state-of-the-art mock plane cabin, as well as check-in areas and Galileo GDS system for training students

Based in Camden House, our new Digital Creative Studio features state-of-the-art video and audio production facilities, including a video production studio with 4K cameras and green screen technology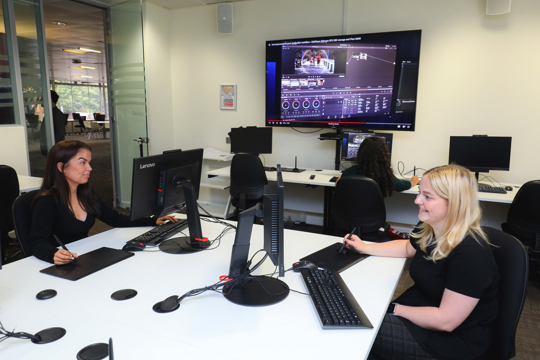 The Digital Creative Studio hosts audio podcasting, vision mixing and editing facilities, as well as high-spec computers with Adobe Creative Cloud software and graphics tablets
Aviation and Tourism Suite
Take a look around our Aviation and Tourism Suite, featuring exciting simulation facilities for students on our aviation, travel and tourism courses.
Course breakdown
Note: If you are transferring onto the course at Level 5, there may be some variations in the modules you will study.
Level 5 (transfer)
Level 6 (top-up)
You will explore the airport planning environment, evaluating everything from the impact of airport systems on development to considering the micro aspects of terminal and satellite infrastructure. You will look at enhancing the passenger experience, ensuring safety and how to generate revenue streams. Developing awareness of the changing planning landscape for airports will be a key theme.
Aviation Operations Management
By going 'behind-the-scenes' at airports, you will learn about the interdependent nature of aviation operations and how everything fits into the environmental management system. You will learn about health and safety as well as international regulations and policy.
Aviation Pricing and Revenue Management
You will understand pricing and revenue management strategies, examining trends and future prospects for the aviation industry. The core theme of this module is to consider how aviation managers can recognise and utilise financial information to enhance the decision-making process.
Managing Human Factors in Aviation
It is widely accepted that commercial air transport remains one of the safest methods of moving people and goods from one point to another. However, the aviation industry suffers a paradox of very low accident rates but a very high potential for loss of life when an incident does occur. This module will guide you through the application of human factors examining both airline accidents and human reactions that have prevented disasters. The module will further explore how these have influenced and moulded modern air safety, giving you the knowledge and skills to conduct aviation operations within an efficient and safe environment.
You will learn how to apply research within the industry to support decision making by studying multiple perspectives and industry agendas. You will be encouraged to challenge research and data through systematic analysis. The enquiring approach will enable you to view research as a tentative process, to be revised and reconsidered.
Based upon well-established events planning models, you will gain a sound understanding of the implementation and evaluation of festivals and special events. You will look at growth and development trends, related policy issues and the overall role of events in tourism and leisure. Event typologies and the scope of events will be reviewed and the impacts on residents and visitors will be considered.
Social Media in Aviation and Tourism
In social media, the consumer markets a product or service to other consumers, and this mode of communication is increasingly prevalent in the aviation and tourism industry. You will be provided with the knowledge to understand and operate social media within the industry and its impact as a powerful promotional tool.
Tourism Operations Management
Managing a tourism operation means encountering daily challenges that have to be managed effectively and efficiently, so you will look at elements such as capacity and crowd management, location decisions, pricing and service quality. You will also get an overview of the tour operations distribution network through practical activities and industry scenarios.
Tourism Marketing Management
You will explore markets from the perspective of a manager while developing your skills for effective use and control of marketing functions within tourism operations. You will learn more about planning, control and the components of the marketing mix in the broader context of internal and external environments.
Sustainable Aviation Management
The continued year-on-year growth of aviation has increased both passenger flows and the number of airlines and airports serving these passengers. This has prompted debates on its socio-economic contributions and the impact it has on the environment, as well as the new challenges that face organisations in the aviation industry. You will undertake conceptual analysis of aviation sustainability, examining the role of stakeholders to assess the effectiveness of current aviation policies for organisations, local communities and the environment.
The voluntary sector is one of the most dynamic sectors worldwide. You will have the opportunity to work on a volunteer project within a private, public or community organisation and see how they market themselves and compete for resources with other voluntary projects. You will be able to reflect on your experiences as well as developing your personal and professional skills within a working environment.
Aviation Crisis Management
The aviation industry can be susceptible to 'shocks' fuelled by political, economic, social and environmental factors, and a downturn in demand can be catastrophic for individual organisations, or the entire industry. You will examine the volatility of aviation's international environment, the impact of unexpected events on aviation activity, and devise aviation crisis management plans and evaluate recovery strategy.
Contemporary Aviation Issues
You will critically examine the contemporary issues facing airline and airport managers in the current environment such as political-economic, social, technological and environmental issues. Not only will this give you an overview of the challenges facing the industry, but you will understand the key aspects impacting on the future of aviation.
Strategic Aviation Management
You will address the long-term direction to be taken by an organisation within the aviation industry and take a structured approach to the full range of issues included in a corporate strategy within a global environment. You will learn procedures and techniques that encompass all areas of this course in order to identify threats and opportunities that exist when developing successful planning strategies.
An opportunity to consolidate your financial planning knowledge, you will learn how to synthesise and evaluate business performance and strategy. You will develop an in-depth knowledge of financial concepts and how companies portray themselves through their annual reports.
You will study tourist destinations in the context of social, economic and environmental change. You will look at destinations from the perspective of visitors and hosts while examining the effectiveness of the strategies employed to maximise the benefits to all stakeholders.
We live in an interconnected world, so it's important to examine how organisations explore new market opportunities beyond national boundaries. As a result, you will become more aware of the technological, communication and transportation challenges businesses face and the options they consider when seeking a foothold in a new country.
You will have the opportunity to engage in an independent research project of your choice. You will have support with preparing your proposal and understanding the competent characteristics of good research. An appointed tutor will help guide you through this important and rewarding process.
Enterprise and Innovation Showcase
This will provide you with the opportunity to demonstrate your capabilities in researching, planning and delivering an industry or community-related project. You will research a new business product, service or system and develop it into an idea that you can exhibit at an event to your peers and industry professionals.
The modules listed above for this course are regularly reviewed to ensure they are up to date and informed by industry as well as the latest teaching methods. On occasion, we may need to make unexpected changes to modules – if this occurs, we will contact all offer holders as soon as possible.
Academic: A relevant HNC, Certificate of Higher Education or a higher level qualification in the areas of Aviation Operations, Air Transport Management or Air Transport Operations and Tourism, with 120 credits.
Academic: A relevant HND or a foundation degree in the areas of Aviation Operations, Air Transport Management or Air Transport Operations and Tourism, with 240 credits.
EU/international students
Academic: European and International qualifications studied in a relevant subject matter will also be considered. Applicants will need to have achieved 60 for Year 2 or 120 for Year 3 ECTS or equivalent (European Credit Transfer).
If you are unsure if your previous qualification is suitable, please contact us before completing an application. You can call us on 0121 604 1040 or complete our enquiry form:
Teaching
In light of COVID-19, we have made some changes to the way we deliver our teaching. We are continually following the guidelines and measures put in place by the UK Government to ensure our students and staff are safe on campus, whilst remaining committed to providing high-quality education. The information below explains how teaching will take place in semester 2 (or semester 1 for those joining us in January).
Assessment
Estimated breakdown of assessment for this course:
Coursework – 34%
Practical assessment – 33%
Independent research project – 33%
Our teaching and assessment is underpinned by our Teaching, Learning and Assessment Strategy 2015-2020.
As a new student studying this degree full-time, you will receive £300 per year via our Kick-Start Scheme (eligibility criteria applies). This scheme will support your studies and future career by contributing to course-related materials, uniform or selected items on campus. You might even qualify for an additional £500 per year.
UK/EU students
If you are a UK/EU student enrolling on a full-time foundation degree or a BA/BSc in 2020/21, your fee for this academic year will be £9,250 per each full year. A half year tuition fee is £4,625. UK/EU students do not pay tuition fees for any placement periods.
International students
If you are an international student enrolling on a a full-time foundation degree or a BA/BSc in 2020/21, your fee for this academic year will be £11,500 per year.
If you complete a placement year, there will be an administration fee of £500 for a full year, or £250 for a half-year placement.
UCBconnect - meet other students on your course
Starting university is an exciting time, but we understand that it can sometimes feel a little daunting. To support you, we have created a platform called UCBconnect, where you can meet other students who have applied for the same course at University College Birmingham, before you start studying here.
As soon as you have been made an offer, you will be sent an invitation via text and email to complete your user registration and join UCBconnect. For more information, please visit ucb.ac.uk/ucbconnect.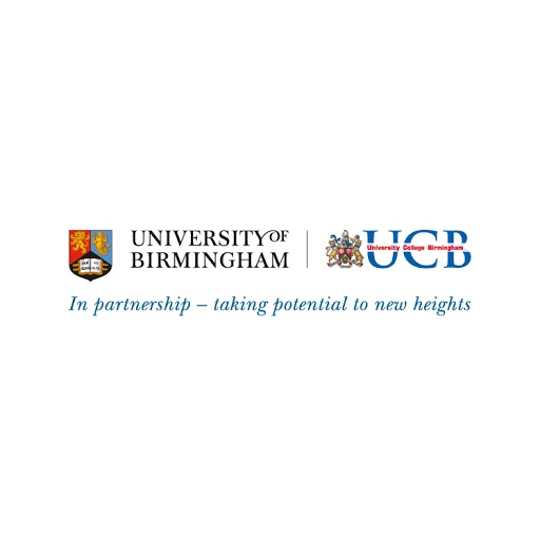 This course is accredited by the University of Birmingham.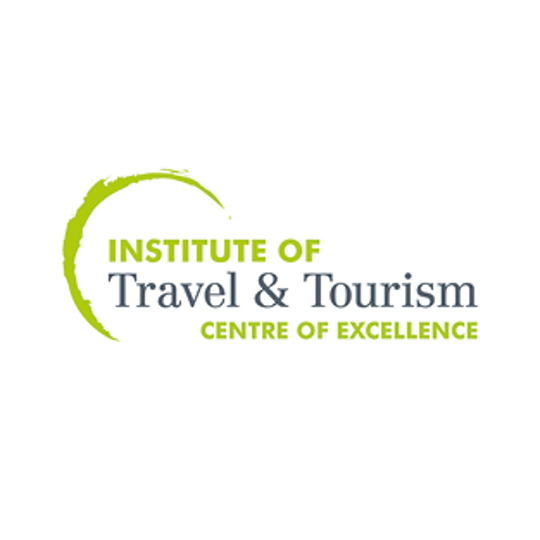 University College Birmingham is a recognised Institute of Travel and Tourism Centre of Excellence.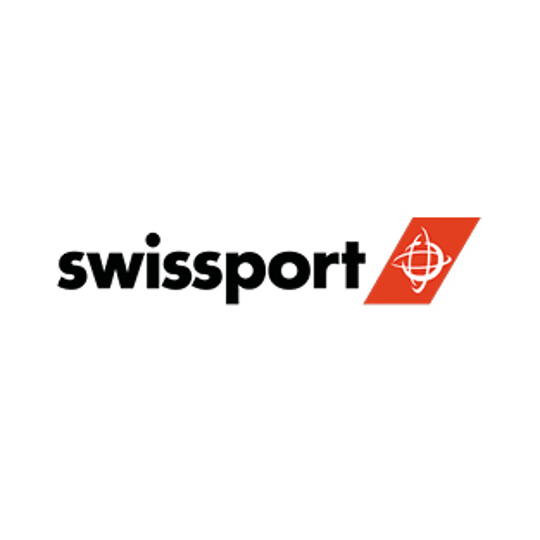 This course has been developed with extensive input from industry experts, including Swissport.
Accreditations, endorsements and partnerships
University College Birmingham works with a wide range of organisations to ensure you receive the best possible training and qualifications recognised by industry.
of graduate employers say relevant experience is essential to getting a job with them
Work experience
Work experience is vital for learning how to apply your training in the real world and for building your confidence and skills before you finish your course – and it may even lead to a job when you graduate. Our hired@UCB team can help you find suitable work experience.
We encourage students on our BA Aviation and Airport Management top-up course to gain work experience throughout your studies.


Due to the ongoing coronavirus pandemic, please be aware that opportunities to travel abroad for placements, project work or residential trips may be affected by government travel restrictions. Please visit our
updates and FAQs page
for information.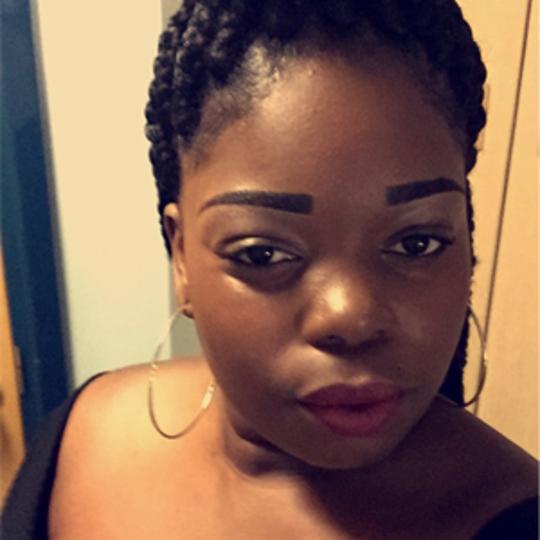 The best part about this course is going abroad and travelling around the UK to see airports and compile reports on them instead of having to search online and read about them. We were able to view them first-hand and do the primary research we needed for the course
Career opportunities
The example roles and salaries below are intended as a guide only.
Passenger transport manager
Average Salary: £30,000
Sustainability manager
Average Salary: £42,367
Business development manager
Average Salary: £42,500
Transport planner
Average Salary: £32,500
Regional sales manager
Average Salary: £39,716
Airport operations manager
Average Salary: £35,461
hired@UCB
We are here to support your career goals every step of the way.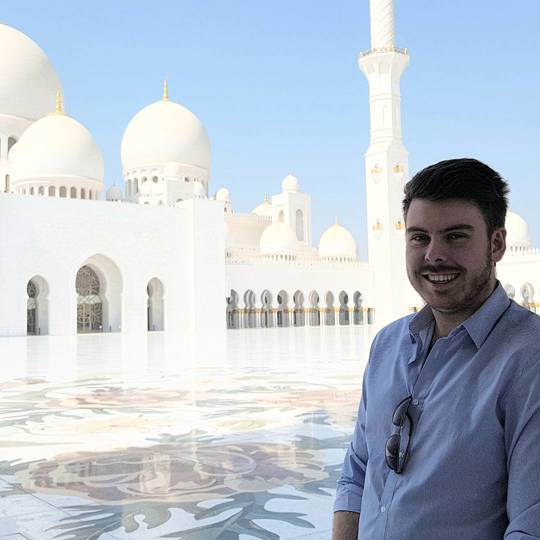 Andrew's Story
Thanks to his degree, Andrew's career is positively flying as passenger services supervisor within Ground Operations at Cornwall Airport Newquay (NQY).