Bringing our open days to you...
As we are currently unable to hold events on campus, we wanted to bring our open days directly to you. To do this, we have designed an online open day packed with everything from insight on your course of interest, 3D tours and taster sessions to Q&As with lecturers, the chance to talk to support services about living and studying in Birmingham and more. We want to show you that with an undergraduate degree from University College Birmingham, it feels like nothing can stop you. 
Follow the steps below, and discover more about what it's like to study with us.
Step 1 - Register your place
Our online open days include subject-specific presentations where lecturers will highlight key modules that develop your knowledge and enhance your future career. This is your opportunity to ask any questions specific to your chosen subject.
Please register for our next open day on Saturday 3 October below. We will then send confirmation of your place and joining instructions.
If you are joining us from your mobile, please ensure you have downloaded the GoToMeeting app.
Step 2 - Plan your day and enhance your open day experience
Make the most of your open day experience by attending some of our additional sessions throughout the day. Details on how to join these events will be sent to you via email once you have registered.


Speak with support staff
On the day, you will have the opportunity to speak to any of our support staff, including:
Health and Wellbeing – 12-3pm
hired@UCB – 11:30am-12pm, 12:30-1pm, 1:30-2pm
Academic Skills Centre (CASE) – 12-3pm
Accommodation – 11-11:30am, 1-1:30pm, 2-2:30pm
Guild of Students – 11:30am-12pm, 1-1:30pm
Finance – presentations at 11:30am and 1pm, drop-in sessions from 12-3pm 
Admissions – 12-3pm

Chat with our students
You'll also be able to hear about the University experience from students who currently study with us:
Chat with our current students – 11:30am-12pm, 1:45-2:15pm and 2:45-3:15pm


Hear from our inspirational guest speakers
You won't want to miss exclusive live presentations and Q&A sessions with our guest speakers:
Dr Sam Wass, 11am – Expert psychology and research scientist who specialises in stress and concentration in young people
Omar Sharif, 1pm – 2018 Pride of Britain Awards' Young Achiever of The Year

 




Step 3 - Join us LIVE on the day
All that's left for you to do is join us on the day!
Please refer to your booking confirmation for joining instructions. If you have any queries, please email marketing@ucb.ac.uk.
Meet our guest speakers 
Saturday 3 October, 11am and 1pm
Don't miss our inspirational talks from guest speakers Dr Sam Wass and Omar Sharif.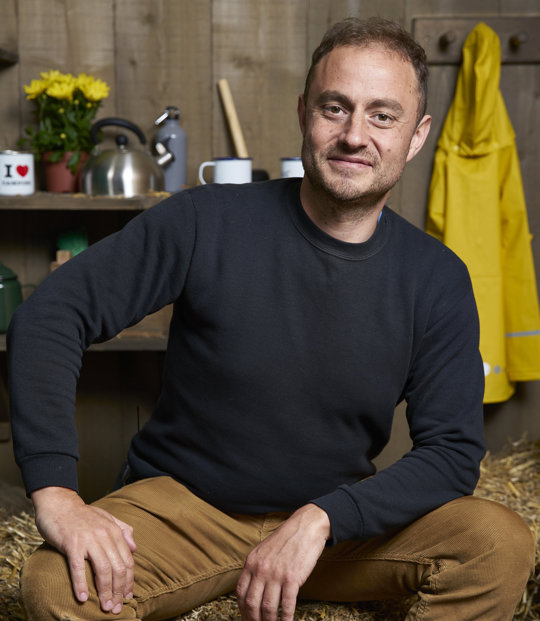 Dr Sam Wass, 11am
Speaking live will be Dr Sam Wass, an expert psychology and research scientist who specialises in stress and concentration in young people, famously appearing on Channel 4's The Secret Life of 4 and 5 Year Olds.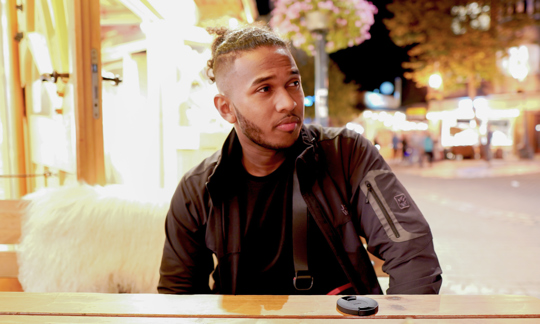 Omar Sharif, 1pm
You also don't want to miss an exclusive audience with Omar Sharif, who overcame a background of struggle to become an inspirational mentor presented with the 2018 Pride of Britain Awards' Young Achiever of The Year award by heavyweight champion Anthony Joshua.
Discover more on the day
When you book onto our open day, you'll also receive information on how you can join our support service talks. 
hired@UCB
11:30am-12pm, 12:30-1pm and 1:30-2pm
Find out how the hired@UCB team can support your studies, from careers guidance to employability skills and support with finding placements and work. Plus, be inspired by our alumni.
Health and Wellbeing
12-3pm
Meet the team and find out how the department can help you get the most out of your time with us.
Student Finance
Presentations at 11:30am and 1pm or drop-in from 12-3pm
Meet the Finance team and find out how you can finance your studies. You will also have the chance to ask any questions you may have. Presentations will take place at 11:30am and 1pm, however you can also drop-in from 12-3pm.
Admissions
12-3pm
Your questions answered about the application process and timescales, plus how to apply direct to University College Birmingham.
CASE
12-3pm
Our Centre for Academic Skills and English (CASE) offers tailored support to all students at University College Birmingham, enhancing your study experience and helping you achieve your goals. Find out how they can support you.
Accommodation
11-11:30am, 1-1:30pm and 2-2:30pm
Discover more about our student accommodation at The Maltings, and get a feel for what your new 'home from home' could be like. Costs and the application process will be covered and the session also includes a virtual 'guided' campus tour.
Don't want to wait until then to find out more? Explore more on our accommodation pages.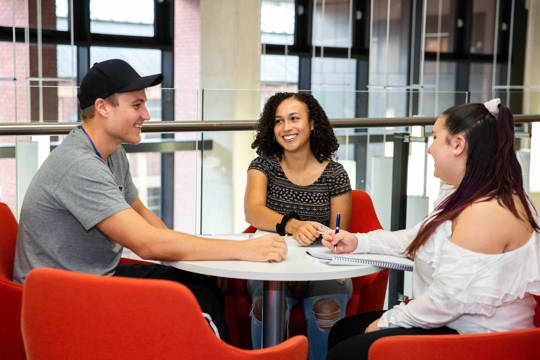 Chat to current students
11:30am-12pm, 1:45-2:15pm and 2:45-3:15pm
You're sure to want to hear about the university experience from students actually studying here. Hear what life as a student is like through their eyes.
Want to speak with someone now? Visit our Unibuddy page.
Guild of Students
11:30am-12pm and 1-1:30pm
Meet The Guild of Students and find out what exciting opportunities they have available.
You can also find out more by visiting The Guild website.