It's not too late to find the right course for you
Our clearing hotline is open from 8am to 5pm Monday - Friday.
University of Warwick accreditation
Many of our degree courses are accredited by the University of Warwick- a leading Russell Group university. This means that these courses are developed by us and delivered in our world-class facilities at University College Birmingham, but graduates will receive their final awards from the University of Warwick.
What is Clearing?
Clearing is a service provided by UCAS (Universities and Colleges Admissions Service) that enables universities to fill any places they still have left on their courses in the final few months before the new academic year starts. 
Worried about your results and need a back-up plan?
Missed out on the entry requirements for conditional offers?
Changed your mind about what or where you'd like to study?
Applying late?
If the answer to any of the above is yes, then UCAS Clearing is your additional opportunity to secure a place on a university course for October 2023.
Did you know...
You can contact us in the following ways:
Meet other students on your course
Starting university is an exciting time, but we understand that it can sometimes feel a little daunting. To support you, you will be invited to join our Unibuddy Community, where you can meet other students who have applied for the same course at University College Birmingham, before you start studying here.
As soon as you have been made an offer, you will be sent an invitation email to complete your registration and join the Unibuddy Community. For more information, check out our Unibuddy Community page.
Clearing success stories
We have many students join us through Clearing, every year. Read some of their experiences - and see how Clearing is just the first step to so much more!

"I applied for Marketing at a university in Scotland as my firm choice and now I'm in my first year studying for a BA (Hons) degree in Digital Marketing at University College Birmingham.
I had received an offer from my firm choice, my second choice being University College Birmingham. Because I was holding an offer from my firm choice, I had to decline them and apply for my second choice through Clearing.

I did this because I had a change of heart ..."

"I was originally rejected for a degree in nursing from many universities. However, I found that it wasn't really my passion and soon pulled my UCAS profile. I had been interested in aviation and planes from a young age as my grandad was an aircraft engineer and I lived on army sites as a child.
"I didn't realise this was a university course opportunity, so when I found out about it, I knew I had to apply and was offered an unconditional offer through Clearing…"
Speak to current students
Who better to give you an insight into what it's like to study here than our current students? If you have a question for them - ask it. They are happy to answer!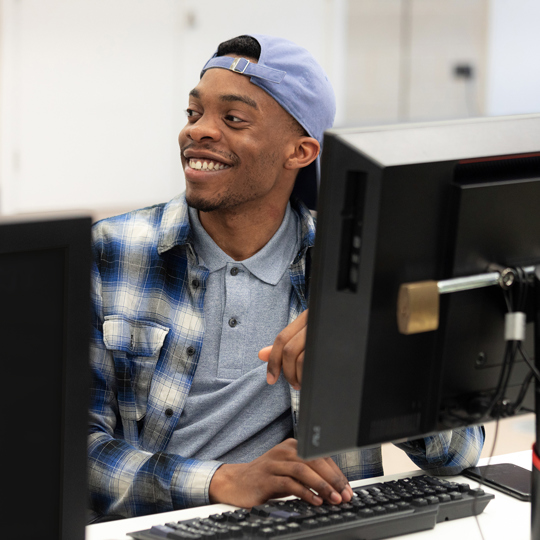 Support with UCAS, Clearing and Student Finance
Clearing gives thousands of students the opportunity to find the best undergraduate course for them each year, particularly if they have missed the UCAS deadline or perhaps have changed their minds about what and where they would like to study.
Whether you were unable to attend our Clearing webinar or would like to revisit the content, we're glad to offer you access to the recorded session. Please take a moment to complete the form, and we'll email you with the recording. 

Request to view Clearing webinar


Prepare for student life
We've put together links to all of the additional information you will need to get you prepared for applying to University College Birmingham through Clearing. Scroll through the below and take a look!