Student stories: MasterChef champion Dan Lee
By studying at our Birmingham College of Food, you can follow in the footsteps of ex-student Dan Lee, champion of MasterChef: The Professionals 2021.
Dan was dubbed a "star in the making" by the show's judge and Michelin-starred restaurant owner Marcus Wareing. He was also joined in the latest series by final year Culinary Arts Management degree student Yasmine Selwood, who reached the quarter-finals.
There have been a string of other students from our food courses to have featured on the hit BBC TV show too, including 2017 semi-finalist Leo Kattou of Michelin-starred Simpson's Restaurant in Birmingham, as well as 2011 finalist Claire Hutchings.
Discover more about Dan and our other MasterChef stars:
Why should I choose this course?
WORK PLACEMENT – Boost your employment prospects through a paid one-year placement in the culinary arts industry, with opportunities around the world

PRACTICAL APPLICATION

– Take on opportunities such as working at Michelin-starred restaurants (e.g. Simpsons, Carters of Moseley), supporting product development with major firms like Mars or working in our outstanding campus restaurant
COMPETITIONS – Prove your abilities in a range of industry competitions – you could follow in the footsteps of our past winners at Nestlé Professional Toque d'Or (five-time winners), Zest Quest Asia (two-time champions), BCF Young Chef of the Year and many more
ENRICHMENT – Enjoy a variety of visits and masterclasses by celebrated chefs and food industry experts
AWARD-WINNING UNIVERSITY – Study at the highest-ranking university in the region according to student choice (Whatuni Student Choice Awards 2023)
Our facilities
University College Birmingham is renowned for its outstanding food industry training facilities. Studying our Culinary Arts Management course means you will have access to our professional standard kitchens, award-winning training restaurant and state-of-the-art food development facilities.
Our industry standard kitchens provide a real-time working environment for students on our food courses to develop their skills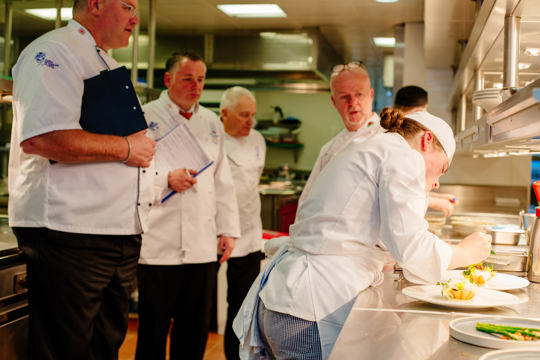 The kitchens are also used regularly for prestigious competitions, including Michel Roux Jr's annual scholarship contest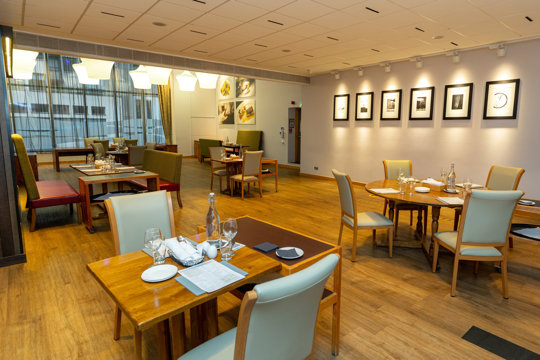 Open to the public, our award-winning restaurant on campus – Restaurant at Birmingham College of Food – will arm you with hands-on skills, from serving fast food to silver service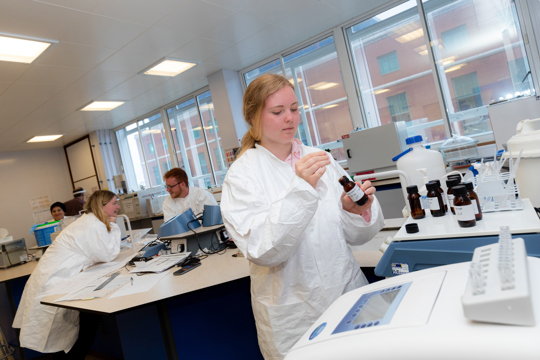 Designed with the help of the food industry, our Food Science and Innovation Suite features the latest food testing and diagnostic technology alongside state-of-the-art development kitchen facilities
Course breakdown
Students on the FdA have the option of progressing onto the final year upon completion of the foundation degree.
Year 1
Year 2
Year 3
Year 4
Commodities, Health and Nutrition
This module is designed to give students an understanding of food commodities, the nutrients within them and their value in the healthy diet and how to apply these healthier practices through recipe modification, menu planning, food service and marketing. The module will introduce and give students an understanding of problems associated with meeting the dietary needs of special groups/sub groups within society.
Culinary Arts Development
This module is designed to develop the student's technical ability and culinary expertise. This module will incorporate a strong focus on time management, practical workflow, food hygiene, and standardised procedures to aid professional food production.
Food, Beverage and Hospitality Operations
What is 'sous vide'? For how long can food be held hot in a service area? Why does the speed of music played in a restaurant matter? There are a whole host of very important questions to be answered when organising the production and service of food and beverages to customers. The Food, Beverage and Hospitality Operations module introduces this vast topic in the first year of study. The module is taught through a series of presentations, case studies and discussions to provide a general introduction to the large scale food production systems used in the catering industry; the different types of food service appropriate to various hospitality situations and develop an appreciation of the wealth of legislation that exists in this business sector. Purchasing, staff training, quality and customer care, restaurant and kitchen planning are other areas that are introduced in this module.
Kitchen and Restaurant Operations
You will be provided with practical experience in order to apply your organisational skills within a realistic, professional environment. You will be providing food and service to the highest standard, utilising appropriate resources such as food ordering, menus and standard recipes.
You will be provided with a basic understanding of the factors that can affect profit in the food and bakery industries. This module integrates three core areas: finance, organisational behaviour and marketing, highlighting the key theories and models as well as giving you the opportunity to work on current industry scenarios.
Developing Employability for Hospitality
How do you get the job that you want and get ahead in your professional life? How do you ensure that you stand out and maximise every opportunity for career progression and enhancement? This module will develop your self-awareness and reflective skills allowing you to develop a personal brand that demonstrates the knowledge, skills and behaviours that are demanded by the sector's top employers.
You will gain valuable work experience on a 48-week work placement. This is an exciting opportunity to put what you have learned into practice, broaden your experience and demonstrate your abilities to potential employers.
Creative Kitchen Management
This module is designed to develop the student's competency in effective kitchen management within a professional culinary environment, through the use of both theoretical and practical application. The comprehensive approach to the module allows students to utilise and practice the many aspects of creative control procedures including menu planning, dish development, due diligence and financial control, designed to prepare students for the rigour and competencies required within the role of kitchen manager, head Chef or financial controller.
In this module, you will design and develop creative food items that can be formulated into profitable menus considering current market development and culinary trends. The key focus of global cuisines, ethnic foods and diverse world cultures with varying backgrounds will allow a greater understanding and appreciation of the wider gastronomic landscape with its various challenges and opportunities. You will be challenged to conduct in-depth culinary research into a specific ethnic cuisine of your own choice, examining the cultural, social, religious and geographical influences to formulate a selection of westernised recipes suitable for an identified target market. Emphasis will be placed on specific ingredient knowledge, flavour profiles, authentic preparations, and adapted culinary techniques representative of the cuisines from around the world. The additional learning focus will include sustainability e.g. food waste reduction/seasonality, healthier eating, allergens and special diets e.g. vegan/vegetarian and free-from.
People Management for Hospitality Managers
Effective people management impacts the extent to which your business succeeds or fails. This module will explore the practical and theoretical people management skills required by 21st century managers in order to maximise the success of their business, through their most important resource: their people. We will explore the role of the line manager throughout the employment journey and evaluate best practice procedures to attract and retain your staff.
Management of Food and Beverage Operations
You will have the opportunity to apply management principles in a 'live' realistic working environment. You will demonstrate your management skills in order to ensure the execution of a successful service and demonstrate the need for effective control and revenue-generating procedures.
Marketing Communications for Hospitality
The hospitality industry faces a huge challenge in terms of adapting and promoting services in an interconnected world. As a result, you will examine the tactics, strategies and ways that marketing managers use media communications to secure business.
Hospitality Investigations
The problems and questions facing current hospitality, events and tourism managers are becoming more unique and complex in nature and cannot be answered or solved just by using experience or common sense alone. Therefore, as a hospitality manager, you will be required to engage in a range of research activities within your role. This module will prepare you for this and for future research within academia; providing an opportunity for you to develop, design and propose a piece of research which focuses on an interesting and contemporary topic area or issue within your industry.
Gastronomy is the study of the relationship between culture and food. As a module developed for food lovers, it will provide you with an appreciation of past, present and anticipated future gastronomic trends. You will develop a sound knowledge of contemporary food issues such as the development of food tourism, food events and festivals and discuss how restaurants are incorporating current trends.
Based upon well-established events planning models, you will gain a sound understanding of the implementation and evaluation of festivals and special events. You will look at growth and development trends, related policy issues and the overall role of events in tourism and leisure. Event typologies and the scope of events will be reviewed and the impacts on residents and visitors will be considered.
Managing Pub and Bar Operations
You will develop your knowledge of the skills that are used within the pub sector - one of the most diverse sectors of the hospitality industry. This will lead to an understanding of the sector structure, trends in legislation, current issues and management operations involved in the efficient running of a pub.
Classical Patisserie – The Modern Way
The area of patisserie is highly specialised and it can take many years to master the required technical skills. This hands-on module is designed to provide you with an introduction to all the essential elements of professional pastry production. You will design, develop and produce a line of complex plated desserts using a modern technology and specialist equipment. The various creative artisan techniques include chocolate tempering methods, working with boiled sugar and creativity with fresh, seasonal fruit. Focusing on current dessert designs, strong flavour profiles and modern production techniques, you will create a wide variety of products that are progressive in presentation style, taste, and overall appearance. Learning topics include preparation of specialist pastry products for plated desserts considering allergens, healthier eating and special diets such as vegetarian, vegan, diabetic, and gluten/nut-free. You will be challenged to produce modern plated desserts utilising standardised recipes, adapted classical techniques and considering current market developments for a wide range of target markets.
This module is designed to provide you with a detailed understanding of the composition, manufacturing, and sales of a wide range of beverages, as well as in depth look into the drinks market. You will cover tasting, market research, case studies and guest speakers from across the sector, as well as a chance to design your own drinks brand.
Culinary Product Innovation and Creativity
Let your culinary creativity flow to design and develop new innovative food products - from the initial idea to the market launch. This module offers you the unique opportunity to gain an in-depth understanding of all the essential technical processes in commercial new product development. In this module, you will be challenged to utilise your culinary skills and knowledge to develop a wide range of innovative prototypes considering a specific product brief set by an industry partner i.e. food manufacturer as a live learning project. The additional learning focus will include healthier alternatives, considering consumer allergens and special diets e.g. vegan/vegetarian and free-from products
You will have the opportunity to engage in an independent research project of your choice. You will have support with preparing your proposal and understanding the competent characteristics of good research. An appointed tutor will help guide you through this important and rewarding process.
Strategic Hospitality Management
You will learn the full range of strategic management issues encountered when determining the direction of the organisation. You will use analytical tools in the context of service sector-based case studies and learn procedures and techniques for a range of elements taught on this course. You will be able to identify long-term threats and opportunities for organisations in order for it to develop successfully.
Culinary Entrepreneurship Management
Have you ever imagined what it would be like to start your own culinary business? Maybe a restaurant, café, street food stall or catering business? We will prepare you for the experience by asking you to find a suitable location in the UK for your culinary business operations. In a 'Dragons' Den' session, you will pitch your idea to a 'financer' and create a business plan to support this idea going forward.
An opportunity to consolidate your financial planning knowledge, you will learn how to synthesise and evaluate business performance and strategy. You will develop an in-depth knowledge of financial concepts and how companies portray themselves through their annual reports.
Cross-cultural and Global Management in Hospitality
You will explore the ways in which a culturally diverse organisation can make use of a diverse range of perspectives offered by international team members and their varied expertise. You will focus on employees who have a global perspective in achieving success for their organisation by implementing international strategy with an awareness of cross-cultural differences.
Innovation and Creativity Management in Hospitality and Tourism
The theme for this module is the 'future environment', which gives you the opportunity to explore and analyse the innovation process in the service sector. You will understand that change is an essential component of the managerial process as you develop new products and services for use in the industry.
Personal Effectiveness and Behavioural Skills
Contemporary management thinking recognises the value of 'soft skills' and how they complement technical skills and knowledge to drive sustainable organisational performance within this ever growing global work arena. Positive workplace behaviours encompass a myriad of complex competencies, from how to effectively communicate vision and influence others, to creating constructive and positive working relationships with colleagues and stakeholders. This module will allow students to critically examine their own workplace behaviours, through the analysis of theories relating to workplace psychology, Emotional Intelligence and critical self-reflection. It will enable them to identify their personal strengths, weaknesses and areas for improvement, and allow them to consider suitable strategies to help them to develop their own personal effectiveness.
The modules listed above for this course are regularly reviewed to ensure they are up to date and informed by industry as well as the latest teaching methods. On occasion, we may need to make unexpected changes to modules – if this occurs, we will contact all offer holders as soon as possible.
Entry requirements
Culinary Arts Management BA (Hons)
A-levels: An A-level grade profile of CDD.
T-levels: A T-level graded Pass with a core component of grade C.
BTEC: A BTEC grade profile of MMP. This can be achieved from either an Extended Diploma or a combination of smaller BTEC qualifications.
Tariff: Other Level 3 qualifications are accepted for entry. A minimum of 80 UCAS Tariff points will be required.
Access to Higher Education Diploma: 80 UCAS Tariff points, including a minimum of 15 Level 3 credits at Distinction.
Culinary Arts Management FdA
A-levels: An A-level grade profile of DD.
T-levels: A T-level graded Pass with a core component profile less than C.
BTEC: A BTEC grade profile of PP. This can be achieved from either an Extended Diploma or a combination of smaller BTEC qualifications.
Tariff: Other Level 3 qualifications are accepted for entry. A minimum of 32 UCAS Tariff points will be required.
Access to Higher Education Diploma: 32 UCAS Tariff points.
Non-tariff: Non-UCAS Tariff-based Level 3 qualifications are also considered for entry. Please complete our enquiry form here to check your eligibility.
Work-based: We also give equal consideration to applicants who are currently in work and wish to apply to University College Birmingham. To apply, you must have a minimum of 3 years' relevant work experience, demonstrating management or supervisory duties. Your application must also include a reference from your line manager supporting your entry to higher education. For further details, please contact Admissions.
Key information
Note: Indicative information only – actual timetables and assessment regimes will be issued at your induction. 
Teaching 
Example of a typical teaching week (up to 19 contact hours): 
Large group teaching

– 4 hours

Smaller group teaching

– 2 hours

 

Practical kitchen session

– 10 hours

 

Tutorials

– 1-2 hours

 

Subject advice sessions

– 2 hours

 
You will also need to commit around 20 hours per week for individual study time. 
Assessment
Estimated breakdown of assessment for this degree course (weighting will vary in Year 3 and 4 depending on optional modules):
Coursework – 52%
Practical assessment – 32%
Written examinations – 16%
Our teaching and assessment is underpinned by our Teaching, Learning and Assessment Strategy 2021-2024.
This course requires a uniform and kit costing approximately £250-300, depending on the items you purchase. (Prices are subject to change each year – exact costs and information on how to order required items will be provided to you prior to enrolment.)
UK students
If you are a UK student enrolling on a standard-length Foundation Degree or a BA/BSc at University College Birmingham, your fee for this academic year will be £9,250. A half-year tuition fee is £4,625. There will be no change to this tuition fee for the forthcoming two academic years (2023/24 and 2024/25).

View undergraduate fees
International students
If you are an international student enrolling on a full-time foundation degree or a BA/BSc in 2023/24, your fee for this academic year will be £13,500 per year. The course fee for academic year 2024/2025 is £14,000 per year.
If you complete a placement year, there will be an administration fee of £500 for a full year or £250 for a half-year placement.
As a new student studying this course full-time, you will receive £300 per year through our Kick-Start Scheme (UK students only, eligibility criteria applies). This scheme will support your studies and future career by contributing to course-related materials, uniform or selected items on campus. You may also qualify for an additional £500 per year.
Find out more about the Kick-Start Scheme here.
Unibuddy Community - meet other students on your course
Starting university is an exciting time, but we understand that it can sometimes feel a little daunting. To support you, you will be invited to join our Unibuddy Community, where you can meet other students who have applied for the same course at University College Birmingham, before you start studying here.
As soon as you have been made an offer, you will be sent an invitation email to complete your registration and join the Unibuddy Community. For more information, check out our Unibuddy Community page.
Join the conversation and check out the latest updates from Birmingham College of Food.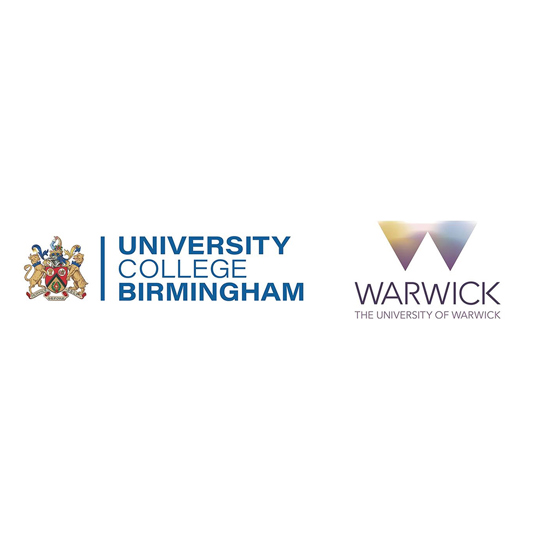 This course is accredited by the University of Warwick.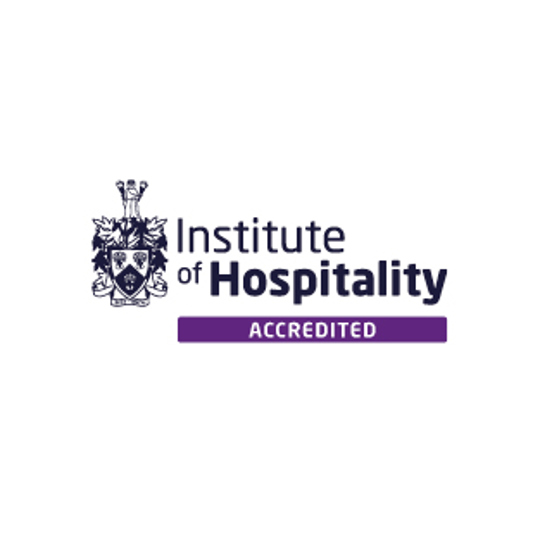 This course is accredited by the Institute of Hospitality.
Accreditations, endorsements and partnerships
University College Birmingham works with a wide range of organisations to ensure you receive the best possible training and qualifications recognised by industry.
of graduate employers say relevant experience is essential to getting a job with them
Work placements
Work placements are vital for gaining real-life experience and for building your confidence and skills before you finish your course – and they may even lead to a job when you graduate. Our Hired team can help find the ideal placement for you. 
Our FdA and BA Culinary Arts Management courses both feature a one-year paid placement during your second year, during which you will not incur any tuition fees. Opportunities are available in the UK or overseas.
Work alongside experts in your sector
A snapshot of some of the employers we have worked with:
White Barn Inn and Spa (Maine, USA)
The Savoy (London)
Gleneagles (Scotland)
Celtic Manor (Wales)
The Landmark (London)
Ashford Castle (County Mayo, Ireland)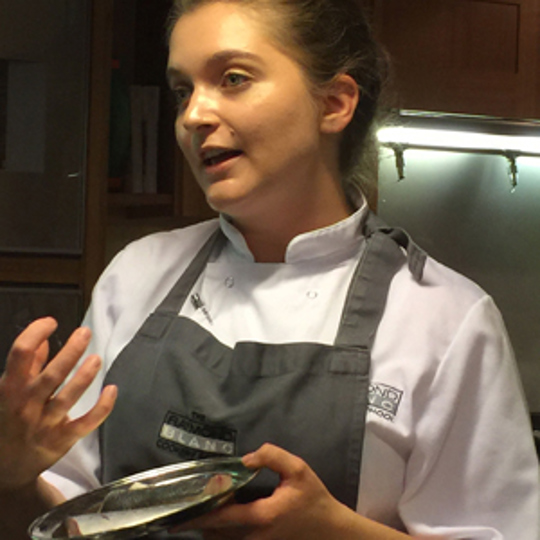 I always recommend this course to anyone with a passion for food or hospitality as it gives you such a wide range of tools and skills. I completed a year's placement in New Hampshire, USA, during my degree course and am now senior tutor at the Raymond Blanc Cookery School.
Our graduate stories
From Michelin-starred Brad Carter to MasterChef finalist Leo Kattou, our students and alumni from the College of Food and Hospitality Management are doing incredible things. Hear some of their fascinating stories below. 
Career opportunities
The example roles and salaries below are intended as a guide only.
Head chef
Average salary: £35,000 - £50,000
Sous chef
Average salary: £30,000 - £40,000
Food business owner/restaurateur
Variable
Catering manager
Average salary: £22,000 - £45,000
Culinary arts lecturer
Average Salary: £39,239
Product development chef
Average salary: £25,000 - £40,000
Want to take your studies to the next level? Completing the BA (Hons) degree will enable you to move onto our postgraduate courses such as Culinary Arts Management MA/PGDip.
Hired
We are here to support your career goals every step of the way.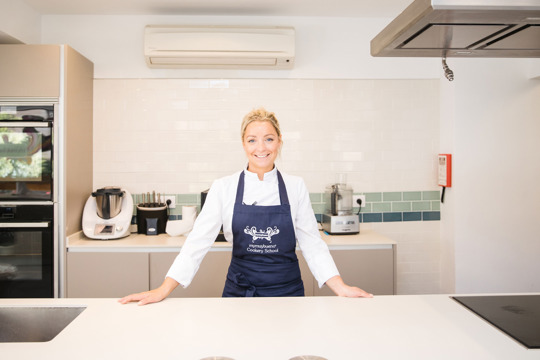 Claire's Story
As one of the youngest finalists on MasterChef: The Professionals, Claire honed and sharpened her skills at University College Birmingham.