Why should I choose this course?
PRACTICAL APPLICATION – Develop your hands-on skills on work placement during your bakery course, as well as learning in our on-site bakeries and cutting-edge Food Science and Innovation Suite
INDUSTRY APPROVED – We have a close working relationship with the Worshipful Company of Bakers, ensuring our bakery and patisserie course features the latest industry techniques and developments
COMPETITIONS – Take on the opportunity to showcase your talent in contests such as the Alliance for Bakery Students and Trainees' (ABST) annual competition
ENRICHMENT – From Callebaut to Délifrance and DuPont/Danisco, our industry partnerships offer our baking degree students a wealth of opportunities for guest lectures, research, placements and visits
AWARD-WINNING UNIVERSITY – Study at the highest-ranking university in the region according to student choice (Whatuni Student Choice Awards 2023)
Our facilities
University College Birmingham is renowned for its outstanding food industry training facilities. Students on our bakery course have access to our own on-site baking and product development laboratories and our multi-million pound, state-of-the-art Food Science and Innovation Suite.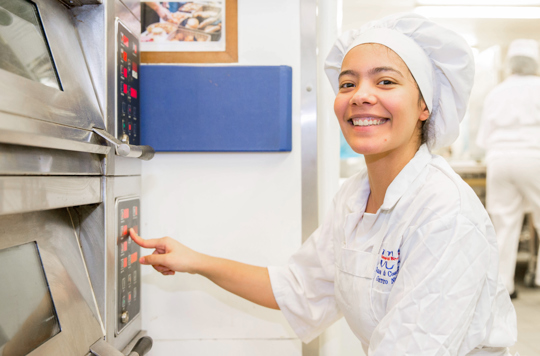 Our on-site baking and product development laboratories host equipment such as high-speed pressure/vacuum mixers, specialist equipment for chocolate production and dough and flour rheology testing equipment used by students on our baking degree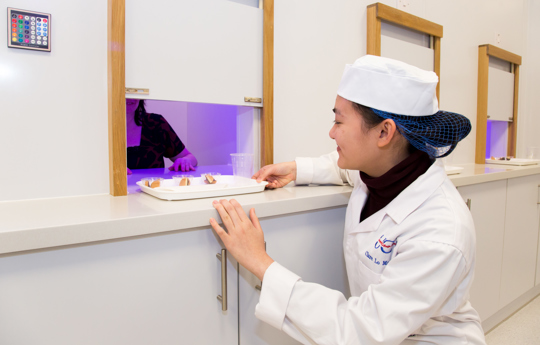 Designed with the help of the food industry, our Food Science and Innovation Suite features the latest food testing and diagnostic technology alongside a cutting-edge development kitchen and bespoke sensory evaluation room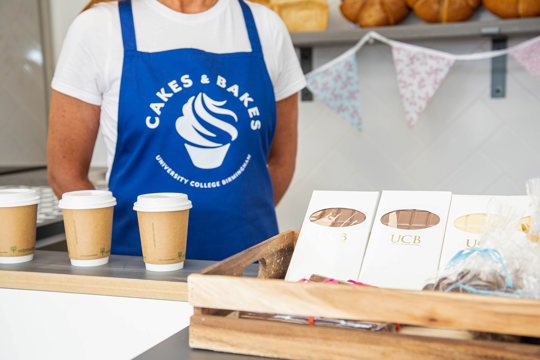 Our Cakes & Bakes shop on campus sells a wide range of bread and baked goods made by students on our baking courses
Course breakdown
Students on the FdSc have the option of progressing onto the final year upon completion of the foundation degree.
This module provides students with an introduction to the main food hygiene theories and practices. In particular, current food hygiene legislation requires food businesses to develop and implement a food safety management system based around HACCP. Students will learn how to devise and implement such a system.
You will be provided with a basic understanding of the factors that can affect profit in the food and bakery industries. This module integrates three core areas: finance, organisational behaviour and marketing, highlighting the key theories and models as well as giving you the opportunity to work on current industry scenarios.
Artisan Bread – Production and Appraisal
The production of artisan bread products, developing the hands-on production skills and analysing the technical aspects of producing a number of different fermentation and dough development styles within the sector.
Introduction to Patisserie
You will develop skills required to produce a range of patisserie products. The specialist areas include pastry, fillings, sponges, mousses, glazes and desserts. This module also provides the opportunity to explore history and origin of patisserie products and how they have become classic desserts.
You will be encouraged to develop your specialist confectionery skills while gaining a deeper understanding of how ingredients work together in order to form specific products. A main focus of this module will be the examination of specialist ingredients such as flour, sugar confectionery and chocolate.
Bakery Science and Nutrition
This module is intended to introduce basic scientific and nutritional principles which will form the base for scientific modules going forward. The core food molecules such as carbohydrates, fats and proteins will be discussed from both a chemical and nutritional aspect. The theory will be underpinned via the use of rheological and chemical laboratory testing of relevant bakery ingredients and finished products.
Contemporary Bread Production
The contemporary bread production module allows students to both produce the products, and study the technical aspects of typical bread and morning goods found on UK retailers' shelves. Where possible, automated food manufacture process is replicated by the students in the UCB bakery suite.
Functional Ingredients for Bakery
Key functional bakery and patisserie ingredients are investigated by producing samples and using analytical science to understand and justify their role in baked goods. You will gain an understanding of the relationship between bakery ingredient functionality and finished product quality.
Advanced Patisserie and Confectionery
The increased media coverage on veganism, dietary requirements and allergens awareness has impacted the bakery and confectionery industry, resulting in changes. The concepts and styles of afternoon tea are evolving and this module has been designed to broaden the knowledge, skills and professional techniques and methods used to produce confectionery and chocolate patisseries. Students will be expected to develop and produce a range of afternoon tea products for the luxury market to align both practical and academic attributes to enhance employability.
Bakery Product Design and Development
Food technologists and product developers need to understand the ingredients that can be incorporated into food products and how they relate to the formulation of new and innovative developments as well as improving existing products. This module has a strong industry focus and you will be able to participate in a real life development opportunity. You will also study the theories of product development strategies for new products and product improvement and considerations around scale-up. This will include market trends and analysis, competitor reviews and benchmarking exercise.
Quality Assurance and Legislation
This module will provide students with an introduction to quality assurance in relation to food manufacturing and industry techniques used to ensure quality and compliance with legislation. There will be a series of practical sessions designed to demonstrate the implementation of key quality systems. The assessment uses case study scenarios in a food manufacturing context to develop students' insight in relation to hazard controls, traceability and specification design. Quality Assurance in food manufacturing offers sought-after, wide and varied careers.
Sensory Science and Data Handling
Food is a basic necessity, but the delivery of food products that meet customers' expectations is the lifeblood of any food and beverage producer and retailer. Human senses are critical in our appreciation of food and drink. The evaluation of consumer preferences and the overall quality of food underpins all food development work and the ability to analyse food effectively and within established standards is paramount. This module allows you to explore how our senses work, applying them to scientific testing and consumer acceptance of food products and ensuring their quality and shelf life. You will learn about the physiology and psychology of food evaluation, the methods employed by sensory scientists to determine acceptance and food quality, while understanding the importance of effective methodology, standardisation and the application of basic statistical methods for data analysis and interpretation.
Trends in Bakery and Patisserie Technology
You will study current issues and trends in Bakery and Patisserie Technology by reading press articles and scientific reports, paying particular attention to the development of products in line with these trends. The focus will be on sourcing alternative ingredients and amending processes and procedures so that products can be successfully delivered in line with these trends without compromising food safety or product quality.
Current Issues in Food and Nutrition
You will study current issues and trends in food and nutrition by reading press articles and scientific reports, paying particular attention to the science of weight loss. In addition you will study buyer behaviour to see if it affects the popularity of certain market products.
You will study the principles, control and optimisation of processing systems, food handling, hygiene, refrigeration, mixing and blending. You will also investigate scientific principles and food preservation methods including heat treatments, chilling, drying, fermentation and chemical preservatives.
Food Supply and Sustainability
You will learn more about the various functions and job roles in different sectors of the agri-food supply chain including agriculture, manufacture, distribution, food services and retail. This will broaden your knowledge of the food industry and enable you to investigate food resources, climate and seasonal effects, food waste and environmental control.
You will have the opportunity to engage in an independent research project of your choice. You will have support with preparing your proposal and understanding the competent characteristics of good research. An appointed tutor will help guide you through this important and rewarding process.
You will be required develop a new product with a 6,000-word article supported by a poster presentation. You will be supported throughout this project with regards to key research by an appointed tutor.
The modules listed above for this course are regularly reviewed to ensure they are up to date and informed by industry as well as the latest teaching methods. On occasion, we may need to make unexpected changes to modules – if this occurs, we will contact all offer holders as soon as possible.
Entry requirements
Bakery and Patisserie Technology BSc (Hons)
A-levels: An A-level grade profile of CDD.
T-levels: A T-level graded Pass with a core component of grade C.
BTEC: A BTEC grade profile of MMP. This can be achieved from either an Extended Diploma or a combination of smaller BTEC qualifications.
Tariff: Other Level 3 qualifications are accepted for entry. A minimum of 80 UCAS Tariff points will be required.
Access to Higher Education Diploma: 80 UCAS Tariff points, including a minimum of 15 Level 3 credits at Distinction.
Bakery and Patisserie Technology FdSc
A-levels: An A-level grade profile of DD.
T-levels: A T-level graded Pass with a core component profile less than C.
BTEC: A BTEC grade profile of PP. This can be achieved from either an Extended Diploma or a combination of smaller BTEC qualifications.
Tariff: Other Level 3 qualifications are accepted for entry. A minimum of 32 UCAS Tariff points will be required.
Access to Higher Education Diploma: 32 UCAS Tariff points.
Non-tariff: Non-UCAS Tariff-based Level 3 qualifications are also considered for entry. Please complete our enquiry form here to check your eligibility.
Work-based: We also give equal consideration to applicants who are currently in work and wish to apply to University College Birmingham. To apply, you must have a minimum of 3 years' relevant work experience, demonstrating management or supervisory duties. Your application must also include a reference from your line manager supporting your entry to higher education. For further details, please contact Admissions.
Key information
Note: Indicative information only – actual timetables and assessment regimes will be issued at your induction. 
Teaching 
Example of a typical teaching week (up to 23 contact hours): 
Large group teaching

– 4 hours

 

Practical bakery session

– 10 hours

 

Practical science and hygiene

– 4 hours

 

Tutorials

– 1-2 hours

 

Continual Professional Development (CPD)

– 2 hours

Academic success

– 1 hour

 
You will also need to commit around 20 hours per week for individual study time. 
Assessment
Estimated breakdown of assessment for this degree course:
Coursework – 70%
Practical assessment – 23%
Written examinations – 7%
Our teaching and assessment is underpinned by our Teaching, Learning and Assessment Strategy 2021-2024.
This course requires a uniform and kit costing approximately £300-£325, depending on the items you purchase. (Prices are subject to change each year – exact costs and information on how to order required items will be provided to you prior to enrolment.)
UK students
If you are a UK student enrolling on a standard-length Foundation Degree or a BA/BSc at University College Birmingham, your fee for this academic year will be £9,250. A half-year tuition fee is £4,625. There will be no change to this tuition fee for the forthcoming two academic years (2023/24 and 2024/25).

View undergraduate fees
International students
If you are an international student enrolling on a full-time foundation degree or a BA/BSc in 2023/24, your fee for this academic year will be £13,500 per year. The course fee for academic year 2024/2025 is £14,000 per year.
If you complete a placement year, there will be an administration fee of £500 for a full year or £250 for a half-year placement.
As a new student studying this course full-time, you will receive £300 per year through our Kick-Start Scheme (UK students only, eligibility criteria applies). This scheme will support your studies and future career by contributing to course-related materials, uniform or selected items on campus. You may also qualify for an additional £500 per year.
Find out more about the Kick-Start Scheme here.
Unibuddy Community - meet other students on your course
Starting university is an exciting time, but we understand that it can sometimes feel a little daunting. To support you, you will be invited to join our Unibuddy Community, where you can meet other students who have applied for the same course at University College Birmingham, before you start studying here.
As soon as you have been made an offer, you will be sent an invitation email to complete your registration and join the Unibuddy Community. For more information, check out our Unibuddy Community page.
Join the conversation and check out the latest updates from Birmingham College of Food.
of graduate employers say relevant experience is essential to getting a job with them
Work placements
Work placements are vital for gaining real-life experience and for building your confidence and skills before you finish your course – and they may even lead to a job when you graduate. Our Hired team can help find the ideal placement for you.
Our FdSc and BSc Bakery and Patisserie Technology courses both feature 120 hours of work experience during years 1 and 2.
Work alongside experts in your sector
A snapshot of some of the employers we have worked with:
Mondelēz (Birmingham)
Edgbaston Boutique Hotel (Birmingham)
Hyatt Hotel (Birmingham)
The Ritz (London)
Bettys Café Tea Room (Harrogate)
Slattery (Manchester)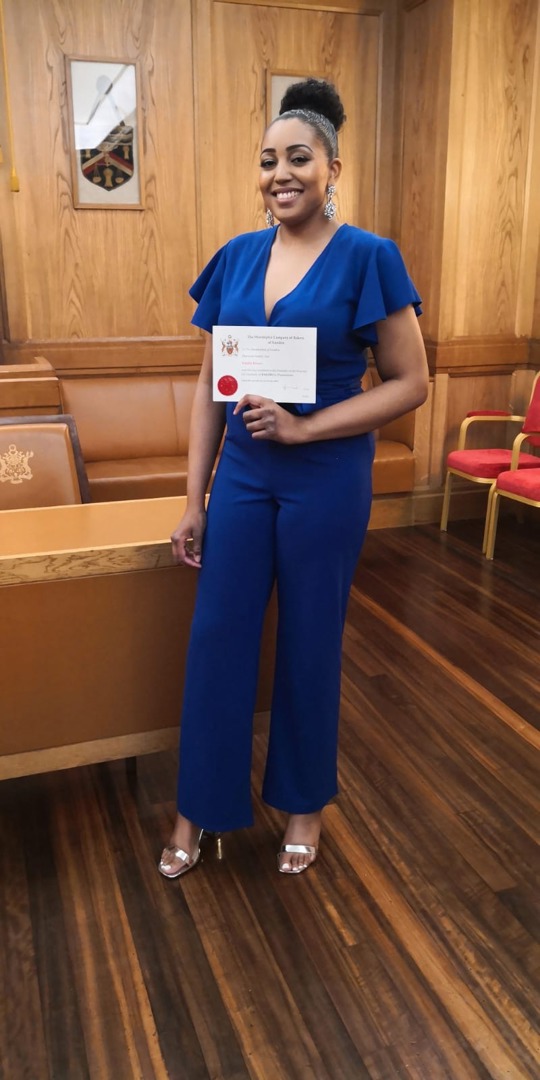 One of the best things about my degree was the amount of modules that opened my eyes to the different career paths I could go down. Also, there was a fantastic amount of practical work, which showed me how much I could enjoy different elements of bakery, not just what I already knew.
Career opportunities
The example roles and salaries below are intended as a guide only.
Product/process development scientist
Average salary: £32,000 - £40,000
Artisan baker
Average Salary: £26,875
Cake decorator
Average Salary: £18,500
Development technologist (bakery & patisserie)
Average Salary: £27,335
Bakery manager
Average Salary: £24,072
Quality control (QC) technician (bakery)
Average Salary: £20,470
Want to take your studies to the next level? Completing the BSc (Hons) degree will enable you to move onto our postgraduate courses such as Enterprise Management MSc/PGDip. 
Hired
We are here to support your career goals every step of the way.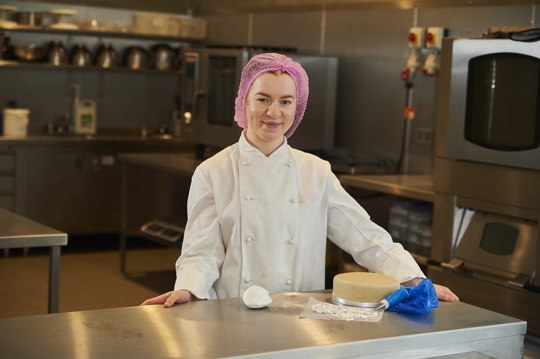 Katie's Story
Katie not only won a new product development role with royal wedding cake maker Fiona Cairns when she graduated, but also a top industry award.
What our students on this course say...
94%
of students on this course say that teaching staff are good at explaining things
100%
of students on this course say that marking and assessment is fair
90%
of students at the University say their course is intellectually stimulating  
*National Student Survey (NSS) 2023
**Course statistics relate to the BSc (Hons) degree