Why choose this degree course?
WORK PLACEMENTS – Boost your employability and real-world experience through undertaking work placements in the industry in line with your interests
RESIDENTIAL VISITS – Visit industry sites and events with essential costs covered by the University – past visits have included food exhibitions and competitions, manufacturers, farms and producers
SPECIALISE YOUR STUDIES – Develop a specialism relevant to your chosen career through optional modules covering subjects such as sports nutrition and food technology
PRACTICAL APPLICATION – Put your knowledge into practice working in our cutting-edge Food Science and Innovation Suite and other facilities
ENRICHMENT – Our links with the food industry offer an array of opportunities including guest lectures and industry research, as well as the chance to gain AfN accreditation after graduation
Our facilities
University College Birmingham is renowned for its outstanding food industry training facilities. Studying our Food and Nutrition degree course means you will have access to our state-of-the-art food development facilities including our Food Science and Innovation Suite, as well as our Human Performance Centre.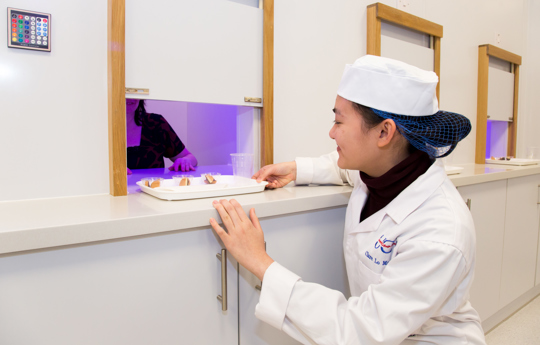 Students are able to test recipes and evaluate flavour combinations in our bespoke sensory evaluation room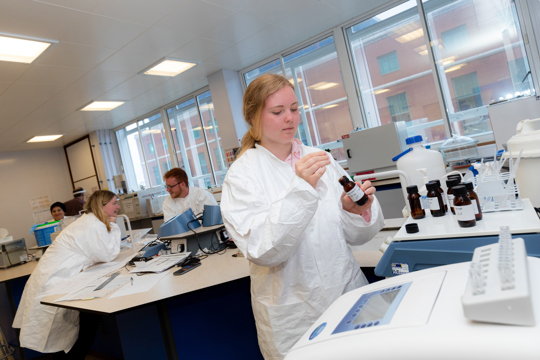 Designed with the help of the food industry, our Food Science and Innovation Suite features the latest food testing and diagnostic technology alongside state-of-the-art development kitchen facilities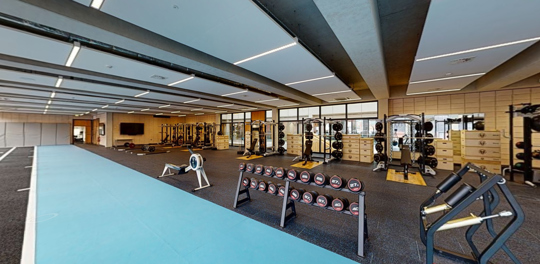 Our Human Performance Centre and Laboratory features the latest equipment including a 35m sprint track, eight lighting platforms, an anti-gravity treadmill and much more
Course breakdown
Students on the FdSc have the option of progressing onto the final year upon completion of the foundation degree.
Introduction to Human Anatomy and Physiology
You will be introduced to the area of human anatomy and physiology and how the body maintains these bodily systems in a state of homeostasis. Physiological systems studied will include digestive, musculoskeletal, renal and excretory, cardiovascular, respiratory, and brain and neurological. Effects of loss of homeostasis will also be discussed.
Introduction to Nutrition
You will be introduced to nutrition as an integrated subject. This will include consideration of the individual components which make up the human diet, including macronutrients, micronutrients and the non-nutritional elements of food, and study their specific roles within the human diet. In addition you will consider government dietary recommendations, dietary patterns and the foundations of ill health linked to diet.
Public Health and Nutrition
Public health and diet considers the general population and their diets in terms of health promotion. Specific government initiatives and their effectiveness will be considered and you will investigate different ways of assessing an individual's energy requirements and expenditure by covering anthropometric measurements.
Culinary Skills for Nutrition
As a nutritionist, you will need to be able to advise others on what foods to focus on and how to obtain vital nutrients through the cooking of healthy, nutritious and enjoyable dishes. By producing a range of these types of dishes, you will learn the required skills and competencies to excel in your vocation.
You will be provided with a fundamental understanding of the principles of food manufacture including learning about preservation methods and the effects of processing different parts of food and its safety and quality.
By examining the scientific properties of food products you will learn about core chemical, microbiological and physical components and understand their function within the food. You will assess the quality of these products in relation to the performance of these components during processing.
Psychology of Eating Behaviour
In order to be well equipped to work as a nutrition professional, it's essential to have compassionate care and cultural competence, understanding the most up-to-date evidence-based methods and techniques to work with the public. This module seeks to further develop understanding of the complexity of food choice and the physiological, political, psychological, social and cultural factors which affect it. In addition, it will introduce you to intervention strategies such as motivational interviewing and digital technology and telehealth as care pathways.
You will consider the different clinical measures for testing the nutritional status of an individual by examining the chemistry of different micronutrients as well as analysing methods of data collection.
Nutrition through the Lifecycle
Focusing on the specific area of childhood nutrition, you will be studying the requirements and legislation surrounding pre-natal, infant, toddler, child and teenage nutrition. You will also pay attention to both policy and practice and how they ultimately impact young individuals.
Personal and Professional Development
In this module you will investigate the variety of career paths open to you, and of interest to you, across the industry. You will explore a number of employment related frameworks, in addition to reflecting on your own strengths and areas for development in relation to the career paths of your choice. You will undertake at least 40 hours of placement within industry – this can be work shadowing, voluntary or paid work, and may be in a block (i.e. one week) or across a number of weeks. If you wish to explore more than one career pathway, this is also encouraged to enable you to develop a clear career plan for the final assessment. The final presentation will allow you to employ reflection tools to consider your career plan and future actions to plan for employment.
Research for Food and Nutrition
You will develop your ability to carry out effective research, considering research within the health field, specific nutrition methodologies, data capture and statistics. You will also consider any current limitations of existing research.
Sport and Exercise Nutrition
You will examine the nutritional needs of athletes and those undertaking substantial exercise programmes, exploring the importance of nutrition in achieving optimal health. Other topics addressed will include exercise and metabolism, energy generation, hydration and vitamin and mineral needs for athletic performance.
Food Product Design Development
Food technologists and product developers need to understand the ingredients that can be incorporated into food products and how they relate to the formulation of new and innovative developments as well as improving existing products. This module has a strong practical focus and, with an industry-led project, you will be able to participate in a real-life development opportunity. Alongside the practical element you will also study the theories of product development and strategies for new products and product improvement and considerations around scale-up. This will include market trends and analysis, competitor reviews and benchmarking exercise.
Current Issues in Food and Nutrition
You will study current issues and trends in food and nutrition by reading press articles and scientific reports, paying particular attention to the science of weight loss. In addition you will study buyer behaviour to see if it affects the popularity of certain market products.
Food Supply and Sustainability
You will learn more about the various functions and job roles in different sectors of the agri-food supply chain including agriculture, manufacture, distribution, food services and retail. This will broaden your knowledge of the food industry and enable you to investigate food resources, climate and seasonal effects, food waste and environmental control.
Disease Modulation through Dietary Change
This module covers how a well-balanced diet can support overall health specifically through the prevention and treatment of disease. It examines how diet can be used to help contribute towards the prevention of certain diseases, as well as aid in the treatment of symptoms of others. This module further seeks to provide understanding of health claims in the health and well-being market and the role of nutritionists in examining these claims through scientific method and educating the public in their veracity and efficacy. The module does not seek to treat, mitigate or cure any diseases – what will be learned on this module is not a substitute for professional medical advice. What the module will do is develop consideration of the positive contribution nutritional balance and modifications can make to disease prevention and treatment.
Sport and Nutrition Project
You are required to select a research question or topic aligned to your profession, formulate the best way to answer the question, and present your written findings in both a written and presentation format (poster presentation).
Today's nutrition professionals need advanced communication knowledge and skills to excel in their career, whether they are working in public health settings, with individual clients or providing food businesses with advice. This module seeks to enhance interpersonal, non-verbal, oral and written communication skills while providing you with an understanding of the importance of evidence-based practices, and being able to translate nutrition messages to a wide variety of audiences. You will be given the opportunity to apply your nutrition knowledge to real-world settings and across multiple platforms.
Nutrition for Performance
You will explore advanced concepts in sports nutrition and look at the application of diet in response to individualised sport-specific needs through the assessment of anthropometry and caloric assessment. You will analyse the use of contemporary and emerging diets within sport such as the Palaeolithic diet, ketogenic diets and intermittent fasting practices.
You will study the principles, control and optimisation of processing systems, food handling, hygiene, refrigeration, mixing and blending. You will also investigate scientific principles and food preservation methods including heat treatments, chilling, drying, fermentation and chemical preservatives.
The modules listed above for this course are regularly reviewed to ensure they are up to date and informed by industry as well as the latest teaching methods. On occasion, we may need to make unexpected changes to modules – if this occurs, we will contact all offer holders as soon as possible.
Entry requirements
Food and Nutrition BSc (Hons)
A-levels: An A-level grade profile of CCC-CDD.
T-levels: A T-level graded Pass with a core component of grade C.
BTEC: A BTEC grade profile of MMM-MMP. This can be achieved from either an Extended Diploma or a combination of smaller BTEC qualifications.
Tariff: Other Level 3 qualifications are accepted for entry. A minimum of 96-80 UCAS Tariff points will be required.
Access to Higher Education Diploma: 96-80 UCAS Tariff points, including a minimum of 15 Level 3 credits at Distinction.
GCSE/IGCSE: Science grades A*-C (grade 9-4) or equivalent.
The following Level 2 Science qualifications are acceptable:
GCSE Single Award in Chemistry, Biology or Physics
GCSE Science Double Award
BTEC Level 2 in Science with a Pass profile
A-levels: An A-level grade profile of CD-DD.
T-levels: A T-level graded Pass with a core component profile less than C.
BTEC: A BTEC grade profile of PPP-PP. This can be achieved from either an Extended Diploma or a combination of smaller BTEC qualifications.
Tariff: Other Level 3 qualifications are accepted for entry. A minimum of 56-32 UCAS Tariff points will be required.
Access to Higher Education Diploma: 56-32 UCAS Tariff points.
GCSE/IGCSE: Science grades A*-C (grade 9-4) or equivalent.
The following Level 2 Science qualifications are acceptable:
GCSE Single Award in Chemistry, Biology or Physics
GCSE Science Double Award
BTEC Level 2 in Science with a Pass profile
Non-tariff: Non-UCAS Tariff-based Level 3 qualifications are also considered for entry. Please complete our enquiry form here to check your eligibility.
Work-based: We also give equal consideration to applicants who are currently in work and wish to apply to University College Birmingham. To apply, you must have a minimum of 3 years' relevant work experience, demonstrating management or supervisory duties. Your application must also include a reference from your line manager supporting your entry to higher education. For further details, please contact Admissions.
EU/international students
Key information
Note: Indicative information only – actual timetables and assessment regimes will be issued at your induction. 
Teaching 
Example of a typical teaching week (up to 15 contact hours): 
Large group teaching

– 9 hours

 

Practical kitchen session

– up to 3 hours in first year

 

Tutorials

– 2 hours

 

Subject advice sessions

– 1 hours

 
You will also need to commit around 20 hours per week for individual study time. 
Assessment
Estimated breakdown of assessment for this degree course (weighting will vary depending on optional modules):
Coursework – 80%
Practical assessment – 10%
Written examinations – 10%
Our teaching and assessment is underpinned by our Teaching, Learning and Assessment Strategy 2021-2024.
Additional qualifications and training
You will have the opportunity to gain AfN accreditation after graduating by producing an evidence portfolio associated with your modules.
This course requires a uniform and kit costing approximately £250-300, depending on the items you purchase. (Prices are subject to change each year – exact costs and information on how to order required items will be provided to you prior to enrolment.)
UK students
If you are a UK student enrolling on a standard length Foundation Degree or a BA/BSc at University College Birmingham, your fee for this academic year will be £9,250. A half-year tuition fee is £4,625. There will be no change to this tuition fee for the forthcoming two academic years (2022/23 and 2023/24).

View undergraduate fees
International students
If you are an international student enrolling on a full-time foundation degree or a BA/BSc in 2023/24, your fee for this academic year will be £13,500 per year.
If you complete a placement year, there will be an administration fee of £500 for a full year, or £250 for a half-year placement.
As a new student studying this course full-time, you will receive £300 per year through our Kick-Start Scheme (UK students only, eligibility criteria applies). This scheme will support your studies and future career by contributing to course-related materials, uniform or selected items on campus. You may also qualify for an additional £500 per year.
Find out more about the Kick-Start Scheme here.
UCBconnect - meet other students on your course
Starting university is an exciting time, but we understand that it can sometimes feel a little daunting. To support you, we have created a platform called UCBconnect, where you can meet other students who have applied for the same course at University College Birmingham, before you start studying here.
As soon as you have been made an offer, you will be sent an invitation via text and email to complete your user registration and join UCBconnect. For more information, please visit ucb.ac.uk/ucbconnect.
Join the conversation and check out the latest updates from the department of Sport and Nutrition.
of graduate employers say relevant experience is essential to getting a job with them
Work placements
Work placements are vital for gaining real-life experience and for building your confidence and skills before you finish your course – and they may even lead to a job when you graduate. Our Hired team can help find the ideal placement for you.
You are encouraged to gain work experience throughout this course in order to put your learning into practice alongside qualified professionals, with a wide range of opportunities available through our close working relationships with the food science and product development industries.
You will also complete the Personal and Professional Development module, in which you will undertake at least 40 hours of placement within the industry – this could be shadowing, voluntary or paid work and may be in a block (i.e. one week) or across several weeks.
Work alongside experts in your sector
A snapshot of some of the employers we have worked with:
Department for Education (DfE UK)
NHS England
Holland & Barrett (Coventry)
Food Cycle (Birmingham)
Sandwell Council (Birmingham)

The course covers a wide range of interests. For instance, you can study personalised diets, which appeals to me. The group is great too – like a big happy family - and there is a relaxed atmosphere even while you are learning. And if you need support, it is always there.
Career opportunities
Note: Some roles below may require further study/training. The roles and salaries below are intended as a guide only.
Health promotion specialist
Average salary: £24,907 – £44,503
Product/process development scientist
Average salary: £32,000 - £40,000
Nutritionist
Average Salary: £42,500
Nutritional therapist
Variable
Food technologist
Average Salary: £35,000
Secondary school teacher (food technology)
Average Salary: £29,364
Hired
We are here to support your career goals every step of the way.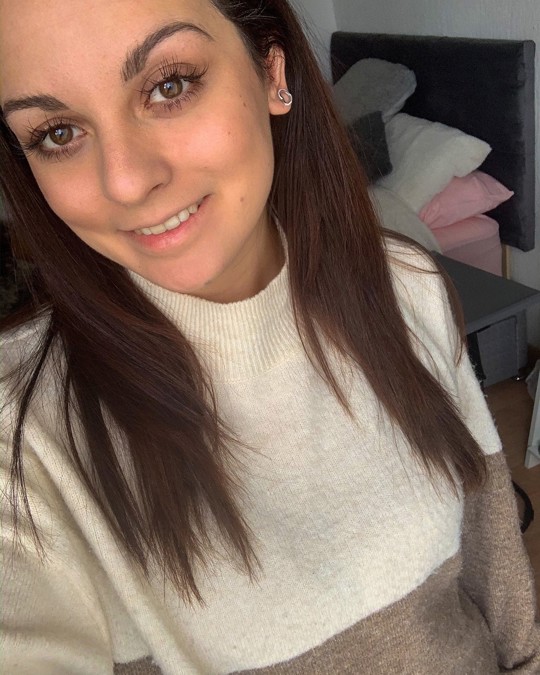 Lucy's Story
Lucy is proving invaluable as a healthy lifestyle coach helping people with everything from managing their weight to stopping smoking.