Why choose this degree course?
WORK PLACEMENTS – Boost your employability and real-world experience through undertaking work placements in the industry during your second and third years
SPECIALISE YOUR STUDIES – Develop a specialism relevant to your chosen career through optional modules covering subjects such as sports nutrition or product design development
PRACTICAL APPLICATION – Put your knowledge into practice working in our cutting-edge Food Science and Innovation Suite and professional kitchens
ENRICHMENT – We have great links with the food industry to provide you with an array of enrichment opportunities including guest lectures and industry research
Our facilities
University College Birmingham is renowned for its outstanding food industry training facilities. Studying our Food and Nutrition degree course means you will have access to our professional standard kitchens and state-of-the-art food development facilities, including our Food Science and Innovation Suite.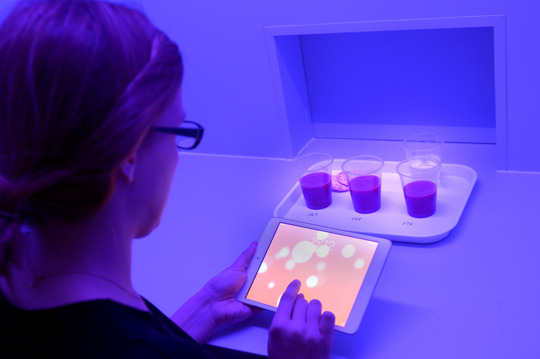 Students are able to test recipes and evaluate flavour combinations in our bespoke sensory evaluation room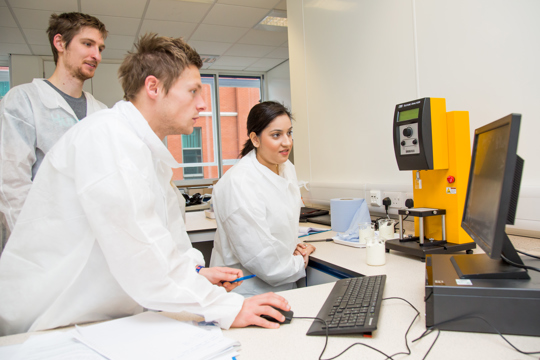 Designed with the help of the food industry, our Food Science and Innovation Suite features the latest food testing and diagnostic technology alongside state-of-the-art development kitchen facilities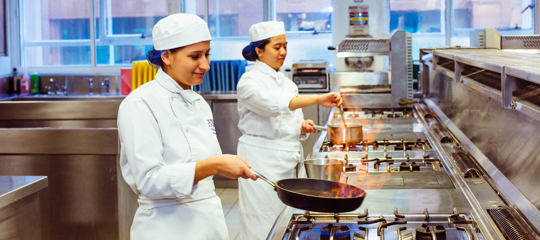 Our industry standard kitchens provide a real-time working environment for students on our food courses to develop their skills and are used regularly for prestigious competitions, including Michel Roux Jr's annual scholarship contest
Course breakdown
Students on the FdSc have the option of progressing onto the final year upon completion of the foundation degree.
Culinary Skills for Nutrition
As a nutritionist or dietician, you will need to be able to advise others on what foods to focus on and how to obtain vital nutrients through the cooking of healthy, nutritious and enjoyable dishes. By producing a range of these types of dishes, you will learn the required skills and competencies to excel in your vocation.
You will be provided with a fundamental understanding of the principles of food manufacture including learning about preservation methods and the effects of processing different parts of good and its safety and quality.
By examining the scientific properties of food products you will learn about core chemical, microbiological and physical components and understand their function within the food. You will assess the quality of these products in relation to the performance of these components during processing.
Introduction to Human Anatomy and Physiology
Students will be introduced to the area of human anatomy and physiology and how the body maintains these bodily systems in a state of homeostasis. Physiological systems studied will include: digestive, musculoskeletal, renal and excretory; cardiovascular, respiratory and brain and neurological. Effects of loss of homeostasis will also be discussed.
Introduction to Nutrition
You will be introduced to nutrition as an integrated subject. This will include consideration of the individual components which make up the human diet, including macronutrients, micronutrients and the non-nutritional elements of food and study their specific roles within the human diet. In addition you will consider Government dietary recommendations, dietary patterns and the foundations of ill health linked to diet.
Public Health and Nutrition
Public health and diet considers the general population and their diets in terms of health promotion. Specific government initiatives and their effectiveness will be considered and you will investigate different ways of assessing an individual's energy requirements and expenditure by covering anthropometric measurements.
Contemporary Eating Practices
You will investigate the issues surrounding specialised diets, focusing on the consideration required when working with individuals suffering from diet-related illnesses. You will also examine the risks posed by popular specialised diets adopted through personal choice, such as vegetarianism and veganism, and address the key requirements of people at different life stages and their potential dietary risks.
Food Product Design Development
Food technologists and product developers need to understand the ingredients that can be incorporated into food products and how they relate to the formulation of new and innovative developments as well as improving existing products. This module has a strong industry focus and you will be able to participate in a real life development opportunity. You will also study the theories of product development strategies for new products and product improvement and considerations around scale-up. This will include market trends and analysis, competitor reviews and benchmarking exercise.
Functional Foods, Nutraceuticals and Legalities
You will gain an understanding of the principles, definitions and roles of functional foods and food supplements and the process of approval of health claims, developing your core knowledge of food and medicinal plant products.
This module is all about the global politics surrounding food production, storage and consumption, including an overview of the history of food and nutrition and how it has impacted on today's issues and decisions. You will study food trends and the reasons why we love food, looking at the social relationship we have with it.
Research for Food and Nutrition
You will develop your ability to carry out effective research, considering research within the health field, specific nutrition methodologies, data capture and statistics. You will also consider any current limitations of existing research.
Dietary Research in Culinary Development
If you are looking for a career in nutrition and diet, this module will allow you to research the background and fundamental elements of a specific dietary or vulnerable group. You can propose a specialised menu or diet plan for this group and work on creating the dishes to enhance your cookery skills and recipe formulation techniques.
You will consider nutritional issues from a worldwide perspective, paying particular attention to World Health Organisation strategies and malnutrition concerns. Alongside this, you will learn effective and accurate methods of testing nutritional status in the field.
You will examine the nutritional needs of athletes and those undertaking substantial exercise programmes, exploring the importance of nutrition in achieving optimal health. Other topics addressed will include exercise and metabolism, energy generation, hydration and vitamin and mineral needs for athletic performance.
Current Issues in Food and Nutrition
You will study current issues and trends in food and nutrition by reading press articles and scientific reports, paying particular attention to the science of weight loss. In addition you will study buyer behaviour to see if it affects the popularity of certain market products.
Food Supply and Sustainability
You will learn more about the various functions and job roles in different sectors of the agri-food supply chain including agriculture, manufacture, distribution, food services and retail. This will broaden your knowledge of the food industry and enable you to investigate food resources, climate and seasonal effects, food waste and environmental control.
You will consider the different clinical measures for testing the nutritional status of an individual by examining the chemistry of different micronutrients as well as analysing methods of data collection.
You will be required develop a new product with a 6,000 article supported by a poster presentation. You will be supported throughout this project with regards to key research by an appointed tutor.
You will have the opportunity to engage in an independent research project of your choice. You will have support with preparing your proposal and understanding the competent characteristics of good research. An appointed tutor will help guide you through this important and rewarding process.
You will study the principles, control and optimisation of processing systems, food handling, hygiene, refrigeration, mixing and blending. You will also investigate scientific principles and food preservation methods including heat treatments, chilling, drying, fermentation and chemical preservatives.
Nutrition at Key Life Stages
Focusing on the specific area of childhood nutrition, you will be studying the requirements and legislation surrounding pre-natal, infant, toddler, child and teenage nutrition. You will also pay attention to both policy and practice and how the ultimately impact young individuals.
Nutrition for Performance
You will explore advanced concepts in sports nutrition and look at the application of diet in response to individualised sport specific needs through the assessment of anthropometry and caloric assessment. You will analyse the use of contemporary and emerging diets within sport such as the Palaeolithic diet, ketogenic diets and intermittent fasting practices.
Principles for Teaching and Learning with Food
Food education is important and many food graduates take their knowledge and skills to the teaching environment. You will be introduced to the principles of teaching and learning and explore the theory behind it. You will also critically evaluate the practice of teaching, giving you a deeper understanding of the skills you need to be able to teach.
The modules listed above for this course are regularly reviewed to ensure they are up to date and informed by industry as well as the latest teaching methods. On occasion, we may need to make unexpected changes to modules – if this occurs, we will contact all offer holders as soon as possible.
Entry requirements
Food and Nutrition BSc (Hons)
A-levels: An A-level grade profile of CCC-CDD.
BTEC: A BTEC grade profile of MMM-MMP. This can be achieved from either an Extended Diploma or a combination of smaller BTEC qualifications.
Tariff: Other Level 3 qualifications are accepted for entry. A minimum of 96-80 UCAS Tariff points will be required.
Access to Higher Education Diploma: 96-80 UCAS Tariff points, including a minimum of 15 Level 3 credits at Distinction.
A-levels: An A-level grade profile of CD-DD.
BTEC: A BTEC grade profile of PPP-PP. This can be achieved from either an Extended Diploma or a combination of smaller BTEC qualifications.
Tariff: Other Level 3 qualifications are accepted for entry. A minimum of 56-32 UCAS Tariff points will be required.
Access to Higher Education Diploma: 56-32 UCAS Tariff points.
Non-tariff: Non-UCAS Tariff-based Level 3 qualifications are also considered for entry. Please complete our enquiry form here to check your eligibility.
Work-based: We also give equal consideration to applicants who are currently in work and wish to apply to University College Birmingham. To apply, you must have a minimum of 3 years' relevant work experience, demonstrating management or supervisory duties. Your application must also include a reference from your line manager supporting your entry to higher education. For further details, please contact Admissions.
EU/international students
Key information
Teaching
In light of COVID-19, we have made some changes to the way we deliver our teaching. We are continually following the guidelines and measures put in place by the UK Government to ensure our students and staff are safe on campus, whilst remaining committed to providing high-quality education. The information below explains how teaching will take place in semester 2 (or semester 1 for those joining us in January) for each level/year of this course.
Assessment
Estimated breakdown of assessment for this degree course (weighting will vary in Year 2 and 3 depending on optional modules):
Coursework – 80%
Practical assessment – 10%
Written examinations – 10%
Our teaching and assessment is underpinned by our Teaching, Learning and Assessment Strategy 2015-2020.
This course requires a uniform and kit costing approximately £250-300, depending on the items you purchase. (Prices are subject to change each year – exact costs and information on how to order required items will be provided to you prior to enrolment.)
UK students
If you are a UK student enrolling on a full-time foundation degree or a BA/BSc in 2021/22, your fee for this academic year will be £9,250 per each full year. A half year tuition fee is £4,625. UK students do not pay tuition fees for any placement periods.
EU students
Following the UK's departure from the EU to support our European applicants, University College Birmingham is offering an automatic EU Transition Award to all eligible European students who start their studies at UCB in September 2021 or January 2022 which will bring your fees to £9,250 for an undergraduate course and £8,000 for a postgraduate course. To find out more information and check if you are eligible click here.
International students
If you are an international student enrolling on a full-time foundation degree or a BA/BSc in 2021/22, your fee for this academic year will be £12,500 per year.
If you complete a placement year, there will be an administration fee of £500 for a full year, or £250 for a half-year placement.
As a new student studying this degree full-time, you will receive £300 per year via our Kick-Start Scheme (eligibility criteria applies). This scheme will support your studies and future career by contributing to course-related materials, uniform or selected items on campus. You might even qualify for an additional £500 per year.
UCBconnect - meet other students on your course
Starting university is an exciting time, but we understand that it can sometimes feel a little daunting. To support you, we have created a platform called UCBconnect, where you can meet other students who have applied for the same course at University College Birmingham, before you start studying here.
As soon as you have been made an offer, you will be sent an invitation via text and email to complete your user registration and join UCBconnect. For more information, please visit ucb.ac.uk/ucbconnect.
Join the conversation and check out the latest updates from the department of Sport and Nutrition.
of graduate employers say relevant experience is essential to getting a job with them
Work placements
Work placements are vital for gaining real-life experience and for building your confidence and skills before you finish your course – and they may even lead to a job when you graduate. Our hired@UCB team can help find the ideal placement for you.
We encourage students on our FdSc and BSc Food and Nutrition courses to gain work experience throughout your studies.
Work alongside experts in your sector
A snapshot of some of the employers we have worked with:
Department for Education (DfE UK)
NHS England
Holland & Barrett (Coventry)
Food Cycle (Birmingham)
Sandwell Council (Birmingham)
Due to the ongoing coronavirus pandemic, please be aware that opportunities to travel abroad for placements, project work or residential trips may be affected by government travel restrictions. Please visit our
updates and FAQs page
for information.

The course covers a wide range of interests. For instance, you can study personalised diets, which appeals to me. The group is great too – like a big happy family - and there is a relaxed atmosphere even while you are learning. And if you need support, it is always there.
Career opportunities
Note: Some roles below may require further study/training. The roles and salaries below are intended as a guide only.
Health promotion specialist
£24,907 – £44,503
Product/process development scientist
Average salary: £32,000 - £40,000
Nutritionist
Average Salary: £42,500
Nutritional therapist
Variable
Food technologist
Average Salary: £35,000
Secondary school teacher (food technology)
Average Salary: £29,364
Want to take your studies to the next level? Completing the BSc (Hons) degree will enable you to move onto our postgraduate courses such as Gastronomy and Food Sustainability MSc/PGDip. If you are interested in teaching, you could also progress onto our PGCE course.
hired@UCB
We are here to support your career goals every step of the way.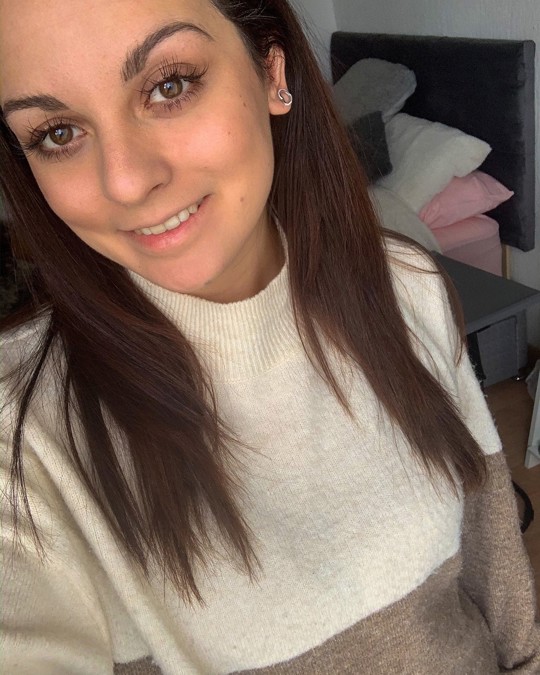 Lucy's Story
Lucy is proving invaluable as a healthy lifestyle coach helping people with everything from managing their weight to stopping smoking.