Why should I choose this course?
WORK PLACEMENT – Gain valuable real-world experience on placements, with past students having worked at Michelin-starred restaurants and top establishments in locations around the globe
ENRICHMENT – Engage with the industry through a variety of activities including guest lectures and demonstrations, masterclasses and visits, as well as further employment opportunities
EXPERT TUITION – Learn from some of the best chefs and food professionals in the industry while studying in our state-of-the-art kitchen facilities on campus
AWARD-WINNING UNIVERSITY – Study at the highest-ranking university in the region according to student choice (Whatuni Student Choice Awards 2023)
Our facilities
University College Birmingham is renowned for its outstanding food industry training facilities. Studying our Professional Chef cookery course means you will have access to our professional standard kitchens, award-winning training restaurant and state-of-the-art food development facilities.
Our industry standard kitchens provide a real-time working environment for students on our food courses to develop their skills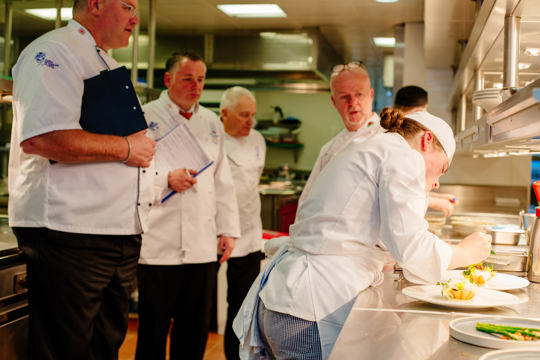 The kitchens are also used regularly for prestigious competitions, including Michel Roux Jr's annual scholarship contest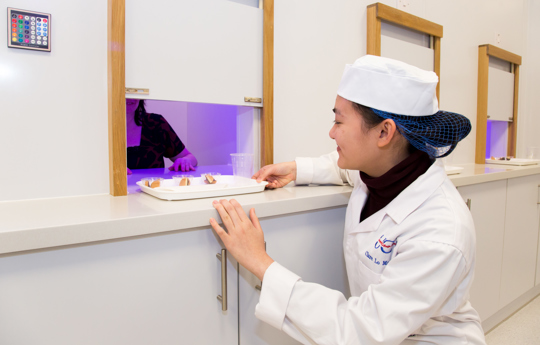 Designed with the help of the food industry, our Food Science and Innovation Suite features the latest food testing and diagnostic technology alongside state-of-the-art development kitchen facilities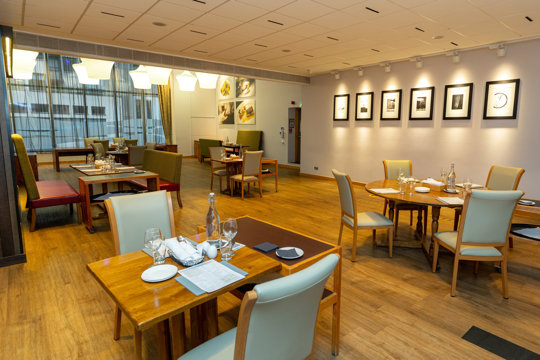 Open to the public, our award-winning restaurant on campus – Restaurant at Birmingham College of Food – will arm you with hands-on skills, from serving fast food to silver service
Course breakdown
This is a practical module that focuses on developing your speed, precision and skill in the culinary arts. You will also develop an awareness of how kitchen operations have evolved over time and an overview of the leadership skills necessary to run a contemporary professional kitchen.
This module is designed to provide you with a detailed introduction to advanced patisserie, focusing on classical production methods and specialist pastry techniques. You will learn how to produce a wide range of patisserie items and plated desserts to the highest professional standard.
As a professional chef, it is important to have a well-rounded understanding of the industry. This module will build on your understanding of the trends, theories and ideas that matter most, from the history of professional cookery, to the importance of sustainability, provenance, and trend awareness.
Today's food industry is wrestling with the increasing diverse needs of adapting foods to suit different nutritional needs. This module seeks to take a product and reformulate it to develop products which are responsive to the food market and have commercial value.
Advanced Culinary Techniques
In this module you will learn a range of advanced food preparation methods and presentation techniques. In addition, you will gain an understanding of the principles of menu development, product development and the correct substitution of ingredients to meet dietary needs and special requirements. In addition to this you will start to appreciate the styles and ethos of innovative chefs within the hospitality industry.
This module will concentrate on developing your creative flair. You will learn different methods of adapting classical cuisine to the current market using up-to-date technology. You will become familiar with creative plating techniques and specialist ingredients. Focusing on flavour, texture and aroma, you will learn how to produce a wide range of contemporary boulangerie and patisserie products.
Kitchen Management Techniques
This module will give you a broad overview of the management procedures required in professional kitchens, including supervision, training and legal considerations. You will gain a good understanding of the detailed planning and organisation behind running a successful kitchen team.
Profitable Menu Development
This module is designed to develop your ability to create a menu that responds to customer expectations, culinary trends and the current market challenges. You will also learn about a range of other factors behind successful menu development, including cost control and quality analysis.
The modules listed above for this course are regularly reviewed to ensure they are up to date and informed by industry as well as the latest teaching methods. On occasion, we may need to make unexpected changes to modules – if this occurs, we will contact all offer holders as soon as possible.
Entry requirements
Academic: A relevant Level 3 qualification in Chef Catering, Professional Chef/Cookery or Food Preparation and Cooking (NVQ, VRQ, VTCT etc.)
Work-based: We also give equal consideration to applicants who are currently in work and wish to apply to University College Birmingham. To apply, you must have a minimum of 12 months' relevant work experience, demonstrating management or supervisory duties. Your application must also include a reference from your line manager supporting your entry to higher education. On some occasions we will arrange for you to meet with the teaching team to ensure your skill sets prepare you suitably to achieve on this programme. For further details, please contact Admissions.
Key information
Note: Indicative information only – actual timetables and assessment regimes will be issued at your induction. 
Teaching 
Example of a typical teaching week (up to 20 contact hours): 
Lectures

– 4 hours

 

Small group seminars

– 2 hours

 

Practical kitchen sessions

– 12 hours

 

Tutorials

– 1-2 hours

 
You will also need to commit around 20 hours per week for individual study time. 
Assessment
Estimated breakdown of assessment for this course:
Coursework – 50%
Practical assessment –50%
Our teaching and assessment is underpinned by our Teaching, Learning and Assessment Strategy 2021-2024.
This course requires a uniform and kit costing approximately £250-300, depending on the items you purchase. (Prices are subject to change each year – exact costs and information on how to order required items will be provided to you prior to enrolment.)
UK students
If you are a UK student enrolling on a standard-length Foundation Degree or a BA/BSc at University College Birmingham, your fee for this academic year will be £9,250. A half-year tuition fee is £4,625. There will be no change to this tuition fee for the forthcoming two academic years (2023/24 and 2024/25).

View undergraduate fees
International students
If you are an international student enrolling on a full-time foundation degree or a BA/BSc in 2023/24, your fee for this academic year will be £13,500 per year. The course fee for academic year 2024/2025 is £14,000 per year.
If you complete a placement year, there will be an administration fee of £500 for a full year or £250 for a half-year placement.
As a new student studying this course full-time, you will receive £300 per year through our Kick-Start Scheme (UK students only, eligibility criteria applies). This scheme will support your studies and future career by contributing to course-related materials, uniform or selected items on campus. You may also qualify for an additional £500 per year.
Find out more about the Kick-Start Scheme here.
Unibuddy Community - meet other students on your course
Starting university is an exciting time, but we understand that it can sometimes feel a little daunting. To support you, you will be invited to join our Unibuddy Community, where you can meet other students who have applied for the same course at University College Birmingham, before you start studying here.
As soon as you have been made an offer, you will be sent an invitation email to complete your registration and join the Unibuddy Community. For more information, check out our Unibuddy Community page.
Join the conversation and check out the latest updates at Birmingham College of Food.
of graduate employers say relevant experience is essential to getting a job with them
Work placements
Work placements are vital for gaining real-life experience and for building your confidence and skills before you finish your course – and they may even lead to a job when you graduate. Our Hired team can help find the ideal placement for you.
You will undertake short work experience placements in the second year of your FdA Professional Chef course, offering a potential stepping stone into a career and providing a valuable boost to your CV.
Work alongside experts in your sector
A snapshot of some of the employers we have worked with:
Carters of Moseley
Clayton Hotel (formally Hotel La Tour)
Opheem
Sky by the Water
The Edgbaston Boutique Hotel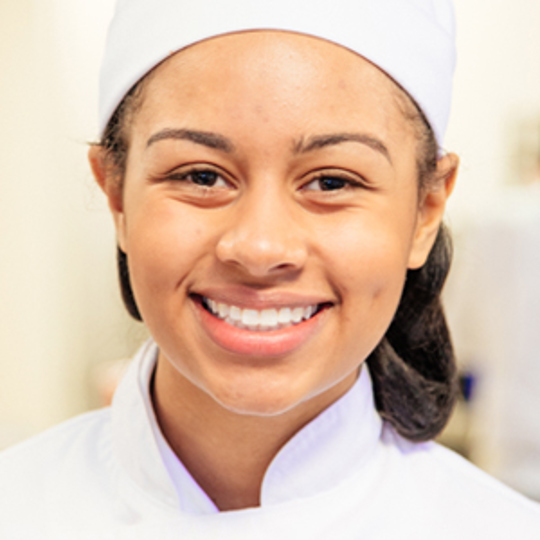 I'm enjoying the added enrichment of the course, including trips and classes such as wine tasting and sensory analysis. The theoretical classes are really interesting and discussion-based. I particularly love The Gastronomist module, which is centred around the food industry as a whole rather than just food and ingredients themselves.
Career opportunities
The example roles and salaries below are intended as a guide only.
Sous chef
Average salary: £30,000 - £40,000
Head chef
Average salary: £35,000 - £50,000
Pastry chef
Average Salary: £21,682
Food technologist
Average Salary: £35,000
Product/process development scientist
Average salary: £32,000 - £40,000
Catering manager
Average salary: £22,000 - £45,000
Hired
We are here to support your career goals every step of the way. 

Yasmine's Story
Mum-of-four Yasmine wowed the judges on TV show MasterChef by preparing for them the same menu that helped her complete her foundation degree.