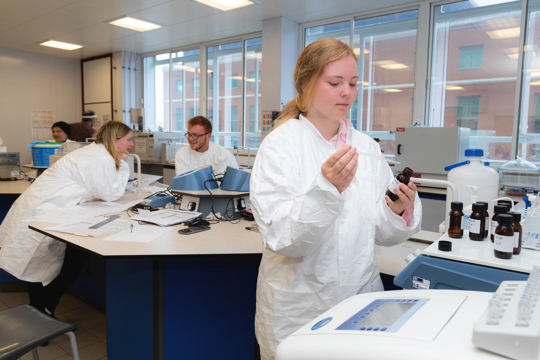 Welcome to our Department of Sport and Nutrition
Congratulations on applying to study with us! You might have heard, but we only went and won University of the Year at the 2022 Whatuni Student Choice Awards, we hope you are proud to be part of this.
As you start your journey with us, we wanted to give you a glimpse into our community before we meet you in September. And over the summer, look out for course updates and our new quickfire 'meet the staff' videos. 
Find out about our Whatuni award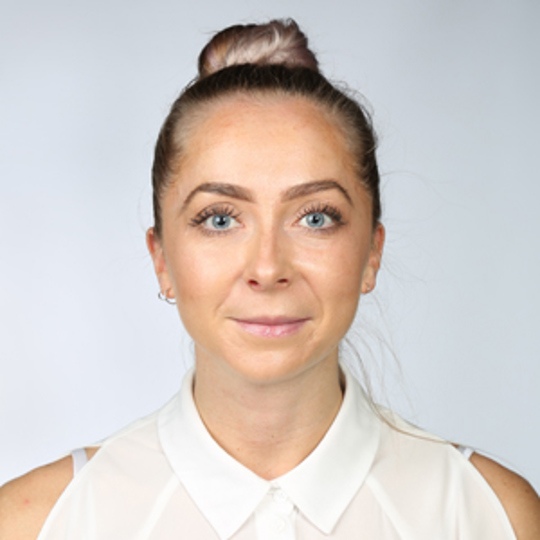 A word from Laura Hodgkiss
"As head of department, I am extremely proud of what we offer to ensure you excel in these fields. There's so much to look forward to on our courses, which are informed by industry needs, are challenging and will best prepare you for the workplace.
"We have seen our sports and nutrition facilities go through an enormous transformation and we have some really great partners, including Bourneville Rugby Club, as well as fantastic placements and trips.
"Our graduates range from a Coventry United Ladies FC sports therapist who supported at the Rugby World Cup and a marketing strategist for a Canadian Major League Soccer team to new product developers creating on-trend and sustainable products. A diverse mix! We look forward to helping you meet your aspirations."
*Laura was a semi-professional footballer who played nationally and internationally before moving into education

"This is a university with incredible facilities and student-centred staff. And that includes myself – you are always welcome at my informal 'Talk with the Dean' sessions, your chance to say what's going well and what we can improve on."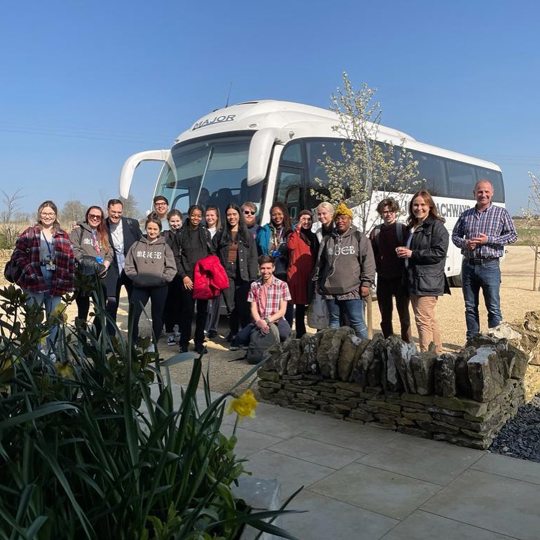 Student trips: Cotswolds sustainable demo farm
Our Food and Nutrition students visited the 107-acre Honeydale demonstration farm in the Cotswolds, an educational farm built around going back to basics with farming and educating the public on sustainability, the environment, the importance of biodiversity in soil and micro farming to feed local communities.
We heard from the Head of Sustainable Farming about how Brexit and the Ukraine war are affecting farmers and food supplies, then walked around the farm, seeing, digging and discussing different wheats and growing them sustainably.
We saw how to make honey without harming bees and visited the micro dairy, getting up close with the cows, learning how to milk ethically and with kindness. We also visited the orchards, greenhouses and local veg box growers, and had a delicious meal made with the farm's produce. A fascinating place, inspiring students with their Food Manufacture assignments and dissertations.

Student trips: Berlin and Seville residentials
It was great to restart our four-day sports management residentials after a challenging few years! Our second years went to Berlin, where we toured the city on bikes, visiting the velodrome, Mercedes Benz Arena and Berlin wall.
We toured the Olympic Stadium, visited the historic Brandenburg Gate, Checkpoint Charlie and Berlin TV Tower and finished with a Sports Stadium Challenge where students uploaded vlogs of their experiences. 
Our final year students went to Seville, visiting the Real Betis and Seville FC stadiums and museums including the Plaza de Toros and the Royal Alcazar Palace. Finally, we visited the Seville FC stadium, Ramon Sanchez-Pizjuan, to watch Seville take on Real Mallorca in La Liga. Students on both trips built friendships, experienced amazing European cities and developed their understanding of the sports industry. We cannot wait to announce our plans for next year! 

Meet Stephen Garvey  
"My role is to ensure we stay at very forefront of progress across the education sector and across industry, building innovative technology and skills such as immersive virtual reality into your educational experience.
"We are committed to providing face to face teaching as we know students value this quality time with their lecturers and fellow students. But to support your academic studies, we also have a sophisticated lecture capture system that provides accessible recorded lectures, where possible.
"We are very proud of the exceptional and sustained record of teaching excellence we have in the provision of our vocational educational experiences, and the future-focused curriculum we have to offer you."
*Stephen is a registered dietitian with a background in research
Our teaching and learning
Whatever sport or nutrition-based degree you are studying, our aim is simple - to turn you into a stand-out professional. Since we launched our degrees in these fields, we have a earned a reputation for the highest quality courses and a learning experience that sets us apart from bigger universities.
Our degrees are designed to develop you personally and professionally, with graduate advantage, employability and enrichment sessions threaded throughout the curriculum, sitting alongside really interesting theory modules. Our partnership with the University of Warwick, a top-ranking Russell Group university, also brings extra opportunities including access to guest speakers and additional resources.
Our courses are developed and taught by experienced lecturing staff, many of whom still work in industry. This means they can draw on years of experience to make scenario-based discussions, debates and concepts come to life, supporting the linking of theory to practice.
You will learn so much from our lecturing teams, who are passionate about their profession and eager to inspire and nurture the next generation of professionals.
We also have many invited guest lecturers participate in our courses, sharing their knowledge and experiences to enhance your learning.
Students also have a lot to bring and as a team, we will also learn a lot from you! We encourage you to share your perspectives and viewpoints, especially when reflecting on your own life and placement experiences.
Placements are key to success as employers want you to have real experience. We have excellent links with employers and organisations across the region, all bolstered by our designated employer boards.
As well as excellent training facilities, we have a unique partnership with Bournville Rugby Club and have access to their pitches for practical sessions. Sports Therapy, Sports, Coaching and Fitness, Strength, Conditioning and Sports Nutrition all use the space for a range of modules. Students have collected GPS data during football sessions, developed their coaching skills and ran pitch-based conditioning sessions. 
Our Food Science and Inmnovation Suite provides an excellent training environment to put theory into practice, with educational trips helping students to gain wider understanding of key issues.
Our support is exceptional, so much so, our students voted to make us the winner of the Student Support award at the Whatuni Student Choice Awards 2022.
Throughout your studies, you will not only have a personal tutor, but a link tutor during placements and module leaders to support you through academic modules. And we have a whole range of additional support services available, providing you with as much or as little support as you need to succeed in your degree. Our smaller teaching groups enable all students to grow and flourish, with strong peer support and friendship.  
Our Learning and Teaching Strategy 2021-24 is key to how we approach the educational journey, focusing on three main pillars that set out our commitment to your learning and teaching experience while you are studying with us.
Pillar 1 – Provide accessible and inclusive teaching and learning across a wide range of vocationally-led courses

Pillar 2 – Develop next generation opportunities and skills through innovative, future-focused curriculum and pedagogy

Pillar 3 - Shape local and global sectors, promoting sustainable futures and global citizenship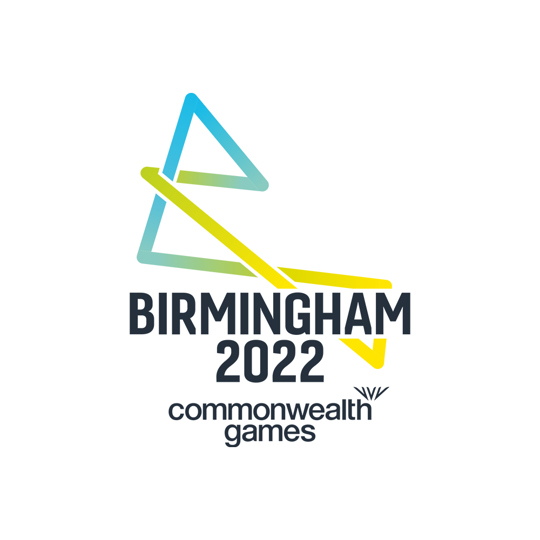 Commonwealth Games
Birmingham 2022
It's just weeks to go and we're all set to welcome Team Scotland to our campus! As the home from home for the team's family, friends and supporters, we will be providing support for around 300 athletes and support staff across our departments.
Hosting government officials, delegates, aspiring young elite athletes and medal winners, we have loads lined up and our students will get to interact with fans, athletes, visitors and employers. Some are even working with Team Scotland's digital team as an unparelled placement opportunity.  
It's the first time Team Scotland have based themselves at a university, made possible by our fantastic facilities and staff and student expertise. We are all hugely excited, it should be a Games to remember!
Sport and nutrition facilities
Our university facilities were shortlisted in the 2022 Whatuni Student Choice Awards and include excellent sport and food and nutrition facilities to help you to gain industry experience to prepare you for work or further study.
Our Human Performance Centre includes a 35-metre sprint track, six Olympic lifting platforms, integrated force plates and a range of conditioning equipment. We have an AlterG anti-gravity treadmill, used to help rehabilitate injured athletes as we support them on their return to play journey. 
Our Food Science and Innovation Suite features the industry-standard scientific analysis equipment, which you get to use across all levels of the Food and Nutrition degree course. 
If you would like a refresher of our facilities, you can book on a campus tour.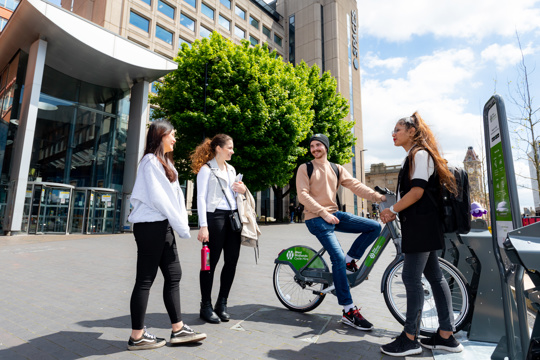 We look forward to seeing you on campus
As you prepare to join us, here's a refresher on some of the essentials: