By James Decker
Share post: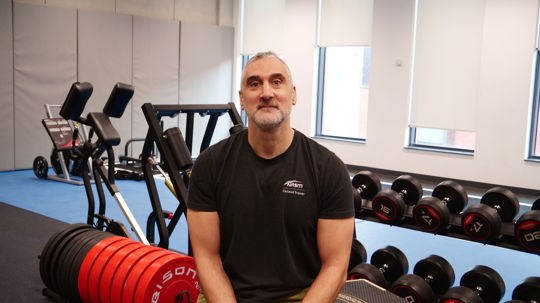 James Decker
Sport and Fitness Studies BA (Hons)
US Navy to fitness training
James Decker had one ambition growing up in a small rural community in Virginia – to enlist, just like many others from the largely rural farming area.  
To start with, James was rejected with a heart condition, but finally, at the age of 33, he realised his dream, excelling at bootcamp and winning a role as a chaplain's assistant in Japan with the US Navy. During this time, he also served with the Seabees, the construction battalion made famous by James' celluloid hero John Wayne.  
In his spare time on board ship, his duties involved keeping the troops fighting fit, but dismayed at the quality of physical training given and with retirement looming, he found his next calling. Fitness training.  
Deciding to retrain under the US Navy exit scheme, which funds four years at university, and after marrying a girl from Oldbury in the Black Country in the UK, he applied for the sport and fitness degree at University College Birmingham and was accepted. The decision was absolutely the right one. 
"I really appreciated how the University opened its doors to me as a mature student," he said. "As an American and as someone from a military background. People have gone out of their way to make me feel at home.  
While he was joining a class of 18-20 year olds, age was not a consideration. "I enjoy being around people of that age because I can have a positive influence on them. It's not about age, but ability and showing respect to each other." 
Now graduated with first class honours, James, 47, is on a mission to make that difference. He is starting his PGCE in September with the hope of returning to the University as a lecturer and combining it with a master's. "University College Birmingham is communal and unbelievably underrated," he said. "I just love this place." 
His goal is to infuse the elite scientific principles found in strength and conditioning into personal training – and teach others to show ordinary people the way. But, wanting to ignite a spark in young people by adding a little Stateside belief and swagger, he also now works with students in the Moss House gym three days a week.