July 2022
Sports therapy duo's key role for Team Scotland at Commonwealth Games
By Darren Campbell
Share post:
A lecturer and a graduate from University College Birmingham have joined Team Scotland to play a key role in supporting elite athletes at the Birmingham 2022 Commonwealth Games.
Sports lecturer Gareth Bate has been named Soft Tissue Lead, heading a team of three which works within the medical crew supporting more than 300 athletes representing Scotland at the Games.
The soft tissue team are working closely with athletes, liaising with them on their requirements for sports therapy and soft tissue work, providing pre-event preparation and post-event recovery services.
Working alongside Gareth is sports therapist Linda Currie as well as Kacper Bolon – a University College Birmingham graduate now working as a graduate teaching assistant with the University's Department of Sport and Nutrition.
"It's a great experience and an unimaginable start to my career"
Kacper, who completed his Sports Therapy (BSc) Hons degree at the University in 2021 before progressing onto teacher training, revealed his excitement at working with Team Scotland and how his course had helped him to prepare for this unique opportunity.
"It is an incredible opportunity to work alongside Team Scotland during a fantastic event like the Commonwealth Games, which celebrates so many cultures and sporting disciplines," he said.
"My degree and my one year of industry experience have definitely helped to shape and develop my skill set, which has prepared me for the Games.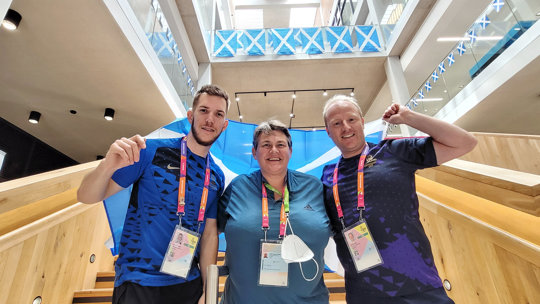 Left to right: Kacper Bolon, Linda Currie and Gareth Bate at the Team Scotland Performance Centre in Moss House
"It's been amazing to play a role in the preparation stages for a big event, and it's a great honour to get a chance to work with world-class athletes and alongside world-class therapists.
"It's honestly a great experience and an unimaginable start to my career!"
For lecturer and team leader Gareth, Birmingham 2022 will be his second Commonwealth Games working with Team Scotland, having also provided soft tissue support at the last event on Australia's Gold Coast in 2018.
"It's a privilege – any involvement with elite sport like this, you can't take for granted," he said.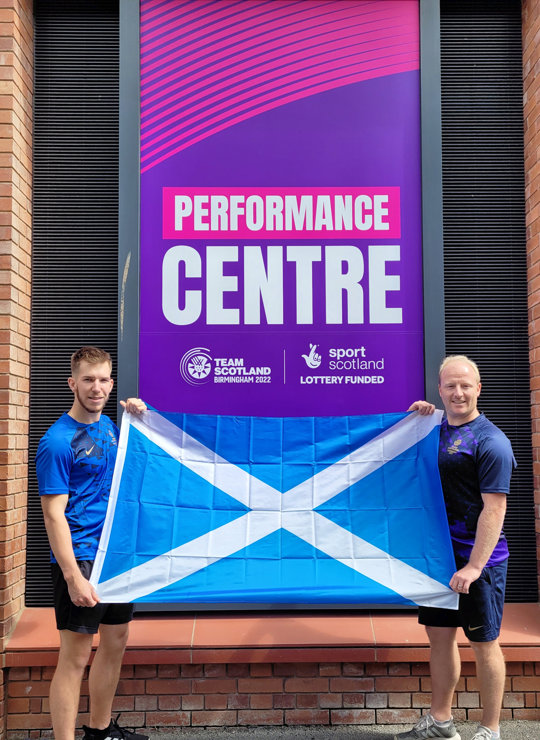 "I've really enjoyed the planning phase of it, because I've had more engagement and involvement in the planning than I have before.
"I'm looking forward to seeing the athletes compete and be successful – that's the aim," he added. "It's about them having everything they need, so that their minds are set on the competition and they have the most successful Games they can."
Alongside travelling between the various Athlete Villages around Birmingham and beyond, the soft tissue crew will be operating from the University's Moss House campus building.
With University College Birmingham hosting Team Scotland throughout the Games, the £44m site has been transformed into an exclusive Performance Centre for the team, providing everything from state-of-the-art gyms, two clinics and meeting spaces to ice baths, sleep pods and other specialist facilities.
"Everyone seems to be really thrilled with the facility," said Gareth. "Time and space is always at a premium for the Games, so this being exclusive for Team Scotland is really good."
As well as Moss House, the University's Summer Row campus has been rebranded as Scotland House specially for the Games, serving as Team Scotland's main hub of operations.
The linkup will also see current University College Birmingham students gain a wealth of opportunities to work with the team and its athletes, from supporting with the team's digital marketing and running a hair salon for athletes and their families to serving them in the University's restaurant and much more.
Did you know we are an Official University of the Birmingham 2022 Commonwealth Games? Find out more here.
Interested in a career in sport? Find out more about our range of sports courses within our Department of Sport and Nutrition.
Check out our latest news stories