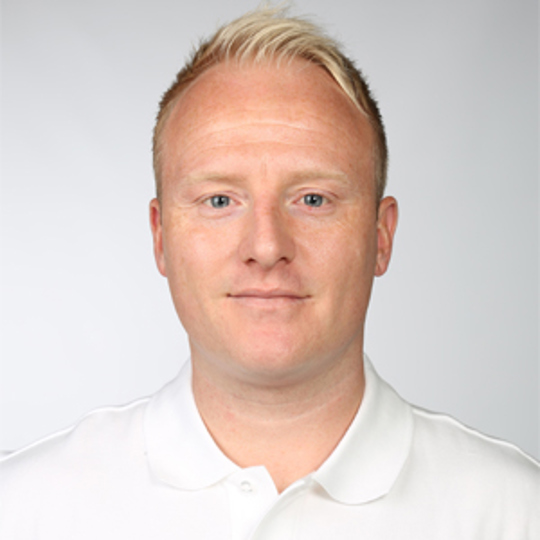 Gareth's Profile
Job title
Lecturer in Sports Therapy
Academic qualifications
MSc Sport and Exercise Medicine, BSc (Hons) Sports Therapy, PGCLTVS, Fellow (FHEA)
Gareth is a graduate sports therapist who has worked in a combination of private practice, elite and professional sport as well as academia over the past 16-years.
He has been fortunate to work within professional rugby union for most of that time with professional teams the Ospreys and Glasgow Warriors and has consulted with Bath Rugby and the Welsh Rugby Union and for 9-years worked with the Scottish Rugby Union Men's National Team. He has also worked Six Nations Championships and Autumn Series since 2014 and Rugby World Cups 2015 & 2019.
Outside rugby, Gareth has worked within professional Golf, Tennis and Cricket, including the 2019 Cricket 20/20 World Cup with South Africa. Most recently I have been part of the Medical Team for Team Scotland at the Commonwealth Games on Gold Coast 2018 and Birmingham 2022.
Gareth joined the academic teaching team at University College Birmingham as a lecturer in Sports Therapy in May 2016.
Whilst teaching has involved all the main modules across L4-L6 for the BSc / FdSc Sports Therapy programme, his focus has been on clinical modules. These include Introduction to Sports Injury Management, Pathology of Sports Injury and Professional Clinical Practice.
Gareth has also been a year manager for L4, first year students since 2021.
Research Interests and Scholarly activity
Gareth is currently part of a global research group, undertaking a study into concussion and education / understanding of injuries in Women's rugby union.
This is the largest ever study of its kind and they are hoping to bridge the data gap between male and female rugby union.
Gareth's personal focus is a global cross-sectional study into concussion understanding and practices within coaches working at all levels of women's rugby union.
Due to Gareth's ongoing relationships with the Sport Scotland and Commonwealth Games Scotland, he was responsible for securing them the performance centre at University College Birmingham's Moss House' Human Performance Centre and Scotland House in Summer Row. This provided staff and student across the university with the opportunity to be involved directly with a home nation at a major sporting championship.