November 2021
Kayleigh's Story
By Kayleigh Jones
Share post: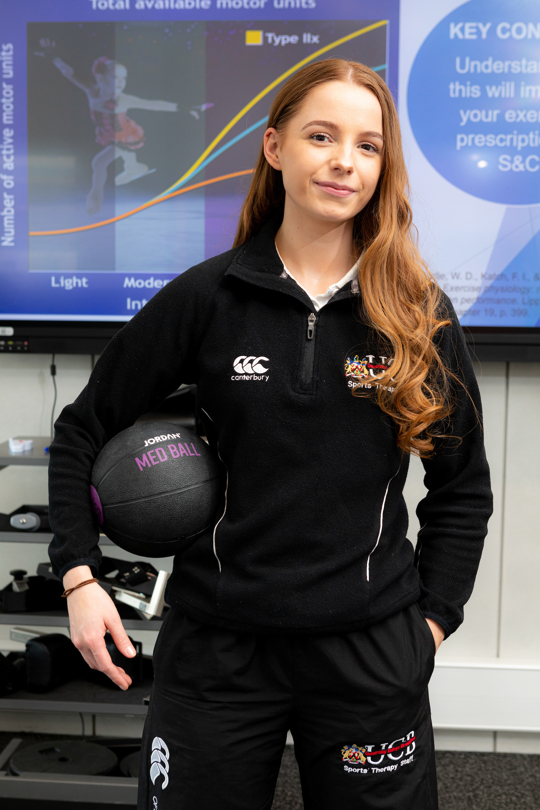 Kayleigh Jones
Coventry United Ladies FC sports therapist
Since graduation, Kayleigh has been working her magic with FA Women's Championship side Coventry United Ladies FC, as well as passing on her expertise as a Graduate Teaching Assistant on the course she herself studied.
Ensuring the team is in top-notch physical condition and on hand in the event of injury, Kayleigh got her foot in the door after gaining experience on a range of incredible course placements organised by the University.
She not only had the chance to put theory into practice with Leicester City Women's FC and Camp Hill Rugby Club, but also with Birmingham's Movement Therapy Clinic. And to boot, Kayleigh had the experience of a lifetime during her third year of study, being picked to assist the Scotland rugby team at the 2019 Rugby World Cup in Japan thanks to the University's contacts.
At the tournament, Kayleigh provided soft tissue therapy support as part of post-event recovery and pre-match preparations for the 31-man squad.
But why sports therapy and University College Birmingham? "I've always had a passion for sports injuries and wanted to develop my understanding of MSK anatomy and injuries while gaining experience in the field," she said. "Looking back, I could have never imagined where I would be right now and I am very grateful to my lecturers for the endless opportunities I've had.
"The facilities when I was studying were fantastic, but they are even better now. And if you need help writing your CV, getting a placement, finding work or need someone to proofread your assignments, it is all there. Similarly, if you are struggling with your mental health, there is a whole health and wellbeing team who are there to help. Overall, the support is fantastic.
"What made my experience extra-special was the sense of belonging you felt as a student on this degree. There was never a time when you would walk around campus and not bump into someone you know."