Why should I choose this course?
PRACTICAL APPLICATION – Get hands-on working on live projects and case studies, as well as having the option of a paid 48-week work placement
SPECIALISE YOUR STUDIES – Choose from our range of optional modules, including Creative Communications, Website Design and Social Entrepreneurship
ENRICHMENT – Engage with industry professionals through guest lectures, workshops and other activities, as well as boosting your practical skills in our Digital Creative Studio
EXCHANGE OPPORTUNITIES – Take the opportunity to participate in a student exchange programme across Europe, South East Asia, Australia and the USA
Our facilities
Students on our marketing courses have access to our Digital Creative Studio, where you can get hands-on experience creating podcasts, promotional videos and livestream content for social media. We also provide a range of support services for student entrepreneurs through our Enterprise Hive.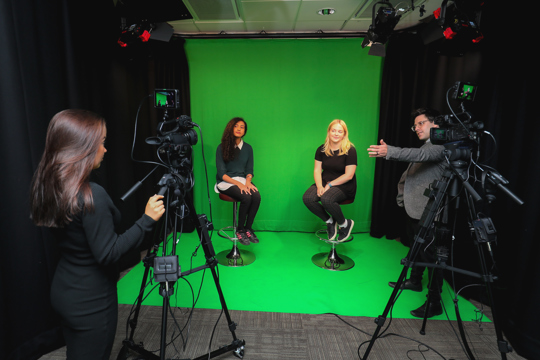 Based in Camden House, our Digital Creative Studio features state-of-the-art video and audio production facilities, including a video production studio with 4K cameras and green screen technology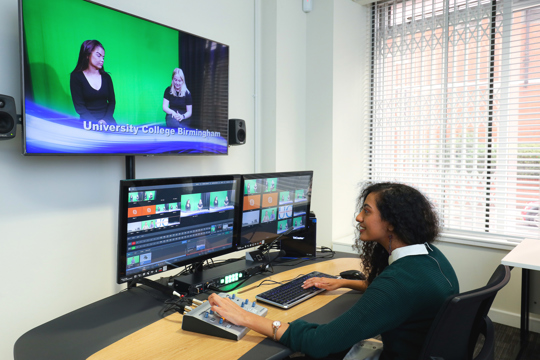 Our Digital Creative Studio also houses a dedicated teaching lab complete with high-spec computers and industry-standard media technology, including Adobe Creative Cloud software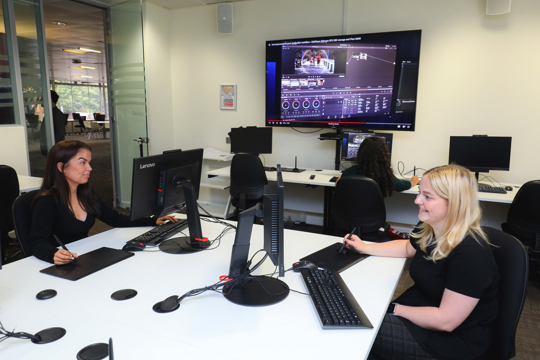 The Digital Creative Studio hosts audio podcasting, vision mixing and editing facilities, as well as a creative media and design lab with graphics tablets
If you want to set up your own business, visit our Enterprise Hive for a wide range of start-up support, including incubation space, tailored mentoring from industry experts and networking opportunities
Course breakdown
Students on the FdA have the option of progressing onto the final year upon completion of the foundation degree.
The External Business Environment
This module is designed to provide you with a foundation to analyse the dynamic external business environment and the challenges this presents to businesses operating in emerging markets. You will be able to gain an understanding of the diverse range of external influences (political, economic, socio-cultural, technological) and identify the opportunities and challenges these present for international businesses activities. You will also gain an understanding of the key drivers of globalisation.
Introduction to Operations Management
Managers in contemporary organisations need to understand the critical role of operations within the company enabling the delivery of its objectives. The dynamics of operations is explored through an examination of the relationships between operational functions. Associated challenges that stem from this are also examined. Key operational functions included are demand and capacity planning, service quality, inventory control and application of technology.
You will be exposed to the principles and concepts of marketing. Assuming the role of a Marketing Manager, you will learn how to make and justify a range of marketing decisions as well as learn about market segmentation and marketing tactics within differing types of organisations. You will be able to appreciate the importance of customer orientation and of satisfying customer needs successfully in an increasingly competitive environment.
To help you with the fundamentals of understanding the management of people, you will be looking at the internal structure of large and small organisations. This module also examines current business theory, with a focus on the practice of managing people within a variety of organisations.
Planning for Professional Development
Do you know what your future career will be, or what you would like it to be? In this module, you will be encouraged to consider the range of career paths available to you within the business and marketing sectors. You will undertake an audit of your current skills and attributes and then map them to those that are required within your possible career paths.
Principles of Communication
You will learn about marketing and communication principles and develop an awareness and understanding of various communication techniques. You will gain practical experience through the production of a piece of communication and design.
You will develop an understanding and awareness of the fundamental principles of finance including cash budgets, profit and loss accounts, balance sheets and break-even analysis. You will learn how managers can use financial information to greatly enhance the decision making process.
Why do consumers behave in the way they do? As a marketer, you need to understand the underlying factors influencing consumer decisions. You will understand and appreciate consumer behaviour and its impact on the marketing decisions undertaken by organisations. This module includes a residential trip, enabling you to apply theory to a 'live' setting.
Designing professional visual and written communication is a vital element of any business. You will develop and present a portfolio of creative elements produced to a high level of technical execution using a range of mediums and utilising the latest multimedia applications. You will develop industry-relevant communications skills and produce a creativity portfolio that will contribute to enhancing your employability skills.
Employability in Practice
You will be encouraged to identify and apply for opportunities and careers that are available to you. You will identify opportunities for development through training needs analysis which can extend to include recognising the potential to develop your skills through work experience, placement and overseas study.
The importance of marketing research is growing in the increasingly-global competitive marketing environment. You will explore the nature and scope of marketing research, including where and how marketing research fits in with other aspects of marketing management, the characteristics of the research industry and marketing intelligence suppliers.
How do advertisers persuade customers to buy? You will learn about advertising psychology in the context of persuasive communication, developing a deeper level of understanding about the cognitive processes involved when dealing with persuasive communication. This will allow you to analyse these processes and to apply your knowledge in a specific marketing context.
You will undertake the Employability in Practice module at Level 5 (year 2 of the course), prior to undertaking your placement year. By undertaking this module, you will be provided with essential skills and tools to apply and secure your own placement (with support from Hired@UCB) and complete the requisite time in placement.
The voluntary sector is one of the most dynamic sectors worldwide. You will have the opportunity to work on a volunteer project within a private, public or community organisation and see how they market themselves and compete for resources with other voluntary projects. You will be able to reflect on your experiences as well as develop your personal and professional skills within a working environment.
The ever changing services offered by the world wide web continue to have an increasing influence on business. Companies and organisations of all types and sizes are rethinking their strategies and how they run their operations. This module encourages you to explore the realities and implications of developing a web presence for businesses operating in a dynamic global environment.
The skills of effective communication are vital to successful management. This stimulating module is invaluable to a range of business aspects such as product launches, brand promotions, travel and food journalism and exhibition guidance. You will be encouraged to discuss the effectiveness of words and images when communicating intended messages and will enable you to critically appreciate the complexities of the communication process.
Enterprise Start-up Studies
This module provides an insight into the key issues a new business needs to consider before starting up the enterprise. Emphasis is placed on students undertaking research into such areas as market trends, target audience, location analysis and resource requirements, in order to justify the customer demand and feasibility of your product/service. This module also provides an insight into the marketing communication tools a new business employs in order to showcase your product/service to your target audience/s.
Operational Sales Management
You will learn the concepts involved in managing sales and salespeople, getting a clear understanding of selling within a marketing organisation, the different types of buyers and how to sell to them. In light of the ever-increasing 'internationalisation' of business, you will also be looking at sales on an international scope.
Business Innovation and the Environment
All organisations need creative thinkers to question current business practices and develop dynamic solutions to 21st Century environmental challenges. You will be examining key global environmental issues affecting new enterprises and the importance of innovative thinking. As a result, you will be developing your own creative designs and solutions in response to the needs of contemporary enterprises.
Digital and Social Media Marketing
Digital marketing channels are revolutionising the manner in which all businesses operate and market their business activities. Everyone is looking for opportunities to enhance and support their core marketing communications objectives in this customer-centric multi-channel environment. You will be learning digital marketing principles, the role of social media and how to apply them to create a successful strategy.
We live in an interconnected world, so it's important to examine how organisations explore new market opportunities beyond national boundaries. As a result, you will become more aware of the technological, communication and transportation challenges businesses face and the options they consider when seeking a foothold in a new country.
Leadership and Change Management
Change is inevitable in an increasingly competitive global environment. You will develop the skills needed to design, implement and evaluate effective change within organisations operating in a variety of environments as if you were an employee, manager, or external consultant designing strategic change management programs for clients.
The most valuable assets that a company has are the brands that it has invested in and developed over time. You will be given the theoretical knowledge and practical skills required to succeed in the management of complex brands and look at how brands are viewed, built, managed and measured to ensure superiority and sustainability.
Advertising and Media Management
You will be taken deeper into the management processes relating to advertising, focusing on the skills involved in matching business objectives and brand communication to target markets. You will be given a greater insight into detailed analysis of what makes advertising communications effective.
Enterprise Risk Management
Risk is becoming an important function for business managers and owners. You will learn about enterprise risk management techniques and strategies employed by businesses operating within increasingly complex and dynamic environments. Key risk areas include human resources, finance, IT, marketing, health and safety, innovation and product development, leadership and corporate governance and business continuity.
The role of the not-for-profit sector is becoming increasingly significant on both a national and global scale. You will be analysing the business and marketing principles of the not-for-profit, and how they contribute to running an efficient organisation in a complex and dynamic environment. You will be able to look at business examples from a variety of sectors, including education, social services, charities and voluntary organisations.
Contemporary Business Environment
This module aims to develop your understanding and awareness of contemporary developments within the international business environment. Ultimately, the module will highlight the main opportunities and threats to organisations evident within the current international business environment, and how such organisations may respond strategically to such challenges.
Contemporary Entrepreneurial Studies
You will continue to build on your awareness and understanding of contemporary issues within the business enterprise sector. Small and medium-sized enterprises will be the focus here, and the role of entrepreneurship in the development and growth of this sector will be assessed.
You will have the opportunity to engage in an independent research project of your choice. You will have support with preparing your proposal and understanding the competent characteristics of good research. An appointed tutor will help guide you through this important and rewarding process.
This module enables you to demonstrate your capabilities in researching, planning and delivering an industry or community-related project. You will cultivate the desired graduate attributes of professionalism, critical enquiry and problem solving, enterprise, creativity and innovation. You will then exhibit your research findings in an event for peers and industry professionals.
The modules listed above for this course are regularly reviewed to ensure they are up to date and informed by industry as well as the latest teaching methods. On occasion, we may need to make unexpected changes to modules – if this occurs, we will contact all offer holders as soon as possible.
Entry requirements
Marketing Management BA (Hons)
A-levels: An A-level grade profile of CCC-CDD.
T-levels: A T-level graded Pass with a core component of grade C.
BTEC: A BTEC grade profile of MMM-MMP. This can be achieved from either an Extended Diploma or a combination of smaller BTEC qualifications.
Tariff: Other Level 3 qualifications are accepted for entry. A minimum of 96-80 UCAS Tariff points will be required.
Access to Higher Education Diploma: 96-80 UCAS Tariff points, including a minimum of 15 Level 3 credits at Distinction.
A-levels: An A-level grade profile of CD-DD.
T-levels: A T-level graded Pass with a core component profile less than C.
BTEC: A BTEC grade profile of PPP-PP. This can be achieved from either an Extended Diploma or a combination of smaller BTEC qualifications.
Apprenticeship: Achieve an advanced apprenticeship (Level 3).
Tariff: Other Level 3 qualifications are accepted for entry. A minimum of 56-32 UCAS Tariff points will be required.
Access to Higher Education Diploma: 56-32 UCAS Tariff points.
Non-tariff: Non-UCAS Tariff-based Level 3 qualifications are also considered for entry. Please complete our enquiry form here to check your eligibility.
Work-based: We also give equal consideration to applicants who are currently in work and wish to apply to University College Birmingham. To apply, you must have a minimum of 3 years' relevant work experience, demonstrating management or supervisory duties. Your application must also include a reference from your line manager supporting your entry to higher education. For further details, please contact Admissions.
EU/international students
Key information
Teaching
Below sets out our intention for how teaching will look in the 2021/2022 academic year for each level/year of this course. You can view more information on our teaching plans here.
Assessment
Estimated breakdown of assessment for this degree course:
Coursework – 61%
Practical assessment – 22%
Written examinations – 17%
Our teaching and assessment is underpinned by our Teaching, Learning and Assessment Strategy 2021-2024.
As a new student studying this degree full-time, you will receive £300 per year via our Kick-Start Scheme (eligibility criteria applies). This scheme will support your studies and future career by contributing to course-related materials, uniform or selected items on campus. You might even qualify for an additional £500 per year.
UK students
If you are a UK student or an EU student with settled/pre-settled status enrolling on a full-time foundation degree or a BA/BSc in 2021/22, your fee for this academic year will be £9,250 per each full year. A half year tuition fee is £4,625. UK students do not pay tuition fees for any placement periods.
EU students
Following the UK's departure from the EU to support our European applicants, University College Birmingham is offering an automatic EU Transition Award to all eligible European students who start their studies at UCB in September 2021 or January 2022 which will bring your fees to £9,250 for an undergraduate course and £8,000 for a postgraduate course. To be eligible for the award students need to be a permanent resident of an EU country and classified by the University as an international student for 2021/22 entry fees purposes. Non-eligible students will be charged the standard international student fee. To find out more information click here. 
International students
If you are an international student enrolling on a full-time foundation degree or a BA/BSc in 2021/22, your fee for this academic year will be £12,500 per year.
If you complete a placement year, there will be an administration fee of £500 for a full year, or £250 for a half-year placement.
UCBconnect - meet other students on your course
Starting university is an exciting time, but we understand that it can sometimes feel a little daunting. To support you, we have created a platform called UCBconnect, where you can meet other students who have applied for the same course at University College Birmingham, before you start studying here.
As soon as you have been made an offer, you will be sent an invitation via text and email to complete your user registration and join UCBconnect. For more information, please visit ucb.ac.uk/ucbconnect.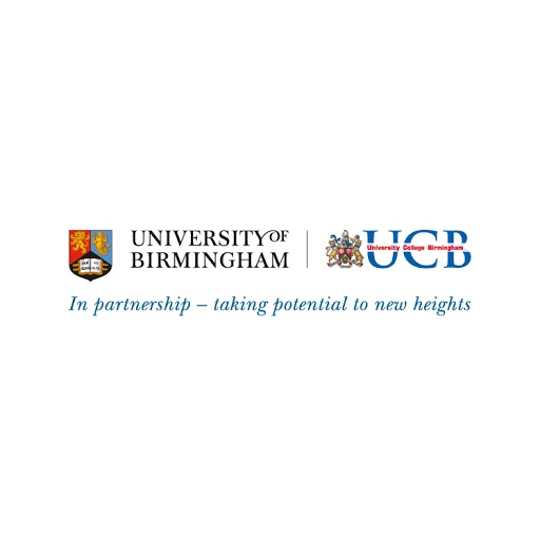 This course is accredited by the University of Birmingham.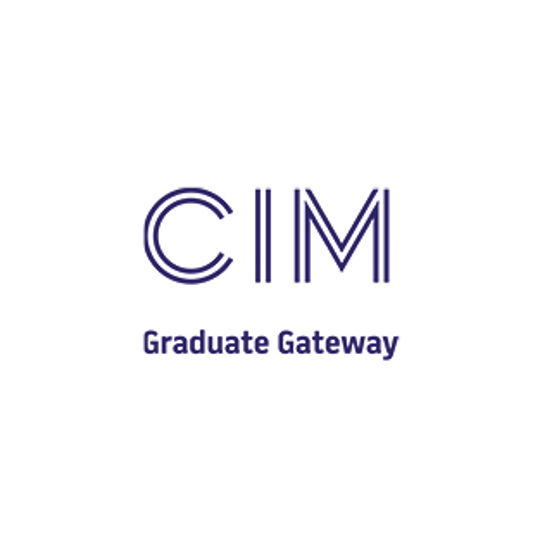 This course is accredited by the Chartered Institute of Marketing.
Accreditations, endorsements and partnerships
University College Birmingham works with a wide range of organisations to ensure you receive the best possible training and qualifications recognised by industry.
of graduate employers say relevant experience is essential to getting a job with them
Work placements
Work placements are vital for gaining real-life experience and for building your confidence and skills before you finish your course – and they may even lead to a job when you graduate. Our hired@UCB team can help find the ideal placement for you.
Our FdA and BA Marketing Management courses both offer you the option of a paid 48-week work placement, during which you will not incur any tuition fees.
Work alongside experts in your sector
A snapshot of some of the employers we have worked with:
Planeta Huerto SL (Spain)
The Royal Society of Medicine (London)
CA Technologies (Berkshire)
Beyond Beauty (Birmingham)
Due to the ongoing coronavirus pandemic, please be aware that opportunities to travel abroad for placements, project work or residential trips may be affected by government travel restrictions. Please visit our
updates and FAQs page
for information.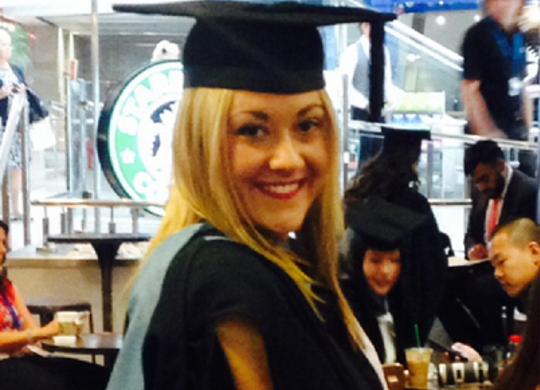 I loved that we had guest lectures from people working in the sector, which made me think that the University really understands the importance of real world experience. They don't want you to just get a degree. They support your development and apply real working practices to help you find your perfect career.
Career opportunities
The example roles and salaries below are intended as a guide only.
Marketing executive (graduate)
Average Salary: £37,500
Digital marketer
Average Salary: £30,000
Social media manager
Average salary: £25,000 – £32,000
Advertising account executive
Average Salary: £35,000
Public relations officer
Average Salary: £25,000
Media planner
Average Salary: £32,500
hired@UCB
We are here to support your career goals every step of the way.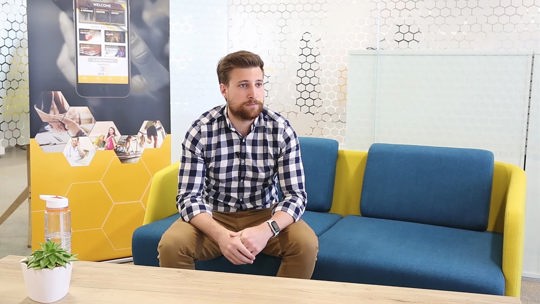 Dan's Story
Dan has pressed all the right buttons since graduating and is now marketing apps and business services for a start-up in Birmingham.