Why should I choose this course?
PRACTICAL APPLICATION – Get hands-on working on live projects and case studies, as well as having the option of a paid 48-week work placement
SPECIALISE YOUR STUDIES – Choose from our range of optional modules, including Podcasting and Audio Production, Sales Management or Advertising Psychology
ENRICHMENT – Engage with industry professionals through guest lectures, workshops and other activities, as well as boosting your practical skills in our Digital Creative Studio
EXCHANGE OPPORTUNITIES – Take the opportunity to participate in a student exchange programme across Europe, South East Asia, Australia and the USA
AWARD-WINNING UNIVERSITY – Study at the University of the Year offering the best Student Support in the UK (WhatUni Student Choice Awards 2022)
Our facilities
Students on our marketing courses have access to our Digital Creative Studio, where you can get hands-on experience creating podcasts, promotional videos and livestream content for social media. We also provide a range of support services for student entrepreneurs through our Enterprise Hive.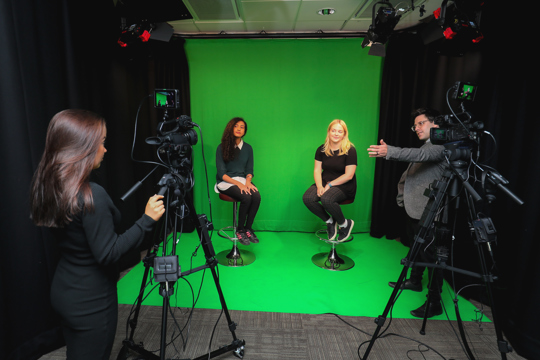 Based in Camden House, our Digital Creative Studio features state-of-the-art video and audio production facilities, including a video production studio with 4K cameras and green screen technology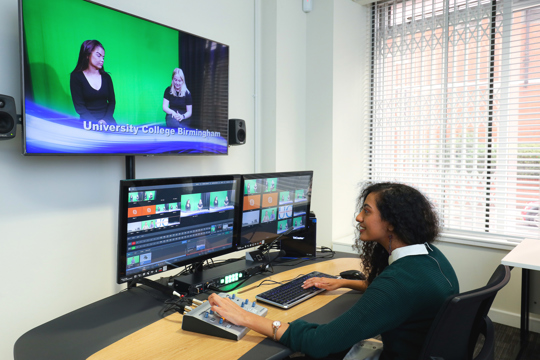 Our Digital Creative Studio also houses a dedicated teaching lab complete with high-spec computers and industry-standard media technology, including Adobe Creative Cloud software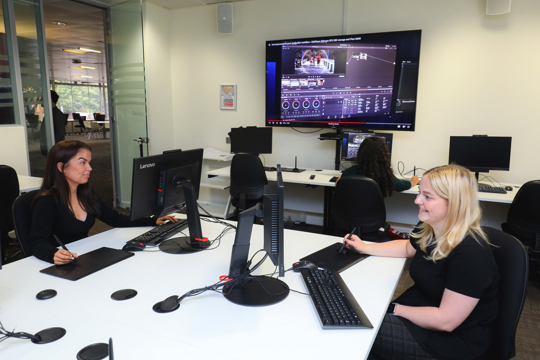 The Digital Creative Studio hosts audio podcasting, vision mixing and editing facilities, as well as a creative media and design lab with graphics tablets
If you want to set up your own business, visit our Enterprise Hive for a wide range of start-up support, including incubation space, tailored mentoring from industry experts and networking opportunities
Course breakdown
Students on the FdA have the option of progressing onto the final year upon completion of the foundation degree.
Year 1
Year 2
Year 3
Year 3/4
This module is an introduction to different branches of accounts, key financial terminology and financial statements that business owners and managers employ. You will construct, interpret and analyse data in order to assess the financial performance of a business or project. This analysis will further explore how financial data can be utilised to inform business decisions in a dynamic environment.
Working successfully within teams and on projects will determine your career achievements and help achieve your business goals. This module will teach you to meet the challenges facing businesses today by focusing on the people perspective and enhancing your knowledge of leadership and management within current agile business environments.
Assuming the role of a marketing manager, you will learn how to make and justify a range of marketing decisions, as well as learn about market segmentation and marketing tactics within differing types of organisations. You will be able to appreciate the importance of customer orientation and of satisfying customer needs in an increasingly competitive environment.
This first-year module aims to develop your understanding of the ways in which advertising and marketing professionals communicate with their intended audiences. Along the way, you will gain a foundational understanding of communication theory, audience effects debates and the role of integrated marketing communications (IMC) in the development of brand messages across multiple channels.
This module allows you to develop your knowledge and practical application of digital marketing tools and platforms. You will be able to enhance your understanding of key digital channels that support and enhance the marketing function. The focus of the module is very much practitioner based where you will be taught the design elements of website and content marketing.
External Marketing Environment
This module will provide you with an understanding of the complex and ever-changing external business environment in which contemporary marketing professionals function. You will learn about the diverse range of factors both macro (political, environmental, social, technological, legal and economic) and micro (customers, competitors, stakeholders and interest groups) that impact on how decisions are made. Over the course of this module, you will learn how to identify and analyse these factors and adopt appropriate responses to various opportunities and challenges.
SEO and Digital Advertising
This practically focused module is an essential introduction to search engine optimisation (SEO) and digital advertising, including the latest techniques in PPC, SEM and social media advertising. Over the course of this module, you will gain an understanding of digital advertising and become proficient in utilising best practice to get to the top of search engine rankings while maximising ROI (return on investment).
Consumers are both predictable yet dynamic in their behaviour – it is your job as a marketing professional to understand the underlying factors influencing consumer behaviour. This module will demonstrate how key insights into consumer behaviour can inform your marketing tactics and help you to build more effective, targeted campaigns. You will explore the role of technology and customer data in helping marketers to make decisions, as well as the importance of emerging technologies such as machine learning, AI and neuromarketing.
In this module you will explore current concepts around public relations and investigate PR practice as a communication function. This will allow you to evaluate the processes of campaign planning, implementation and evaluation, and require you to apply this learning into planning a campaign. Along the way, you will also learn the skills of writing effective copy for digital and traditional media channels.
This module aims to explore campaign planning from the perspective of a marketing manager. You will arrive at a clearer understanding of the steps taken in the process of developing digital marketing plans and will investigate the range of digital marketing tools available and learn how to co-ordinate and manage these in order to obtain a successful ROI.
The importance of marketing research is growing in the increasingly-global competitive marketing environment. You will explore the nature and scope of marketing research, including where and how marketing research fits in with other aspects of marketing management, the characteristics of the research industry and marketing intelligence suppliers.
How do advertisers persuade customers to buy? You will learn about advertising psychology in the context of persuasive communication, developing a deeper level of understanding about the cognitive processes involved when dealing with persuasive communication. This will allow you to analyse these processes and to apply your knowledge in a specific marketing context.
E-Commerce and Customer Experience Design
E-commerce has revolutionised the way in which customers interact with businesses. More than ever, it is important for brands to build a powerful online presence. This module will furnish you with the theoretical and practical knowledge required to build your own e-commerce platform and design optimised customer journeys which delight customers and keep them coming back to your website again and again.
Interactive media is an increasingly important part of any content strategy and covers a wide range of digital products and services. This module will allow you to develop your own creative practice in interactive media (making games, interactive film, digital storytelling or any other medium) in a guided interactive media project of your own devising. Building on many of the technical and creative skills developed so far, this module will take you through the key stages of developing an interactive media project from ideation and concept definition, through to proof of concept and prototype delivery.
This module is all about how to manage a successful sales team. As part of this module, you will gain a clear understanding of the role of sales teams within different organisations, as well as the different types of buyers and how to sell to them. In light of the ever-increasing 'internationalisation' of business, you will also be looking at sales from an international scope and explore theoretical perspectives of buying and selling.
Our course offers you the chance to undertake a paid 48-week placement to give you invaluable first-hand experience in the industry. In your Graduate Advantage sessions, you will be provided with the essential skills and tools to apply and secure your own placement (with support from hired@UCB).
Strategic Marketing Management
This module aims to critically assess the role of strategic marketing in modern organisations. You will consider what digital marketing strategy means and look at a range of examples across business sectors. Core areas to be investigated will be the technologies which make marketing possible, the relationship between marketing strategies and the wider organisation, the key issues in the development and implementation of marketing strategies and the threats (security and other) posed by digital marketing.
Big data is an increasingly important feature of modern business. Organisations now utilise increasingly sophisticated data management and analytical processes to help them make strategic decisions and maintain efficient business practices. This module aims to help you identify and make sense of meaningful patterns in data sets and will familiarise you with the analytical tools and techniques to support evidence-based decision-making. The focus of this module is on digital marketing analytics, such as the use and analysis of website and social media metrics, however more generally this module will help you develop the analytical skills and data competence increasingly demanded by industry.
We live in an interconnected world, so it's important to examine how organisations explore new market opportunities beyond national boundaries. As a result, you will become more aware of the technological, communication and transportation challenges businesses face and the options they consider when seeking a foothold in a new country.
Marketing Final Major Project
The Final Major Project is a practically focused, but theoretically informed, capstone research project. You will be presented with a particular marketing problem and be asked to generate an innovative solution. In doing so, you will be encouraged to explore an area of marketing which interests you and produce a detailed report, evaluating the relative merits and feasibility of the approach/strategy/technology under investigation. You will then put theory into practice by showcasing your marketing solution at an event attended by your peers, lecturers and industry professionals.
You will have the opportunity to engage in an independent research project of your choice. You will have support with preparing your proposal and understanding the competent characteristics of good research. An appointed tutor will help guide you through this important and rewarding process.
Advertising and Media Management
You will be taken deeper into the management processes relating to advertising, focusing on the skills involved in matching business objectives and brand communication to target markets. You will be given a greater insight into detailed analysis of what makes advertising communications effective.
The most valuable assets that a company has are the brands that it has invested in and developed over time. You will be given the theoretical knowledge and practical skills required to succeed in the management of complex brands and look at how brands are viewed, built, managed and measured to ensure superiority and sustainability.
Podcasting and Audio Production
Podcasting has been growing in terms of audience reach and size year on year and this presents a huge opportunity for publishers, marketers and communication professionals to connect with audiences via this new media platform. Lectures and practical workshops will be geared towards producing a professional promotional podcast, within a style and genre of your choice. Along the way, you will learn a range of audio production skills, including digital audio, editing and mixing skills.
The modules listed above for this course are regularly reviewed to ensure they are up to date and informed by industry as well as the latest teaching methods. On occasion, we may need to make unexpected changes to modules – if this occurs, we will contact all offer holders as soon as possible.
Entry requirements
Marketing Management BA (Hons)
A-levels: An A-level grade profile of CDD.
T-levels: A T-level graded Pass with a core component of grade C.
BTEC: A BTEC grade profile of MMP. This can be achieved from either an Extended Diploma or a combination of smaller BTEC qualifications.
Tariff: Other Level 3 qualifications are accepted for entry. A minimum of 80 UCAS Tariff points will be required.
Access to Higher Education Diploma: 80 UCAS Tariff points, including a minimum of 15 Level 3 credits at Distinction.
A-levels: An A-level grade profile of DD.
T-levels: A T-level graded Pass with a core component profile less than C.
BTEC: A BTEC grade profile of PP. This can be achieved from either an Extended Diploma or a combination of smaller BTEC qualifications.
Apprenticeship: Achieve an advanced apprenticeship (Level 3).
Tariff: Other Level 3 qualifications are accepted for entry. A minimum of 32 UCAS Tariff points will be required.
Access to Higher Education Diploma: 32 UCAS Tariff points.
Non-tariff: Non-UCAS Tariff-based Level 3 qualifications are also considered for entry. Please complete our enquiry form here to check your eligibility.
Work-based: We also give equal consideration to applicants who are currently in work and wish to apply to University College Birmingham. To apply, you must have a minimum of 3 years' relevant work experience, demonstrating management or supervisory duties. Your application must also include a reference from your line manager supporting your entry to higher education. For further details, please contact Admissions.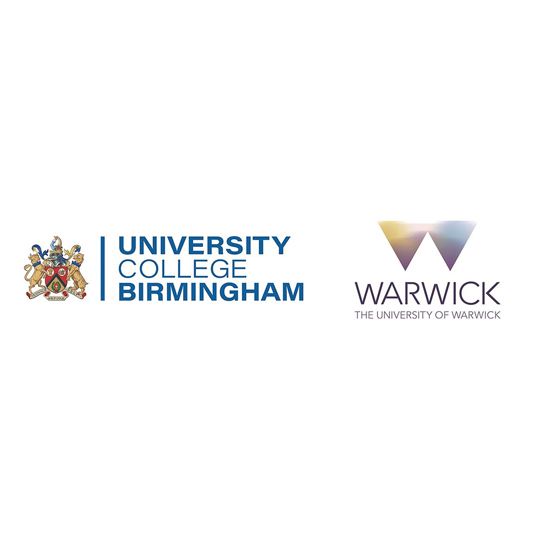 This course is accredited by the University of Warwick.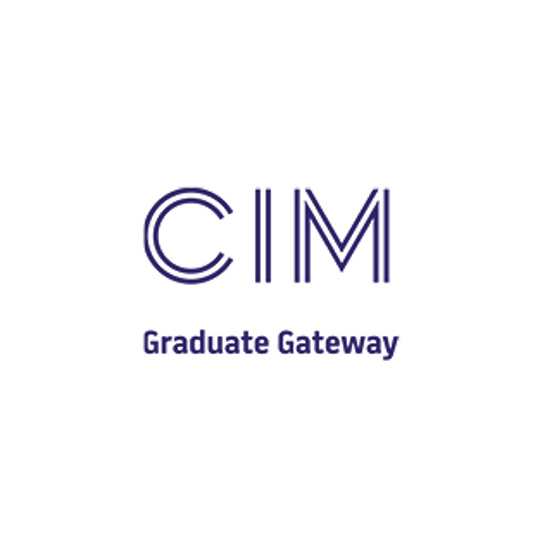 University College Birmingham is accredited by the Chartered Institute of Marketing.
Accreditations, endorsements and partnerships
University College Birmingham works with a wide range of organisations to ensure you receive the best possible training and qualifications recognised by industry.
of graduate employers say relevant experience is essential to getting a job with them
Work placements
Work placements are vital for gaining real-life experience and for building your confidence and skills before you finish your course – and they may even lead to a job when you graduate. Our Hired team can help find the ideal placement for you.
Our FdA and BA Marketing Management courses both offer you the option of a paid 48-week work placement, during which you will not incur any tuition fees.
Work alongside experts in your sector
A snapshot of some of the employers we have worked with:
Planeta Huerto SL (Spain)
The Royal Society of Medicine (London)
CA Technologies (Berkshire)
Beyond Beauty (Birmingham)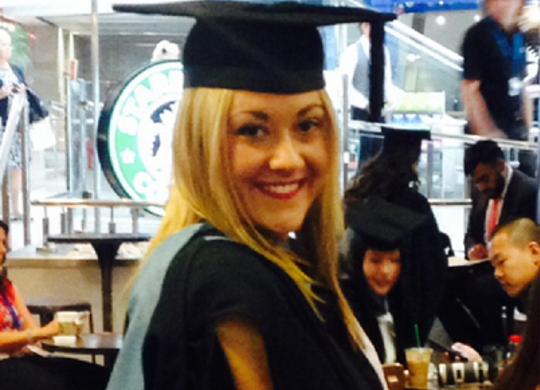 I loved that we had guest lectures from people working in the sector, which made me think that the University really understands the importance of real world experience. They don't want you to just get a degree. They support your development and apply real working practices to help you find your perfect career.
Career opportunities
The example roles and salaries below are intended as a guide only.
Marketing executive (graduate)
Average Salary: £37,500
Digital marketer
Average Salary: £30,000
Social media manager
Average salary: £25,000 – £32,000
Advertising account executive
Average Salary: £35,000
Public relations officer
Average Salary: £25,000
Media planner
Average Salary: £32,500
Hired
We are here to support your career goals every step of the way.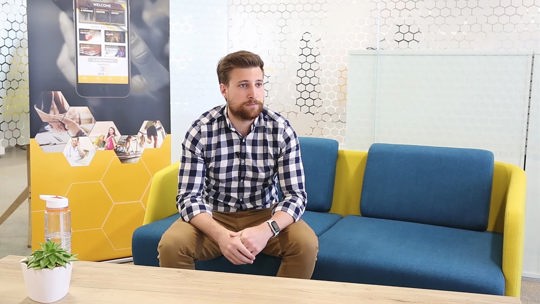 Dan's Story
Dan has pressed all the right buttons since graduating and is now marketing apps and business services for a start-up in Birmingham.