Why should I choose this course?
PRACTICAL APPLICATION – Work with real clients on live projects, developing marketing plans and strategies with our industry partners, and build practical media skills in our Digital Creative Studio
SPECIALISE YOUR STUDIES – Gain specialist knowledge from studying optional modules, including areas such as designing event experiences or risk and crisis management
WORK PLACEMENT – Test your training in the real world by undertaking an optional six month placement
TEAM SCOTLAND PARTNERSHIP – Our University will be the home for Team Scotland at the 2022 Commonwealth Games in Birmingham, offering exciting opportunities for our students to work with the team and its athletes
There are lots of reasons why we think you should study with us, but here are our top 5. 
View video.
Speak with a lecturer
Our lecturers are on hand to help.
Simply fill in the form with a few details, and we'll email you with a link
to book an online meeting with them to chat about the course.
Our facilities
Students on our marketing courses have access to our Digital Creative Studio, a brand new facility where you can get hands-on experience creating podcasts, promotional videos and livestream content for social media. We also provide a range of support services for student entrepreneurs through our Enterprise Hive.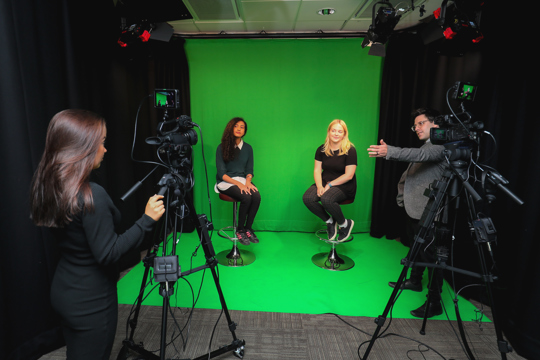 Based in Camden House, our new Digital Creative Studio features state-of-the-art video and audio production facilities, including a video production studio with 4K cameras and green screen technology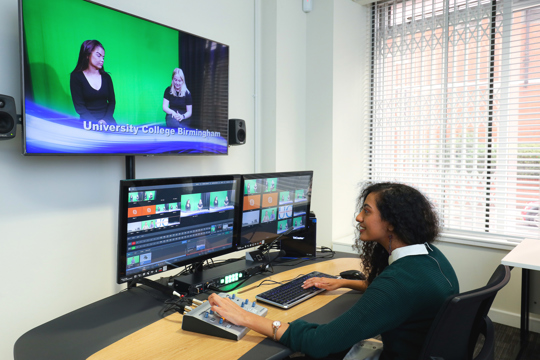 Our Digital Creative Studio also houses a dedicated teaching lab complete with high-spec computers and industry-standard media technology, including Adobe Creative Cloud software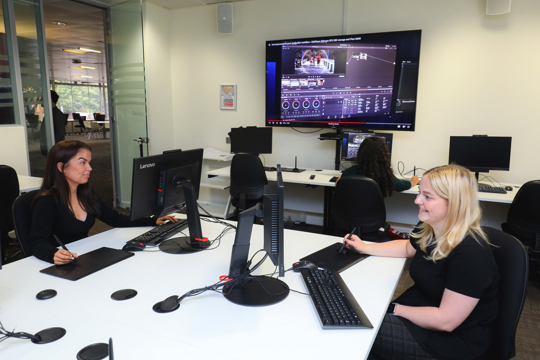 The Digital Creative Studio hosts audio podcasting, vision mixing and editing facilities, as well as a creative media and design lab with graphics tablets
If you want to set up your own business, visit our Enterprise Hive for a wide range of start-up support, including incubation space, tailored mentoring from industry experts and networking opportunities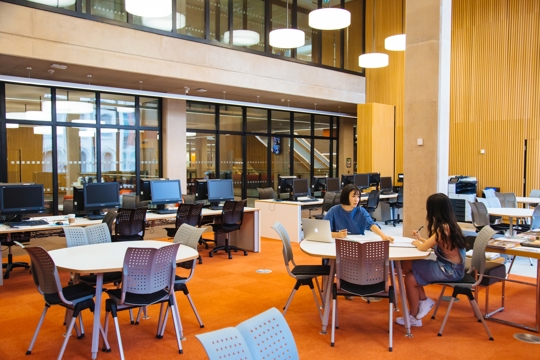 Students on our postgraduate courses have exclusive access to our dedicated postgraduate suite in McIntyre House, providing study and meeting spaces, PCs and other facilities.
Course breakdown
This module provides the students with an opportunity to gain an understanding of consumers from a management perspective as it is imperative that marketers be equipped with an intense understanding of consumer psychology and other sociological, situational and cultural factors that influence an organisation's marketing activities.
Events, Hospitality and Tourism Insights
All events, hospitality and tourism businesses need to adopt customer focused strategies in order to succeed, or even survive in a constantly changing global market place. This module introduces the broad subject matter of events, hospitality and tourism, by drawing on aspects and concepts from the contemporary business environment. It explores the current demand for and supply of products and services within each of these industries and their subsequent economic, socio-cultural and environmental impacts. Learners will develop an understanding of the essential inter-dependence of many of the elements of these sectors and the planning and marketing associated with them. A services marketing approach will be used to investigate the use of evolving marketing techniques such as experiential marketing, service dominant logic, co-creation of value together with innovation and new product development. Learners will develop skills focussing on creativity and design and will be required to deliver an innovative pitch to explain and justify a new concept or idea.
The aim of this module is to provide students with an understanding of the key dimensions of the global marketing environment from the perspective of developing a global marketing strategy. It provides learners with an understanding of marketing strategies and practices in a global context, by analysing the global marketing environment, marketing opportunities and strategic options. Using real case examples, skills are developed to evaluate, develop and implement effective global marketing programmes for businesses of various sizes.
Integrated Marketing Communications
Consumers are bombarded by media messages and marketing related communications from organisations, but the power has shifted thanks to growing consumer involvement and interactivity, utilising the latest interactive technologies. Consumers are now active and engaged, often generating their own content and co-creating communications with producers and other consumers thus raising opportunities and challenges for organisations in the events, hospitality and tourism sector. This module will give students an in-depth understanding of the marketing communication mix both from a theoretical and practical, strategic and tactical perspective exploring how different forms of communication work together, acknowledging the development of the new mediums by which organisations may communicate with stakeholder and influencer groups and how such communications affect business and society.
Marketing Planning and Operations
This module is about how to take a strategic approach in marketing planning to achieve competitive advantage. It recognises the significance of situation analysis and introduces techniques for assessing the external and internal environments that enable effective decision making. The module outlines the importance of all stages within the marketing planning process, from the audit, through strategic decision making, to implementation and the operation of plans. It outlines how managing resources and employing monitoring and measurement techniques enables the achievement of strategic marketing objectives.
This module introduces students to the disciplines and techniques required for critical appraisal of complex data and industry practice; creating research designs and accompanying research techniques; building theoretical frameworks, and the scheduling and execution of a research project. The module will develop students' skills and expertise in the essential research tools they will need for both successful Postgraduate study and as leaders in their chosen service industry sector.
Designing Event Experiences
The process of creative thinking and experiential design is not only considered in mega events such as the Olympics but also in small events. Learners will be equipped with knowledge allowing them to conceptualise, create and effectively design small events such as charity events and corporate events such as product launches, familiarisation trips, and conferences using the latest technology to engage with consumer senses and enhance the overall experience. The module begins with an examination of the experience with particular reference to the use of specific design practices within the context of exemplar events. Peer-to-peer learning is used to share good practice of experience design in these exemplar events Students develop skills focussing on creativity and design and produce a hypothetical sales pitch to explain and justify their event idea based around a given case study
Hospitality Operations Development
This module is about examining strategic-level operations management issues through evaluating how operations may have to develop or change to meet the future needs of the market. This evaluation will be carried out within the context of corporate strategy and the external global business environment.
Risk and Crisis Management
Aviation and tourism operate within an unpredictable and turbulent global environment and is influenced by a number of actual and perceived risks. To mitigate such risks, destinations and organisations must plan, develop and implement risk management strategies. When faced with a crisis, creative and appropriate crisis communication and recovery strategies are essential to ensure that organisations and destinations survive and sustain their competitiveness. This module will also examine the challenges of decision-making in unpredictable and crises conditions.
Strategic Brand Management
With the ever-increasing power and influence of various stakeholders on the development and success of service brands, you will explore how firms seek to gain and sustain a competitive advantage from their portfolio of brands.
Optional placement module
Professional Postgraduate Placement
If you want to get your foot in the door of an organisation then this 6 month optional placement will give you valuable experience, enhance your CV and may help your future employment prospects.
The modules listed above for this course are regularly reviewed to ensure they are up to date and informed by industry as well as the latest teaching methods. On occasion, we may need to make unexpected changes to modules – if this occurs, we will contact all offer holders as soon as possible.
MA Marketing Management for Events, Hospitality and Tourism – A grade classification of 2:2 is required, or international equivalent.
PGDip Marketing Management for Events, Hospitality and Tourism – A grade classification of third-class is required, or international equivalent.
A subject-related UK or International honours degree from a recognised institution.
We also consider applicants who are currently employed and wish to apply to University College Birmingham.
To apply, you must have 5 years of relevant managerial work experience, demonstrating in-depth knowledge of the sector for the subject matter you are interested in pursuing.
A reference detailing your roles and responsibilities from your line manager and a meeting with the programme team will usually be scheduled prior to a place being offered.
EU/international students
If your degree is not related and you do not have relevant managerial work experience, please contact Admissions so that we can discuss your application on an individual basis before you apply.
If you have any questions, please complete our enquiry form:
Teaching
This course is delivered through team-based learning exercises to encourage a high level of participation. You will also attend lectures, seminar debates and do independent reading to ensure an interactive, personalised learning experience.
You will be assessed in a variety of ways to encourage you to develop a range of skills. These include case studies, presentations, online debates, assessed seminars, essays and reports, marketing plans and a live exhibition.
Our teaching and assessment is underpinned by our Teaching, Learning and Assessment Strategy 2021-2024.
UK students
If you are a UK student or an EU student with settled or pre-settled status, enrolling on a MA/MSc course at University College Birmingham, your fee for this academic year will be £8,750. The fee for the PGdip course is £6,350, and £9,250 for the PGCE. 

View postgraduate fees
International students
If you are an international student enrolling on one of our postgraduate programmes (e.g. MSc, MA) in 2022/23, your fee for this academic year will be £14,500 per year.
UCBconnect - meet other students on your course
Starting university is an exciting time, but we understand that it can sometimes feel a little daunting. To support you, we have created a platform called UCBconnect, where you can meet other students who have applied for the same course at University College Birmingham, before you start studying here.
As soon as you have been made an offer, you will be sent an invitation via text and email to complete your user registration and join UCBconnect. For more information, please visit ucb.ac.uk/ucbconnect.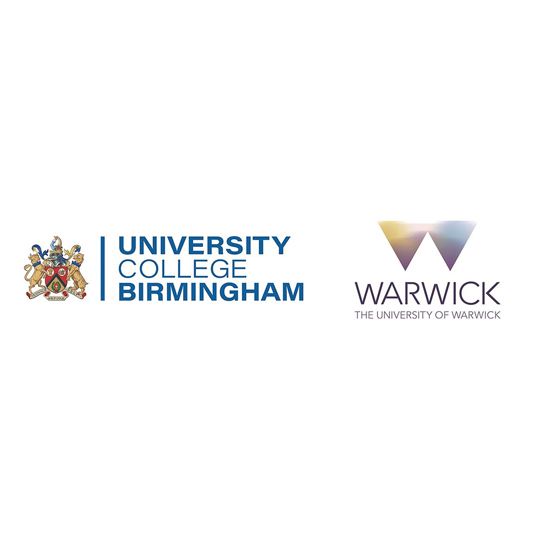 This course is accredited by the University of Warwick.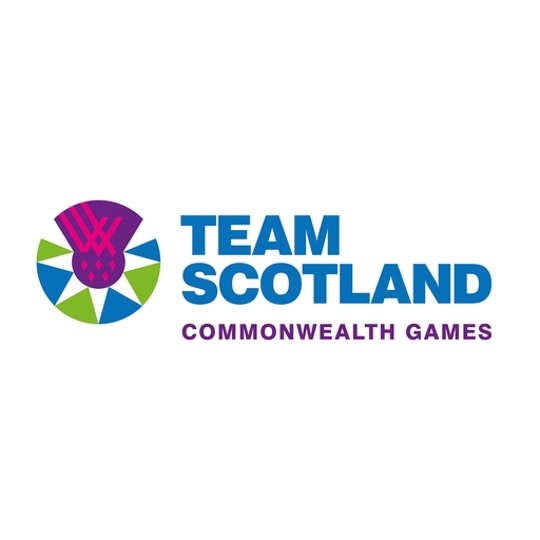 University College Birmingham will be the home of Team Scotland at the 2022 Commonwealth Games.
Accreditations, endorsements and partnerships
University College Birmingham works with a wide range of organisations to ensure you receive the best possible training and qualifications recognised by industry.
of graduate employers say relevant experience is essential to getting a job with them
Work placements
Work placements are vital for gaining real-life experience and for building your confidence and skills before you finish your course – and they may even lead to a job when you graduate. Our hired@UCB team can help find the ideal placement for you.
Our postgraduate Marketing Management course offers you the option of a six-month placement on successful completion of the taught part of the course.
Work alongside experts in your sector 
A snapshot of some of the employers we have worked with:
Sky Deutschland GmbH (Germany)
Seznam (Czech Republic)
Bocetos Marketing SL (Spain)
Rescue P.A.W.S. (Thailand) 
Due to the ongoing coronavirus pandemic, please be aware that opportunities to travel abroad for placements, project work or residential trips may be affected by government travel restrictions. Please visit our
updates and FAQs page
for information.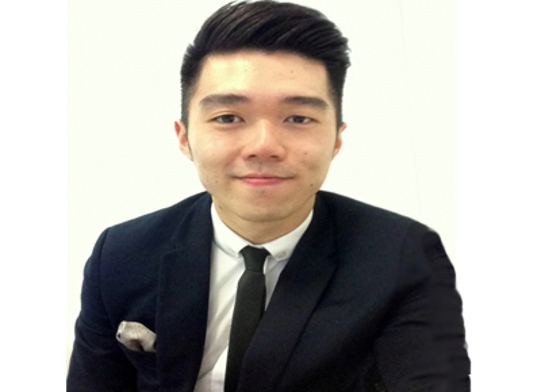 I found the modules and courses that University College Birmingham had to offer very interesting because of the practical emphasis. I met many good friends during my studies. Being at the University felt like being part of a big family, and the lecturers are very friendly and approachable.
Career opportunities
The example roles and salaries below are intended as a guide only.
Conference centre manager
Average Salary: £30,000
Event manager
Average Salary: £33,000
Hotel manager (small hotel or deputy of larger hotel)
£27,500 - £31,000
Marketing executive (postgraduate)
Average Salary: £37,500
Tourist information centre manager
Average Salary: £30,000
Digital marketer
Average Salary: £30,000
hired@UCB
We are here to support your career goals every step of the way.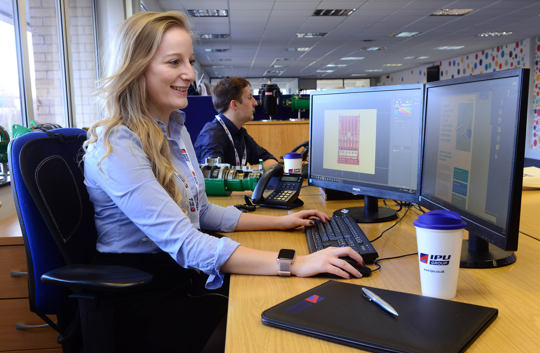 Melissa's Story
Melissa's marketing career has seen her climb the ladder to become a manager within a multi-million pound company.