Why should I choose this course?
PRACTICAL APPLICATION – 'Learn by doing' through live project work and developing your own business start-up idea, as well as building practical media skills in our Digital Creative Studio
EXPERT TUITION – Interact and engage with business experts who will mentor you to ensure you develop the skills and knowledge to succeed
FLEXIBLE LEARNING – Blended delivery provides flexibility for you to weave your study around work commitments
AWARD-WINNING UNIVERSITY – Study at the highest-ranking university in the region according to student choice (Whatuni Student Choice Awards 2023)
Our facilities
University College Birmingham provides a range of support services for budding young entrepreneurs through our dedicated Enterprise Hive, while students on our business courses have the opportunity to study in our cutting-edge Financial Trading Suite. Our Digital Creative Studio also enables you to learn an array of skills for producing digital content including video and audio.
If you want to set up your own business, visit our Enterprise Hive for a wide range of start-up support, including incubation space, tailored mentoring from industry experts and networking opportunities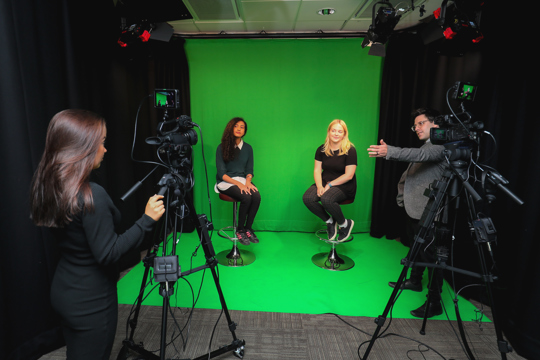 Based in Camden House, our Digital Creative Studio features state-of-the-art video and audio production facilities, including a video production studio with 4K cameras and green screen technology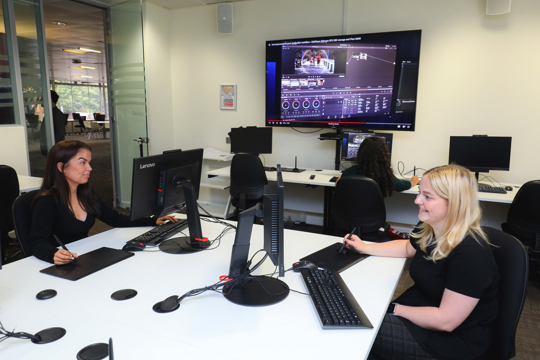 The Digital Creative Studio hosts audio podcasting, vision mixing and editing facilities, as well as high-spec computers with Adobe Creative Cloud software and graphics tablets

Students on our finance-related modules have the chance to learn in our Financial Trading Suite on campus, featuring 21 workstations, large wall screens and a scrolling ticker providing real-time global market information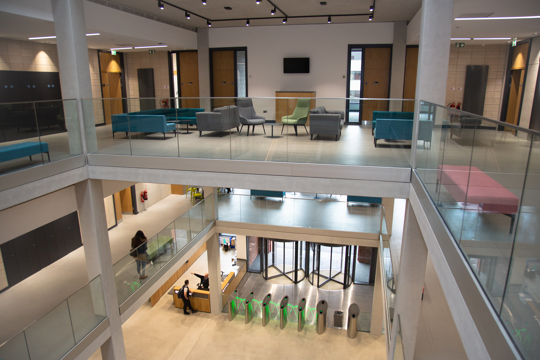 Our £44 million Moss House campus includes an exhibition space to showcase your work to assessors and prospective employers, as well as our Enterprise Hive service which helps budding entrepreneurs with start-ups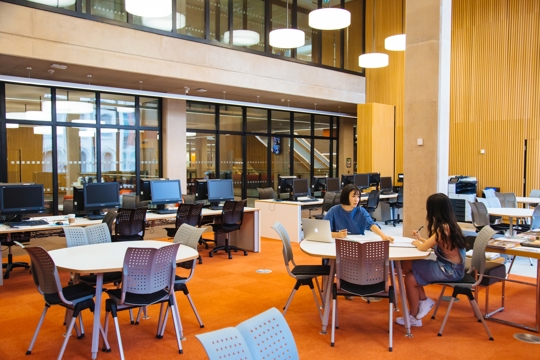 Students on our postgraduate courses have exclusive access to our dedicated postgraduate suite in McIntyre House, providing study and meeting spaces, PCs and other facilities.
Course breakdown
Starting and Managing a Business
The aim of this module is to provide you with the practical skills and theoretical knowledge of setting up, managing or growing your own venture. You will learn about the entrepreneurial mindset and how your own management style can influence the growth and direction of your business. You will develop a toolkit of business start-up concepts including finance methods, business planning, market research, human resources, marketing and legal, including registering your venture. You will investigate several high profile and successful business start-ups as well as learning from businesses who got it wrong, so you don't make the same mistakes. You will finish this module with a complete pitch deck for your new or growing venture and have the opportunity to present it to a group of venture capitalists and angel investors.
Creativity and Innovation
With the fast pace of change and uncertain times, creativity has never been more important. The aim of this module is to provide you with the practical skills and theoretical knowledge of creativity and innovation, including how to manage your own creative personality and how to drive your ideas through the organisation. You will cover the impact of rapid digital change, intensifying global competition and how creativity stems from the environment and culture of your organisation. The module will draw on theories of creativity and innovative cultures and examine the sociological and economic, as well as looking at theories of the firm in relation to design and composition for innovation. You will also examine the barriers to creativity and reflect on a range of case studies that demonstrate the impact of innovation on a worldwide scale.
As the world enters the fourth industrial revolution, you don't want to get left behind. This module focuses on a wide range of concepts that prepare you to lead an organisation through a time of rapid change and disruption. We will focus on you as an ethical leader, developing values of sustainability, well-being and flexibility for your team as well as examining how digital transformation will impact on your business and on the lives of your customers. Interconnectedness is at the heart of Industry 4.0, and we will examine the rise of social enterprises and the ethical consumer and how innovations in artificial intelligence, augmented reality and robotics can improve your venture's ability to be agile and constantly evolve.
The Entrepreneurial Decision Maker
Entrepreneurs need to be great decision makers. In many cases the buck will stop with you, and you won't have a huge team around you to share the risk. This module teaches you about decision-making theory, examines how to create a team of effective decision makers and gives you the diagnostic tools to formulate, assess, screen and reach the required outcome. You will also learn how to evaluate previous decisions, so you don't make the same mistake twice. Finally, you will examine data sources and learn how to gather and manipulate information to reach a balanced business decision.
This module extends and develops your knowledge and ability in focusing upon, and preparing for, industry research. It introduces you to the disciplines of research techniques and data analysis as well as the design and execution of a research project. The project can take various forms including a traditional dissertation, generating a new enterprise start-up plan, developing a business or marketing campaign, or proposing new processes/systems/products/target markets. The aim is to develop your skills and expertise in the essential research tools you will need for both successful postgraduate study and as a self-employed entrepreneur or manager of the future.
The modules listed above for this course are regularly reviewed to ensure they are up to date and informed by industry as well as the latest teaching methods. On occasion, we may need to make unexpected changes to modules – if this occurs, we will contact all offer holders as soon as possible.
MSc Enterprise Management – A grade classification of 2:2 is required, or international equivalent.
PGDip Enterprise Management– A grade classification of third-class is required, or international equivalent.
There are no subject pre-requisites for this programme.
We also consider applicants who are currently employed and wish to apply to University College Birmingham.
To apply, you must have five years of relevant managerial work experience, demonstrating in-depth knowledge of the sector for the subject matter you are interested in pursuing.
A reference detailing your roles and responsibilities from your line manager and a meeting with the programme team will usually be scheduled prior to a place being offered.
If you have any questions, please complete our enquiry form:
Providing accessible and inclusive teaching and learning through a block, blended pedagogy, our course will allow you to focus on understanding individual topic areas, while providing flexibility for you to plan your study around your work commitments.
The course will be delivered through a range of methods which include attending lectures, seminar debates, enterprising workshops, and interacting with guest speakers and leading entrepreneurs from industry. You will also be expected to engage with independent reading and research to ensure an interactive and personalised learning experience.
You will be assessed in a variety of ways to encourage the development of a full portfolio of entrepreneurial and management skills and competencies. These include case studies, presentations, online debates, assessed seminars, executive reports, business start-up and development plans, and business pitching.
Our teaching and assessment is underpinned by our Teaching, Learning and Assessment Strategy 2021-2024.
UK students
If you are a UK student or an EU student with settled or pre-settled status enrolling on a MA/MSc course at University College Birmingham, your fee for this academic year will be £8,750. The fee for the PGDip course is £6,350.

View postgraduate fees
International students
If you are an international student enrolling on one of our postgraduate programmes (e.g. MSc, MA) in 2023/24, your fee for this academic year will be £14,500 per year. The course fee for academic year 2024/2025 is £15,000 per year.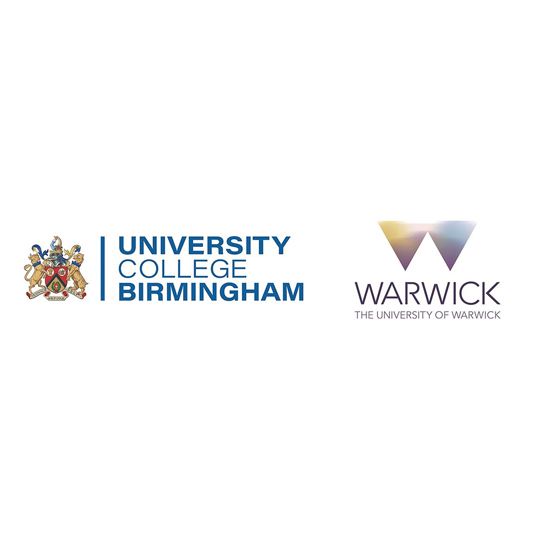 This course is accredited by the University of Warwick.
Accreditations, endorsements and partnerships
University College Birmingham works with a wide range of organisations to ensure you receive the best possible training and qualifications recognised by industry.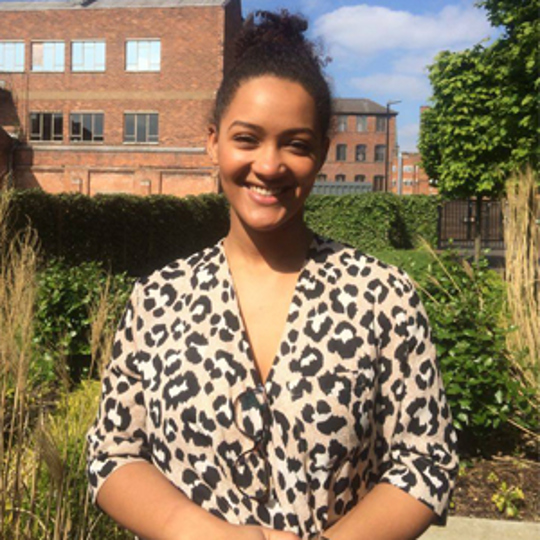 We have been working with professionals from various industry sectors to get a comprehensive understanding of how to start our own businesses. We got to attend a conference on entrepreneurship, and have had a number of guest speakers giving lectures and inspiring testimonials.
Career opportunities
The example roles and salaries below are intended as a guide only.
Business development manager (Postgraduate)
Average Salary: £37,500
Management consultant
Average Salary: £50,000
Project manager (postgraduate)
Average Salary: £60,000
Business adviser (postgraduate)
Average Salary: £40,000
Financial manager
Average Salary: £35,000
Hired
We are here to support your career goals every step of the way.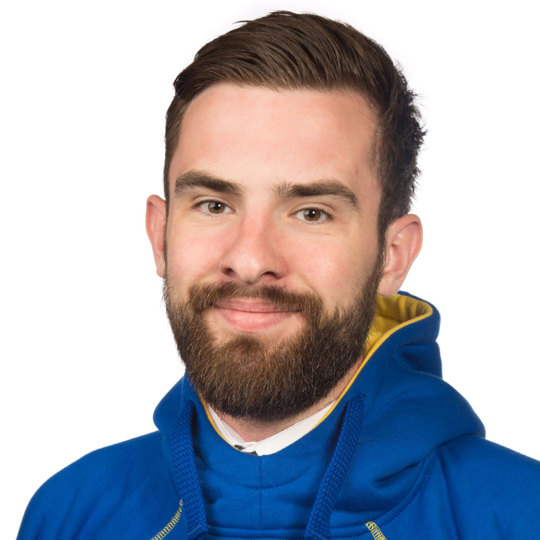 Ross' Story
Ross built up an armoury of transferable skills on his master's course, from writing reports to instigating negotiations.