Why should I choose this course?
PRACTICAL APPLICATION – 'Learn by doing' through live project work alongside entrepreneurs and developing your own business start-up idea, as well as building practical media skills in our Digital Creative Studio
WORK PLACEMENT – Boost your experience of the business sector before completing your course with an optional six-month work placement
EXPERT SUPPORT – Interact and engage with business experts who will mentor you to ensure you develop the appropriate skills and knowledge to succeed
INDUSTRY APPROVED – Our CMI-accredited course provides you with the opportunity to achieve Chartered Manager status, with CMI membership for the duration of your studies
There are lots of reasons why we think you should study with us, but here are our top 5. 
View video.
Speak with a lecturer
Our lecturers are on hand to help.
Simply fill in the form with a few details, and we'll email you with a link
to book an online meeting with them to chat about the course.
Our facilities
University College Birmingham provides a range of support services for budding young entrepreneurs through our dedicated Enterprise Hive, while students on our business courses have the opportunity to study in our cutting-edge Financial Trading Suite. Our Digital Creative Studio also enables you to learn an array of skills for producing digital content including video and audio.
If you want to set up your own business, visit our Enterprise Hive for a wide range of start-up support, including incubation space, tailored mentoring from industry experts and networking opportunities

Students on our finance-related modules have the chance to learn in our Financial Trading Suite on campus, featuring 21 workstations, large wall screens and a scrolling ticker providing real-time global market information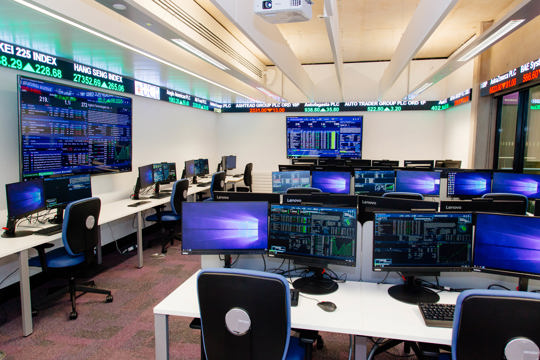 Our Financial Trading Suite is one of the largest among all UK universities and is the first in the country to be powered by Infront Professional Terminal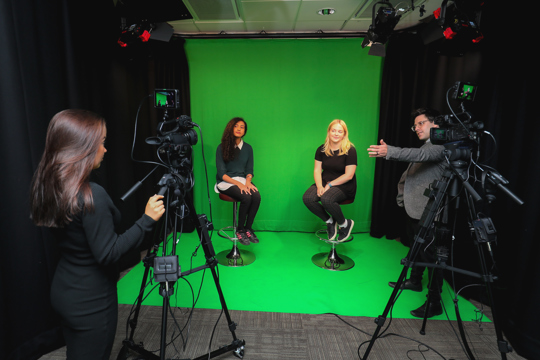 Based in Camden House, our new Digital Creative Studio features state-of-the-art video and audio production facilities, including a video production studio with 4K cameras and green screen technology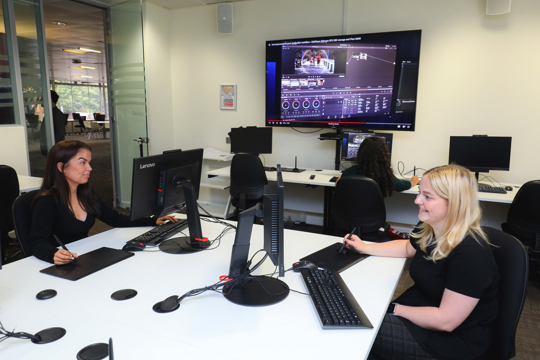 The Digital Creative Studio hosts audio podcasting, vision mixing and editing facilities, as well as high-spec computers with Adobe Creative Cloud software and graphics tablets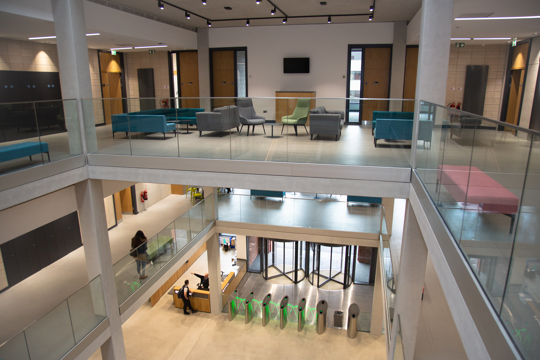 Our £44 million Moss House campus includes an exhibition space to showcase your work to assessors and prospective employers, as well as our Enterprise Hive service which helps budding entrepreneurs with start-ups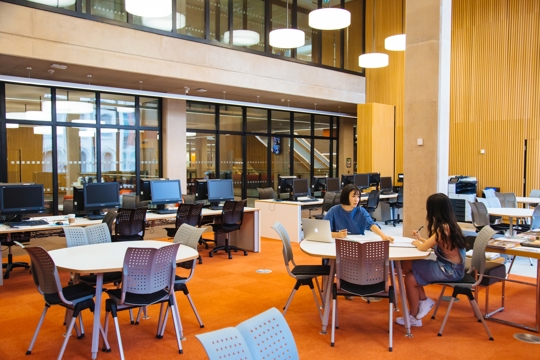 Students on our postgraduate courses have exclusive access to our dedicated postgraduate suite in McIntyre House, providing study and meeting spaces, PCs and other facilities.
Course breakdown
Business Creation and Development
Business Creation and Development engages students in the more practical elements of enterprise activity, not just in terms of creating new businesses, but also in terms of entrepreneurship within the corporate environment and business growth. The module content will explore the key principles of the start-up and growth of a business, including entrepreneurship, business creativity, business growth, business planning, strategy formulation and business improvement.
The module extends and develops students' knowledge and ability in focusing upon, and preparing for, entrepreneurial research. It introduces students to the disciplines of critical appraisal and research techniques as well as the design and execution of an enterprise research project. The project can either take the form of a new enterprise start-up plan or an existing business development plan. The aim is to develop students' skills and expertise in the essential research tools they will need for both successful postgraduate study and as self-employed entrepreneurs or managers of the future.
This module aims to develop students' understanding and awareness of the fundamental concepts of finance from an entrepreneurial perspective in terms of financial statement analysis, working capital management, forecasting models, capital budgeting and investment appraisal. The module places emphasis on how managers can use financial techniques to greatly enhance the decisions taken in small and medium size enterprises and start-up firms.
International Entrepreneurship
This module provides a mature insight and appreciation of entrepreneurship within the international market. Emphasis is placed on critiquing a range of opportunities and challenges an international entrepreneur needs to consider and prepare for relating to such areas as: culture; foreign exchange; entry strategies; marketing and implementation.
Personal Leadership Development
In an ever-changing and challenging business environment, strong leadership is vital to business success. To become adept in such changing times, individuals need to develop personal leadership skills. Initially, the module introduces contemporary theories and models underpinning leadership. From this, students will be given an opportunity to develop personal leadership skills, including coaching, mentoring and communication. The module will also enable students to reflect on prior and existing leadership experience, work through case studies, business insights and engage in critical dialogue with others to develop their own leadership skills.
Risk and Strategic Enterprise Management
Enterprises operate within global, complex and increasingly dynamic environments. This makes it imperative for entrepreneurs and managers to design and implement effective strategies to deal with inherent risks of doing business in these volatile environments. This module provides a framework for identifying, assessing, quantifying risks and designing effective risk mitigating strategies. This will be examined from both an SME and corporate business perspective. The challenges facing entrepreneurs in the management of risk is also incorporated. Through an examination of various frameworks students are given an opportunity to evaluate and apply risk management tools and techniques to real time situations.
Integrated Marketing Communications
Consumers are bombarded by media messages and marketing related communications from organisations, but the power has shifted thanks to growing consumer involvement and interactivity, utilising the latest interactive technologies. Consumers are now active and engaged, often generating their own content and co-creating communications with producers and other consumers thus raising opportunities and challenges for organisations in the events, hospitality and tourism sector. This module will give students an in-depth understanding of the marketing communication mix both from a theoretical and practical, strategic and tactical perspective exploring how different forms of communication work together, acknowledging the development of the new mediums by which organisations may communicate with stakeholder and influencer groups and how such communications affect business and society.
International Financial Management
This module aims to develop students' understanding and awareness of the key principles, tools and techniques of financial management within an international and increasingly dynamic environment. It places emphasis on how entrpreneurs can use financial information to greatly enhance the decision-making processes within their business. For SMEs these key decisions relate to international trading and encompass exporting, selling through intermediaries, exchange rate fluctuations and financial regulations. For SMEs progressing to larger structured enterprises, decisions relating to corporate finance and governance will also be incorporated.
Today's global hospitality industry requires employees to have an understanding of management and leadership across cultures, so you will explore the issues surrounding this while assessing the move away from local cultures to a more cosmopolitan environment. You will examine the management styles, motivation techniques and leadership theories as well as any complexities and contradictions that may occur.
Marketing and Digital Media
This module will provide you with an in-depth understanding of marketing and digital media within the context of global travel and tourism. Using an interdisciplinary approach, the module will combine theoretical foundation with contemporary marketing and digital media techniques. Key themes will include digital travel trends, changing consumer dynamics, marketing competitiveness and brand management, digital revenue generation and strategies for success.
Strategic Brand Management
With the ever-increasing power and influence of various stakeholders on the development and success of service brands, you will explore how firms seek to gain and sustain a competitive advantage from their portfolio of brands.
Optional placement module
Professional Postgraduate Placement
If you want to get your foot in the door of an organisation then this 6 month optional placement will give you valuable experience, enhance your CV and may help your future employment prospects.
The modules listed above for this course are regularly reviewed to ensure they are up to date and informed by industry as well as the latest teaching methods. On occasion, we may need to make unexpected changes to modules – if this occurs, we will contact all offer holders as soon as possible.
MSc Enterprise Management – A grade classification of 2:2 is required, or international equivalent.
PGDip Enterprise Management – A grade classification of third-class is required, or international equivalent.
A subject-related UK or International honours degree from a recognised institution.
We also consider applicants who are currently employed and wish to apply to University College Birmingham.
To apply, you must have five years of relevant managerial work experience, demonstrating in-depth knowledge of the sector for the subject matter you are interested in pursuing.
A reference detailing your roles and responsibilities from your line manager and a meeting with the programme team will usually be scheduled prior to a place being offered.
EU/international students
If your degree is not related and you do not have relevant managerial work experience, please contact Admissions so that we can discuss your application on an individual basis before you apply.
If you have any questions, please complete our enquiry form:
Teaching
The course will be delivered by a variety of methods which include attending lectures, seminar debates, enterprising workshops, interacting with guest speakers and leading entrepreneurs from industry. You will also be expected to engage with independent reading and research to ensure an interactive and personalised learning experience.
You will be assessed by a range of methods to encourage the development of a full portfolio of entrepreneurial and management skills and competencies. These include case studies, presentations, online debates, assessed seminars, executive reports, business start-up and development plans, and business pitching.
Our teaching and assessment is underpinned by our Teaching, Learning and Assessment Strategy 2021-2024.
Additional qualifications and training
This course is accredited by the CMI, making you eligible for a Level 7 CMI Diploma in Strategic Management and Leadership on completion of the course. (This is subject to payment of an additional fee of £265.)
UK students
If you are a UK student or an EU student with settled or pre-settled status, enrolling on a MA/MSc course at University College Birmingham, your fee for this academic year will be £8,750. The fee for the PGdip course is £6,350, and £9,250 for the PGCE. 

View postgraduate fees
International students
If you are an international student enrolling on one of our postgraduate programmes (e.g. MSc, MA) in 2022/23, your fee for this academic year will be £14,500 per year.
UCBconnect - meet other students on your course
Starting university is an exciting time, but we understand that it can sometimes feel a little daunting. To support you, we have created a platform called UCBconnect, where you can meet other students who have applied for the same course at University College Birmingham, before you start studying here.
As soon as you have been made an offer, you will be sent an invitation via text and email to complete your user registration and join UCBconnect. For more information, please visit ucb.ac.uk/ucbconnect.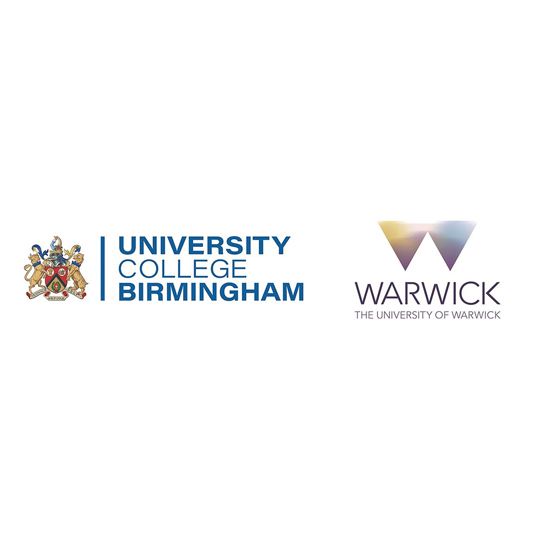 This course is accredited by the University of Warwick.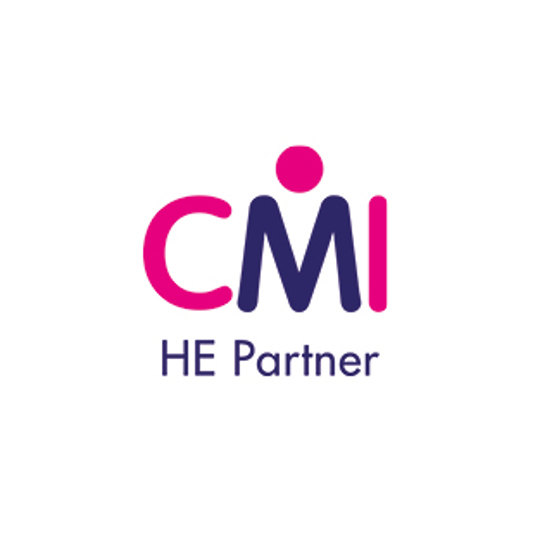 Accreditations, endorsements and partnerships
University College Birmingham works with a wide range of organisations to ensure you receive the best possible training and qualifications recognised by industry.
of graduate employers say relevant experience is essential to getting a job with them
Work placements
Work placements are vital for gaining real-life experience and for building your confidence and skills before you finish your course – and they may even lead to a job when you graduate. Our hired@UCB team can help find the ideal placement for you.
Our MSc/PGDip Enterprise Management course features the option of a six-month placement in addition to your taught modules.
Work alongside experts in your sector
A snapshot of some of the employers we have worked with:
Grand Hyatt Beijing (China)
Luxury Hotels International of Spain (Spain)
Hiflow (France) 
Due to the ongoing coronavirus pandemic, please be aware that opportunities to travel abroad for placements, project work or residential trips may be affected by government travel restrictions. Please visit our
updates and FAQs page
for information.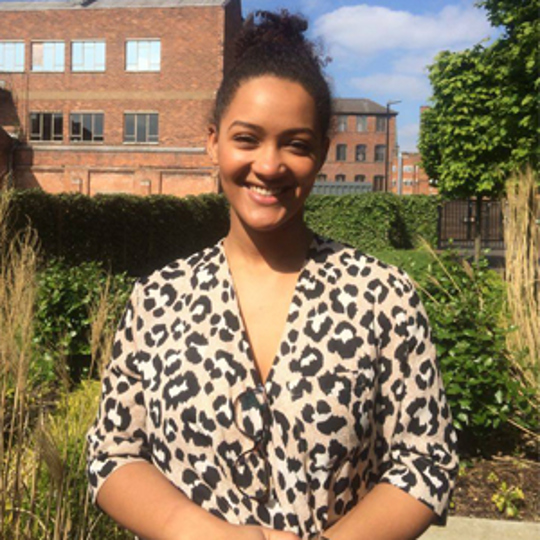 We have been working with professionals from various industry sectors to get a comprehensive understanding of how to start our own businesses. On the trip to Dubai, we got to attend a conference on entrepreneurship, and have had a number of guest speakers giving lectures and inspiring testimonials.
Career opportunities
The example roles and salaries below are intended as a guide only.
Business development manager (Postgraduate)
Average Salary: £37,500
Management consultant
Average Salary: £50,000
Project manager (postgraduate)
Average Salary: £60,000
Business adviser (postgraduate)
Average Salary: £40,000
Financial manager
Average Salary: £35,000
hired@UCB
We are here to support your career goals every step of the way.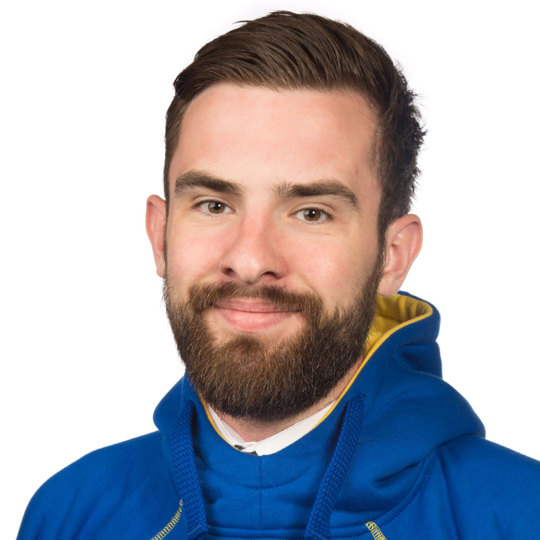 Ross' Story
Ross built up an armoury of transferable skills on his MA, from writing reports to instigating negotiations.