Why should I choose this course?
WORK PLACEMENT – Boost your work-ready skills with an optional 48-week paid placement, with our past students having worked for BMW and trading companies

SPECIALISE YOUR STUDIES

 – From exploring e-commerce and data to freelancing or financial strategy, tailor your course through our optional modules
ENRICHMENT – Learn from the experts through real-world simulations, workshops and guest lectures as well as working in our Financial Trading Suite and Digital Creative Studio
AWARD-WINNING UNIVERSITY – Study at the highest-ranking university in the region according to student choice (Whatuni Student Choice Awards 2023)
Our facilities
Our business courses at University College Birmingham offer students opportunities to develop practical skills in our cutting-edge Financial Trading Suite, while our Digital Creative Studio enables you to learn an array of skills for producing digital content including video and audio. We also provide a range of support services for student entrepreneurs through our Enterprise Hive.
If you want to set up your own business, visit our Enterprise Hive for a wide range of start-up support, including incubation space, tailored mentoring from industry experts and networking opportunities

Students on our finance-related modules have the chance to learn in our Financial Trading Suite on campus, featuring 21 workstations, large wall screens and a scrolling ticker providing real-time global market information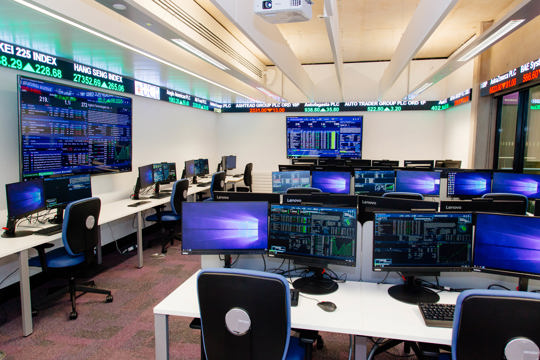 Our Financial Trading Suite is one of the largest among all UK universities and is the first in the country to be powered by Infront Professional Terminal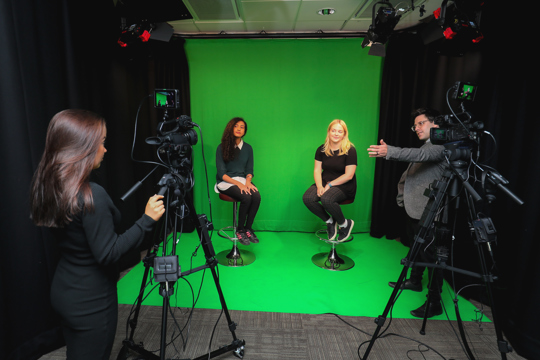 Based in Camden House, our Digital Creative Studio features state-of-the-art video and audio production facilities, including a video production studio with 4K cameras and green screen technology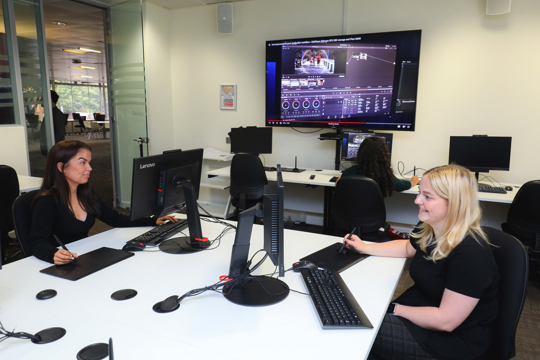 The Digital Creative Studio hosts audio podcasting, vision mixing and editing facilities, as well as high-spec computers with Adobe Creative Cloud software and graphics tablets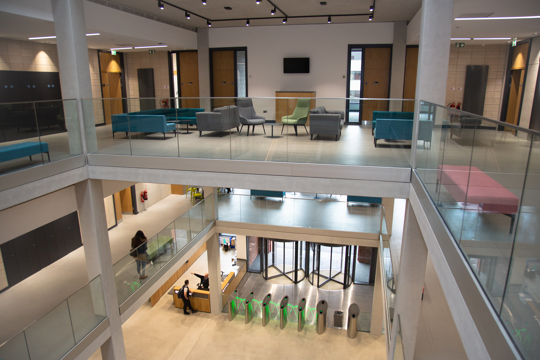 Our £44 million Moss House campus includes an exhibition space to showcase your work to assessors and prospective employers
Course breakdown
Students on the FdA have the option of progressing onto the final year upon completion of the foundation degree.
Year 1
Year 2
Year 3
Year 3/4
Working successfully within teams and on projects will determine your career achievements and help achieve your business goals. This module will teach you to meet the challenges facing businesses today by focusing on the people perspective and enhancing your knowledge of leadership and management within current agile business environments.
For the past 40 years we have been living through a historically unprecedented period of technological revolution which has fundamentally changed the management and functionality of business operations and introduced an entirely new amalgamation of demands, opportunities and threats. We are now all 'digital natives' existing in a world where established rules and operational mechanics become outdated faster than at any time in human history. This module considers the process of innovation by which entrepreneurs might continually exploit the ever-changing market conditions and environments driven by the digital revolution.
Entrepreneurial Thinking and Behaviour
This module introduces you to an entrepreneur's thinking (mindset) and subsequent behaviour. The module will explore how these can be replicated by anyone in any field to support them in creating value and solving problems that are meaningful to them. There will be a focus on developing knowledge and understanding of enterprising and entrepreneurial activities and the ability to apply these in different contexts. Appreciating the similarities, differences and relationships between enterprise, intrapreneurship and entrepreneurship will also be embedded. This module explores a deep understanding of entrepreneurial mindset, behaviours, attributes and competencies.
This module is an introduction to different branches of accounts, key financial terminology and financial statements that business owners and managers employ. You will construct, interpret and analyse data in order to assess the financial performance of a business or project. This analysis will further explore how financial data can be utilised to inform business decisions in a dynamic environment.
Market Research and Consumer Profiling
You will explore the types of research that are vital to businesses and how the findings of research shape practices, policies and the overall performance in dynamic business environments. Successful businesses engage in a range of research to shape their policies, plans and practices within a dynamic environment. Central to any business is the customer. Accordingly, market research provides insights on the wider marketplace, your competitors, changes in consumer demand and how your customers, and potential customers, may view your business, your products and your brand. From here, businesses can analyse data to segment and to target specific markets, through the development of consumer profiles and customer personas. This module will develop your skills in conducting research, analysing data and creating customer profiles, which are all critical in any business.
Venture I – Idea Generation
This module is part of the series of Venture I, II and III which will be delivered over levels 4, 5 and 6 of the programme. It aims to give you the knowledge and understanding of the creative and business behaviours necessary for developing a product/service enterprise. Venture I focuses on exploring idea generation, opportunity identification and recognition and problem framing to enable the development of a range of business ideas for the potential development of a start-up business.
Personal Effectiveness, Impact and Reputation
This module focuses on developing an understanding of own personality and social identity, ambition, motivation and goals, as well as understanding resilience, tolerance of ambiguity, risk and failure, exploring the concept of social capital and applying it to the individual. Developing personal effectiveness and knowing how to maintain personal presence in a collaborative setting will be key features of the module. Investigating the power of networking to develop powerful partnerships will be incorporated. This module builds on an understanding of entrepreneurial mindset, behaviours, attributes and competencies and how these can be optimised for own effectiveness, reputation and impact.
The aim of this module is to develop a practical understanding of the role of social enterprise. Social enterprises are more commonly referred to as the Third Sector which is a move away from the terms 'not-for-profit' no longer used by social enterprises. Indeed, social enterprises are very much for profit and the profit is a joint primary focus with social impact. There is a recognition of the need to generate profit to create the impact. First and foremost, social enterprises are set up for social good and to trade to fulfil that impact – businesses that trade for people and the planet, not personal profit of shareholders. The emergence of the nascent Fourth Sector which combines private, public and non-profit sectors (Third sectors) will also be incorporated.
Brand and Media Management
Given that brand reputation is now the biggest risk facing businesses today, this module offers an exploration of how digital brands are viewed, built, managed and measured to ensure firms' superiority and sustainability in profits. This module focuses on the development of industry-based knowledge and practical skills required to succeed in management. The importance of digital media will be analysed in the communication of brands to key stakeholders.
Intellectual Property, Law and Business Practices
This module provides you with the key legal and regulatory requirements for the early stages of setting up and running a business. The initial decision will be on the legal structure of the business and as the business grows the entrepreneur needs to consider the implications for the legal structure and the responsibilities and duties of the personnel involved. You will learn about the practicalities of establishing the business, the administration of the business, compliance and regulatory issues, as well as tax implications. In addition to this, entrepreneurs will want to protect their ideas, such as a new design for a product, an app or a brand name and therefore the key aspects of intellectual property law will be considered. From here the module examines the key legal issues such as online agreements and data protection which have been raised by the use of electronic trading platforms enabled by new technology. 
Venture II – Concept and Prototype Development
The module is a progression from the level 4 module Venture I – Idea Generation, focusing on determining the feasibility of one idea over another thereby progressing to concept development and testing. It focuses on the core processes of testing and prototyping and their critical role in the successful commercialisation of ideas. One will be selected for the development of an MVP or prototype and taken forward to the final year module Venture III – Creation and Launch.
Big Data for Business Insights
This module focuses on the development of strategic priorities to deliver business at speed in an environment where digital technology has reshaped traditional revenue and business models. It features an exploration of innovation and digital technologies and their impact on organisations and how their application can inform organisational improvement and development. Critiquing innovation and digital technology's impact on data and knowledge management for analysing business decision-making will be incorporated, as well as developing an awareness of interpersonal skills of effective listening, influencing techniques, negotiation and persuasion.
Developing Collaborative Relationships
An organisation has a variety of stakeholders and networks which need to be engaged with and managed either as a business owner, manager or an employee. In this module, you will explore how to approach various stakeholders, learn how to develop relationships, build rapport, negotiate and overcome conflicts with a range of internal and external stakeholders and networks from various backgrounds. You will also holistically develop your own personal effectiveness and learn how to maintain personal presence in a collaborative setting. Investigating the power of networking to develop powerful partnerships will be a key feature. Evidence will be generated throughout the academic year which will culminate in developing a portfolio to demonstrate increased personal effectiveness and relationship building.
E-Commerce and Customer Experience Design
E-commerce has revolutionised the way in which customers interact with businesses. More than ever, it is important for brands to build a powerful online presence. This module will furnish you with the theoretical and practical knowledge required to build your own e-commerce platform and design optimised customer journeys which delight customers and keep them coming back to your website again and again.
Our course offers you the chance to undertake a paid 48-week placement to give you invaluable first-hand experience in the industry. In your Graduate Advantage sessions, you will be provided with the essential skills and tools to apply and secure your own placement (with support from hired@UCB).
Risk and Response Management
The underlying premise of the module is that risk taking is an entrepreneurial activity which seeks to achieve two things: the creation of value for stakeholders, and establishment of sustainable competitive advantage within the markets which businesses operate. The module examines the application of enterprise risk management techniques and the responsive strategies employed by businesses operating within increasingly complex and dynamic environments. The concept of risk is initially defined and discussed, followed by an in-depth examination of frameworks, models and techniques designed to identify, categorise, measure and manage risk.
From Incubation to Acceleration
High growth businesses are driving job creation and growth across countries. They are an increasingly critical part of the economy, making a significant contribution to economic growth and national productivity. Key features of this module include exploring scale-up indicators and drivers of acceleration, the use of data to identify and facilitate connections, engagement in peer to peer networks, understanding of investment readiness and evolving funding models.
Venture III – Creation and Launch
This module Venture III culminates the enterprise knowledge, understanding and competencies developed through the modules Venture I and Venture II by enabling you to create and launch your business idea. These modules are a key mechanism through which you will develop the skills of independent learning, creative thinking, conceptualisation, innovation, problem-solving and value creation. The project is an individual activity performed by you through a series of underpinning lectures, workshop sessions and finally individual tutorials under the supervision of an appropriately experienced tutor. A detailed venture handbook will be produced to guide you. The showcase of students' start-ups at an enterprise fair is intended to be of suitable quality and professionalism exhibited in an event for peers and industry professionals. Accordingly, this module is designed for students who have a foundation in venture concept development, testing and prototyping and have a clear venture concept to create and launch for Venture lll. Alternatively, students without this critical background are recommended to choose the Entrepreneurial Project instead.
A new way of doing business. Freelancing is emerging as a vessel for modern, busy people to thrive as entrepreneurs. It gives them freedom to manage multiple careers in a way that works for their life and commitments. In this module, you will develop your creativity skills, learn to 'think outside the box' and create and critically assess your own opportunities to identify tangible market potential and sustainability. In addition, you will have the opportunity to learn a range of skills including creating an on-line presence and social media as well as traditional marketing, on and offline networking, project management, influencing and negotiating skills and strategic career planning.
This module will build upon both practical and theoretical financial concepts and methods developed through earlier modules. The intention of this module is to provide an in-depth knowledge of concepts previously studied and to develop new concepts relevant to the financial operations of business. This module will be particularly useful to students who may wish to develop a career within a financial role and/or to students who wish to examine further how finance influences the short term and long term strategies of businesses.
We live in an interconnected world, so it's important to examine how organisations explore new market opportunities beyond national boundaries. As a result, you will become more aware of the technological, communication and transportation challenges businesses face and the options they consider when seeking a foothold in a new country.
Strategic Human Resource Management
In order to offer meaningful career pathways, what sort of strategies should a business consider? How can it meet the challenges it faces while creating an environment that retains talented employees? You will be exploring contemporary strategies in HR that shape benchmark employers in the industry.
The modules listed above for this course are regularly reviewed to ensure they are up to date and informed by industry as well as the latest teaching methods. On occasion, we may need to make unexpected changes to modules – if this occurs, we will contact all offer holders as soon as possible.
Entry requirements
Business Enterprise BA (Hons)
A-levels: An A-level grade profile of CDD.
T-levels: A T-level graded Pass with a core component of grade C.
BTEC: A BTEC grade profile of MMP. This can be achieved from either an Extended Diploma or a combination of smaller BTEC qualifications.
Tariff: Other Level 3 qualifications are accepted for entry. A minimum of 80 UCAS Tariff points will be required.
Access to Higher Education Diploma: 80 UCAS Tariff points, including a minimum of 15 Level 3 credits at Distinction.
A-levels: An A-level grade profile of DD.
T-levels: A T-level graded Pass with a core component profile less than C.
BTEC: A BTEC grade profile of PP. This can be achieved from either an Extended Diploma or a combination of smaller BTEC qualifications.
Apprenticeship: Achieve an advanced apprenticeship (Level 3).
Tariff: Other Level 3 qualifications are accepted for entry. A minimum of 32 UCAS Tariff points will be required.
Access to Higher Education Diploma: 32 UCAS Tariff points.
Non-tariff: Non-UCAS Tariff-based Level 3 qualifications are also considered for entry. Please complete our enquiry form here to check your eligibility.
Work-based: We also give equal consideration to applicants who are currently in work and wish to apply to University College Birmingham. To apply, you must have a minimum of 3 years' relevant work experience, demonstrating management or supervisory duties. Your application must also include a reference from your line manager supporting your entry to higher education. For further details, please contact Admissions.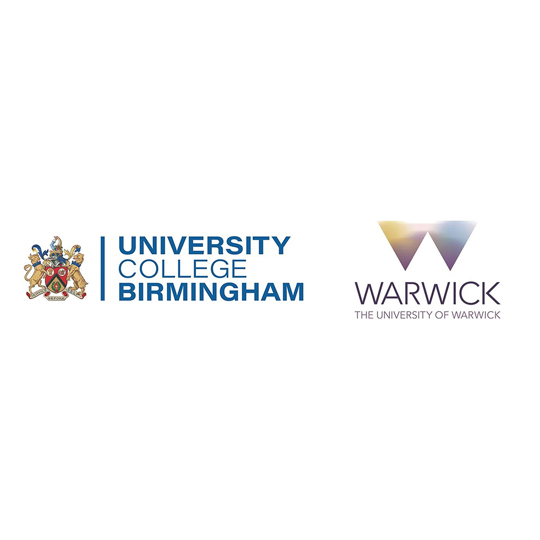 This course is accredited by the University of Warwick.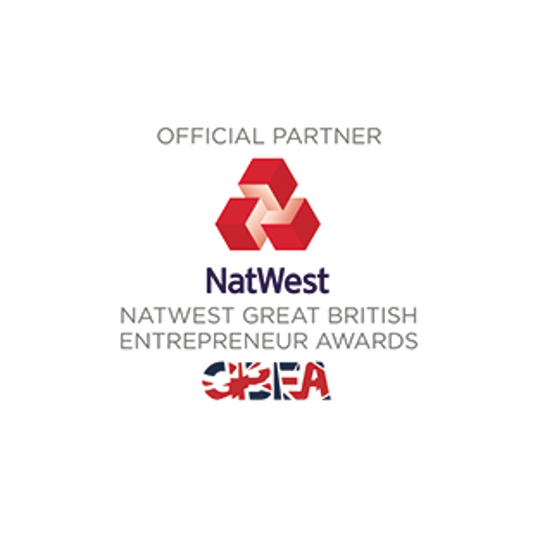 University College Birmingham is an official partner of the NatWest Great British Entrepreneur Awards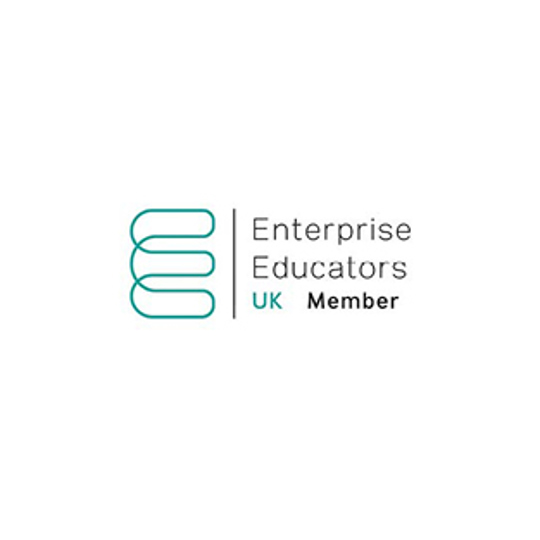 Enterprise Educators UK Member
Accreditations, endorsements and partnerships
University College Birmingham works with a wide range of organisations to ensure you receive the best possible training and qualifications recognised by industry.
of graduate employers say relevant experience is essential to getting a job with them
Work placements
Work placements are vital for gaining real-life experience and for building your confidence and skills before you finish your course – and they may even lead to a job when you graduate. Our Hired team can help find the ideal placement for you.
Our FdA and BA Business Enterprise courses both offer you the option of a paid 48-week work placement, during which you will not incur any tuition fees.
Work alongside experts in your sector
A snapshot of some of the employers we have worked with:
BMW (Germany)
Grant Thornton (Cambridge)
Westin Hilton Head Island Resort and Spa (USA)
Bella Italia (Birmingham)
Top Cashback (Stafford)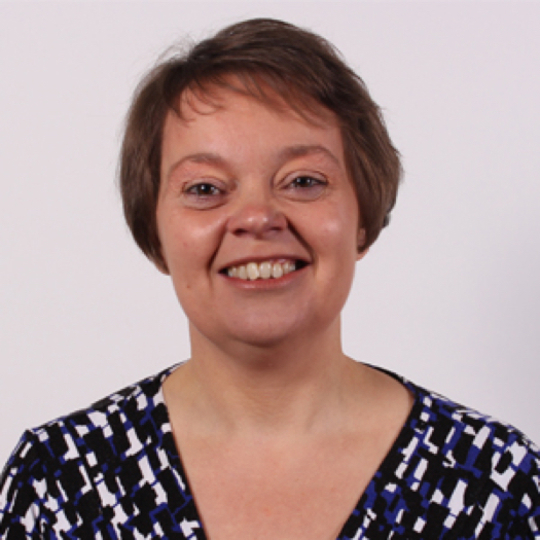 With the recent growth of startup enterprises coupled with the enhanced interest in entrepreneurship post-Covid, there has never been a better time to study Business Enterprise at University College Birmingham. Contemporary lectures, innovative assessments and expert support from our Enterprise Hive advisors will set you on your entrepreneurial journey.
Career opportunities
The example roles and salaries below are intended as a guide only.
Business development manager
Average Salary: £42,500
Product manager (postgraduate)
Average Salary: £47,500
Management consultant
Average Salary: £50,000
Business adviser
Average Salary: £32,500
Sales executive
Average Salary: £34,000
Hired
We are here to support your career goals every step of the way.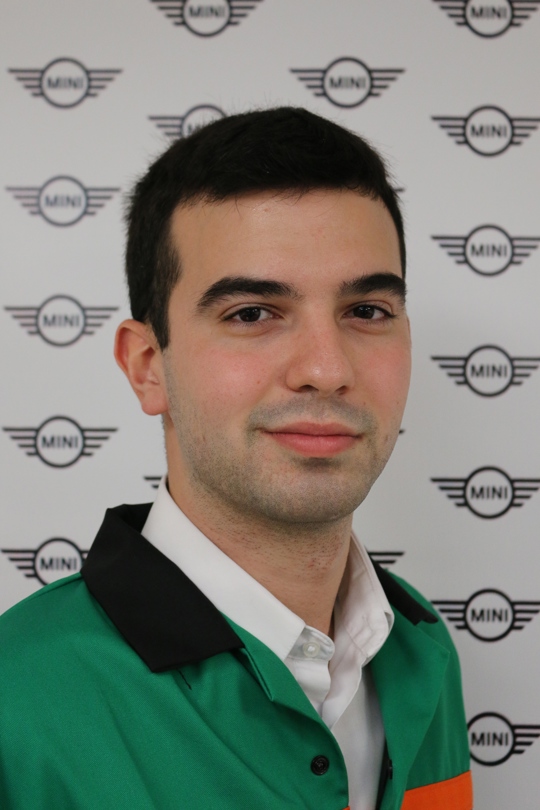 Sven's Story
Since receiving his first class degree, Sven has been busy driving diverse projects on a German car giant's graduate scheme.
What our students on this course say...
95%
of students on this course say they can access subject-specific resources when needed
95%
of students on this course say marking criteria used to assess their work is clear
97%
of students at the University say staff are good at explaining things
*National Student Survey (NSS) 2023
**Course statistics relate to the BA (Hons) degree