June 2021
Katie's Student Story
By Katie Garrett
Share post: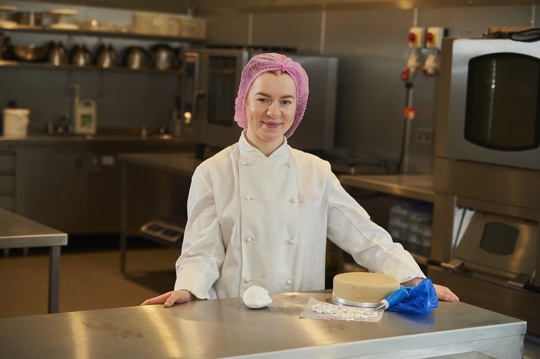 Katie Garrett
Bakery and Patisserie Technology BSc (Hons) 
Katie, protégé of royal wedding cake maker Fiona Cairns, graduated from University College Birmingham with a first class degree. 
But this didn't surprise the judges of the Rising Star award at the 2021 Baking Industry Awards (BIA), dubbed the industry's Oscars.
Katie was crowned champion for her "enthusiasm and drive", often perfecting recipes long into the night at the craft bakery where she worked as head of confectionery while studying.
On winning the award, Katie said: "This means a great deal, not just for me, but for the people who helped me along the way. I also want to inspire other young people to develop their passion and creativity in baking." 
Katie completed her Level 2 Bakery and Level 3 Apprenticeship before progressing onto the degree, also teaching the University's Young Bakers Academy for 14 to 15-year-olds. 
While a student, she appeared on hit Channel 4 show Extreme Cake Makers after assisting at Cake International and made her mark at the Alliance for Bakery Students and Trainees (ABST) awards, winning gold for her shortbread, silver for a vegan healthy eating bar and Best in Show for her show-stopping fondant fancies.
Katie said: "The University helped guide and drive my passion and gave me the skills and knowledge I needed to begin a successful career in the food industry.
"Being able to participate in multiple competitions and events increased my confidence and love for the craft of baking."