Why should I choose this course?
PRACTICAL APPLICATION – Apply your practical skills studying in our bakeries and our state-of-the-art Food Science and Innovation Suite, as well as researching a live project

ENRICHMENT

– Our excellent industry links provide you with a range of opportunities for guest lectures, industry research, work placements and visits

EXPERT TUITION

– Learn from highly-specialised lecturers with a wealth of experience, ranging from fine confectionery to artisan breads and industrial bread production
Our facilities
University College Birmingham is renowned for its outstanding food industry training facilities. Students on our bakery courses have access to our own on-site baking and product development laboratories and our multi-million pound, state-of-the-art Food Science and Innovation Suite.

Our on-site baking and product development laboratories host equipment such as high-speed pressure/vacuum mixers, specialist equipment for chocolate production and dough and flour rheology testing equipment

Designed with the help of the food industry, our Food Science and Innovation Suite features the latest food testing and diagnostic technology alongside a cutting-edge development kitchen and bespoke sensory evaluation room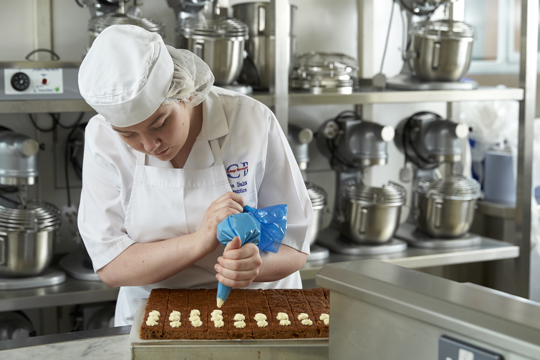 Our Cakes and Bakes shop on campus sells a wide range of bread and baked goods made by our students
Bakery and Patisserie Ingredient Functionality
Key functional bakery and patisserie ingredients are investigated by producing samples and using analytical science to understand and justify their role in baked goods.
Current Issues in Food and Nutrition
You will study current issues and trends in food and nutrition by reading press articles and scientific reports, paying particular attention to the science of weight loss. In addition you will study buyer behaviour to see if it affects the popularity of certain market products.
Food Supply and Sustainability
You will learn more about the various functions and job roles in different sectors of the agri-food supply chain including agriculture, manufacture, distribution, food services and retail. This will broaden your knowledge of the food industry and enable you to investigate food resources, climate and seasonal effects, food waste and environmental control.
You will study the principles, control and optimisation of processing systems, food handling, hygiene, refrigeration, mixing and blending. You will also investigate scientific principles and food preservation methods including heat treatments, chilling, drying, fermentation and chemical preservatives.
You will have the opportunity to engage in an independent research project of your choice. You will have support with preparing your proposal and understanding the competent characteristics of good research. An appointed tutor will help guide you through this important and rewarding process.
The modules listed above for this course are regularly reviewed to ensure they are up to date and informed by industry as well as the latest teaching methods. On occasion, we may need to make unexpected changes to modules – if this occurs, we will contact all offer holders as soon as possible.
Academic: A relevant HND or a foundation degree in the area of baking with 240 credits.
If you are unsure if your previous qualification is suitable, please contact us before completing an application. You can call us on 0121 604 1040 or email direct@ucb.ac.uk
EU/international students
Academic: European and International qualifications studied in a relevant subject matter will also be considered. Applicants will need to have achieved 120 ECTS or equivalent (European Credit Transfer).
If you are unsure if your previous qualification is suitable, please contact us before completing an application. You can call us on 0121 604 1040 or send an email:
International: International@ucb.ac.uk
Teaching
In light of COVID-19, we have made some changes to the way we deliver our teaching. We are continually following the guidelines and measures put in place by the UK Government to ensure our students and staff are safe on campus, whilst remaining committed to providing high-quality education. The information below explains how teaching will take place in semester 2 (or semester 1 for those joining us in January).
Assessment
Estimated breakdown of assessment for this degree course:
Coursework – 50%
Practical assessment – 50%
Our teaching and assessment is underpinned by our Teaching, Learning and Assessment Strategy 2015-2020.
This course requires a uniform costing approximately £50, depending on the items you purchase. (Prices are subject to change each year – exact costs and information on how to order required items will be provided to you prior to enrolment.)
As a new student studying this degree full-time, you will receive £300 per year via our Kick-Start Scheme (eligibility criteria applies). This scheme will support your studies and future career by contributing to course-related materials, uniform or selected items on campus. You might even qualify for an additional £500 per year.
UK/EU students
If you are a UK/EU student enrolling on a full-time foundation degree or a BA/BSc in 2020/21, your fee for this academic year will be £9,250 per each full year. A half year tuition fee is £4,625. UK/EU students do not pay tuition fees for any placement periods.
International students
If you are an international student enrolling on a a full-time foundation degree or a BA/BSc in 2020/21, your fee for this academic year will be £11,500 per year.
If you complete a placement year, there will be an administration fee of £500 for a full year, or £250 for a half-year placement.
of graduate employers say relevant experience is essential to getting a job with them
Work experience
Work experience is vital for learning how to apply your training in the real world and for building your confidence and skills before you finish your course – and it may even lead to a job when you graduate. Our hired@UCB team can help you find suitable work experience.
We encourage students on our BSc Bakery and Patisserie Technology top-up course to gain work experience throughout your studies.
Work alongside experts in your sector
A snapshot of some of the employers we have worked with:
Mondelēz (Birmingham)
Edgbaston Boutique Hotel (Birmingham)
Hyatt Hotel (Birmingham)
The Ritz (London)
Bettys Café Tea Room (Harrogate)
Slattery (Manchester)


Due to the ongoing coronavirus pandemic, please be aware that opportunities to travel abroad for placements, project work or residential trips may be affected by government travel restrictions. Please visit our
updates and FAQs page
for information.
While I was at university, I won 'Rising Star' at the 2019 Baking Industry Awards and Callebaut's 'Make it Special' competition, and was a finalist for Le Cordon Bleu's UK Scholarship Award - things I never would have thought possible. My studies helped me to get into all these wonderful opportunities.
Career opportunities
The example roles and salaries below are intended as a guide only.
Product/process development scientist
Average salary: £32,000 - £40,000
Artisan baker
Average Salary: £26,875
Cake decorator
Average Salary: £18,500
Development technologist (bakery & patisserie)
Average Salary: £27,335
Bakery manager
Average Salary: £24,072
Quality control (QC) technician (bakery)
Average Salary: £20,470
hired@UCB
We are here to support your career goals every step of the way.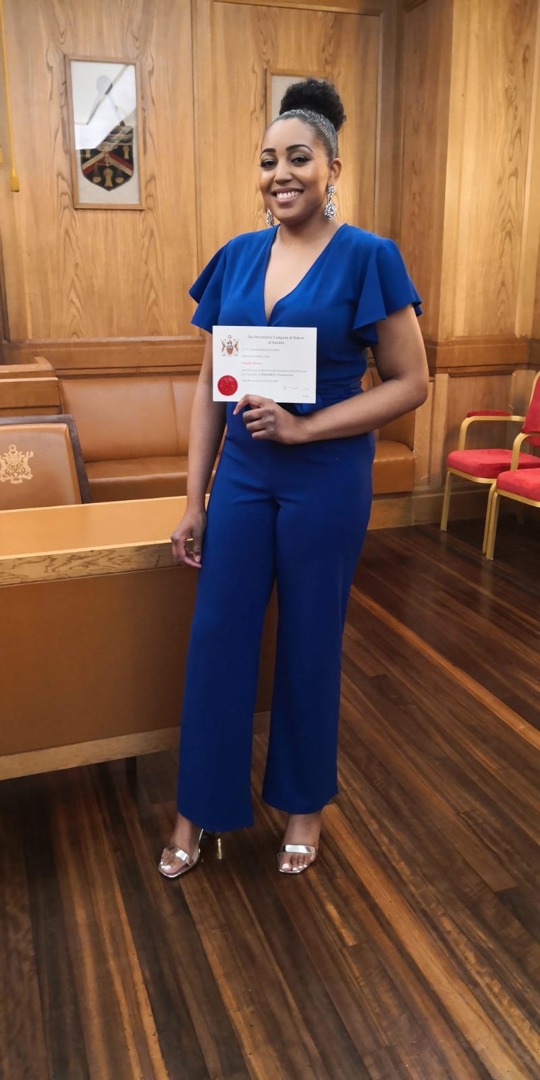 Natalie's Story
Natalie has well and truly risen to the occasion, winning award after award and a top job with a world-leading bakery supplier.