Why should I choose this course?
INDUSTRY APPROVED – Complete our CMI-accredited business top-up course and receive a Level 5 award in Leadership, with CMI membership and access to learning resources throughout your studies
SPECIALISE YOUR STUDIES – From Brand Management to Social Entrepreneurship, tailor your course to match your career aims through our optional modules

BUSINESS SUPPORT

– Want to set up your own business? Get expert guidance and input from our Enterprise Hive team to make your start-up idea a reality
ENRICHMENT – Gain additional practical skills with opportunities to study in our Financial Trading Suite and Digital Creative Studio
AWARD-WINNING UNIVERSITY – Study at the highest-ranking university in the region according to student choice (Whatuni Student Choice Awards 2023)
Our facilities
University College Birmingham provides a range of support services for budding young entrepreneurs through our dedicated Enterprise Hive, while students on our business courses have the opportunity to study in our cutting-edge Financial Trading Suite. Our Digital Creative Studio also enables you to learn an array of skills for producing digital content including video and audio.
If you want to set up your own business, visit our Enterprise Hive for a wide range of start-up support, including incubation space, tailored mentoring from industry experts and networking opportunities

Students on our finance-related modules have the chance to learn in our Financial Trading Suite on campus, featuring 21 workstations, large wall screens and a scrolling ticker providing real-time global market information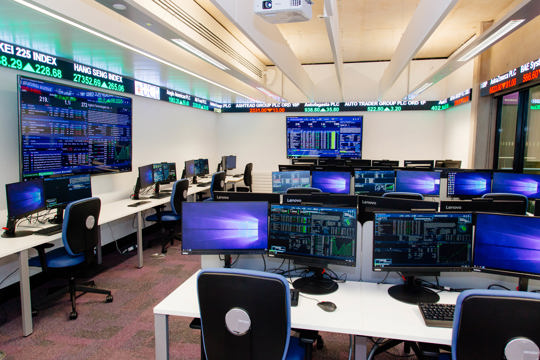 Our Financial Trading Suite is one of the largest among all UK universities and is the first in the country to be powered by Infront Professional Terminal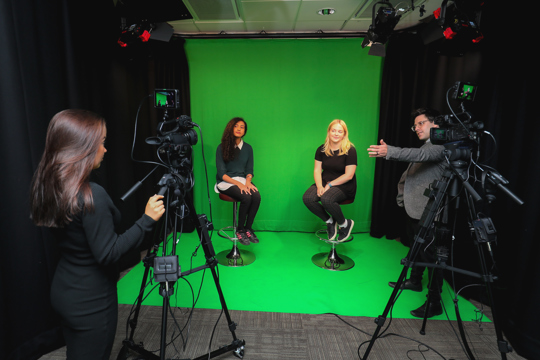 Based in Camden House, our new Digital Creative Studio features state-of-the-art video and audio production facilities, including a video production studio with 4K cameras and green screen technology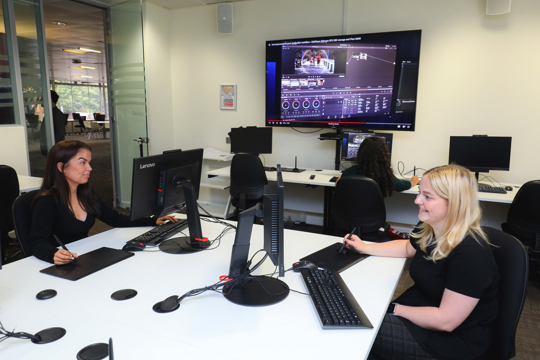 The Digital Creative Studio hosts audio podcasting, vision mixing and editing facilities, as well as high-spec computers with Adobe Creative Cloud software and graphics tablets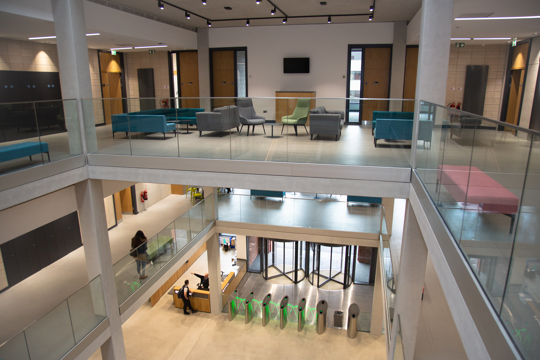 Our new £44 million Moss House campus includes an exhibition space to showcase your work to assessors and prospective employers, as well as our Enterprise Hive service which helps budding entrepreneurs with start-ups
Course breakdown
Enterprise Risk Management
Risk is becoming an important function for business managers and owners. You will learn about enterprise risk management techniques and strategies employed by businesses operating within increasingly complex and dynamic environments. Key risk areas include human resources, finance, IT, marketing, health and safety, innovation and product development, leadership and corporate governance and business continuity.
Innovation, Creativity and Entrepreneurship
You will develop an awareness and understanding of innovation and creativity within the business enterprise sector. The focus will be on the small and medium-sized enterprise sector (SMEs) and the significant role entrepreneurship plays in its growth and development. You will consider the development, survival and growth of enterprises through an application of concepts of entrepreneurship, innovation and creativity.
Leadership and Change Management
Change is inevitable in an increasingly competitive global environment. You will develop the skills needed to design, implement and evaluate effective change within organisations operating in a variety of environments as if you were an employee, manager, or external consultant designing strategic change management programmes for clients.
An opportunity to consolidate your financial planning knowledge, you will learn how to synthesise and evaluate business performance and strategy. You will develop an in-depth knowledge of financial concepts and how companies portray themselves through their annual reports.
The most valuable assets that a company has are the brands that it has invested in and developed over time. You will be given the theoretical knowledge and practical skills required to succeed in the management of complex brands and look at how brands are viewed, built, managed and measured to ensure superiority and sustainability.
Strategic Human Resources Management
In order to offer meaningful career pathways, what sort of strategies should a business consider? How can it meet the challenges it faces while creating an environment that retains talented employees? You will be exploring contemporary strategies in HR that shape benchmark employers in the industry.
Advertising and Media Management
You will be taken deeper into the management processes relating to advertising, focusing on the skills involved in matching business objectives and brand communication to target markets. You will be given a greater insight into detailed analysis of what makes advertising communications effective.
We live in an interconnected world, so it's important to examine how organisations explore new market opportunities beyond national boundaries. As a result, you will become more aware of the technological, communication and transportation challenges businesses face and the options they consider when seeking a foothold in a new country.
Digital and Social Media Marketing
Digital marketing channels are revolutionising the manner in which all businesses operate and market their business activities. Everyone is looking for opportunities to enhance and support their core marketing communications objectives in this customer-centric multi-channel environment. You will be learning digital marketing principles, the role of social media and how to apply them to create a successful strategy.
The role of the not-for-profit sector is becoming increasingly significant on both a national and global scale. You will be analysing the business and marketing principles of the not-for-profit sector, and how they contribute to running an efficient organisation in a complex and dynamic environment. You will be able to look at business examples from a variety of sectors, including education, social services, charities and voluntary organisations.
You will have the opportunity to engage in an independent research project of your choice. You will have support with preparing your proposal and understanding the competent characteristics of good research. An appointed tutor will help guide you through this important and rewarding process.
This entrepreneurial project module is a key mechanism through which you can develop the skills of independent learning, creative thinking, conceptualisation, innovation, problem solving and value creation. The project affords you the opportunity to develop an entrepreneurial mindset and competencies applicable to your future career aspirations as an entrepreneur or intrapreneur.
The modules listed above for this course are regularly reviewed to ensure they are up to date and informed by industry as well as the latest teaching methods. On occasion, we may need to make unexpected changes to modules – if this occurs, we will contact all offer holders as soon as possible.
Entry requirements
Academic: A relevant HND or a foundation degree in the areas of Marketing Management, Business Management, Finance and Business, with 240 credits.
If you are unsure if your previous qualification is suitable, please contact us before completing an application. You can call us on 0121 604 1040 or complete our enquiry form here.
Academic: European and International qualifications studied in a relevant subject matter will also be considered. Applicants will need to have achieved 120 ECTS or equivalent (European Credit Transfer).
If you are unsure if your previous qualification is suitable, please contact us before completing an application. You can call us on 0121 604 1040 or complete our enquiry form:
Key information
Note: Indicative information only – actual timetables and assessment regimes will be issued at your induction. 
Teaching
Example of a typical teaching week (up to 14 contact hours): 
Large group teaching

– 5 hours

 

Smaller group teaching

– 7 hours

 

Tutorials

– 2 hours

 
You will also need to commit around 20 hours per week for individual study time. 
Assessment
Estimated breakdown of assessment for this top-up course:
Coursework – 70%
Practical assessment – 22%
Written examinations – 8%
Our teaching and assessment is underpinned by our Teaching, Learning and Assessment Strategy 2021-2024.
Additional qualifications and training
This course is accredited by the CMI, granting you a Level 5 CMI Award in Leadership when you graduate. (This is subject to payment of an additional fee.)
UK students
If you are a UK student enrolling on a standard-length Foundation Degree or a BA/BSc at University College Birmingham, your fee for this academic year will be £9,250. A half-year tuition fee is £4,625. There will be no change to this tuition fee for the forthcoming two academic years (2023/24 and 2024/25).

View undergraduate fees
International students
If you are an international student enrolling on a full-time foundation degree or a BA/BSc in 2023/24, your fee for this academic year will be £13,500 per year. The course fee for academic year 2024/2025 is £14,000 per year.
If you complete a placement year, there will be an administration fee of £500 for a full year or £250 for a half-year placement.
As a new student studying this course full-time, you will receive £300 per year through our Kick-Start Scheme (UK students only, eligibility criteria applies). This scheme will support your studies and future career by contributing to course-related materials, uniform or selected items on campus. You may also qualify for an additional £500 per year.
Find out more about the Kick-Start Scheme here.
Unibuddy Community - meet other students on your course
Starting university is an exciting time, but we understand that it can sometimes feel a little daunting. To support you, you will be invited to join our Unibuddy Community, where you can meet other students who have applied for the same course at University College Birmingham, before you start studying here.
As soon as you have been made an offer, you will be sent an invitation email to complete your registration and join the Unibuddy Community. For more information, check out our Unibuddy Community page.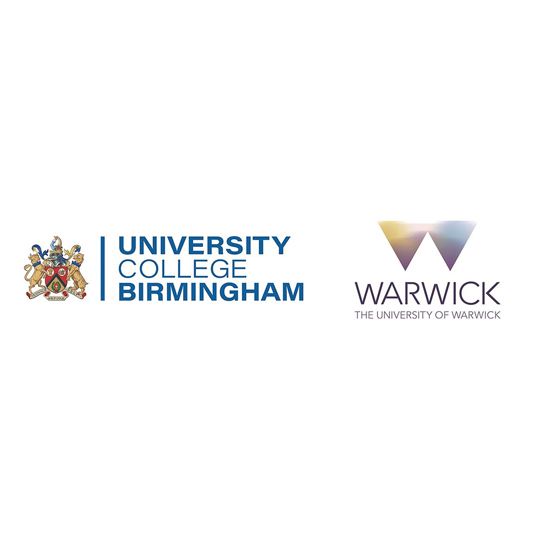 This course is accredited by the University of Warwick.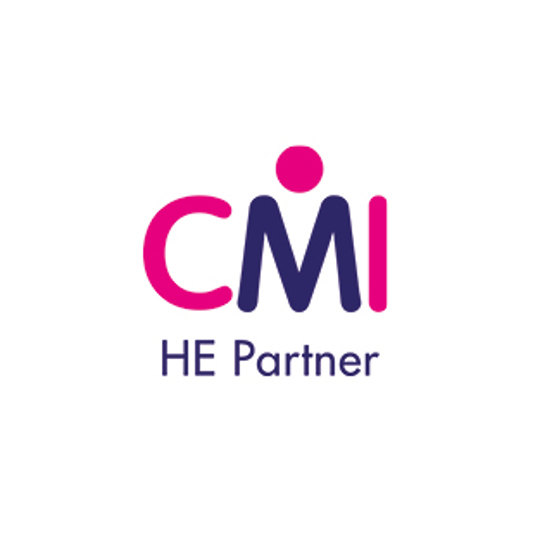 This course is dual-accredited by the Chartered Management Institute.
University College Birmingham is an official partner of the NatWest Great British Entrepreneur Awards.

Enterprise Educators UK Member.
Accreditations, endorsements and partnerships
University College Birmingham works with a wide range of organisations to ensure you receive the best possible training and qualifications recognised by industry.
of graduate employers say relevant experience is essential to getting a job with them
Work experience
Work experience is vital for learning how to apply your training in the real world and for building your confidence and skills before you finish your course – and it may even lead to a job when you graduate. Our Hired team can help you find suitable work experience.
We encourage students on our BA Business Enterprise top-up course to gain work experience throughout your studies.
Work alongside experts in your sector
A snapshot of some of the employers we have worked with:
BMW (Germany)
Grant Thornton (Cambridge)
Westin Hilton Head Island Resort and Spa (USA)
Bella Italia (Birmingham)
Top Cashback (Stafford)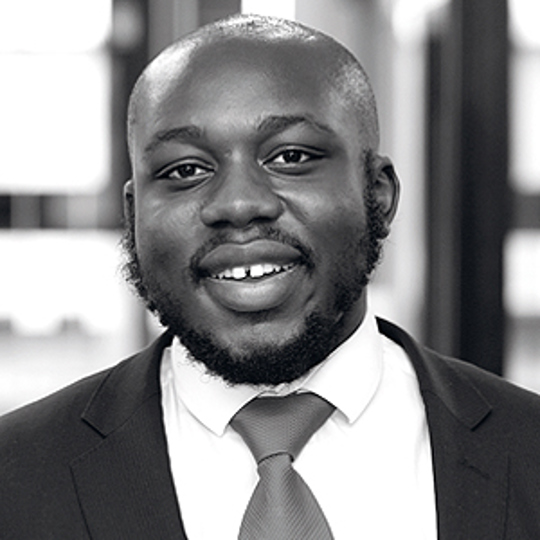 My favourite module was Innovation, Creativity and Entrepreneurship. This allowed me to use my creativity to find solutions for real business problems. We also had the opportunity to go on a trip to the Czech Republic to visit the companies we had been consulting for on the live case assignment.
Career opportunities
The example roles and salaries below are intended as a guide only.
Business development manager
Average Salary: £42,500
Product manager (postgraduate)
Average Salary: £47,500
Management consultant
Average Salary: £50,000
Business adviser
Average Salary: £32,500
Sales executive
Average Salary: £34,000
Hired
We are here to support your career goals every step of the way.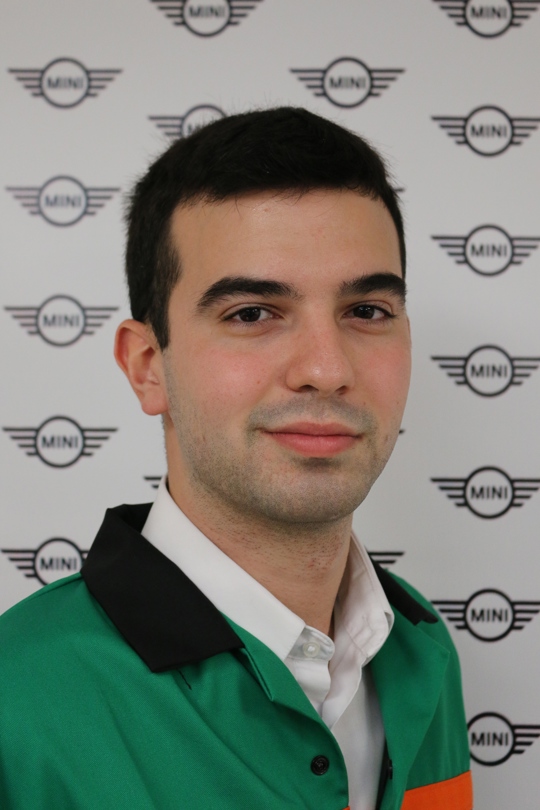 Sven's Story
Since receiving his first class degree, Sven has been busy driving diverse projects on a German car giant's graduate scheme.