Why choose this degree course?
PRACTICAL APPLICATION – Work on live consultancy cases with local and international clients in our state-of-the-art Financial Trading Suite
SPECIALISE YOUR STUDIES – Choose a topic within the industry that interests you to study in depth for your final research project
INDUSTRY APPROVED – Our course is developed and delivered in partnership with key industry players and professional bodies
Our facilities
Students on our accounting and finance degree courses at University College Birmingham enjoy a wealth of practical learning opportunities in our cutting-edge Financial Trading Suite on campus, while we also provide a range of support services for student entrepreneurs through our Enterprise Hive.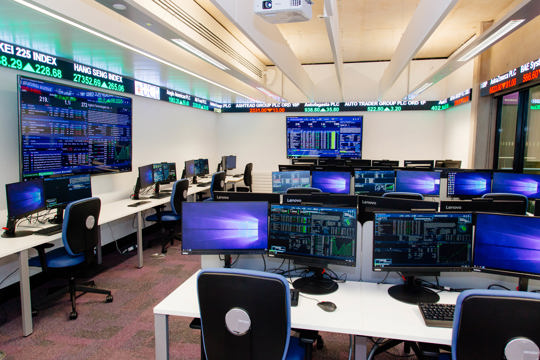 Our new Financial Trading Suite is one of the largest among all UK universities, providing practical training for students on our finance, accounting and business courses

The Financial Trading Suite features 21 workstations, two large wall screens and a scrolling ticker providing real-time global market information

Our Financial Trading Suite is the first university trading suite in the country to be powered by Infront Professional Terminal, offering unique benefits in using and sharing data
If you want to set up your own business, visit our Enterprise Hive for a wide range of start-up support, including incubation space, tailored mentoring from industry experts and networking opportunities
Course breakdown
This module aims to develop accounting standards and theoretical framework knowledge in the preparation of financial statements. The module addresses the key issues in international financial reporting and financial analysis. It covers the fundamentals required by managers and analysts to understand, interpret and use financial information. The module will help you understand the financial reporting challenges of multinational companies. It will aim to give you the tools and skills to compare accounting regulatory frameworks around the world as well as to prepare and interpret consolidated financial statements.
Leadership and Enterprise Strategy
Leadership and Enterprise Strategy aims to provide an understanding of strategic analysis, strategic decision-making and strategic processes within organisations. The module content comprises two complementary components. The first involves the understanding and learning of the main strategic management concepts and theories. The second implies its application in organisations.
This Performance Management module is about making decisions which ensure the most effective and efficient use of organisational resources. The module aim is to develop knowledge and skills required by performance managers. This provides students with a grasp of techniques used by performance managers in planning, control, decision-making and overall performance evaluation of organisational activities. It focuses on information needs, technologies and systems necessary for efficient and effective performance management of organisations. This is followed by an examination of decision making processes with particular emphasis on management of scarce resources and how this relates to performance, uncertainty and risk management. A key aim of performance management is to measure costs and revenues relating to specific operations, divisions and products. Information gathered in this way is used to plan and control activities in order to ensure that key organisational objectives are achieved.
You will have the opportunity to engage in an independent research project of your choice. You will have support with preparing your proposal and understanding the competent characteristics of good research. An appointed tutor will help guide you through this important and rewarding process.
Corporate Risk Management
Corporate Risk Management is a comprehensive, systematic approach for helping an organisation to identify, measure, prioritise and respond to risks, which is critical when developing a company's strategy. The module gives you an opportunity to understand the implementation and application of Corporate Risk Management and develops skills which are applicable to a diverse range of organisations and scenarios.
The module introduces the latest methodologies used by professional portfolio managers. The module addresses both the theory and practice of portfolio management and aims to build on the techniques for portfolio selection. The theoretical part will examine the issues involved in constructing an investment portfolio, evaluating its performance, and adjusting its composition through time to ensure the performance remains optimal. It will also consider the use of derivatives in managing risk. The module will provide you with hands-on experience of constructing and managing an equity portfolio in our newly built Financial Trading Suite.
The modules listed above for this course are regularly reviewed to ensure they are up to date and informed by industry as well as the latest teaching methods. On occasion, we may need to make unexpected changes to modules – if this occurs, we will contact all offer holders as soon as possible.
Academic: A relevant HND or a foundation degree in the areas of accounting, banking and finance, business finance, economics or finance, with 240 credits.
If you are unsure if your previous qualification is suitable, please contact us before completing an application. You can complete our enquiry form here or call us on 0121 604 1040
EU/international students
Academic: European and International qualifications studied in a relevant subject matter will also be considered. Applicants will need to have achieved 120 ECTS or equivalent (European Credit Transfer).
If you are unsure if your previous qualification is suitable, please contact us before completing an application. You can call us on 0121 604 1040 or complete our enquiry form:
Note: Indicative information only – actual timetables and assessment regimes will be issued at your induction.
Teaching
Learning strategies include:
Lectures (including guest lectures)
Small group seminars
Workshops
One-to-one tutorials
Group projects
Virtual Learning Environment (VLE)
Self-directed study
You will need to commit around 20 hours per week for individual study time.
Assessment
Assessment formats include:
Examinations
Coursework (including presentations, essays, reports, multiple choice tests and numerical computations)
Our teaching and assessment is underpinned by our Teaching, Learning and Assessment Strategy 2021-2024.
As a new student studying this degree full-time, you will receive £300 per year via our Kick-Start Scheme (eligibility criteria applies). This scheme will support your studies and future career by contributing to course-related materials, uniform or selected items on campus. You might even qualify for an additional £500 per year.
UK/EU students
If you are a UK/EU student enrolling on a full-time foundation degree or a BA/BSc in 2020/21, your fee for this academic year will be £9,250 per each full year. A half year tuition fee is £4,625. UK/EU students do not pay tuition fees for any placement periods.
International students
If you are an international student enrolling on a a full-time foundation degree or a BA/BSc in 2020/21, your fee for this academic year will be £11,500 per year.
If you complete a placement year, there will be an administration fee of £500 for a full year, or £250 for a half-year placement.
UCBconnect - meet other students on your course
Starting university is an exciting time, but we understand that it can sometimes feel a little daunting. To support you, we have created a platform called UCBconnect, where you can meet other students who have applied for the same course at University College Birmingham, before you start studying here.
As soon as you have been made an offer, you will be sent an invitation via text and email to complete your user registration and join UCBconnect. For more information, please visit ucb.ac.uk/ucbconnect.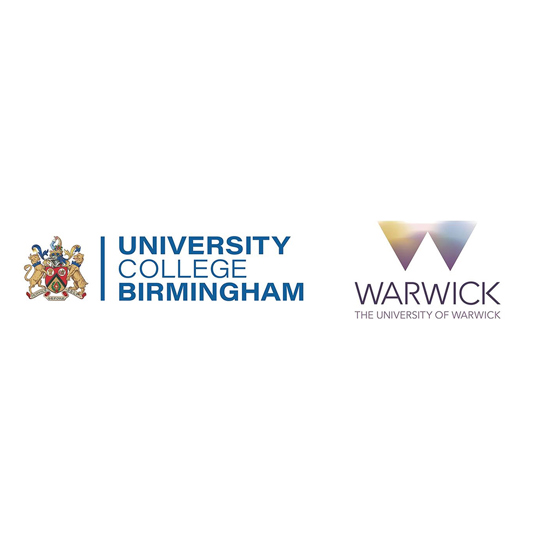 This course is accredited by the University of Warwick.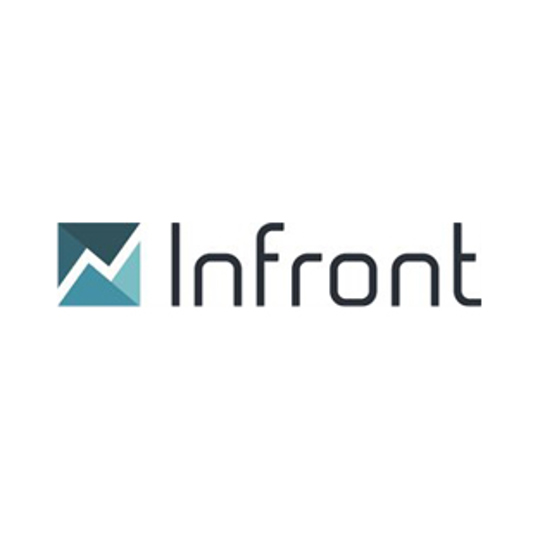 Our Financial Trading Suite is powered by Infront Professional Terminal.
Accreditations, endorsements and partnerships
University College Birmingham works with a wide range of organisations to ensure you receive the best possible training and qualifications recognised by industry.
of graduate employers say relevant experience is essential to getting a job with them
Work experience
Work experience is vital for learning how to apply your training in the real world and for building your confidence and skills before you finish your course – and it may even lead to a job when you graduate. Our hired@UCB team can help you find suitable work experience.
We encourage students on our BSc Finance and Accounting top-up course to gain work experience throughout your studies.


Due to the ongoing coronavirus pandemic, please be aware that opportunities to travel abroad for placements, project work or residential trips may be affected by government travel restrictions. Please visit our
updates and FAQs page
for information.

As institutions become more diverse, it's important to embrace and celebrate the skills that students are bringing. The fact that we are integrating practical skills allows students to home in on what they're good at. This training is built into the assessment to ensure that every student develops the practical skills they need.
Career opportunities
The example roles and salaries below are intended as a guide only.
Finance officer
Average Salary: £29,250
Analytics manager
Average Salary: £47,392
Budget analyst
Average Salary: £43,217
Data analyst
Average Salary: £32,500
Mortgage adviser
Average Salary: £52,500
hired@UCB
We are here to support your career goals every step of the way.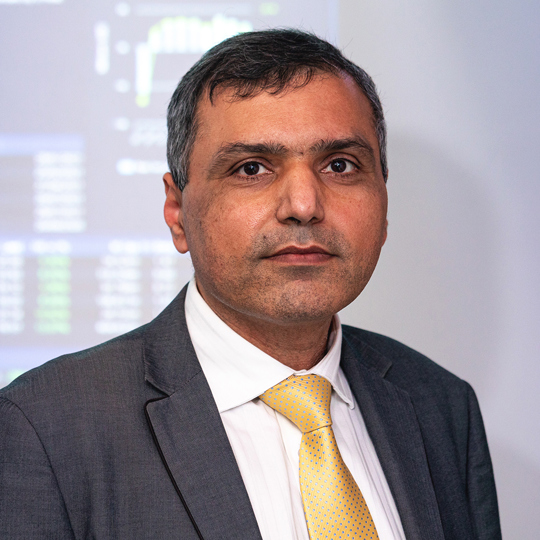 Asif's Story
An expert in the development of this degree explains how it is designed to set students up for rich careers.