Postgraduate tuition fee information
This information is applicable to home and EU students with settled or pre-settled status. Overseas students can find more information on our international tuition fees page.
Have more questions?
Contact our finance team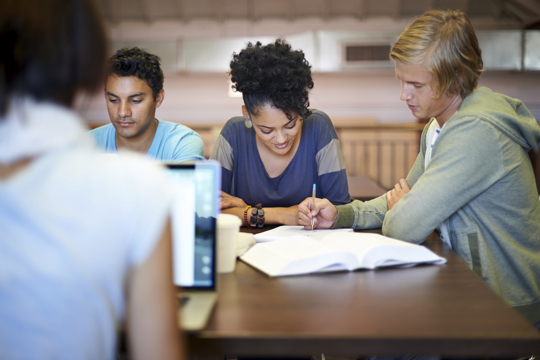 Postgraduate loan
English and EU students with settled or pre-settled status studying a full master's degree are eligible for a postgraduate loan from Student Finance.
Please note, if you are planning to study the MA/MSc (but will be exempt one or more modules) or if you are planning on studying the Postgraduate Diploma, these courses will not be eligible for a postgraduate loan. 
The postgraduate loan is not applicable to PGCE students. The standard undergraduate package of Student Finance is available to those studying a PGCE.
European Students based outside the UK
Following the UK's departure from the EU, it has been confirmed that most EU, other EEA and Swiss nationals starting courses on or after 1 August 2021 will not be eligible for support from Student Finance England.
Irish nationals living in the UK or Ireland will not be affected by these changes and will continue to be eligible for support.
At University College Birmingham, we would like to support our EU applicants through this transition, therefore, we are offering an automatic EU Transition Award to all eligible EU students who start their studies at UCB in September 2021 or January 2022. Find out more about our EU transition award.
Postgraduate tuition fees
| Course type | September 2021 and February 2022 | September 2022 and February 2023 |
| --- | --- | --- |
| MA/MSc programmes | £8,000 | £8,750 |
| Postgraduate Diploma (PG Dip) | £6,000 | £6,350 |
| PGCE* | £9,250 | £9,250 |
| Qualified Teacher Status (QTS) Assessment Route Only | £2,000 | £2,000 |


* £500 discount if PGCE fee is paid in full by the student on or before 7th October 2022.

Fee waivers – it pays to stay
Undergraduate students progressing to postgraduate studies
University College Birmingham students who achieve a first class honours degree awarded by us in the previous academic year will receive a discount on their tuition fees of £1,200 (£865 in year 1, £335 in year 2). No application necessary (UK/EU students with pre-settled or settled status only).
£600 discount for University College Birmingham Students progressing with any other classification achieved in the previous year
PGCE progression fee waiver
Home or EU students (with pre-settled or settled status only) who progress from a University College Birmingham BA/BSc (Hons) course onto our PGCE course without a break in study will receive a fee waiver £1,200 (in 2021/22). No specific application is necessary. We will review all PGCE programme applications and apply the fee waiver to any eligible student.
* Discount for PGCE+ (students who already have a University College Birmingham PGCE and wish to complete a further 60 credits to obtain a Postgraduate Diploma). PGCE must have been achieved within the last five years.
** £500 discount if PGCE fee is paid in full by 8th October 2021.
Paying your tuition fees
UK students can pay their fees in up to three instalments each academic year. If you do not keep up with the agreed instalment dates, you may be withdrawn from your course. Instalment dates for future academic years will be published here as they become available.
My course starts in September 2021 and lasts 18 months:
| | |
| --- | --- |
| Payment amount | Payment dates |
| 1/6 of invoice amount | 8th October 2021 |
| 1/6 of invoice amount | 14th January 2022 |
| 1/6 of invoice amount | 6th May 2022 |
| 1/6 of invoice amount | September 2022 (date TBC) |
| 1/6 of invoice amount | November 2022 (date TBC) |
| 1/6 of invoice amount | January 2023 (date TBC) |
My course starts in September 2021 and lasts 12 months:
| | |
| --- | --- |
| Payment amount | Payment dates |
| 1/3 of invoice amount | 8th October 2021 |
| 1/3 of invoice amount | 14th January 2022 |
| 1/3 of invoice amount | 6th May 2022 |
My course starts in February 2022 and lasts 18 months:
| | |
| --- | --- |
| Payment amount | Payment dates |
| 1/6 of invoice amount | 18th February 2022 |
| 1/6 of invoice amount | 6th May 2022 |
| 1/6 of invoice amount | 7th October 2022 |
| 1/6 of invoice amount | March 2023 (date TBC) |
| 1/6 of invoice amount | June 2023 (date TBC) |
| 1/6 of invoice amount | September 2023 (date TBC) |
My course starts in February 2022 and lasts 12 months:
| | |
| --- | --- |
| Payment amount | Payment dates |
| 1/3 of invoice amount | 18th February 2022 |
| 1/3 of invoice amount | 6th May 2022 |
| 1/3 of invoice amount | 7th October 2022 |