Why choose this college course?
PRACTICAL APPLICATION – Our course is all about learning by doing, getting you straight into the kitchen to develop your practical baking skills
WORK PLACEMENT – Put your training into practice in the real world through the opportunity of a work placement within the industry

EXCELLENT FACILITIES

– Our state-of-the-art bakery facilities on campus will help you hone your skills to an advanced level
MOVE UP TO UNIVERSITY – Want to continue your learning journey after college? Progress your training to the next level on our bakery degree or other university courses
There are lots of reasons why we think you should study with us, but here are our top 5.
View video.
Our facilities
University College Birmingham is renowned for its outstanding food industry training facilities. Studying on our baking college course means you will have access to our own on-site baking and product development laboratories featuring a wide range of specialist equipment.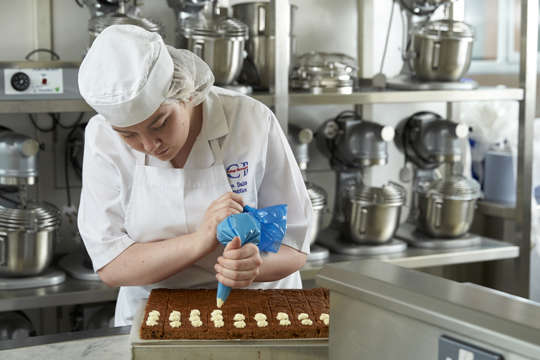 Our on-site baking and product development laboratories enable you to get hands-on with a range of equipment, including large planetary machines, industrial ovens and Koma computer-controlled retarder provers.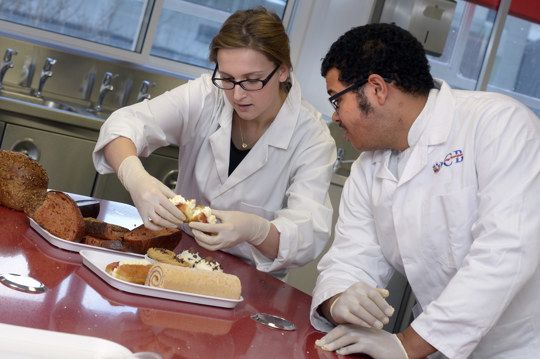 Our laboratories also feature high-speed pressure/vacuum mixers, specialist equipment for chocolate production and dough and flour rheology testing equipment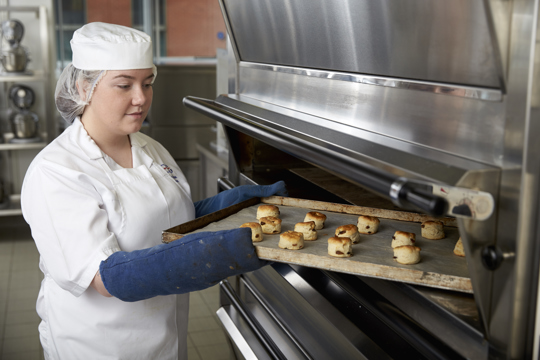 Our Cakes and Bakes shop on campus sells a wide range of bread and baked goods made by our students
Confectionery
Chocolate tempering
Modelling
Celebration cakes
Piping
Flower making
Food safety
High volume manufacture of bread and yeast-based products
Sugar craft
Chocolate work
Designing and developing bakery products
Planning and evaluating specialist bakery products
Monitoring quality
Working with others
You will also have an individual study programme to help you build the skills and experience you need to progress onto higher education or gain employment.
We are also happy to accept students who require additional support on the Professional Bakery Level 1 Diploma.
Maths and English
To help you secure your dream career, you will also continue developing your maths and English skills alongside your full-time course. If you haven't achieved GCSE grade 4/C in English and maths at age 16, you will continue to study these through resits or taking Functional Skills at an appropriate level.
How maths will support your career
Making measurements (including weighing) in baking and serving food properly
Making adjustments for time and temperature in food preparation
Using fractions for recipes and serving sizes
Using geometry to enhance the presentation of baked products
Handling nutritional data to inform choices about health and balanced diet
Effective stock management in bakeries
How English will support your career
Using accurate spelling and specialist vocabulary for presenting quality menus
Developing good speaking and listening skills for communicating with colleagues and customers
Improving your reading accuracy when following instructions and recipes
Enhancing your CV or advertising your business with the correct use of English
Ideally, you will require a minimum of 4 GCSEs at grade 3 (grade D) or above. However, our bakery lecturers are looking for students who are enthusiastic and keen to gain practical skills in bread, cake production and decoration, so please contact us if you have not achieved these grades.
School applicants will be required to provide a good school report, which must include attendance.
Bakery Level 1 is available if students require additional support.
To apply for Level 3 bakery, you will need a relevant Level 2 qualification and ideally English and/or maths at grade 4 (grade C) or above.
Alternatively, you will require at least 2 years' relevant work experience.
If you do not have a grade 4/C or above in maths and English and you are under 19, you will be required to complete an assessment so we can ensure you receive appropriate support. Applicants over 19 are not required to complete maths and English.
On the Level 2 course, underpinning knowledge is continually assessed so you will complete practical assessments in the bakeries and a series of questions on the e-learning platform. A Level 2 Food Safety exam is also undertaken.
For Level 3, you will be required to complete both practical assessments within the bakery settings and written assignments on the e-learning platform. The course is continually assessed to ensure it provides more in-depth knowledge of the bakery industry, skills and ingredients.
Our teaching and assessment is underpinned by our Teaching, Learning and Assessment Strategy 2015-2020.
This course requires a uniform and kit costing approximately £300, depending on the items you purchase. (Prices are subject to change each year – exact costs and information on how to order required items will be provided to you prior to enrolment.)
You may be eligible for the Learner Support Fund, which assists college students with course-related costs such as essential uniform, equipment and travel. For more information, please visit our Financial Support for College Students page.
Join the conversation and check out the latest updates from Birmingham College of Food.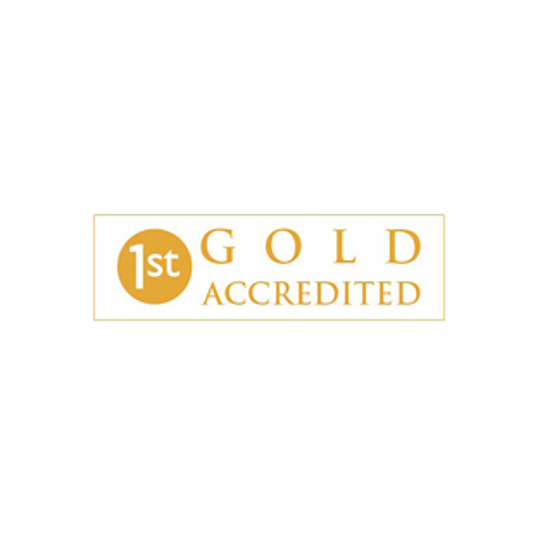 University College Birmingham has People 1st Gold Hospitality accreditation, and carries Centre of Excellence status for Patisserie and Confectionery, Food and Beverage Service, Fish and Shellfish, and Butchery and Game.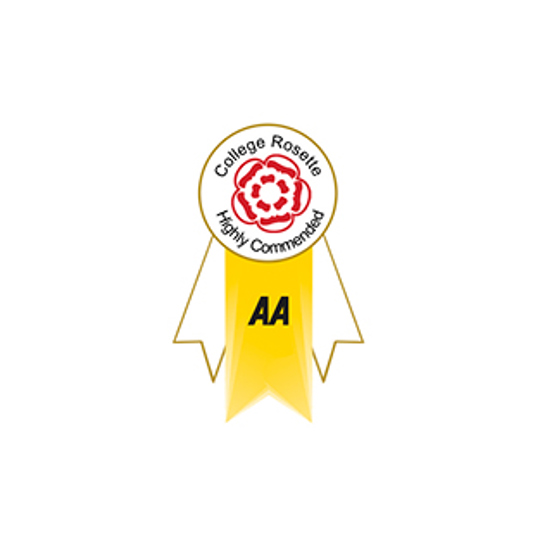 Our training restaurant at Summer Row has a Highly Commended AA College Rosette.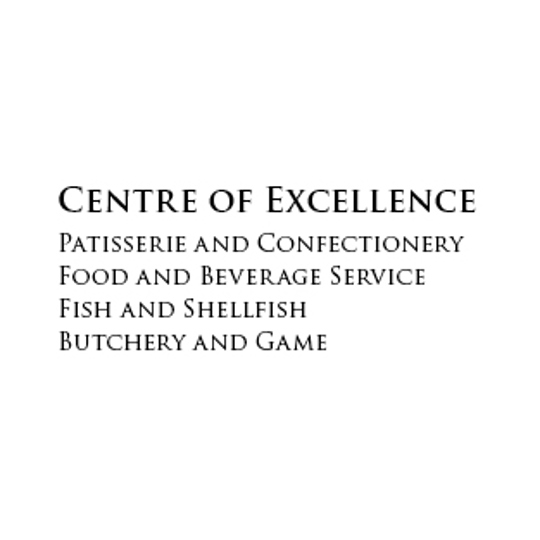 Accreditations, endorsements and partnerships
University College Birmingham works with a wide range of organisations to ensure you receive the best possible training and qualifications recognised by industry.
of graduate employers say relevant experience is essential to getting a job with them
Work placements
Work placements offer a wealth of benefits alongside your studies, helping you put your learning into practice, develop your skills and understanding of the workplace, boost your CV for your chosen career or enhance your UCAS application for higher education. Our hired@UCB team can help find the ideal placement for you.
Students on our college bakery courses have opportunities for placements with artisan and craft bakeries, patisserie and cake decoration outlets, in-store bakeries and food manufacturers, as well as hotels, restaurants and conference and banqueting centres. placements last from 70 to 350 hours over the year, depending on the level you are studying at.
Work alongside experts in your sector
A snapshot of some of the employers we have worked with:
Hindleys Bakeries (Lichfield)
Lawrance's Bakery (Evesham)
Miss Macaroon (Birmingham)
Ten Four Bakehouse (Birmingham)
Valencia Fine Foods Ltd (West Bromwich)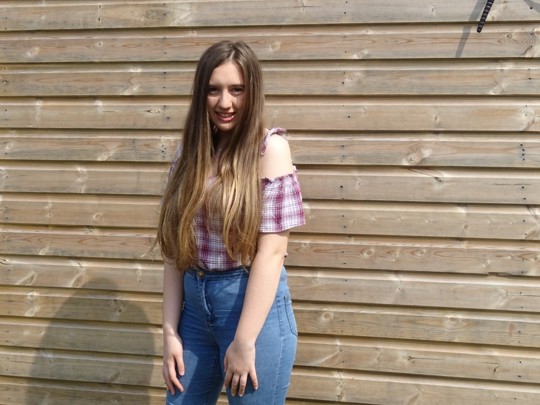 My course included a two-week placement and I got to experience an industry setting. Many of my classmates stayed in restaurants and bakeries in Birmingham; however, some of us went to places closer to home. On placement, you learn things that you wouldn't get the chance to learn in college.
Career opportunities
The example roles and salaries below are intended as a guide only.
Artisan baker
Average Salary: £26,875
Cake decorator
Average Salary: £18,500
Quality control (QC) technician (bakery)
Average Salary: £20,470
Food business owner/restaurateur
Variable
Pastry chef
Average Salary: £21,682
Chocolatier
Average Salary: £23,500
hired@UCB
We are here to support your career goals every step of the way.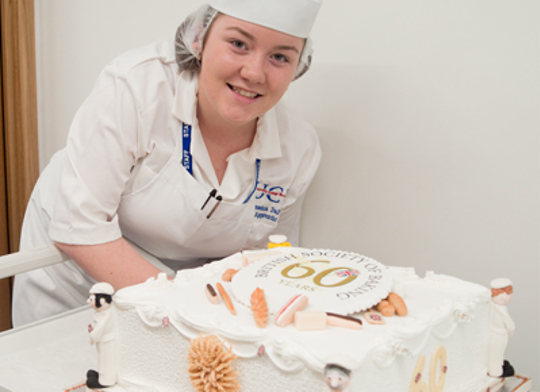 Jessica's Story
Winning awards from top baking industry associations to making chocolates for the royal family, Jessica has always risen to the occasion.