Why choose this degree course?
WORK PLACEMENTS

– Gain essential real-world work experience throughout your degree by going on placement one day per week, with opportunities in a huge variety of health and social care settings
ENRICHMENT – Enhance your CV and professional development with further training and qualifications, including key areas for care workers such as first aid, manual handling, infection control and safeguarding children
SPECIALISE YOUR STUDIES – Pick a research topic to study in depth and choose from a wide range of optional modules, including themes such as substance misuse, mental wellbeing and criminology
AWARD-WINNING UNIVERSITY – Study at the highest-ranking university in the region according to student choice (Whatuni Student Choice Awards 2023)
Our facilities
Students on our health and social care management courses have access to our wide variety of learning spaces at University College Birmingham, ensuring you have the right environments to build your knowledge, from lecture theatres to interactive group working spaces and extensive library resources.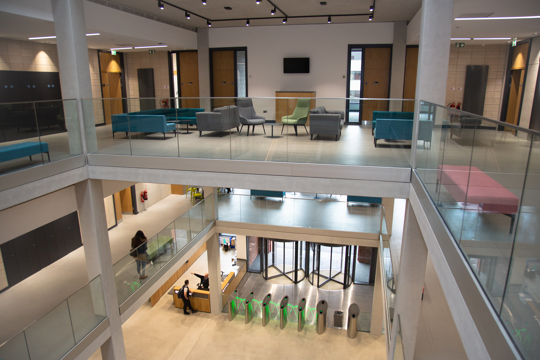 Our new £44 million Moss House campus includes an exhibition space to showcase your work to assessors and prospective employers, as well as our Enterprise Hive service which helps budding entrepreneurs with start-ups

Our campus buildings feature lecture theatres equipped with the latest technology, as well as comfortable tutorial and seminar rooms and private meeting rooms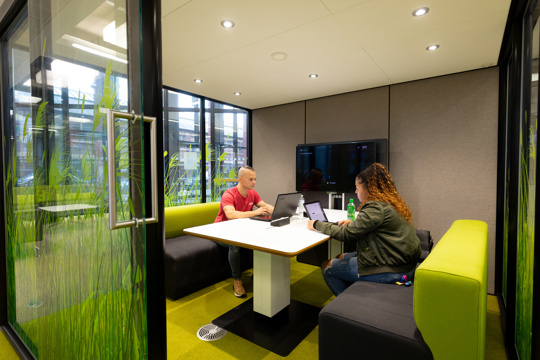 Located in our McIntyre House campus, ThinkSpace features glazed study pods to discuss group projects and glass wipe boards to mind-map your ideas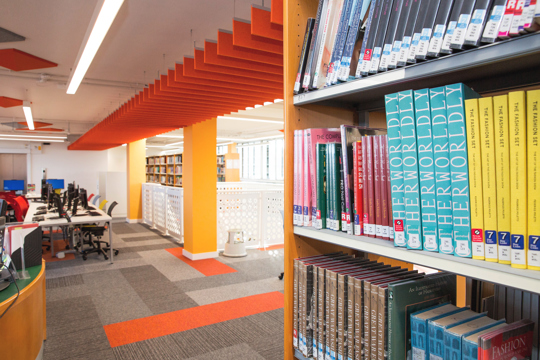 Our library facilities offer more than 50,000 print resources and over 60 million digital resources, with expert support from qualified library professionals and research specialists
Course breakdown
Students on the FdSc have the option of progressing onto the final year upon completion of the foundation degree.
Your vital skills and abilities will be developed to enable you to study effectively at an undergraduate level. Key learning concepts will be identified and related to skills relevant to the industry, which will then be developed through a variety of tasks and activities. This is done in a relevant context that takes into account the wider education and community focus of your course as a whole.
Foundations of Health and Social Care
This module provides you with underpinning knowledge of the role, structure, challenges and opportunities of the sector. Working understanding of complex needs, multi-agency working, service user involvement, assessment, risk management, care planning and review will all be developed.
Psychological Perspectives on Holistic Health
This module explores changes in development over the lifespan and introduces the main psychological theories explaining this process. It examines how biological, social, and structural determinants of health can influence health beliefs and health behaviours of individuals in diverse context using case studies, for example, attitudes to smoking, alcoholism, drug addiction, obesity, body dysmorphia, self-harm. It will also explore how Health and Social Care Professionals can use understandings of psychological theories in managing relationships and care in health and social settings, i.e. the role of communication in health promotion, strategies, mindfulness, yoga.
This module develops your understanding of the essential and complex issues of working with individuals at risk, safeguarding, values, ethics, ethical dilemmas, whistleblowing, equality and diversity, dependency and empowerment.
Skills for Working with People
You will develop your skills in effectively building therapeutic relationships, helping and engaging with individuals, adapting to different abilities and preferences, working with individuals and groups, challenging situations, crisis intervention and maintaining boundaries. Teaching and assessment of this module is closely linked to 100 hours vocational placement.
This module introduces students to wide-raging sociological perspectives and contemporary debates relating to the sociology of health, well-being and professional practice. Through enquiry-based learning, students will explore the sociological imagination, the relationship between wider determinants, health and wellbeing, and social inequalities.
Contemporary Research for Enquiry
You will develop your expertise in the evaluation and use of essential research tools,as you design and conduct your own study into a relevant contemporary health and social care issue.
Promoting Health and Wellbeing
Notions of health, how need is assessed or underpinned, the concepts and techniques of health promotion and education are all explored. Practical skills will be developed in how to encourage positive behaviour change using evident and integrated approaches, addressing structural and personal barriers to change.
Public Health and Social Policy
This module will enable students to develop their understanding of legislation and social policy as it relates to public health and social care, including the development of the Welfare State and the historical and current political dimension of this. It will go on to explore epidemiology, including infectious diseases and their control, enabling students to understand the behavioural, social and environmental impact of these in society/societies.
The Health and Social Care Professional
Enhancing the foundations for your health and social care career, emotional intelligence in the work place, reflective and critical practice, professionalism, managing yourself and others, utilising supervision and debriefs, team work and inclusion are all explored. Teaching and assessment of this module is closely linked to 200 hours vocational placement.
Choose 2 optional modules
This module will develop your understanding and skills to enable you to provide effective coaching and advocacy work, either as part of a specific role or within your general health and social care practice. The aims, roles, techniques and challenges of this type of work will all be explored.
Managing Acute and Chronic Conditions
This module builds on the students understanding of lifespan development, and psychological and sociological influences on health and sickness. It focuses on understanding the pathophysiology of conditions, and the holistic impact this has on the individual, their family, and services. It explores the health and social care needs and how management of conditions may change over time from the perspective of the client, their family, and service providers. It will also introduce students to key theories and concepts, in order to structure and form well-reasoned strategies in managing acute and chronic illness.
You will develop a realistic awareness and understanding of the use and misuse of all illegal and legal drugs, the numerous treatment options, the social context of recreational and problematic drug use and related theory and policy.
Supporting Individuals, Families and Households
This module will provide students with opportunities to develop their knowledge and understanding of intervention work in supporting individuals, families and households. It will be particularly helpful for students interested in the provision of 1:1 support for families and/or individuals. The lectures will explore different family structures, methods of assessment, interpersonal communication skills and intervention tools for the promotion of individual and family health and wellbeing.
Counselling and Guidance Skills
From informally giving advice and information to a more in-depth addressing of emotional issues, counsellors support others in a wide range of capacities. You will develop an understanding of the use of counselling, its practicalities, the necessity of self-development and boundaries as well as essential skills.
Leadership and Management in Health and Social Care
Studying on this module you will develop your skills and understanding of leadership and management in health and social care settings. Each week you will undertake a task which will culminate in you to creating a leadership and management portfolio. These tasks will develop your skills, so that you become a more effective practitioner, better equipped to lead and manage in the current professional field.
Choose 2 optional modules
Criminology and Offender Management
This module provides students with an introduction and overview of offender rehabilitation and the core principles of offender management that underpin the offender's journey through the criminal justice system. It also explains interventions to motivate them to stop offending. This will include concepts of offender need, core principles of offender management and the practice of managing different offender groups
You will develop your knowledge and skills in supporting individuals with learning disabilities. You will gain an informed perspective on past and present issues and examine the policies and theory behind the service. You will learn strategies for supporting people with complex needs as well as the role and responsibilities of practitioners in leading and developing practice.
This module will raise your awareness of mental health issues within society. It will enhance your understanding of historical context and the development of policy and practice in relation to mental wellbeing.
Research in Health and Social Care Practice
You will have the opportunity to deepen your knowledge within a chosen area of the course and the related industry. Using your creativity, problem-solving abilities and data analysis techniques, you will communicate the application, management of research and appraisal of your chosen area under the supervision of an experienced tutor.
You will develop your independent learning, problem solving and analytical skills by choosing a particular area of the course and related industry to study in greater depth. You will be encouraged to integrate concepts and knowledge from previous modules and draw on wide range of academic and industrial resources, supported by a lecturer within personal tutorials.
The modules listed above for this course are regularly reviewed to ensure they are up to date and informed by industry as well as the latest teaching methods. On occasion, we may need to make unexpected changes to modules – if this occurs, we will contact all offer holders as soon as possible.
Entry requirements
Health and Social Care BSc (Hons)
A-levels: An A-level grade profile of CDD.
T-levels: A T-level graded Pass with a core component of grade C.
BTEC: A BTEC grade profile of MMP. This can be achieved from either an Extended Diploma or a combination of smaller BTEC qualifications.
Tariff: Other Level 3 qualifications are accepted for entry. A minimum of 80 UCAS Tariff points will be required.
Access to Higher Education Diploma: 80 UCAS Tariff points including a minimum of 15 Level 3 credits at Distinction.
GCSEs: GCSE/IGCSE English grade A*-C or grade 9-4 or equivalent.
You must also complete a Disclosure and Barring Service (DBS) check. University College Birmingham will co-ordinate and fund the completion of the DBS check.
Health and Social Care FdSc
A-levels: An A-level grade profile of DD.
T-levels: A T-level graded Pass with a core component profile less than C.
BTEC: A BTEC grade profile of PP. This can be achieved from either an Extended Diploma or a combination of smaller BTEC qualifications.
Tariff: Other Level 3 qualifications are accepted. A minimum of 32 UCAS Tariff points will be required for entry.
Access to Higher Education Diploma: 32 UCAS Tariff points.
Non-tariff: Non-UCAS Tariff-based Level 3 qualifications are also considered for entry. Please complete our enquiry form here to check your eligibility.
Work-based: We also give equal consideration to applicants who are currently in work and wish to apply to University College Birmingham. To apply, you must have a minimum of 3 years' relevant work experience, demonstrating management or supervisory duties. Your application must also include a reference from your line manager supporting your entry to higher education. For further details, please contact Admissions.
GCSEs:
GCSE/IGCSE English grade A*-C or grade 9-4 or equivalent.
You must also complete a Disclosure and Barring Service check (DBS). University College Birmingham will co-ordinate and fund the completion of the DBS check.
Key information
Note: Indicative information only – actual timetables and assessment regimes will be issued at your induction. 
Teaching 
Example of a typical teaching week (up to 12 contact hours): 
Large group teaching

– 6 hours

 

Smaller group teaching

– 3 hours

 

Tutorials

– 3 hours

 

Field trips and visits

 
You will also need to commit around 20 hours per week for individual study time. 
Assessment
Estimated breakdown of assessment for this degree course:
Coursework – 70%
Practical assessment – 30%
Our teaching and assessment is underpinned by our Teaching, Learning and Assessment Strategy 2021-2024.
Additional qualifications and training
In Year 2, a range of training and industry networking opportunities are available through Birmingham Safeguarding Children Partnership. These cover a variety of contemporary health and social care issues such as coercive control, female genital mutilation (FGM) and child sexual exploitation (CSE)
In Year 3, you will be supported to complete a range of training opportunities through High Speed Training, such as first aid, manual handling and infection control
Alongside the Leadership and Management in Health and Social Care module in Year 3, you will be encouraged to complete an Award in Healthcare Leadership Foundations through the NHS Leadership Academy
UK students
If you are a UK student enrolling on a standard-length Foundation Degree or a BA/BSc at University College Birmingham, your fee for this academic year will be £9,250. A half-year tuition fee is £4,625. There will be no change to this tuition fee for the forthcoming two academic years (2023/24 and 2024/25).

View undergraduate fees
International students
If you are an international student enrolling on a full-time foundation degree or a BA/BSc in 2023/24, your fee for this academic year will be £13,500 per year. The course fee for academic year 2024/2025 is £14,000 per year.
If you complete a placement year, there will be an administration fee of £500 for a full year or £250 for a half-year placement.
As a new student studying this course full-time, you will receive £300 per year through our Kick-Start Scheme (UK students only, eligibility criteria applies). This scheme will support your studies and future career by contributing to course-related materials, uniform or selected items on campus. You may also qualify for an additional £500 per year.
Find out more about the Kick-Start Scheme here.
Unibuddy Community - meet other students on your course
Starting university is an exciting time, but we understand that it can sometimes feel a little daunting. To support you, you will be invited to join our Unibuddy Community, where you can meet other students who have applied for the same course at University College Birmingham, before you start studying here.
As soon as you have been made an offer, you will be sent an invitation email to complete your registration and join the Unibuddy Community. For more information, check out our Unibuddy Community page.
of graduate employers say relevant experience is essential to getting a job with them
Work placements
Work placements are vital for gaining real-life experience and for building your confidence and skills before you finish your course – and they may even lead to a job when you graduate. Our Hired team can help find the ideal placement for you.
Throughout our FdSc and BSc Health and Social Care courses, you will undertake a vocational placement one day per week within the health and social care sector. A wide variety of opportunities are available, with our past students having supported children with autism, women with very premature babies, adults with mental illness, projects supporting asylum-seeking families and other health and social care settings.
Work alongside experts in your sector
A snapshot of some of the employers we have worked with:
Barnardo's
Birmingham Women's & Children's NHS Foundation Trust
Anchor Homes
Heartlands Resource Centre
Wilson Stuart School

I loved the look of the modules on University College Birmingham's Health and Social Care degree course, and after having a tour of the University and seeing how helpful, approachable and friendly all of the staff were, I knew it was the place for me.
Career opportunities
The example roles and salaries below are intended as a guide only.
Family support worker (graduate)
Average Salary: £35,000
Community education officer
Average Salary: £28,000
Learning mentor
Average Salary: £22,500
Health promotion specialist
Average salary: £24,907 – £44,503
Community development worker
Average Salary: £28,500
Advice worker
Average Salary: £28,000
Hired
We are here to support your career goals every step of the way.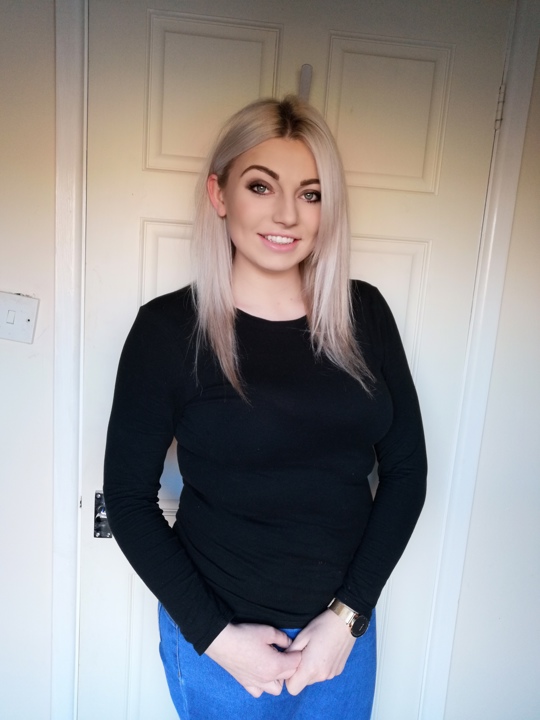 Hannah's Story
When Hannah made the decision to build on her Health and Social Care Level 3 with a full degree in the subject, it was a no-brainer where she wanted to study.
What our students on this course say...
100%
of students on this course say staff are good at explaining things
100%
of students on this course said staff often make the subject engaging   
100%
of students on this course say it is intellectually stimulating  
100%
of students on this course say they are challenged to achieve their best work
*National Student Survey (NSS) 2023
**Course statistics relate to the BSc (Hons) degree