Why choose this degree course?
SPECIALISE YOUR STUDIES – From Counselling and Guidance Skills to Youth and Community Development or Offender Management, choose from our optional modules to tailor your learning

WORK PLACEMENT

– Gain valuable real-world experience by undertaking a work placement as part of your top-up course
IN-DEPTH RESEARCH – Carry out your own in-depth research project on a topic that interests you and is relevant to your career aspirations
EXPERT TUITION – Receive support and teaching from expert staff with a wealth of vocational experience in the health and social care sector
AWARD-WINNING UNIVERSITY – Study at the University of the Year offering the best Student Support in the UK (WhatUni Student Choice Awards 2022)
Our facilities
Our learning spaces at University College Birmingham ensure you have the right environments to build your knowledge, from lecture theatres to interactive group working spaces and extensive library resources.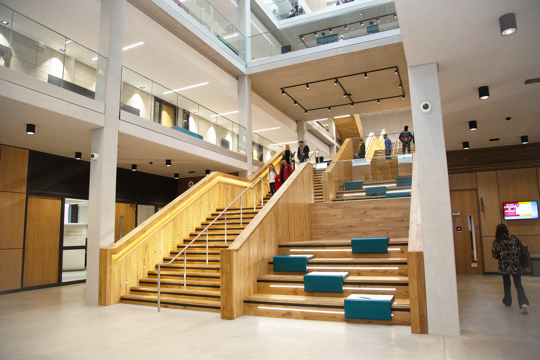 Our new £44 million Moss House campus includes an exhibition space to showcase your work to assessors and prospective employers, as well as our Enterprise Hive service which helps budding entrepreneurs with start-ups

Our campus buildings feature lecture theatres equipped with the latest technology, as well as comfortable tutorial and seminar rooms and private meeting rooms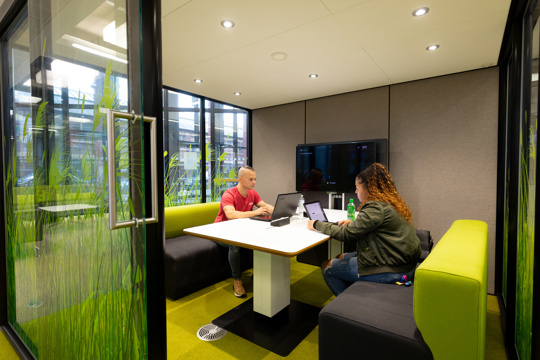 Located in our McIntyre House campus, ThinkSpace features glazed study pods to discuss group projects and glass wipe boards to mind-map your ideas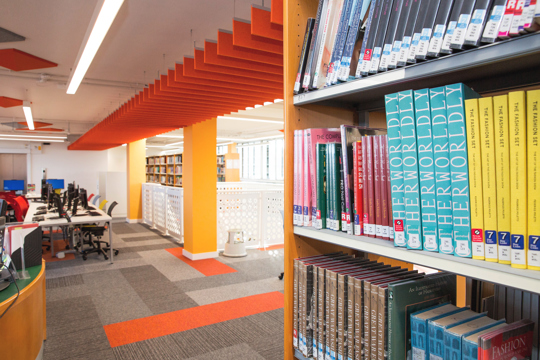 Our library facilities offer more than 50,000 print resources and over 60 million digital resources, with expert support from qualified library professionals and research specialists
Course breakdown
Contemporary Issues in Social Context
You will examine the concepts, philosophy and legislation relating to various contemporary issues in the field of youth, community and family studies. These issues will be current to your year of study, and so a balance of childhood, social care and health-related issues will be researched.
This module will raise your awareness of mental health issues within society. It will enhance your understanding of historical context and the development of policy and practice in relation to mental wellbeing.
Youth and Community Development
You will learn about the nature and theory of community, as well as the causes of conflict within communities and how these may be resolved. You will find out about how youth and community development work evolved historically through social justice movements, as well as looking at how policy is taking shape today.
You will gain an understanding of health psychology, lifespan development and community policies as well as working on your communication and counselling skills. The focus of this module is that health and wellbeing, in its widest sense, is the most important thing for a fulfilling life.
You will understand mentoring within the context of a management situation, exploring the history of mentoring as well as its current role in the contemporary environment. You will understand how to manage relationships and the potential conflict in mentoring line management. If you are interested in going into management, this module will develop your knowledge and skills.
Professional Management in Health and Social Care
A successful health and social care team consists of effective managers and leaders at all levels. You will examine methods of self-management in order to help you oversee your professional development. You will study a range of management styles, professional supervision and effective delegation.
Counselling and Guidance Skills
From informally giving advice and information to a more in-depth addressing of emotional issues, counsellors support others in a wide range of capacities. You will develop an understanding of the use of counselling, its practicalities, the necessity of self-development and boundaries as well as essential skills.
You will be given an overview of offender rehabilitation and the core principles of offender management that determine how an offender moves through the criminal justice system and the type of interventions that motivate them to stop offending. This will include areas such as offender needs, offender management and the ways you can manage different offender groups.
You will develop your knowledge and skills in supporting individuals with learning disabilities. You will gain an informed perspective on past and present issues and examine the policies and theory behind the service. You will learn strategies for supporting people with complex needs as well as the role and responsibilities of practitioners in leading and developing practice.
You will have the opportunity to deepen your knowledge within a chosen area of the course and the related industry. Using your creativity, problem-solving abilities and data analysis techniques, you will communicate the application, management of research and appraisal of your chosen area under the supervision of an experienced tutor.
You will develop your independent learning, problem-solving and analytical skills by choosing a particular area of the course and related industry to study in greater depth. You will be encouraged to integrate concepts and knowledge from previous modules and draw on a wide range of academic and industrial resources, supported by a lecturer within personal tutorials.
The modules listed above for this course are regularly reviewed to ensure they are up to date and informed by industry as well as the latest teaching methods. On occasion, we may need to make unexpected changes to modules – if this occurs, we will contact all offer holders as soon as possible.
Academic: A relevant HND or a foundation degree in the areas of Health and Social Care or Care in the Community, with 240 credits.
GCSE/IGCSE English grade A*-C (grade 9-4) or equivalent.
If you are unsure if your previous qualification is suitable, please contact us before completing an application. You can complete our enquiry form here or call us on 0121 604 1040 
EU/international students
Academic: European and International qualifications studied in a relevant subject matter will also be considered. Applicants will need to have achieved 120 ECTS or equivalent (European Credit Transfer).
GCSE/IGCSE English language and maths grades A*-C (grades 9-4) or equivalent.
If you are unsure if your previous qualification is suitable, please contact us before completing an application. You can call us on 0121 604 1040 or complete our enquiry form:
of graduate employers say relevant experience is essential to getting a job with them
Work experience
Work experience is vital for learning how to apply your training in the real world and for building your confidence and skills before you finish your course – and it may even lead to a job when you graduate. Our Hired team can help you find suitable work experience.
As part of the BSc Health and Social Care top-up course, you will complete 200 hours on work placement with one of our industry partners.
Work alongside experts in your sector
A snapshot of some of the employers we have worked with:
Barnardo's
Birmingham Women's & Children's NHS Foundation Trust
Anchor Homes
Heartlands Resource Centre
Wilson Stuart School

I loved the look of the modules on University College Birmingham's Health and Social Care degree course, and after having a tour of the University and seeing how helpful, approachable and friendly all of the staff were, I knew it was the place for me.
Career opportunities
The example roles and salaries below are intended as a guide only.
Family support worker
Average Salary: £21,000
Community education officer
Average Salary: £28,000
Learning mentor (school)
Average Salary: £18,750
Health promotion specialist
Average salary: £24,907 – £44,503
Community development worker
Average Salary: £28,500
Advice worker
Average Salary: £28,000
Hired
We are here to support your career goals every step of the way.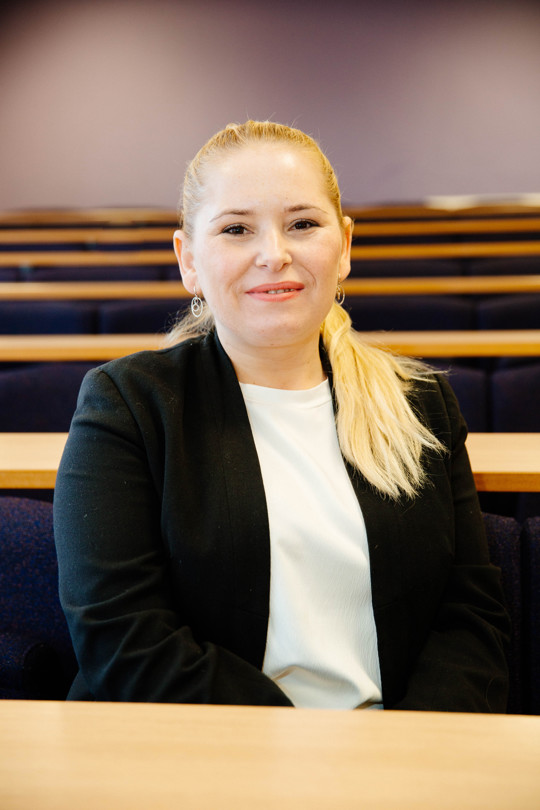 Larisa's Story
At a pivotal life juncture, Larisa followed her calling to train to help those in need and pass on her knowledge.