Why choose this degree course?
WORK PLACEMENTS – From day care and nurseries to primary school mentoring and special education, gain real-life experience on a variety of placements throughout your degree

ENRICHMENT

– Widen your skills with enrichment opportunities such as Lego therapy, Makaton training, baby massage, paediatric first aid and food hygiene

INDUSTRY APPROVED

– Our course includes the Graduate Practitioner Competencies developed by the ECSDN (now included in the QAA Early Childhood Studies Subject Benchmark Statements with practice at Level 6 recognised by the DfE)
Our facilities
Our learning spaces ensure you have the right environments to build your knowledge, from lecture theatres to interactive group working spaces and extensive library resources.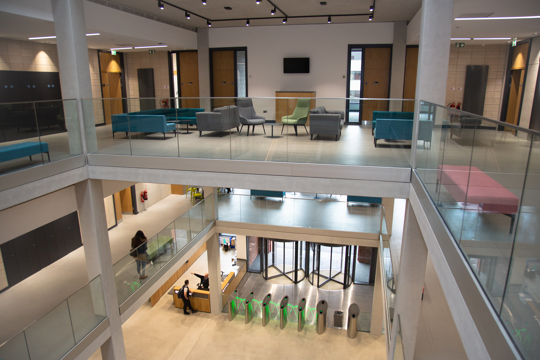 Our new £44 million Moss House campus includes an exhibition space to showcase your work to assessors and prospective employers, as well as our Enterprise Hive service which helps budding entrepreneurs with start-ups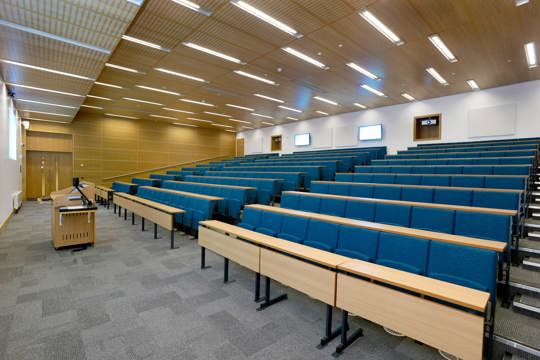 Our campus buildings feature lecture theatres equipped with the latest technology, as well as comfortable tutorial and seminar rooms and private meeting rooms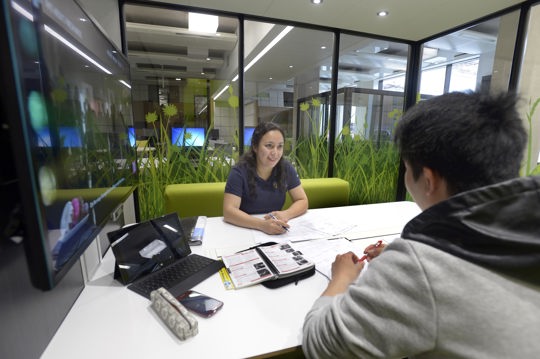 Located in our McIntyre House campus, ThinkSpace features glazed study pods to discuss group projects and glass wipe boards to mind-map your ideas
Course breakdown
Equality, Diversity and Inclusive Play
The module explores graduate practice within an early years context. It supports the development of a reflective approach as teaching young children to accept and celebrate difference is a process that must begin with early years graduates firstly reflecting on their own attitudes and values. The content allows for the identification of the key role and responsibilities the professional has to play in promoting equality, diversity and inclusivity in practice, which is essential in improving outcomes for all children and families within today's society.
Growth, Learning and Development
Early child development is the period of physical, cognitive, and social growth thus laying the foundations for a productive and healthy life for a child in today's society. This module will review the areas and stages of child development and examine a range of child developmental theory in relation to how children change, grow and learn over the course of childhood with an emphasis on describing how development is shaped through internal and external influences, such as the role of the child's immediate environment and the role of culture in influencing and shaping development. The key role of the graduate practitioner will be examined in relation to the use of observations in practice and the importance of this role in meeting the diverse developmental needs of young learners in today's early years sector .
Introduction to the Early Years Framework
This module will provide you with essential skills to support your career within the Early Years sector. You will learn about the Early Years Foundation Stage (EYFS), and gain essential knowledge regarding its underpinning philosophy, content as well as practical skills to use within settings. Play underpins all aspects of the EYFS; you will be provided with interactive enrichment and learning opportunities which will support you to develop your own play pedagogy.
Nurturing Children's Health and Well-being
This module will start to develop the student's awareness of how the Social Determinants of Health influence the health and wellbeing of a child, from conception and throughout childhood. The external influences of mass media, public policy, health rights and public health interventions will be examined to identify how they contribute to the health and well-being of children.
Pioneers, Pedagogy and Philosophy
This module will consider the fundamental principles underpinning early year's pedagogy by exploring key pioneers that influence today's practice whilst also introducing contemporary pedagogical practices, both in a national and international context. Content will consider approaches used by other countries including, the Nordic Countries, Italy and New Zealand and explore how they differ from the approaches used within the UK.
This module aims to develop your awareness and understanding of childhood within contemporary Britain and will develop on your understanding of the world a child inhabits. It explores the current influences on a child's life and examines the contribution of parents, carers, families, communities, and services to children's childhoods.
Child Protection and Safety in Practice
This module provides the framework of understanding for practitioners, regardless of their domain of practice, to be able to recognise children at risk, identify signs of abuse, understand the legislative framework, and the concept of interagency working, which underpins practice, and enables practitioners to act swiftly to ensure that the best interests of the child are served. This module will enable you to: - Provide a comprehensive framework of knowledge in relation to safeguarding children: this can be applied to safeguarding children in practice in a variety of settings. - Provide a flexible framework for assessing and managing risk. - Provide a framework for multidisciplinary practice, and safe and effective cooperation, in relation to safeguarding children.
This module aims to provide you with the opportunity to engage in semi-independent research and to further develop your personal, graduate and professional skill sets within a vocational field. It develops knowledge and expertise of the design, implementation and evaluation of action research and offers a series of transferable skills which can be utilised in both employment and higher level study. The module encourages you to take a critically reflective and reflexive stance to your own practice, specific institutional practices, action research as a process and to professional standards.
Effective Leadership and Management Skills
Clear management and leadership is essential within the sector if you are to provide a quality environment for children. This module examines what leadership and management means within the context of the early years sector, what the differences between leadership and management are and, the range of skills that are necessary to be a good leader and a good manager within a formal setting.
SEND within the Early Years Sector
This module will develop students' understanding of Special Educational Needs and Disability in the Early Years, exploring the concept of SEND and the legislative framework underpinning practice in early years care and education. The importance of inclusive practice and environments will be investigated, along with appropriate adjustments, interventions and resources to meet children's needs and promote their development. The importance of working with parents and children in ensuring equitable provision will be stressed throughout.
Theoretical Perspectives of Child Development
This module encourages students to develop a comprehensive and critical understanding of the key principles and theoretical underpinnings of development and learning in children between the ages of birth and five years of age. Both classical and contemporary developmental theories (and the differing range of perspectives which inform them) will be thoroughly explored and evaluated with a view to identifying how such theories might be used as a means of understanding and measuring normative and atypical development. The module requires students to attend a minimum of 200 work-based placement hours and for this to be accompanied by a passed placement appraisal.
During this module you will explore the concept of gender through a sociological perspective, its categorisation and the development of gender diversity within British society. You will consider the development of children's sexual identity, (heterosexual, gay, lesbian and bi sexual), age awareness and prevalence, considering concepts such as 'Gender Neutral', 'Gender Nutroise', 'Gender Binary', 'Biological Sexual Ambiguity', 'Gender Affirmative Model' and 'Transgender' within contemporary Britain.
Creativity and Play in the Early Years
This module recognises the underpinning significance of play in children's learning and development and is concerned with raising awareness of the necessity to develop the creative ability of children. Pedagogical implications for fostering imagination, motivation, problem solving, making connections and divergence within early years settings will be examined, alongside the factors which may affect the development of creativity. Students will examine current theories and debates related to creativity and the arts and its role in children's learning and have the opportunity through placement, to develop their own practice to maximise the opportunities they create to nurture young children's natural creativity.
The module is aimed at professionals who through their professional role will work with children, young people and families who are undergoing (or who are likely to undergo) Transition and/or Change. It will equip the student with the theoretical understanding of the processes of both predicted and non-predicted transition/change. Students will have an understanding of the variety of models of transition/change and the skills to identify and discard inappropriate models. Students will learn to consider barriers to transition/change and develop strategies to address them and reflect on the observable behaviours that indicate to what extent the individual child and carers around them are coping with the transition/change. They will identify strategies to address a range of issues artising from this, which is likely to include signposting. Finally, the module will enable the students to reflect on their role, as a professional within the transition/change process.
Engaging in individually selected and directed research is one of the highlights of an undergraduate degree and in this module you will be introduced to the skills and competences needed to explore your selected topic in depth to ensure you gain the most from this opportunity. Research at this level can be a daunting process but you will be appointed a dissertation tutor who will help guide you through this important and rewarding process.
Enhancing Employability for Graduate Practice
Developing and recognising graduate competencies for the early year's workforce will enable you to set yourself apart from the crowd, presenting to future employers the skills necessary to undertake your professional role in a competitive employment arena. The vocational practice you experience on this module will enhance your professional development by advancing and consolidating your theoretical knowledge, increasing your professional skill set skills and enriching your personal and professional confidence.
Leading and Managing Systems
The module explores leadership and management, contemporary issues and current trends in order to enhance quality assurance and to support change that may improve the educational/child centred experiences of children in the early years. The module content encourages students to identify their settings'/ work place needs and to work collaboratively with the staff, other professionals, children and their families in order to devise and implement an action plan for creating improvement and change.
You will explore the concept of children's voice through a range of theoretical perspective. In doing so you will develop a critical understanding of how to support children's voice, participation and agency in a professional context.
Pedagogical Leadership in Play
This module encourages students to develop a critical and comprehensive understanding of the key principles of pedagogical leadership within play and learning environments. Both contemporary and classical theoretical frameworks concerning leadership and management are critically evaluated with a view to exploring how such theories afford us a frame through which to view and develop best practice in leadership. The module focusses on the diverse ways in which early years practitioners design, develop, execute and assess pedagogical leadership in play and learning.
Socio-Historical Aspect of Childhood
This module is designed to provide an insight into the social, historical and cultural construct of 'childhood'. C hildhood is made up of a series of discourses influenced by shifts in political policy, economic factors and industry needs, cultural influences, religion, philosophy, technology and the changing needs of society. Content will investigate the impact of such change upon children, the notion of 'childhood', and the place of children within society from a historical perspective. Key factors affecting children's lives throughout the ages will be discussed and the concept of 'childhood' explored through a range of theoretical perspectives and social contexts.
The modules listed above for this course are regularly reviewed to ensure they are up to date and informed by industry as well as the latest teaching methods. On occasion, we may need to make unexpected changes to modules – if this occurs, we will contact all offer holders as soon as possible.
Early Childhood Studies BA (Hons)
A-levels: An A-level grade profile of CCC-CDD.
BTEC: A BTEC grade profile of MMM-MMP. This can be achieved from either an Extended Diploma or a combination of smaller BTEC qualifications.
Tariff: Other Level 3 qualifications are accepted for entry. A minimum of 96-80 UCAS Tariff points will be required.
Access to Higher Education Diploma: 96-80 UCAS Tariff points including a minimum of 15 Level 3 credits at Distinction.
GCSEs: GCSE/IGCSE English language and maths grades A*-C/9-4 or equivalent.
Students must also complete a Disclosure and Barring Service (DBS) check. University College Birmingham will co-ordinate and fund the completion of the DBS check.
Students who fall short of the 96 UCAS Tariff points (but with no less than 60 UCAS Tariff points) are still welcome to apply for BA (Hons) Early Childhood Studies. In such cases, you will be asked to attend a progression module prior to the start of your course, which requires you to attend two days of lectures and the completion of four assessment tasks. On successful completion of all components of the progression module, alongside having met the required entrance requirements, students will be offered a place on the degree.
EU/international students
Teaching
In light of COVID-19, we have made some changes to the way we deliver our teaching. We are continually following the guidelines and measures put in place by the UK Government to ensure our students and staff are safe on campus, whilst remaining committed to providing high-quality education. The information below explains how teaching will take place in semester 2 (or semester 1 for those joining us in January) for each level/year of this course.
Assessment
Estimated breakdown of assessment for this degree course:
Our teaching and assessment is underpinned by our Teaching, Learning and Assessment Strategy 2015-2020.
Additional qualifications and training
You will be supported to complete Makaton training – a unique programme designed to support spoken language, helping children to communicate
Baby massage plays an important role in understanding how a baby communicates in the first few years. You will have the chance to receive training in this area
You will have the opportunity to learn Lego Therapy – an intervention designed to help children with Autistic Spectrum Disorder (ASD) with any social communication difficulties
As a new student studying this degree full-time, you will receive £300 per year via our Kick-Start Scheme (eligibility criteria applies). This scheme will support your studies and future career by contributing to course-related materials, uniform or selected items on campus. You might even qualify for an additional £500 per year.
UK/EU students
If you are a UK/EU student enrolling on a full-time foundation degree or a BA/BSc in 2020/21, your fee for this academic year will be £9,250 per each full year. A half year tuition fee is £4,625. UK/EU students do not pay tuition fees for any placement periods.
International students
If you are an international student enrolling on a a full-time foundation degree or a BA/BSc in 2020/21, your fee for this academic year will be £11,500 per year.
If you complete a placement year, there will be an administration fee of £500 for a full year, or £250 for a half-year placement.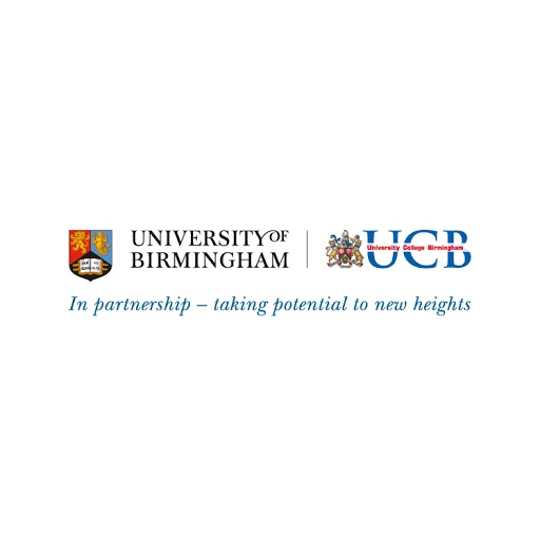 This course is accredited by the University of Birmingham.
Accreditations, endorsements and partnerships
University College Birmingham works with a wide range of organisations to ensure you receive the best possible training and qualifications recognised by industry.
Of newly qualified teachers were employed in a teaching role within six months of completing training 
Work placements
Work placements are vital for gaining real-life experience and for building your confidence and skills before you finish your course – and they may even lead to a job when you graduate. Our hired@UCB team can help find the ideal placement for you.
Our BA Early Childhood Studies course includes a mandatory requirement of 200 hours on placement each year. Year 1 and 2 placements will focus on early years, while the Year 3 placement will be determined by your eventual career choice.
Work alongside experts in your sector
A snapshot of some of the employers we have worked with:
Aston University Nursery & Pre-school
Birmingham Centre for Arts Therapies
Arden Primary School
Queen Alexandra College
James Brindley Parkway
Little Scallywags Day Nursery
St Thomas Centre Nursery


Due to the ongoing coronavirus pandemic, please be aware that opportunities to travel abroad for placements, project work or residential trips may be affected by government travel restrictions. Please visit our
updates and FAQs page
for information.

This degree course is highly versatile. You are encouraged and supported in trying different things – I completed placements in nursery schools, primary schools and social care, which has helped me understand the path I want to take. Regardless of the routes you choose, you are given so much support.
Career opportunities
Note: Some roles below may require further study/training. The roles and salaries below are intended as a guide only.
Family support worker (graduate)
Average Salary: £35,000
Mental health nurse
Average Salary: £24,907
Social worker (NHS)
Average Salary: £31,071
Learning mentor
Average Salary: £22,500
Early years teacher/primary school teacher
£26,000/£29,364
Special educational needs coordinator (SENCO)
Average Salary: £30,172
hired@UCB
We are here to support your career goals every step of the way.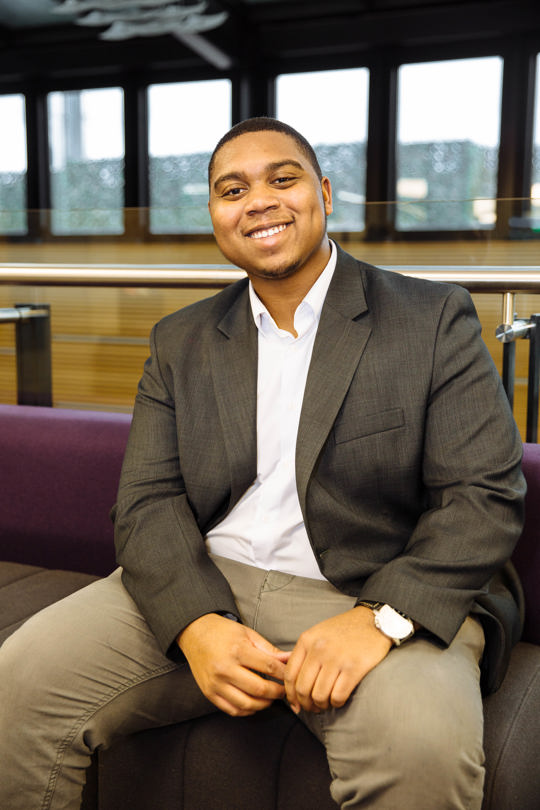 John's Story
John has made a huge difference to people's lives since graduating, including working with vulnerable children as a support worker.