Why should I choose this course?
WORK PLACEMENT – Gain invaluable experience working in a real-life setting on a work placement as part of your top-up course
IN-DEPTH RESEARCH – Carry out your own research project on a topic that you are passionate about and is relevant to your professional aspirations
SPECIALISE YOUR STUDIES – Choose from a variety of optional modules, including Children's Voice and Pedagogical Leadership in Play
ENRICHMENT – Boost your employability with exciting enrichment opportunities as well as additional qualifications including Paediatric First Aid and Food and Hygiene
AWARD-WINNING UNIVERSITY – Study at the highest-ranking university in the region according to student choice (Whatuni Student Choice Awards 2023)
Our facilities
Our learning spaces at University College Birmingham ensure you have the right environments to build your knowledge, from lecture theatres to interactive group working spaces and extensive library resources.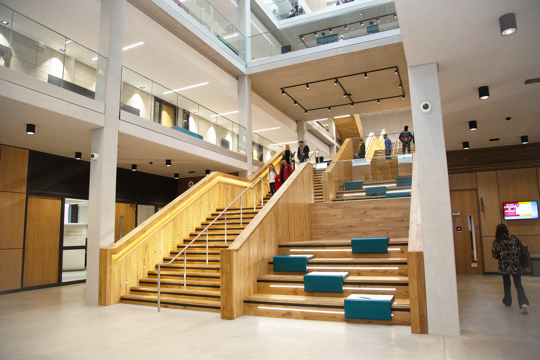 Our £44 million Moss House campus includes an exhibition space to showcase your work to assessors and prospective employers, as well as our Enterprise Hive service which helps budding entrepreneurs with start-ups

Our campus buildings feature lecture theatres equipped with the latest technology, as well as comfortable tutorial and seminar rooms and private meeting rooms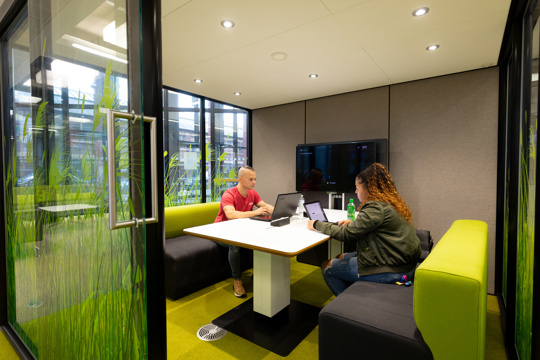 Located in our McIntyre House campus, ThinkSpace features glazed study pods to discuss group projects and glass wipe boards to mind-map your ideas
Course breakdown
Engaging in individually selected and directed research is one of the highlights of an undergraduate degree and in this module you will be introduced to the skills and competences needed to explore your selected topic in depth to ensure you gain the most from this opportunity. Research at this level can be a daunting process but you will be appointed a dissertation tutor who will help guide you through this important and rewarding process.
Enhancing Employability for Graduate Practice
Developing and recognising graduate competencies for the early year's workforce will enable you to set yourself apart from the crowd, presenting to future employers the skills necessary to undertake your professional role in a competitive employment arena. The vocational practice you experience on this module will enhance your professional development by advancing and consolidating your theoretical knowledge, increasing your professional skill set skills and enriching your personal and professional confidence.
Leading and Managing Systems
The module explores leadership and management, contemporary issues and current trends in order to enhance quality assurance and to support change that may improve the educational/child centred experiences of children in the early years. The module content encourages students to identify their settings'/ work place needs and to work collaboratively with the staff, other professionals, children and their families in order to devise and implement an action plan for creating improvement and change.
You will explore the concept of children's voice through a range of theoretical perspective. In doing so you will develop a critical understanding of how to support children's voice, participation and agency in a professional context.
Pedagogical Leadership in Play
This module encourages students to develop a critical and comprehensive understanding of the key principles of pedagogical leadership within play and learning environments. Both contemporary and classical theoretical frameworks concerning leadership and management are critically evaluated with a view to exploring how such theories afford us a frame through which to view and develop best practice in leadership. The module focusses on the diverse ways in which early years practitioners design, develop, execute and assess pedagogical leadership in play and learning.
Socio-Historical Aspect of Childhood
This module is designed to provide an insight into the social, historical and cultural construct of 'childhood'. C hildhood is made up of a series of discourses influenced by shifts in political policy, economic factors and industry needs, cultural influences, religion, philosophy, technology and the changing needs of society. Content will investigate the impact of such change upon children, the notion of 'childhood', and the place of children within society from a historical perspective. Key factors affecting children's lives throughout the ages will be discussed and the concept of 'childhood' explored through a range of theoretical perspectives and social contexts.
The modules listed above for this course are regularly reviewed to ensure they are up to date and informed by industry as well as the latest teaching methods. On occasion, we may need to make unexpected changes to modules – if this occurs, we will contact all offer holders as soon as possible.
Entry requirements
Academic: A relevant HND or a foundation degree in the areas of Early Years, Childcare or Advanced Practice with Children and Families, with 240 credits.
GCSEs: GCSE/IGCSE English language and maths grades A*-C/9-4 or equivalent.
Students on this course are subject to the Code of Professional Conduct and Fitness to Practise Policy, together with a Disclosure and Barring Service (DBS) check. University College Birmingham will co-ordinate and fund the completion of the DBS check.
If you are unsure if your previous qualification is suitable, please contact us before completing an application. You can complete our enquiry form here or call us on 0121 604 1040
Academic: European and international qualifications studied in a relevant subject matter will also be considered. Applicants will need to have achieved 120 ECTS or equivalent (European Credit Transfer).
GCSEs: GCSE/IGCSE English language and maths grades A*-C/9-4 or equivalent. For international students where English is studied as a second language, you will need to take a recognised English Language equivalency test delivered by A Star Equivalency.
Students on this course are subject to the Code of Professional Conduct and Fitness to Practise Policy, together with a Disclosure and Barring Service (DBS) check. University College Birmingham will coordinate and fund the completion of the DBS check. Please note you will also need to undergo a Criminal Records check in your home country and supply University College Birmingham with a Certificate of Good Conduct.
If you are unsure if your previous qualification is suitable, please contact us before completing an application. You can call us on 0121 604 1040 or complete our enquiry form below.
Key information
Additional qualifications and training
To support your employability, a Paediatric First Aid and a Food and Hygiene certificate will be offered as part of your degree course. University College Birmingham will fund these requirements for all students.
A variety of other enrichment opportunities will also be offered to further widen your skills and knowledge base in support of your future career and study aspirations, with funding available via Kick-Start (see information below).
UK students
If you are a UK student enrolling on a standard-length Foundation Degree or a BA/BSc at University College Birmingham, your fee for this academic year will be £9,250. A half-year tuition fee is £4,625. There will be no change to this tuition fee for the forthcoming two academic years (2023/24 and 2024/25).

View undergraduate fees
International students
If you are an international student enrolling on a full-time foundation degree or a BA/BSc in 2023/24, your fee for this academic year will be £13,500 per year. The course fee for academic year 2024/2025 is £14,000 per year.
If you complete a placement year, there will be an administration fee of £500 for a full year or £250 for a half-year placement.
As a new student studying this course full-time, you will receive £300 per year through our Kick-Start Scheme (UK students only, eligibility criteria applies). This scheme will support your studies and future career by contributing to course-related materials, uniform or selected items on campus. You may also qualify for an additional £500 per year.
Find out more about the Kick-Start Scheme here.
Unibuddy Community - meet other students on your course
Starting university is an exciting time, but we understand that it can sometimes feel a little daunting. To support you, you will be invited to join our Unibuddy Community, where you can meet other students who have applied for the same course at University College Birmingham, before you start studying here.
As soon as you have been made an offer, you will be sent an invitation email to complete your registration and join the Unibuddy Community. For more information, check out our Unibuddy Community page.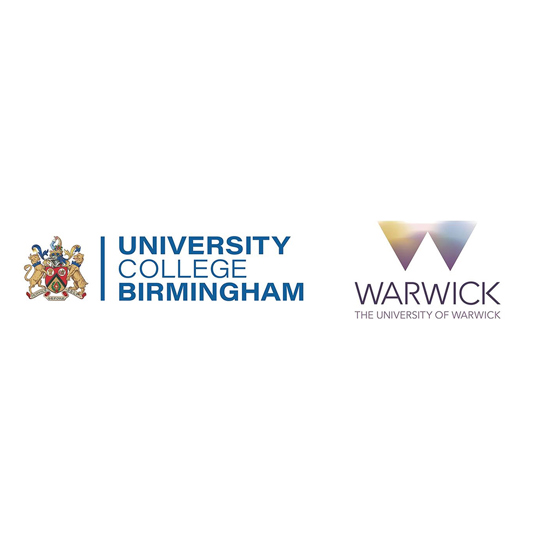 This course is accredited by the University of Warwick.
Accreditations, endorsements and partnerships
University College Birmingham works with a wide range of organisations to ensure you receive the best possible training and qualifications recognised by industry.
of newly qualified teachers were employed in a teaching role within six months of completing training 
Work placements
Work placements are vital for gaining real-life experience and for building your confidence and skills before you finish your course – and they may even lead to a job when you graduate. Our Hired team can help find the ideal placement for you.
Our BA Early Childhood Studies top-up course includes a mandatory requirement of 200 hours on placement, with the setting determined by your eventual career choice.
Work alongside experts in your sector
A snapshot of some of the employers we have worked with:
Aston University Nursery & Pre-school
Birmingham Centre for Arts Therapies
Arden Primary School
Queen Alexandra College
James Brindley Parkway
Little Scallywags Day Nursery
St Thomas Centre Nursery

This degree course is highly versatile. You are encouraged and supported in trying different things – I completed placements in nursery schools, primary schools and social care, which has helped me understand the path I want to take. Regardless of the routes you choose, you are given so much support.
Career opportunities
Note: Some roles below may require further study/training. The roles and salaries below are intended as a guide only.
Family support worker (graduate)
Average Salary: £35,000
Mental health nurse
Average Salary: £33,951
Social worker (NHS)
Average Salary: £31,071
Learning mentor
Average Salary: £22,500
Early years teacher/primary school teacher
£26,000/£29,364
Special educational needs coordinator (SENCO)
Average Salary: £30,172
Hired
We are here to support your career goals every step of the way. 

John's Story
John has made a huge difference to people's lives since graduating, including working with vulnerable children as a support worker.