Why should I choose this course?
INDUSTRY APPROVED – You will be able to apply for registration with the HCPC and for CSP membership when you graduate
PRACTICE-BASED LEARNING – Experience the exciting and dynamic areas of the profession by undertaking 1,000 hours of practice-based learning across a broad range of settings

PRACTICAL APPLICATION

– Hone your practical skills in our state-of-the-art facilities, along with the chance to develop, advertise, manage and lead a 'pop-up' physiotherapy practice at the University
EXPERT TEACHING – Get excellent support from our experienced academic lecturers and guest lecturers with clinical expertise in a variety of areas
AWARD-WINNING UNIVERSITY – Study at the highest-ranking university in the region according to student choice (Whatuni Student Choice Awards 2023)
Our facilities
University College Birmingham offers a variety of cutting-edge facilities to support your physiotherapy training, including our purpose-built Health Skills and Simulation Suite.
Course breakdown
Human Anatomy and Physiology
Excellent knowledge and understanding of the human body and its function is essential for a career in physiotherapy. This year-long module will cover the whole musculoskeletal system, nervous system and cardiovascular system. Innovative teaching techniques and digital technology enhances your learning experience.
Academic and Professional Development
This module facilitates your transition to higher education through a structured delivery of academic study skills relating specifically to your physiotherapy programme. The scope of the module will extend beyond that of lectures and will invite you to play a central role in your own academic development, aided by online screencasts and virtual classrooms. Study skills will focus on written English and maths specific to physiotherapy, scientific enquiry and towards improving achievement.
Musculoskeletal Studies 1
This module introduces basic skills in musculoskeletal assessment, including the assessment of joints, muscles and ligaments, developing clinical reasoning skills based on functional anatomical knowledge. You will get to practise your manual techniques, including handling skills, positioning and accessory movements. Manual therapy will be introduced and you will have the opportunity to practise this in our open access teaching rooms.
Health across the Lifespan
This engaging module looks at the human lifespan and the challenges that occur from a physiotherapy perspective, from embryonic development, birth and early childhood development, through to adolescent biological and emotional maturity. Adulthood brings many changes to our bodies, from maximal fitness to cancer, life-limiting diseases and fluctuating mental health. The ageing process is complex and poses many challenges as we struggle to maintain independence and what happens when we can no longer care for ourselves. The biomedical, behavioural, physical and social science bases of physiotherapy practice are investigated in this fast-moving module.
Practice-based Learning 1 and 2
These modules will allow you begin to gain the knowledge and skills required for practice. They will be delivered on campus in a variety of formats. They may include but are not limited to: simulation, role play, virtual reality, remote online and digital learning activities. We will also be utilising our state-of-the-art simulation suite in delivery, giving you the opportunity to be immersed in a safe, realistic and challenging learning environment.
This module includes an introduction to physiotherapy approaches to enhance movement and minimise impairment in a range of neurological conditions. You will gain understanding of life-long conditions and the complex management required, as well as learning basic assessment and rehabilitation skills through practical lessons and taught sessions. The impact of neurological conditions will be discussed through the perspective of the patient, their families and from society as a whole.
Cardiovascular and Respiratory Studies 1
Prevention and healthy living will be promoted in this empowering module. Many medical conditions are a result of unhealthy lifestyles. This module will look at the health of our surrounding communities, touching on inequalities in health and services available to support people potentially at risk of developing cardiovascular and respiratory conditions. Accompanying this, you will gain knowledge and insight into cardiovascular pathologies and respiratory conditions, learning the key skills in assessment and management of conditions.
Musculoskeletal Studies II
Your skills will be further developed from the previous musculoskeletal module. You will be using clinical reasoning skills to further enhance your assessment, treatment and rehabilitation knowledge and learn to apply this knowledge to a range of case scenarios. You will extend your knowledge and understanding of more complex presentations, utilising the biopsychosocial approach to optimise the impact of physiotherapy interventions. A person-centred approach is embedded into these interventions, which is essential to prepare you for your practice placements.
Research for Physiotherapists
As the 21st century progresses and we move ever further into a digital age, having the knowledge and skills to navigate this area is vital to be an effective practitioner. This research module is based on the Topol Review, which will ensure students have a good knowledge of the digital future and will form the basis for the research project that will be taken in the final year. It aims to develop analytical thought through a range of research processes, allowing students to increase their appreciation of scientific and clinically-based research methods. Furthermore, this module aims to develop students' critical thought of current research and practice and consider how the digital future will change the experiences of the service user.
Practice-based Learning 3 and 4
These modules will be delivered in a clinical environment off campus, in a range of settings provided by our clinical partners. This allows the opportunity for you to experience first hand what it feels like to be a physiotherapist and build on the practice-based learning modules of Year 1.
Complexity in Physiotherapy Practice
This module continues to build upon your neurological physiotherapy skills. You will refine your therapeutic handling, and learn about the patient journeys faced by people affected by permanent impairment from neurological damage. You will utilise case studies and problem-solving skills to encourage professional thinking 'outside the box'. You will be looking at opportunities for children and people with life-limiting neurological conditions in our local communities and review the access to these services, enabling education and employment when appropriate.
Cardiovascular and Respiratory Studies II
This module continues to look at the management of patients with conditions affecting the heart and lungs. This revealing module explores aspects of palliative care, as well as reviewing the management of the unwell patient in the intensive care setting. You will develop skills suitable for working in the acute setting using our simulation facilities, practising your respiratory management in a safe and engaging environment.
Research for Allied Health Professionals
This is a key project which will develop independent learning, problem solving, analysis and data presentation skills. Learners will deepen their knowledge in a selected area of the Topol Report and apply it to the profession, by choosing an area to be explored. This may be a review of a health care service, a clinical audit or a number of journal submissions on the same topic. All methods are supported by an additional poster presentation.
Practice-based Learning 5 and 6
These modules will be delivered in a clinical environment off campus, in a range of settings provided by our clinical partners. This allows the opportunity for you to continue to grow in confidence, hone your skills and knowledge and prepare you for the workplace.
The modules listed above for this course are regularly reviewed to ensure they are up to date and informed by industry as well as the latest teaching methods. On occasion, we may need to make unexpected changes to modules – if this occurs, we will contact all offer holders as soon as possible.
Entry requirements
Access to Higher Education Diploma: 128 UCAS Tariff points including a minimum of 30 Level 3 credits at Distinction in one of the following subjects: health science, health professional, biomedical science, biosciences, social science and health, science, science for health practitioners.
A-levels: Grade profile of BBB, including grade B in biology or physical education.
T-levels: A T-level in Science with an overall Merit grade.
BTEC: Grade profile of DDM from one of the following subjects:
Applied science, applied biomedical science, applied human biology.
Sports and exercise science, health and social care - These two subject areas must include an anatomy and physiology unit.
DDM can be achieved from either an Extended Diploma or a combination* of smaller BTEC qualifications.
*If you are not studying an Extended Diploma in one of the related course subjects above, we will also consider 6, 9 or 12 Unit BTECs in the subject areas stated providing you are also studying additional level 3 qualifications that would sufficiently meet our tariff requirements.
Irish Leaving Certificate: Grade profile of three subjects at H2 including biology and one subject at H3. The remaining tariff points can be made up of Higher or Ordinary subject grades.
Tariff: Other Level 3 qualifications are accepted at University College Birmingham for entry and a minimum of 128 UCAS Tariff points will be required from a vocationally relevant subject matter. To find out if your qualifications are suitable to apply, please contact our Admissions team on 0121 604 1040 or complete our enquiry form here.
GCSEs: GCSE/IGCSE maths and English language grades 9-4 (grade A*-C) or equivalent. GCSE equivalent qualifications include Functional Skills Level 2, Key Skills Level 2 or Learn Direct Level 2.
Irish Leaving Certificate grades of the following will be accepted as GCSE equivalencies in the subjects above:
O1-O4 or A1-C3 (Ordinary Level)
H1-H7 or A1-D3 (Higher Level)
We would expect GCSE qualifications to have been achieved prior to applying for this course. However, we will consider applications from students with one GCSE qualification pending.
Students must also complete an Enhanced Disclosure and Barring Service (DBS) check. The University will coordinate and fund the completion of the DBS check. Further information is available regarding the DBS check – the requirements prior to entry onto the course can be found here and a summary of the documents required for the application process can be found here.
Graduate Entry: A 2:2 or above in a related area will also be considered.
If you have any questions about applying to University College Birmingham for this course, please complete our enquiry form here.
The Admissions team will use the entrance criteria, as well as your personal statement, reference and work experience information, to shortlist candidates for interview. 
Successful applicants will be invited to an interview which will comprise multiple mini interviews (MMIs). You will be assessed on your motivation and understanding of the role of a physiotherapist. You will also complete a series of case scenarios and tasks while being assessed on your performance by different assessors, who may include members of the health teaching team, patients, practice educators and experienced clinicians. This will give a fair insight into your abilities, giving you the opportunity to demonstrate more than just your academic ability. Further details of the process will be sent to you if you are shortlisted.
Non-academic entry requirements
It is expected that applicants gain voluntary work or work experience shadowing a physiotherapist in order to have a good, clear understanding of what the profession entails. It might be that you have work experience organised, but haven't undertaken it yet. If so, please don't let this stop you from applying – we just need to know what your plans are to demonstrate your commitment to and passion for the profession.
We do understand, however, that this is not always easy to obtain and if this is the case, we would encourage applicants to gain knowledge in other ways. You could speak with qualified physiotherapists, read industry publications or do some research online. Useful websites include The Chartered Society of Physiotherapy and NHS Health Careers.
Pre-course health and immunisation requirements
For entry requirements for EU and international students, please visit the Country Specific Information page.
English Requirements: Overall IELTS score of 7.0 – a minimum of 7.0 in reading, listening and speaking, and a minimum of 6.5 in writing.
Key information
Note: Indicative information only – actual timetables and assessment regimes will be issued at your induction. 
Teaching 
Learning strategies include: 
Practical lessons

 

Small seminars

 

Self-directed study

 

Placement learning opportunities

 
Assessment
Assessment formats include:
Practical exams
OSCEs (Objective Structured Clinical Examinations)
Written multiple choice questions
Written assignments
Our teaching and assessment is underpinned by our Teaching, Learning and Assessment Strategy 2021-2024.
Physiotherapy students are required to wear uniforms on placements (trousers and tunic). These uniforms can be purchased through the Kick-Start scheme at no cost to the student (see the Kick-Start information tab below).
University College Birmingham will provide you with a polo shirt to be worn during practical and skills-based activities on campus.
The Chartered Society of Physiotherapists student membership costs £41.26 and can also be paid for through our Kick-Start scheme, as well as core reading books from the course reading list.
Additional course costs may include travel expenses to and from placements, parking charges and the occasional overnight accommodation costs for placements that are further away from Birmingham. To meet these course costs, student physiotherapists can apply for the NHS BSA Learning Support Fund.
All student physiotherapists are entitled to apply for £5,000 per year. There are additional means-tested funds available for students with dependants or in financial hardship situations.
UK students
If you are a UK student enrolling on a standard-length Foundation Degree or a BA/BSc at University College Birmingham, your fee for this academic year will be £9,250. A half-year tuition fee is £4,625. There will be no change to this tuition fee for the forthcoming two academic years (2023/24 and 2024/25).

View undergraduate fees
International students
If you are an international student enrolling on a full-time foundation degree or a BA/BSc in 2023/24, your fee for this academic year will be £13,500 per year. The course fee for academic year 2024/2025 is £14,000 per year.
If you complete a placement year, there will be an administration fee of £500 for a full year or £250 for a half-year placement.
As a new student studying this course full-time, you will receive £300 per year through our Kick-Start Scheme (UK students only, eligibility criteria applies). This scheme will support your studies and future career by contributing to course-related materials, uniform or selected items on campus. You may also qualify for an additional £500 per year.
Find out more about the Kick-Start Scheme here.
Unibuddy Community - meet other students on your course
Starting university is an exciting time, but we understand that it can sometimes feel a little daunting. To support you, you will be invited to join our Unibuddy Community, where you can meet other students who have applied for the same course at University College Birmingham, before you start studying here.
As soon as you have been made an offer, you will be sent an invitation email to complete your registration and join the Unibuddy Community. For more information, check out our Unibuddy Community page.
of graduate employers say relevant experience is essential to getting a job with them
Work placements
Practice-based learning both on campus and in clinic environments is vital for gaining real-life experience and for building your confidence and skills before you finish your course – and may even lead to a job when you graduate.
Our BSc Physiotherapy course requires you to accrue 1,000 hours of practice-based learning activities by the end of your degree.
Work alongside experts in your sector
A snapshot of some of the employers we have worked with:
University Hospitals Birmingham NHS Foundation Trust
Birmingham and Solihull Mental Health NHS Foundation Trust
Birmingham Community Healthcare NHS Foundation Trust
Birmingham Women's and Children's NHS Foundation Trust
Solihull Council Social Care Team
Worcester Acute Hospitals NHS Trust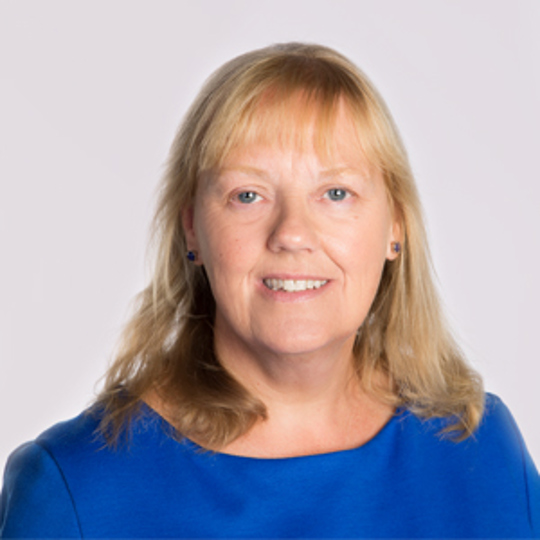 Now more than ever, the knowledge and skills of the physiotherapist are required as part of a multi-disciplinary team. On this course, you will be taught by skilled physiotherapists and lecturers and supported in your early placement by experienced physiotherapy practice educators, preparing you for a long and rewarding career.
Career opportunities
The example roles and salaries below are intended as a guide only.
Physiotherapist
Average Salary: £33,834
Senior physiotherapist
From £30,401 to £37,267
Clinical specialist/team leader
From £37,570 to £43,772
Sports physiotherapist
Average salary: £23,000 – £45,000
Want to take your studies to the next level? Completing the BSc (Hons) degree will enable you to move onto our postgraduate courses such as Enterprise Management MSc/PGDip.
Hired
We are here to support your career goals every step of the way.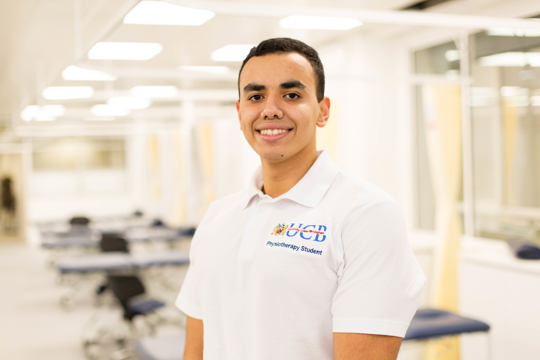 Kevin's Story
Kevin picked University College Birmingham for his Physiotherapy degree after a twist of fate inspired him to pursue a rewarding career in rehabilitation