Why should I choose this course?
ACCELERATED DEGREE – Start your future in just two years with our accelerated primary education degree, with the opportunity to progress onto teacher training or move directly into industry
WORK PLACEMENTS – Test your training in the real world on multiple work placements in a variety of industry settings, from schools and charities to museums and theatres
PROGRESS TO PGCE

 

–

 

Complete our degree and you will have the opportunity to progress onto a teacher training course with our partners at the University of Warwick (see more details below)

SPECIALISE YOUR STUDIES – We work with you to provide experience relevant to your career aims, allowing you to explore particular roles and sectors within the education field
AWARD-WINNING UNIVERSITY – Study at the University of the Year offering the best Student Support in the UK (WhatUni Student Choice Awards 2022)
Our facilities
Our learning spaces at University College Birmingham ensure you have the right environments to build your knowledge, from lecture theatres to interactive group working spaces and extensive library resources.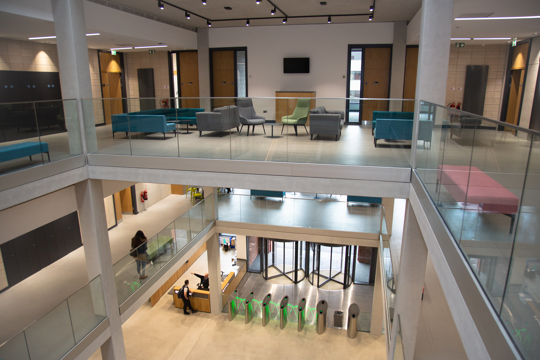 Our new £44 million Moss House campus includes an exhibition space to showcase your work to assessors and prospective employers, as well as our Enterprise Hive service which helps budding entrepreneurs with start-ups

Our campus buildings feature lecture theatres equipped with the latest technology, as well as comfortable tutorial and seminar rooms and private meeting rooms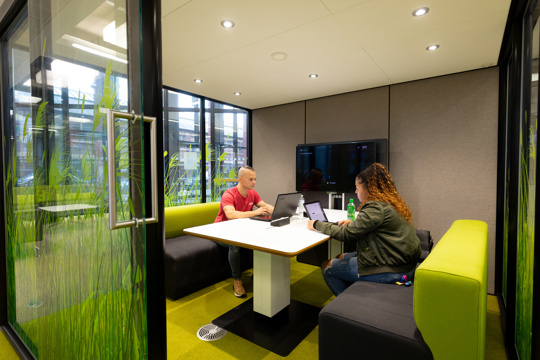 Located in our McIntyre House campus, ThinkSpace features glazed study pods to discuss group projects and glass wipe boards to mind-map your ideas
Course breakdown
This is a two-year accelerated degree course. Level 5 study takes place in the second semester of Year 1 and the first semester of Year 2.
Introduction to Education Studies
Education is a process, a subject and an academic discipline. This module aims to develop your awareness of all three and is designed to help you transition from previous experience and learning to undergraduate study. It provides you with essential skills to support you throughout your degree, including academic writing, presenting and collaborative working, as well as exploring all the elements that make education studies unique.
The Developing Learner 1: An Introduction to Neurological and Physical Development
Children are born ready to learn, however it is the quality of a child's experiences in the first few years of life that can have a lasting impact on their ability to be mentally and physically healthy. The basic architecture of the brain is constructed through an ongoing process that begins before birth and continues into adulthood. This module will therefore invite you to explore the factors, both internal to the child and environmental influences, that may contribute to supporting healthy brain and physical development. It acknowledges that the developing brain is open to influential experiences, both positive and negative, and will examine key issues, theories and debates related to the developing learner.
History of Education in the UK
This module explores education in the UK, from early examples of formal schooling to the present day, to provide a context for historical and contemporary ideologies. It encourages you to take an analytical approach and enables you to challenge and critique educational policy, values and related provision. You will explore key themes such as societal impact, equality, special educational needs, the role of the state, social justice and economic influences while developing your ability to access, organise and evaluate information to develop coherent academic discussion.
Exploring the Learning Environment
This work experience module is designed to help you identify the ways teaching and learning can be organised in a range of settings. It will offer you the chance to select contrasting opportunities to enable you to evaluate how environment impacts on the educational experience of all involved.
Early Learning and the Primary Curriculum
How does policy influence pedagogy? What is the difference between a curriculum and a framework for learning? This module provides you with a chance to look at how different countries draw upon a range of theories in order to plan for learning for children aged 3 to 11. You will learn about the Early Years Foundation Stage (EYFS) and the National Curriculum for England in order to compare these with other examples from around the world. You will also begin to identify your own views on appropriate pedagogies for the primary age phase depending on subject and context.
Theories of Reflective Practice in Education
In this module, you will develop your understanding of the importance of reflection to inform professional practice in a primary education context. You will explore contemporary theories of reflection, examining how these can be applied in order to provide insight for teaching and learning. You will be encouraged to explore personal beliefs and the potential impact of these on your own professional practice, and on the practice of others, in order to equip you with reflection as a professional competence. You will work collaboratively, through discussion and applied tasks, to evaluate research related to reflective practice, in order to develop your understanding of how teaching and learning can be effectively tailored to meet learner requirements.
Ideology and Sociology in Primary Education
This module focuses on the purpose and impact of primary education on wider society. It examines underlying educational ideologies and agendas, as well as the organisation and delivery of primary education, in both historical and modern-day contexts. Exploration of theory associated with the sociology of education will support you to consider if and how the primary education system, and its associated practices, have challenged or created inequalities in society. You will also have opportunities to critically evaluate alternative educational approaches.
The Developing Learner 2: Understanding Cognition, Language and Behaviour
Learning is a complex and ongoing process based on how we make sense of our world using new information and experiences. This module builds on The Developing Learner 1 and explores the relationship between cognition, language and behaviour. You will examine key issues, theories and debates in relation to how children's patterns of thinking, language and behaviour are constantly changing in response to the interactions they have with others and their environment. You will be invited to consider the complexities associated with both the internal and external factors that may influence children's cognitive function, their language acquisition and behaviours.
Developing Professional Practice in Education
This module will help you identify what professional behaviours are expected in education settings. You will explore the frameworks used by teachers and childcare workers in the UK to judge professional standards and competences, and then use these during work-based placements to identify the attributes associated with educational provision.
Philosophy, Ethics and Values in Primary Education
The role of the educator has an important ethical dimension that should not be overlooked. Educators must uphold certain ethical standards within their practice to ensure that they act as a 'good' role model to their students and that they provide them with a 'good' education. But what constitutes a good role model or a good education? The moral education of children only becomes more ethically complex as the student population in the UK becomes increasingly more diverse, resulting in a more diverse set of identities and potentially conflicting values being encountered within the classroom. The modern digital world we live in adds further complexity to both the lives of children and those who must educate them to be able to manage this complexity successfully. Contemporary educators have to negotiate this ethical landscape and encounter challenging ethical dilemmas in carrying out their role. They must think and act with special care when making ethical judgements that concern the needs and interests of their pupils. In this module, you will explore some of the interesting and important ethical issues raised here and reflect on your own values and philosophical positions in consideration of how these influence educators' practice.
Contemporary Issues and International Perspectives on Primary Education
Education is a global concern. This module aims to develop your awareness and understanding of key educational issues and debates from contemporary Britain and around the world. It will encourage you to select data sources, analyse current research and argue a personal position in relation to a self-selected topic, chosen from those studied during the module.
Inclusion, Diversity and Equality in Education Settings
This module explores how social and cultural experiences have implications for diverse learners' education in mainstream and SEN settings. You will explore issues of equality and difference in relation to primary education both in the UK and globally, looking at relevant legislation and practice in order to justify your own position based on principles of equality of access, provision and outcomes.
Educational research helps us to understand the process of learning and teaching. In this module you will be introduced to the guidelines, skills and competences needed to explore a self-selected topic relevant to primary education. You will be supported by a dissertation tutor to plan and carry out a research project, including the development of an ethical approach, data collection methods and analytical skills.
The modules listed above for this course are regularly reviewed to ensure they are up to date and informed by industry as well as the latest teaching methods. On occasion, we may need to make unexpected changes to modules – if this occurs, we will contact all offer holders as soon as possible.
Entry requirements
A-levels: Grade profile of 112 UCAS points from a minimum of 2 A-levels (e.g. A*A* or BBC) in any subject combination.
T-levels: A T-level with an overall Merit grade
BTEC: Grade profile of DMM from any subject. This can be achieved from either an Extended Diploma or a combination of smaller BTEC qualifications.
Tariff: Other Level 3 qualifications are accepted at University College Birmingham for entry. A minimum of 112 UCAS Tariff points will be required from a vocationally relevant subject matter.
GCSEs: GCSE/IGCSE maths, English language and science grades A*-C/9-4 (no equivalence).
Students on this course are subject to the Code of Professional Conduct and Fitness to Practise Policy, together with a Disclosure and Barring Service (DBS) check. University College Birmingham will co-ordinate and fund the completion of the DBS check.
of graduate employers say relevant experience is essential to getting a job with them
Work placements
Work placements are vital for gaining real-life experience and for building your confidence and skills before you finish your course – and they may even lead to a job when you graduate. Our Hired team can help find the ideal placement for you.
Our accelerated BA Primary Education Studies degree course features two placement modules (one per year), placing you within a range of settings in order to gain hands-on experience of the different areas where education professionals may work.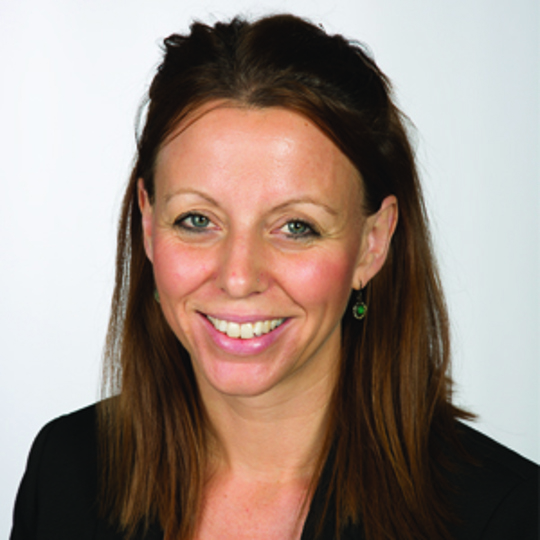 Aimed at future education professionals, practitioners and policy-makers, our innovative, accelerated two-year course is designed to provide students with a critical understanding of this phase of education – both in the UK and internationally – to help them evaluate how theory, policy, ideology and practice impact on young learners.
Career opportunities
Note: Some roles below may require further study/training. The roles and salaries below are intended as a guide only.
Community education officer
Average Salary: £28,000
Museum education officer
Average Salary: £24,000
Education administrator
Average Salary: £33,500
Education consultant
Average Salary: £32,500
Learning mentor
Average Salary: £22,500
Primary school teacher
Average Salary: £29,364
Hired
We are here to support your career goals every step of the way.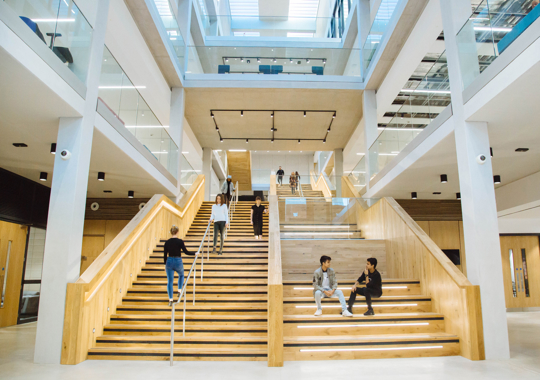 Kate's Story
Kate couldn't be more excited about introducing this first-of-its-kind degree designed to launch a host of careers in the education of primary-aged children.