Why should I choose this course?
RESIDENTIAL VISITS – Boost your understanding of the global scale of sports business with residential trips to experience how sport operates abroad – past destinations have included Italy, Germany, Switzerland and Poland, with essential costs covered by the University
ENRICHMENT – Get out of the classroom and into industry with visits to Commonwealth Games venues, football stadiums and St George's Park (home of the FA), as well as hearing from top industry speakers
IN-DEPTH RESEARCH – Carry out your own research project and analyse an area of sports management that matches your interests and career aims
INDUSTRY APPROVED – Boost your employability by studying a course aligned with industry expectations, as well as becoming a CIMSPA student member when you enrol
AWARD-WINNING UNIVERSITY – Study at the highest-ranking university in the region according to student choice (Whatuni Student Choice Awards 2023)
Our facilities
Students on our sports courses at University College Birmingham have access to a wide range of excellent facilities. Our campus features a dedicated Human Performance Centre, cutting-edge gym and sports injury and massage clinics, while you also have access to the state-of-the-art facilities at nearby Avery Fields, thanks to our partnership with local rugby club Bournville RFC.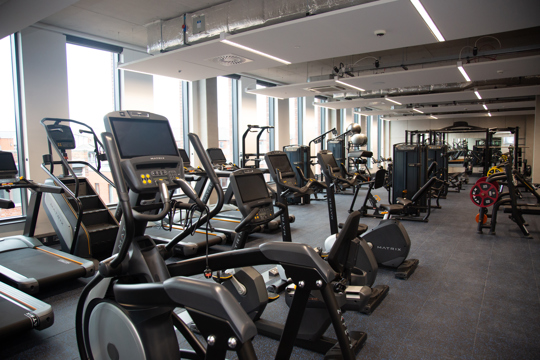 Our Human Performance Centre includes a 35m sprint track (with force plate) and sled track, eight lifting platforms, 7m rig and large screens displaying live analysis data
Our purpose-built Human Performance Laboratory features the latest equipment including an anti-gravity treadmill, isokinetic dynamometer, Monark LC7 cycle ergometer and SECA body composition analyser
Our sports clinics on campus are open to the public and provide the ideal environment for our sports students to put training into practice treating and assessing patients
The impressive £3m Avery Fields complex – which we share with Bournville RFC – boasts an all-weather pitch, two grass pitches and a clubhouse with function room and modern changing facilities
Course breakdown
Management, Leadership and Coaching
In an ever-changing and challenging business environment, strong leadership is vital to business success. To become adept in such changing times, individuals need to develop personal leadership skills. Initially, the module introduces contemporary theories and models underpinning leadership. From this, students will be given an opportunity to develop personal leadership skills, including coaching, mentoring and communication. The module will also enable students to reflect on prior and existing leadership experience, work through case studies, business insights and engage in critical dialogue with others to develop their own leadership skills.
Sport and eSports Marketing
You will develop a broader understanding of the fastest growing sport on the planet - eSports - and use this knowledge to apply strategic marketing concepts in real industry situations. This module will provide you with an in-depth knowledge of how to use your understanding of digital and traditional marketing concepts and apply these strategically to the world of eSports. You will analyse major eSports events and tournaments and use your knowledge of the eSports eco-system to present solutions to live case study scenarios.
Sports Management Project
In this module you will apply the research skills and knowledge acquired at Level 4 to provide a critical judgement of the literature under review regarding its value, quality and contribution to theory and practical application or provide a new perspective from which to view an individual research concern in the field of sport.
Strategic Sports Event Management
You will be provided the unique opportunity to apply management project skills to a real case study where you will follow the phases and guidelines for project management. You will be involved with the project management process at all stages culminating towards a timely and budgeted outcome. In doing so, you will focus on developing strategies to ensure a successful outcome.
The modules listed above for this course are regularly reviewed to ensure they are up to date and informed by industry as well as the latest teaching methods. On occasion, we may need to make unexpected changes to modules – if this occurs, we will contact all offer holders as soon as possible.
Entry requirements
Academic: A relevant HND or a foundation degree in the area of Sports Management, with 240 credits.
If you are unsure if your previous qualification is suitable, please contact us before completing an application. You can complete our enquiry form here or call us on 0121 604 1040
Academic: European and International qualifications studied in a relevant subject matter will also be considered. Applicants will need to have achieved 120 ECTS or equivalent (European Credit Transfer).
If you are unsure if your previous qualification is suitable, please contact us before completing an application. You can call us on 0121 604 1040 or complete our enquiry form: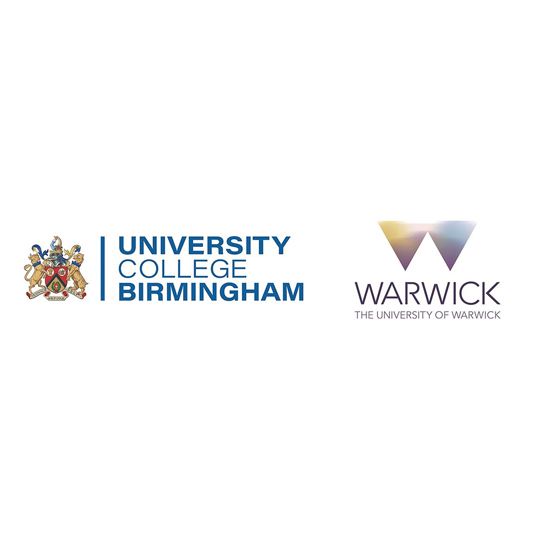 This course is accredited by the University of Warwick.

This course is accredited by the Digital Marketing Institute (DMI)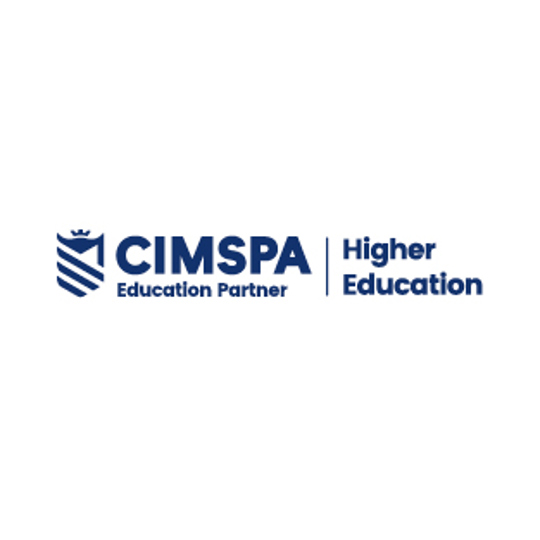 University College Birmingham is a higher education partner of the Chartered Institute for the Management of Sport and Physical Activity (CIMSPA).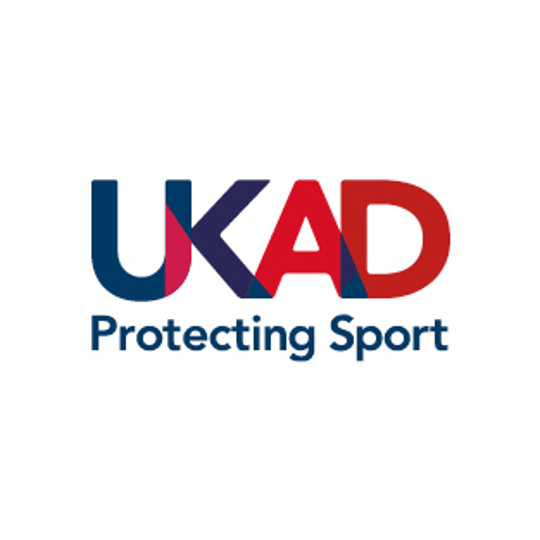 University College Birmingham adopts the UK Anti-Doping (UKAD) and World Anti-Doping Agency (WADA) position that cheating, including doping, in sport is fundamentally contrary to the spirit of sport and undermines the otherwise positive impact of sport on society. View our Clean Sport Commitment statement here.
Accreditations, endorsements and partnerships
University College Birmingham works with a wide range of organisations to ensure you receive the best possible training and qualifications recognised by industry.
of graduate employers say relevant experience is essential to getting a job with them
Work experience
Work experience is vital for learning how to apply your training in the real world and for building your confidence and skills before you finish your course – and it may even lead to a job when you graduate. Our Hired team can help you find suitable work experience.
We encourage students on our BA Sports Management top-up course to gain work experience throughout your studies.
Work alongside experts in your sector
A snapshot of some of the employers we have worked with:
Sport4Life
Anytime Fitness Edgbaston
The Pumphouse Gym
Tempest Executives
The Clubhouse, Solihull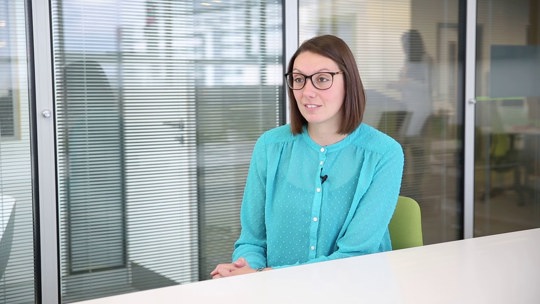 I loved the mix of business and sports modules. There are also annual residential course trips, small class sizes and plenty of variation in assessment methods. I was encouraged to embrace the business modules as much as the sport modules, as they are just as useful for my career.
Career opportunities
The example roles and salaries below are intended as a guide only.
Fitness centre manager
Average Salary: £23,000 – £30,000
Sports development officer
Average Salary: £30,000
Sports coach
Average Salary: £32,500
Event manager
Average Salary: £33,000
Marketing executive
Average salary: £26,500 – £30,500
Performance analyst
Average Salary: £35,910
Hired
We are here to support your career goals every step of the way.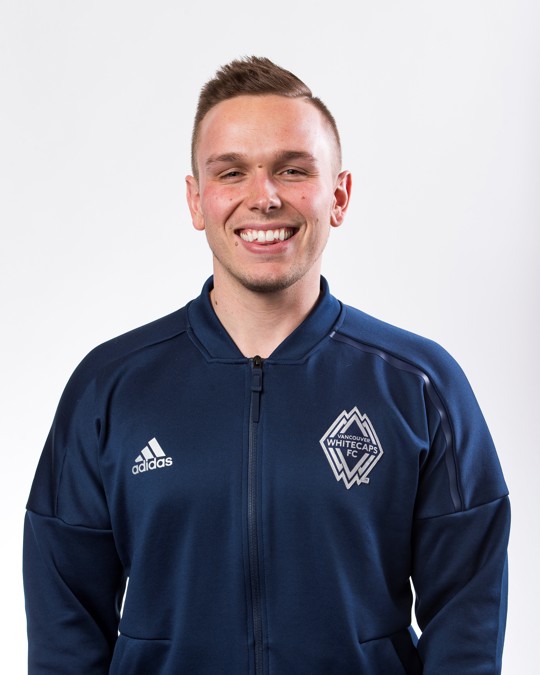 Tom's Story
Tom is having a ball as marketing strategist for a Canadian Major League Soccer team, and it all started at University College Birmingham.