Why choose this college course?
BOOST YOUR SKILLS – Get to grips with a variety of techniques from photographic make-up to face painting and dressing hair
PRACTICAL APPLICATION – Perfect your skills by training and working in our cutting-edge make-up studios on campus
WORK PLACEMENT – Put your training into practice in the real world through placement opportunities ranging from spas and salons to stage productions
There are lots of reasons why we think you should study with us, but here are our top 5. 
View video.
Our facilities
University College Birmingham has a range of state-of-the-art teaching facilities and equipment for students on our hair and make-up courses, including purpose-built make-up studios, prosthetics and special effects studios and a media workshop.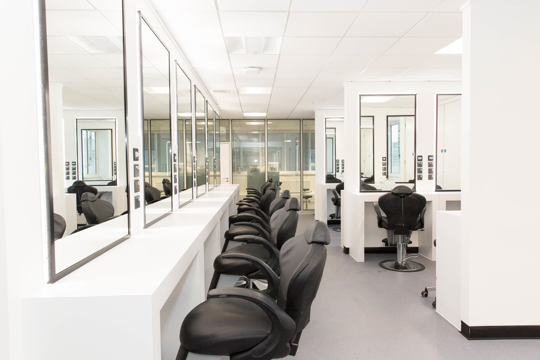 We have fully-equipped make-up studios on campus where you can hone your practical skills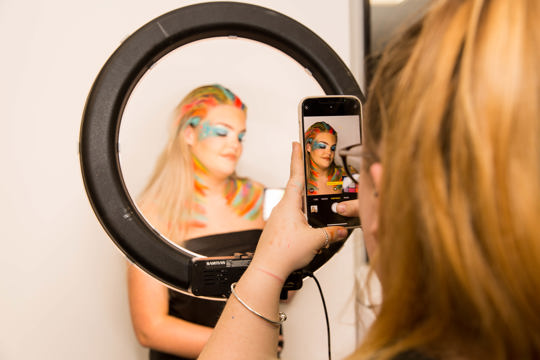 Our Media Workshop allows you to learn how to perfect your hair and make-up work for the camera and how to light, compose and take professional studio shots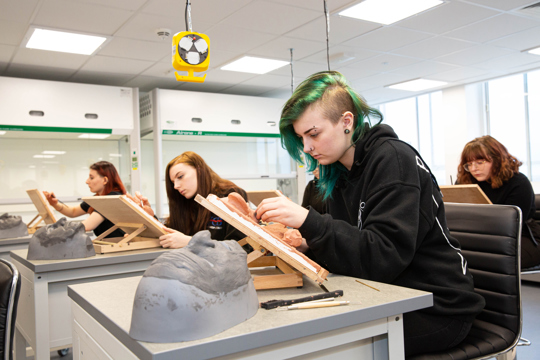 Our prosthetic studios include purpose-built spaces for processes such as creating full theatrical looks, instructing clients on make-up and preparing your model for a photoshoot
Course breakdown
The art of dressing hair​
The art of photographic makeup​
Apply makeup​
Client care and communication in beauty-related industries​
Follow health and safety practice in the salon​
Create an image based on a theme within hair and beauty sector
Optional units ​
Body art design​
Cut women's hair​
Colour and lighten hair​
Shampoo and condition the hair and scalp
Please note: Units/topics of study are subject to change
You will also have an individual study programme to help you build the skills and experience you need to progress onto higher education or gain employment.
Maths and English
To help you secure your dream career, you will also continue developing your maths and English skills alongside your full-time course. If you haven't achieved GCSE grade 4/C in English and maths at age 16, you will continue to study these through resits or taking Functional Skills at an appropriate level.
How maths will support your career
Ratios are very important, for example when mixing hair dye
Basic addition and subtraction are important in calculating the costs of equipment/products and managing stock.
Percentages are key in working out customer discounts.
Area and perimeter are important when designing and arranging a salon space.
How English will support your career
Accurate spelling and a wide and specialist vocabulary are key in the presentation of hair and beauty products and services.
Good quality speaking and listening skills are needed when communicating with colleagues.
Customer service requires good English skills in speaking and written communication.
Accurate reading is a vital skill when following instructions for hair/beauty products and treatments.
Secure English is important when preparing a CV or business proposal, or when advertising/marketing your business.
Entry requirements
Our hair and make-up lecturers are looking for students who are committed, enthusiastic and have a desire to succeed in the industry, so please contact Admissions if you do not have the specific requirements outlined below.
If you are unsure if your qualification is equivalent or if you wish to check if you meet the entry requirements for this course, please call 0121 214 2919, email feadmissions@ucb.ac.uk or use our live chat.
4 GCSEs at grade 3 (grade D) or above, or equivalent.
A minimum GCSE English Language and Maths at grade 2 (grade E) is also required.
If you do not have a grade 4/C or above in English and maths and you are under 19, you will be required to study these subjects alongside your vocational subject. After enrolment you will complete an assessment with our teaching team so we can ensure you receive appropriate English and maths support.
Applicants over 19 are not required to complete maths and English.
Supporting documents required
School applicants will be required to provide a good school report, which must include attendance. This will be assessed in conjunction with your qualifications and application during the confirmation of your place at University College Birmingham.
If you are a school leaver (over 19), you will be required to provide a reference from a previous education provider or employer in support of your application.
Key information
Assessment takes place in a realistic working environment, which could include shows and competitions as well as work on clients and fellow students. You need to be prepared to work both independently and as part of a team. There are also written papers and assignments.
Our teaching and assessment is underpinned by our Teaching, Learning and Assessment Strategy 2021-2024.
This course requires a uniform and kit costing approximately £320, depending on the items you purchase. (Prices are subject to change each year – exact costs and information on how to order required items will be provided to you prior to enrolment.)
You may be eligible for the Learner Support Fund, which assists college students with course-related costs such as essential uniform, equipment and travel. For more information, please visit our Financial Support for College Students page.
of graduate employers say relevant experience is essential to getting a job with them
Work placements
Work placements offer a wealth of benefits alongside your studies, helping you put your learning into practice, develop your skills and understanding of the workplace, boost your CV for your chosen career or enhance your UCAS application for higher education. Our Hired employability team can help find the ideal placement for you.
As part of your Level 2 hair and media make-up course, you will attend a work placement. The length of time and schedules vary between days and block weeks, with opportunities available within salons, spas, theatrical productions and face painting in schools.
Work alongside experts in your sector
A snapshot of some of the employers we have worked with:
Crescent Theatre
Hall Green Little Theatre
Central School of Make-up
Vanity Doll Salon
Anawim Women's Centre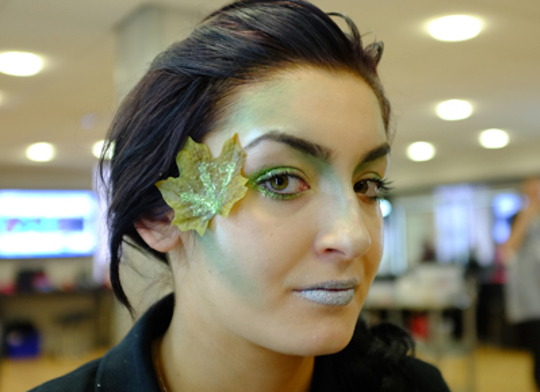 I looked at different colleges in Birmingham, but this one had the best course with more to offer. In hair, we have paying customers in the salon, which is really good experience.
Career opportunities
On completion of the Level 2, you could progress onto our Theatrical Media Make-up Level 3 course, or you could pursue a range of employment opportunities within the industry.
Note: Some roles below may require further study/training. The roles and salaries below are intended as a guide only.
Hairdresser
Average Salary: £22,000
Hair stylist
Average Salary: £17,709
Make-up artist
Average Salary: £21,161
Hired
We are here to support your career goals every step of the way.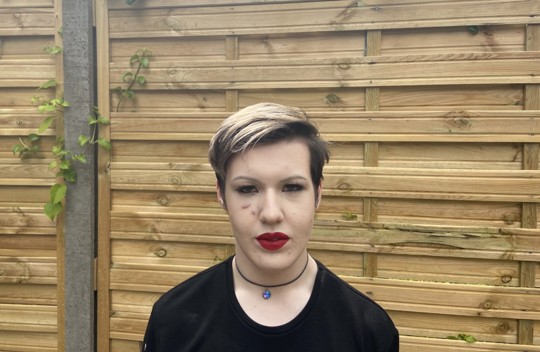 Sean's Story
Sean was drawn to his course because it was so different to those offered by other colleges, taking him one step closer to his dream of glamming up the runway.