Why choose this college course?
PRACTICAL APPLICATION – Get unbeatable practical experience serving customers in our training restaurant and cocktail bar on campus
WORK PLACEMENT – Enjoy opportunities to put your skills into practice in the real world on work experience placements
ENRICHMENT – Enjoy an unrivalled enrichment programme, including opportunities to enter industry competitions on the global stage
RECOGNISED QUALIFICATION – Complete this course and receive a Level 2 Diploma in Professional Food and Beverage Service, opening the doors to Level 3 study and beyond
TEAM SCOTLAND PARTNERSHIP – Our University will be the home for Team Scotland at the 2022 Commonwealth Games in Birmingham, offering exciting opportunities for our students to work with the team and its athletes
There are lots of reasons why we think you should study with us, but here are our top 5.
View video.
Our facilities
University College Birmingham is renowned for its outstanding food industry training facilities. Our award-winning restaurant on campus provides the perfect environment for students on our food and drink service courses to boost their skills across different service styles.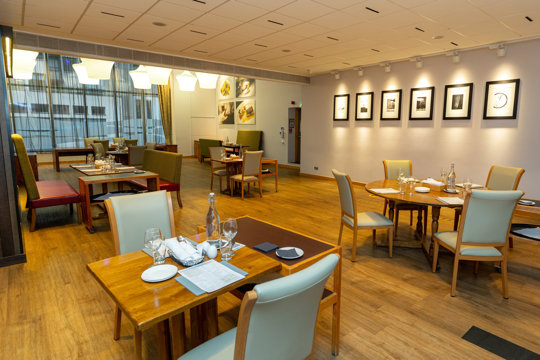 Open to the public, our AA Rosette Highly Commended restaurant on campus – Restaurant at Birmingham College of Food – will arm you with hands-on skills, from serving fast food to silver service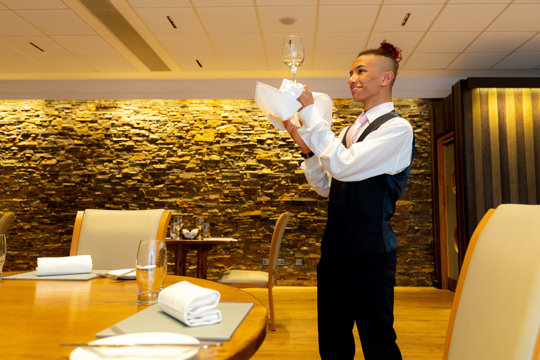 Open to the public, our AA Rosette Highly Commended restaurant on campus – Restaurant at Birmingham College of Food – will arm you with hands-on skills, from serving fast food to silver service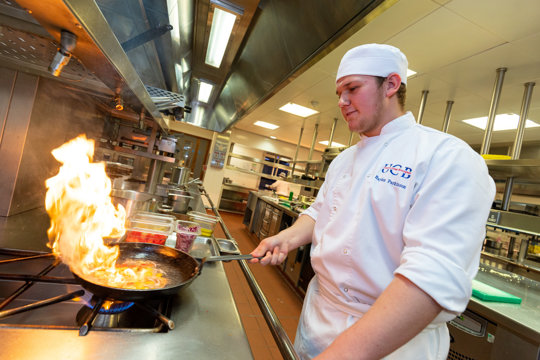 Our training restaurant and industry-standard kitchens provide you with a unique behind-the-scenes view of the hospitality and catering industry during your studies
You can also access our cutting-edge Food Science and Innovation Suite, including a dedicated mixology suite where you can learn everything from developing cocktails to boosting barista skills

You can also access our cutting-edge Food Science and Innovation Suite, including a dedicated mixology suite where you can learn everything from developing cocktails to boosting barista skills
Restaurant Skills
Table Theatre
Menu Knowledge
Beverage Product Knowledge
Bar and Introduction to Mixology
Wine Knowledge and Service Skills
Customer Care and Sales
Wine and Food Pairing
Promotion of Product
You will also have an individual study programme to help you build the skills and experience you need to progress onto higher education or gain employment.
Maths and English
To help you secure your dream career, you will also continue developing your maths and English skills alongside your full-time course. If you haven't achieved GCSE grade 4/C in English and maths at age 16, you will continue to study these through resits or taking Functional Skills at an appropriate level.
How maths will support your career
Making measurements (including weighing) in serving food and drink properly
Making adjustments for time and temperature in food preparation
Using fractions for recipes and serving sizes
Using geometry to enhance the presentation of food
Handling nutritional data to inform choices about health and balanced diet
Effective stock management in restaurants and bars
How English will support your career
Using accurate spelling and specialist vocabulary for presenting quality menus
Developing good speaking and listening skills for communicating with colleagues and customers
Improving your reading accuracy when following instructions and recipes
Enhancing your CV or advertising your business with the correct use of English
Ideally, you will require a minimum of 4 GCSEs at grade 3 (grade D) or above. However, our hospitality lecturers are looking for students who are keen to work in a customer-focused environment and who would like to develop 'soft skills' like communication and teamwork to boost personal development, so please contact us if you have not achieved these grades.
School applicants will be required to provide a good school report, which must include attendance.
You should be committed, enthusiastic and have a desire to succeed in the hospitality industry.
You will be assessed throughout your course as you work towards completing your Level 2, including observation, practical duties and assignments. The emphasis is on practical assessments.
Our teaching and assessment is underpinned by our Teaching, Learning and Assessment Strategy 2015-2020.
This course requires a uniform and kit costing approximately £110, depending on the items you purchase. (Prices are subject to change each year – exact costs and information on how to order required items will be provided to you prior to enrolment.)
You may be eligible for the Learner Support Fund, which assists college students with course-related costs such as essential uniform, equipment and travel. For more information, please visit our Financial Support for College Students page.
Join the conversation and check out the latest updates from Birmingham College of Food.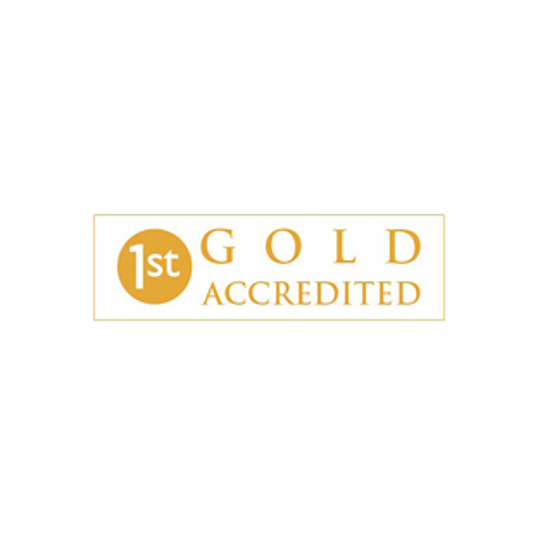 University College Birmingham has People 1st Gold Hospitality accreditation, and carries Centre of Excellence status for Patisserie and Confectionery, Food and Beverage Service, Fish and Shellfish, and Butchery and Game.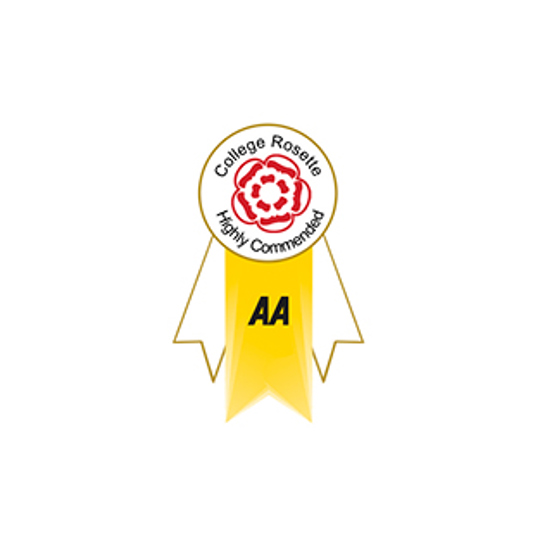 Our training restaurant at Summer Row has a Highly Commended AA College Rosette.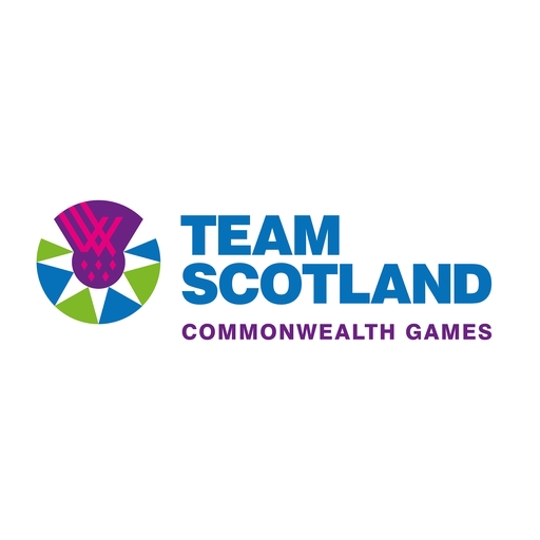 University College Birmingham will be the home of Team Scotland at the 2022 Commonwealth Games.
Accreditations, endorsements and partnerships
University College Birmingham works with a wide range of organisations to ensure you receive the best possible training and qualifications recognised by industry.
of graduate employers say relevant experience is essential to getting a job with them
Work placements
Work placements offer a wealth of benefits alongside your studies, helping you put your learning into practice, develop your skills and understanding of the workplace, boost your CV for your chosen career or enhance your UCAS application for higher education. Our hired@UCB team can help find the ideal placement for you.
Alongside training in our restaurants and kitchens on campus, students on our college food service courses have the opportunity to gain additional experience on placements in settings such as corporate hospitality, banqueting, restaurants, hotels or licensed premises such as pubs and cocktail bars. Placements can last from 70-350 hours dependent on the level of study, with many of our past students subsequently being offered part-time jobs.
Work alongside experts in your sector
A snapshot of some of the employers we have worked with:
Simpsons (Birmingham)
Purnell's (Birmingham)
Opheem (Birmingham)
Adams (Birmingham)
Park Regis (Birmingham)
Amadeus (Birmingham)
Village Hotel and Leisure Club (Dudley)
Forest of Arden Marriott Hotel and Country Club (Warwickshire)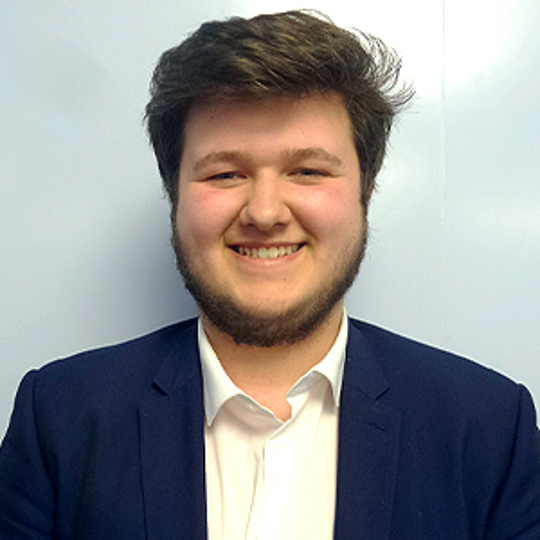 As part of my course, I get to serve real-life customers in the working training kitchens. This gives you a great introduction to the industry and experience first-hand. Most colleges just do the theory, so it's really good to have the practical side, especially for a practical learner like myself.
Career opportunities
On completion of the Level 2, you could progress onto our Mixology, Advanced Wine, Supervision and Events Level 3 course, or you could pursue a range of employment opportunities within the industry.
Note: Some roles below may require further study/training. The roles and salaries below are intended as a guide only.
Public house manager / gastro pub manager
£27,500 - £38,000
Restaurant manager (casual dining – Michelin)
£25,000 - £42,000
Catering supervisor (cafeteria, events, Nando's)
£17,761 - £19,500
Hotel manager (small hotel or deputy of larger hotel)
£27,500 - £31,000
Wine merchant
Average Salary: £25,500
Butler (private households, royalty)
£17,000 – £100,000
hired@UCB
We are here to support your career goals every step of the way.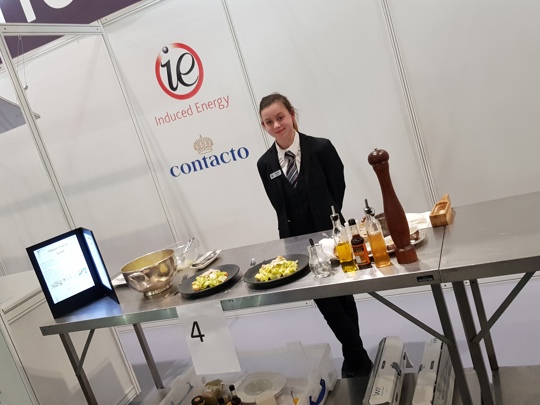 Georgia's Story
If you'd told Georgia in 2016 that she'd make the semi-finals of UK Young Chef Young Waiter of the Year, she'd never have believed you.