August 2022
Creative UCB students get Commonwealth Games athletes camera ready
By Melanie Hall
Share post:
From flag nail art and make-up to barbering and Afro braiding, a creative team of University College Birmingham students is getting the world's top athletes ready for the cameras at the 2022 Commonwealth Games.  
Hundreds of athletes have already booked in with the team of 30 hair, make-up and beauty students at a specially-built pop-up salon at the Athlete Village in Edgbaston. 
As well as getting athletes ready for competitions and the opening and closing ceremonies, it gives the sporting stars a chance to be pampered with relaxing face and body treatments, manicures and pedicures during their much-needed downtime.  
"This is such an extraordinary, once-in-a-lifetime opportunity for our students"
Norwegian Hairdressing Level 3 student Muna Abdirahman has already had some high-profile clients in her chair.  
They include Olympic gold medallist Peruth Chemutai, who is set to compete in the Women's 3000m Steeplechase at the Commonwealth Games and is the only female Ugandan to have won an Olympic medal, as well as hockey ace Doris Antwi, who is representing Ghana.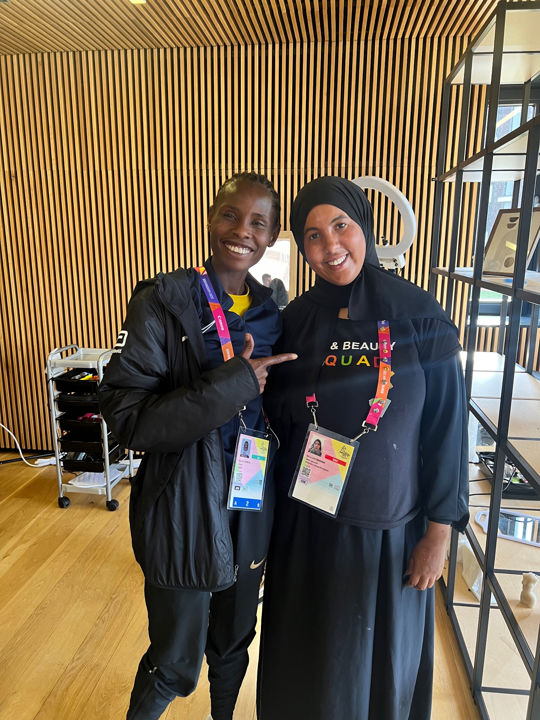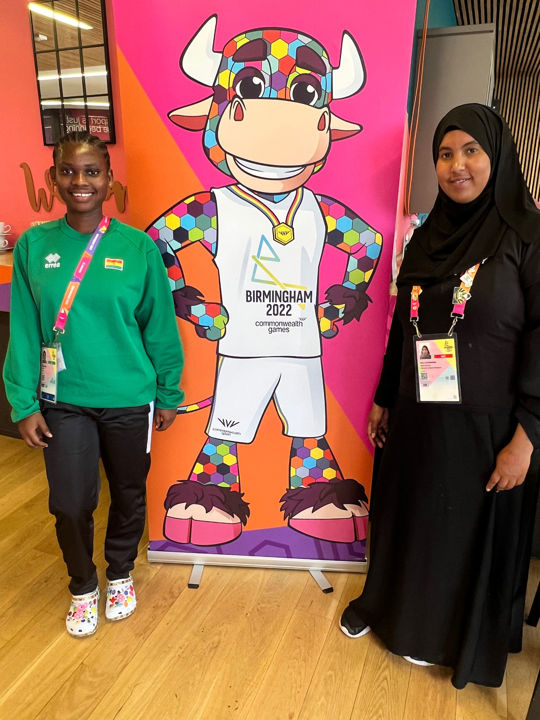 Level 3 student Muna Abdirahman has worked with Uganda's Peruth Chemutai and Ghana's Doris Antwi
Employability tutor Cherry Buckley said: "Athletes have very little time to get off-site and pamper themselves during the Games, and we are hugely proud to have won the contract to get them feeling their absolute best and ready for events.
"This is such an extraordinary, once-in-a-lifetime opportunity for our students. And it's a paid opportunity too, a real chance for them to experience what it's like out in industry and at such a high-profile event."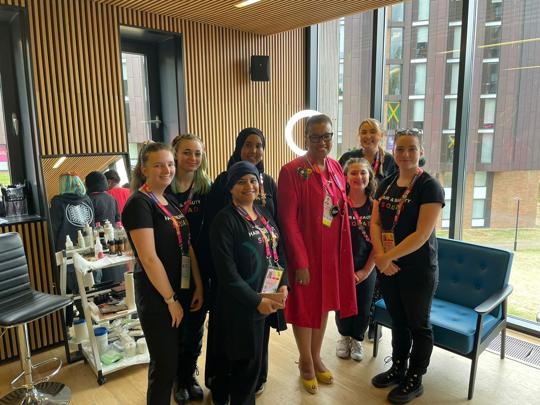 The team also met with Baroness Scotland at the salon
The University's Department of Creative Services have been contracted to prepare athletes for the cameras and events at the salon after impressing Games organisers with a range of skills, honed in the department's cutting-edge facilities.
The contract was won and organised by Cherry Buckley and Melissa Kay Hurlbutt from Hired, the University's employability, careers and placements service.
Over the past two months, students on the University's Specialist Hair and Media Make-up and Aesthetic Practitioner degrees and hairdressing, theatrical make-up and beauty therapy college courses have been working hard to perfect their skills. 
In pictures: Our creative students at work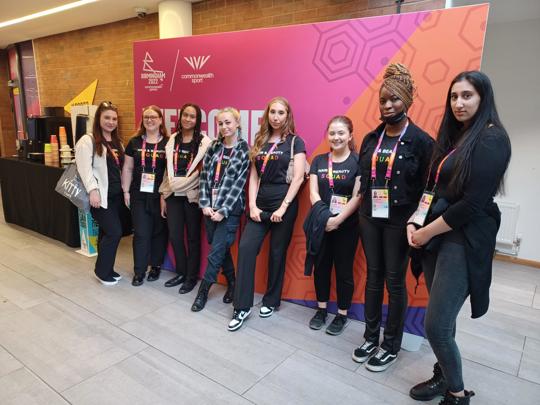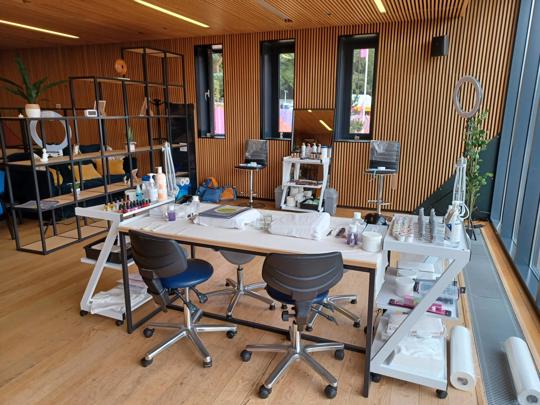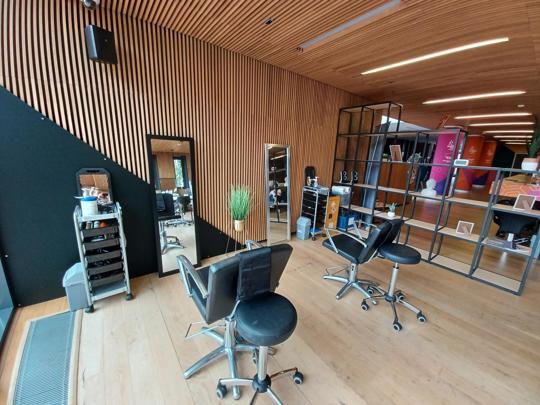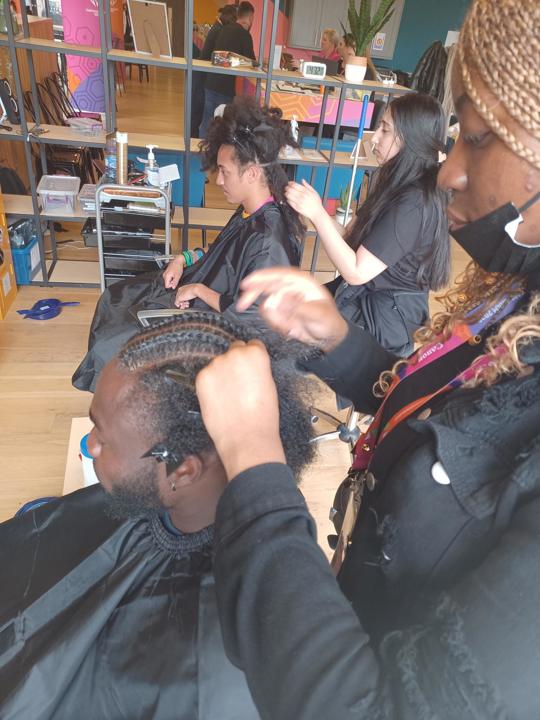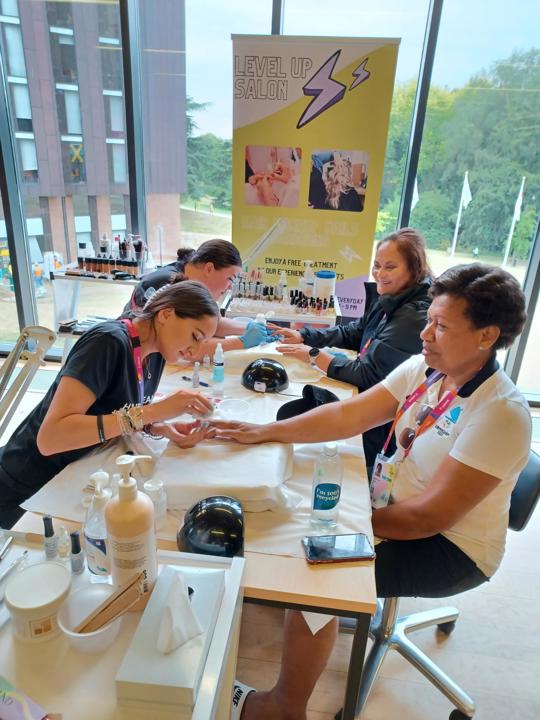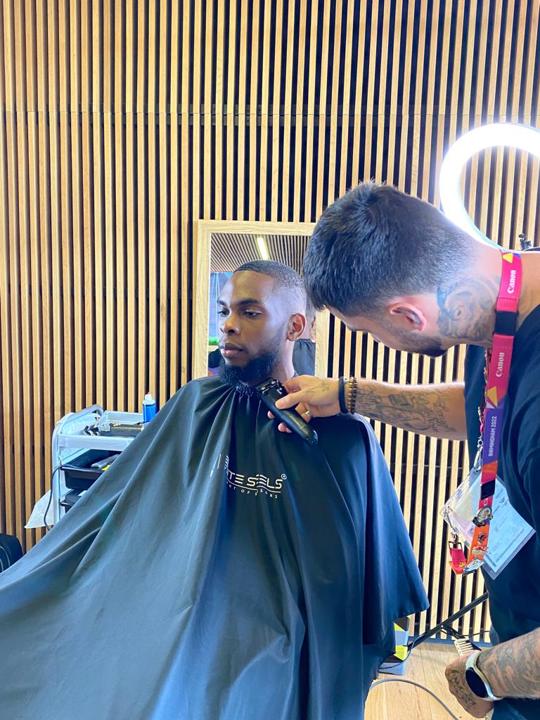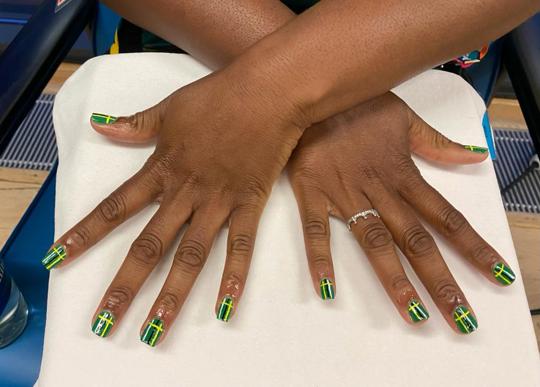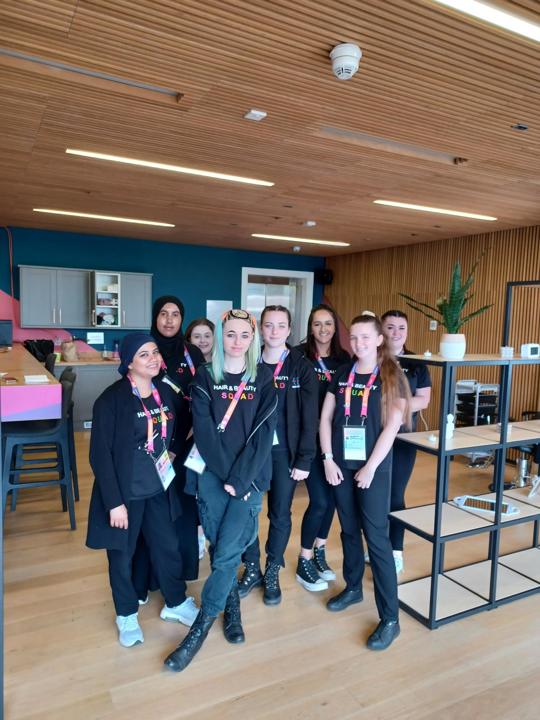 This included learning flag nail art to represent 72 countries and territories. 
The team have been supervised by 30 creative staff members, who also helped to select and provide training for the students in preparation for their Games roles.
Sian Day, one of the lecturer supervisors at the salon, said the first weekend had been very busy, with the majority of athletes booked in for barbering and nails. 
"We had 70 athletes booked in on Sunday," she said. "It was hectic, but such a friendly atmosphere, a chance for them to sit down and have a chat together. A bit of a break from the competing." 
Our students working at Birmingham 2022 salon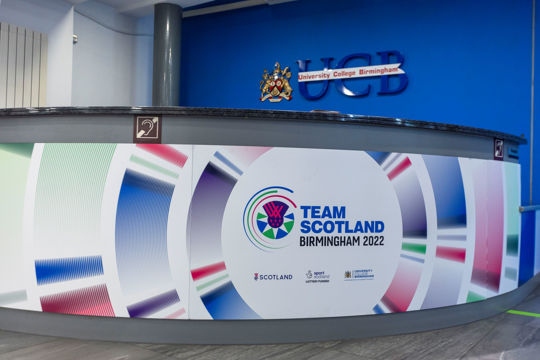 Commonwealth Games: How we're getting involved
The Birmingham 2022 Commonwealth Games is the largest sporting event to ever be held in the Midlands and pledges to attract more than one million spectators to the city.   
The multi-sport event will see around 4,500 athletes from 72 nations and territories compete in 19 sports across 15 competition venues.
Para sports are fully integrated into the competition programme and, for the first time in Games history, there will be more medal events for women than men.  
University College Birmingham, which is accredited by the University of Warwick and won University of the Year at the national Whatuni Student Choice Awards, is also the headquarters for up to 300 Team Scotland athletes and support staff during the Games.  
Becoming 'Scotland House' brings endless opportunities for students, from providing sports therapy and soft tissue support for Team Scotland athletes to covering the competitions and interviewing athletes as part of a digital team.    
Students on the University's food and front-of-house degree and college courses also get to play their part, catering for the team, family and friends, support staff and dignitaries as part of our Birmingham College of Food.    
Find out more about our courses within our Department of Creative Services.  
Check out our latest news stories