July 2023
Blog | Can I go through Clearing if I change my mind on my course?
By Melanie Hall
Share post: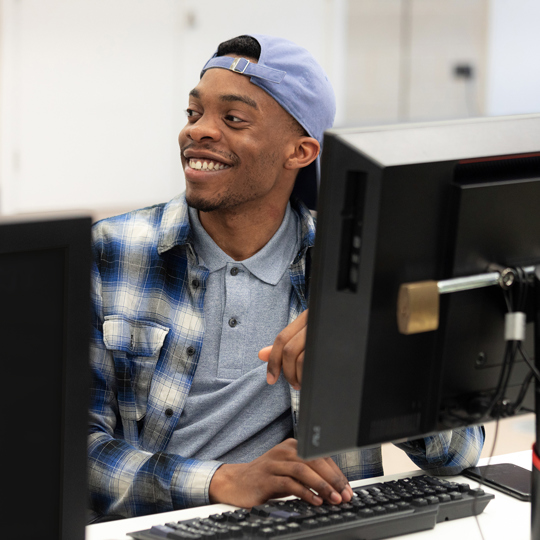 There are many good reasons you might choose to access a course through the Clearing system, so don't think of it as second best or a last resort, think of it more as a reset button when circumstances change.
You may not even have applied for university before, but are now ready for a September start. Or your gap year plans have not materialised. You might have decided you want to stay closer to home for personal, social or financial reasons.
And yes, it could be that you haven't achieved the results needed to get onto the course you were holding an offer for. Life happens, but most things are not insurmountable.
What is not always realised, however, is that a key reason for going through Clearing is that you've changed your mind on the course you want to study.
If you are having second thoughts on your course, take inspiration and courage from other students. You are not alone.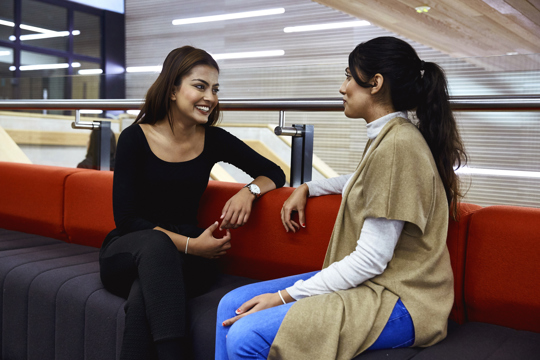 Change of heart
Said Onyemauwa was due to study marketing in Scotland until he had a change of heart. "It suddenly seemed plain and boring," said Said, who is now studying digital marketing at University College Birmingham.
"My uni Clearing experience was pretty good. No long wait time, staff were friendly and helpful. It felt like applying directly with the uni was easier than going through UCAS."
UCAS seemed daunting
Mature student Staci Lawrence wanted a career change and applied directly through Clearing. "I wanted a job in the health and social care sector, but worried about returning to education and the UCAS procedure seemed daunting."
However, the University College Birmingham Clearing team made the process easy.
"They gave me the confidence to apply and guided me through each stage. Clearing is stress free, opens up new opportunities and creates new adventures."
Dad encouraged me
Annabelle Marquis couldn't decide on one course, applied to a couple of universities, but wasn't successful. It was her dad who encouraged her not to give up on her university dream and to apply through Clearing.
"I researched the universities I wanted to call and I had all the details I needed ready. The staff at University College Birmingham were incredibly helpful and informative when I called them and they gave me an unconditional offer.
"In no time, I had all the details I needed to finish applying. Clearing was easier than I expected."
Empowered to do what you want to
Darcy Laceby was all set to study psychology before deciding to follow her passion.
"With one month to go, I decided I should do something I enjoy and I had always loved food," said Darcy, who went on to study food and innovation (now our Food and Nutrition BSc (Hons) degree), which proved to be a launchpad for the multi-million pound business she runs today.
"My teachers said they couldn't understand why I wanted to be a chef which made me feel 'aaargh!'. You should be empowered to do what you want to."
It does make sense to talk things over with parents or guardians, though. They will want what is best for you and what will make you happy, but it may come as a shock that you have changed direction. They will also be anxious that you are making the right decision and that it will lead to a job. So take them on the journey with you. Be clear on the reasons you have chosen your course and do your research - as much for your benefit as theirs. It will put minds at rest. If needed, the University offers guidance for parents and carers too.
So, if any of this sounds like you, why not contact admissions for a chat, or start a webchat? You have got nothing to lose, and everything to gain.
Clearing - what you can apply for
You can apply for a course using Clearing as long as you're not already holding an offer from a university or college, and the course still has places. For example:
You can apply for a different course at the same university
You can apply for the same course at a different university
You can apply for a different course at a different university
OR you can apply for the very first time through Clearing
The latter is particularly appealing if you don't want to play a waiting game as you will know if you are successful in a very short period of time.
Clearing Open Day and information webinars
Clearing opened on Wednesday 5 July 2023, but doesn't close until Tuesday 17 October 2023, so there is still time to plan the next stage of your life.
We are holding a Clearing Open Day on Saturday August 19, 10am-1pm, where you can get to know our campus better and speak with academic and support staff about everything from course content to financial help and support with mental health and wellbeing. You can book on here.
To help you through the process, University College Birmingham is also holding Clearing webinars on Thursday 10 August between 11-12pm and 6-7pm, with information on UCAS, Clearing procedures and student finance. You can book your place here.
Want to study in the highest-ranking university in Birmingham and the West Midlands, according to student choice? Visit our A-Z of Clearing degree courses.