Why should I choose this course?
PRACTICAL APPLICATION – Learn in our purpose-built computer labs including our Cyber Security Lab on campus
IN-DEPTH RESEARCH – Take on a substantial research project exploring an aspect of computing science in depth
AWARD-WINNING UNIVERSITY – Study at the highest-ranking university in the region according to student choice (Whatuni Student Choice Awards 2023)
Our facilities
Students on our computing university course will have access to computer labs specifically designed for this degree, while our new cyber security laboratory will enable students to learn and participate in cyber-related activities in a controlled environment.

Our Cyber Security Lab provides a controlled environment for students to learn and participate in cyber-related activities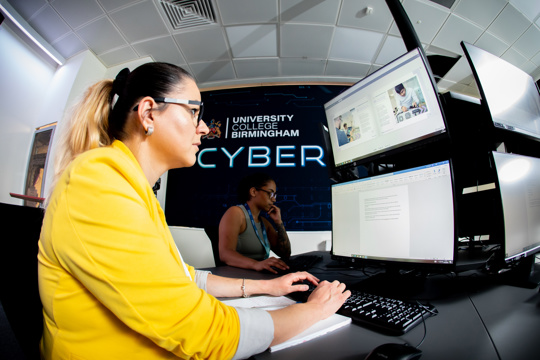 Located in Camden House, the Cyber Security Lab enables students to experiment and experience a range of cyber security scenarios safely using a discrete network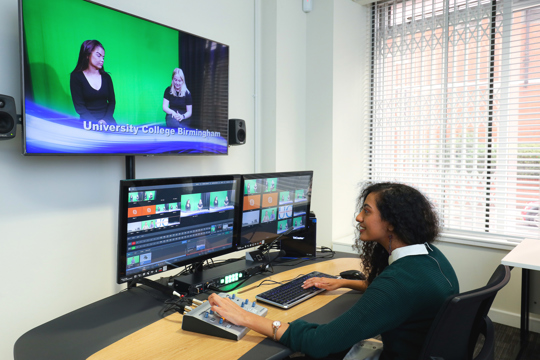 Based in Camden House, our computing facilities contain dedicated teaching labs complete with high-spec computers and industry-standard software
Course breakdown
Agile Software Development
The module studies in detail the activities associated with software development process as performed by a development team that adopts an Agile methodology. Topics covered include the concepts, principles, practice and philosophy of an Agile approach to software development. Students will work in groups to learn about collaboration: environment, programmer collaboration, team values, customer involvement, standards and reporting. The module covers planning, release, risk assessment and estimating. It also considers agile development: incremental requirements, customer tests, test-driven development, refactoring, simple design, incremental design and architecture, spike solutions and performance optimisation. Students will learn to manage agile projects: roles, values and team philosophy; management of scope and the business/economic issues such as time, cost, quality and risk.
The module will introduce the field of artificial intelligence and study the principal ideas and techniques in key topic areas including problem solving, knowledge representation and machine learning. The module will cover problem solving (problem representation, uninformed and informed search), knowledge representation (logic-based languages, e.g. description logic, and ontologies and the semantic web) and machine learning (symbolic learning, decision trees and Bayesian learning).
This module will provide an opportunity for you to conduct research into an unfamiliar aspect of Computing Science and enable you to develop and apply computing skills to a substantial problem. You will synthesise what you have learned from other modules and be provided with an opportunity to work independently.
This module covers the integration of network flexibility into the architecture and policies of a commercial network. It looks at the issues related to the security and productivity linked to the deployment of a BOYD policy and in the use of diverse integrated delivery models.
Professional Issues in the Computing Sector
The purpose of this module is to bring together material in the key areas of professionalism and careers, finance, health and safety, environmental concerns, law and intellectual property, in the context of the software industry. You will apply relevant computing-related legislation and professional codes of conduct to day-to-day situations that arise in business, and evaluate risks associated with those situations. You will also explain your five-year career plan and know what steps need to be taken to achieve it.
The modules listed above for this course are regularly reviewed to ensure they are up to date and informed by industry as well as the latest teaching methods. On occasion, we may need to make unexpected changes to modules – if this occurs, we will contact all offer holders as soon as possible.
Entry requirements
Academic: A relevant HND or a foundation degree in the area of computer science, with 240 credits.
If you are unsure if your previous qualification is suitable, please contact us before completing an application. You can call us on 0121 604 1040 or complete our enquiry form here.
Academic: European and International qualifications studied in a relevant subject matter will also be considered. Applicants will need to have achieved 120 ECTS or equivalent (European Credit Transfer).
If you are unsure if your previous qualification is suitable, please contact us before completing an application. You can call us on 0121 604 1040 or complete our enquiry form:

Accreditations, endorsements and partnerships
University College Birmingham works with a wide range of organisations to ensure you receive the best possible training and qualifications recognised by industry.
of graduate employers say relevant experience is essential to getting a job with them
Work experience
Work experience is vital for learning how to apply your training in the real world and for building your confidence and skills before you finish your course – and it may even lead to a job when you graduate. Our Hired team can help you find suitable work experience.
We encourage students on our BSc Computer Science top-up course to gain work experience throughout your studies.
Computing was recently placed as the number one most frequently required role for graduates, and the sector is also one of the best paid for graduates.  This course has been carefully researched to ensure subjects are current and relevant to the current IT sector job market.
Career opportunities
The example roles and salaries below are intended as a guide only.
Software developer
Average Salary: £31,000
Systems analyst
Average salary: £30,000 – £40,000
Database administrator (DBA)
Average Salary: £30,000
IT technical support officer
Average Salary: £28,000
Computer security consultant
Average Salary: £44,000
Web developer
Average Salary: £26,000
Hired
We are here to support your career goals every step of the way.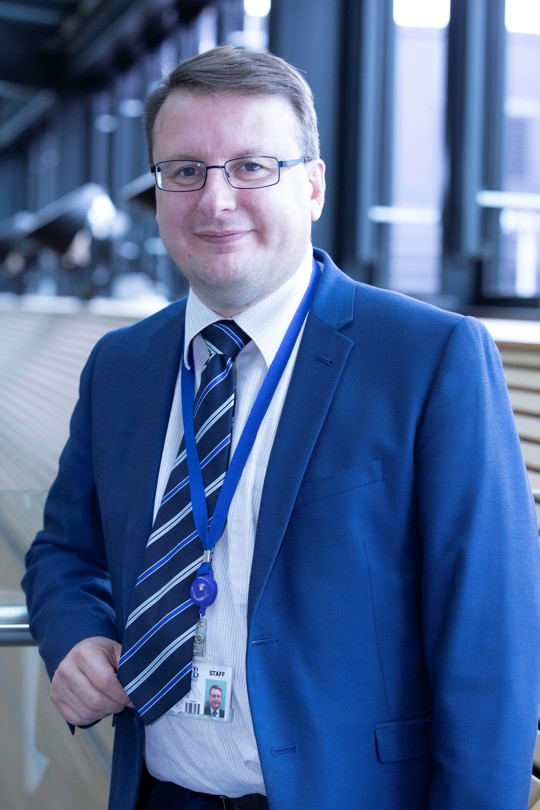 Ed's Story
Ed, who has a background in software development and managing computing departments, discusses the standout features of our computing degree.