November 2021
Rising Star Will aiming to inspire new generation of bakers after award win
By Darren Campbell
Share post:
A bakery graduate from University College Birmingham is eagerly hoping to inspire the next generation of young bakers after scooping a prestigious industry accolade.
Will Leet met with current Bakery and Patisserie Technology BSc (Hons)/FdSc students for a guest talk at the University earlier this week, fresh from being named this year's Rising Star at the 2021 Baking Industry Awards (BIA) last month.
The 34-year-old was recognised for his many achievements in the industry since graduating from his course in 2018, including working for celebrated Scandinavian chef-turned-baker Morten Schakenda at Bakeriet i Lom in Norway, as well as becoming assistant manager for manufacturing firm Quorn Country Foods on his return to the UK.
"I was helped as a student by people in the industry. Now I've got to a position where I can help them progress with their future"
Will, who now works on a variety of products for many leading brands as a bakery development technologist at David Wood Foods in Dudley, was presented with his Rising Star award by Strictly Come Dancing's Craig Revel Horwood, who hosted the BIA ceremony at London's Royal Lancaster Hotel on 21 October.
Sharing his impressive career journey with students at McIntyre House on Tuesday, Will now hopes this latest honour will help him inspire more young people to follow in his footsteps.
"This has given me a bit more recognition so others can see and aspire to it, and I can help them," he said.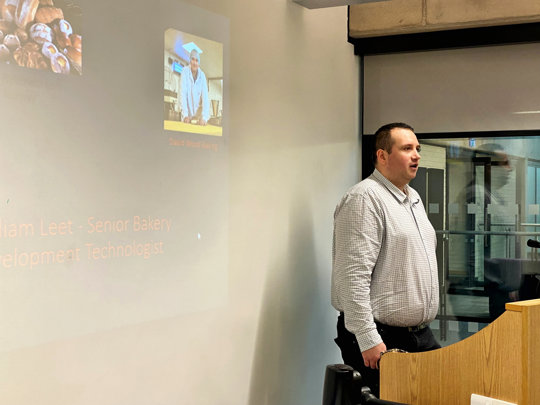 Will delivered a guest talk for current Bakery and Patisserie Technology students at McIntyre House
Will's passion for encouraging the next generation into the baking industry has already seen him support University College Birmingham students on internships at his current firm and deliver guest talks at the University, while he even has dreams of working as a bakery lecturer later in his career.
"I was helped as a student by people in the industry," he said. "Now I've got to a position where I can help them progress with their future.
"It's about keeping the industry alive. Bread is always going to be around, but it's getting younger people to come through into it.
"The talk went really well and it was good to see the students asking lots of questions – you could see they were interested."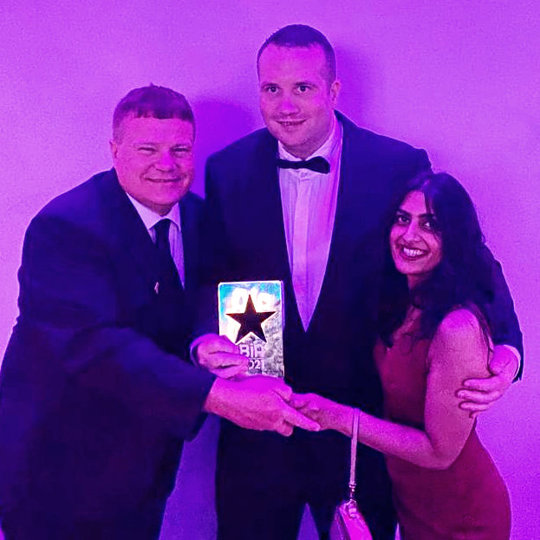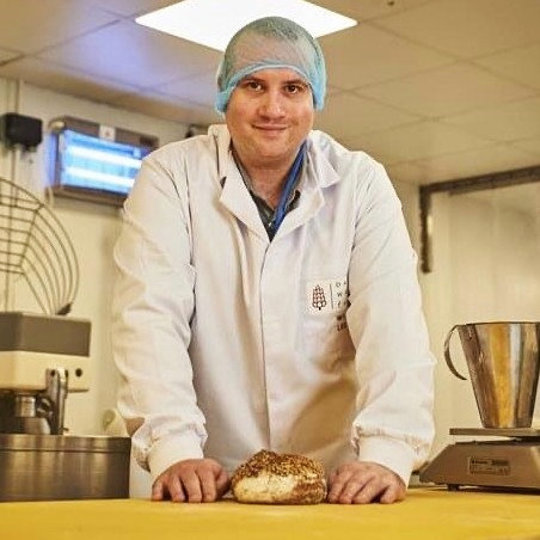 Will explained how his degree studies at University College Birmingham had played a pivotal part in his career journey to date, from valuable networking opportunities to getting hands-on training with the latest industry equipment on campus.
"While I was studying, we had guest speakers come in and they enabled me to make contacts with senior people in the industry," he said. "I met David Smart from Greenhalgh's Bakery and he found me the job in Norway while I was in the final year of my course.
"Sara Autton from Lesaffre was another contact I made as a guest speaker who used to come into the University. She actually recommended me to David Wood Foods, so they contacted me, and after interviews and trials, I got offered the job I have now.
"Everything you do on the course reflects the real working world," he added. "The facilities for baking are second to none, and the range of equipment in the food science labs is something even many companies in the industry would not have."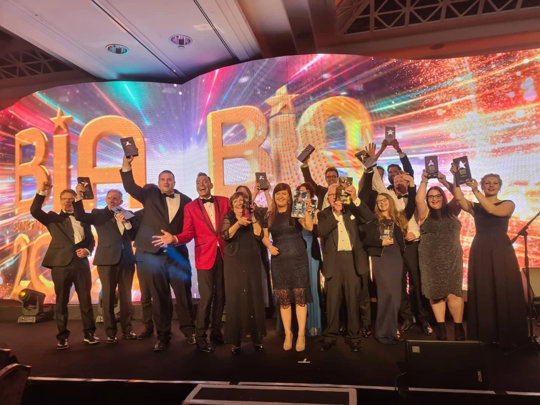 Succession of stars
Will is the latest in a long line of bakery students from University College Birmingham to scoop the BIA Rising Star Award in recent years.
He had already been a finalist last year when the same award was carried off by fellow bakery degree graduate Katie Garrett, a new product technologist with royal cake maker Fiona Cairns and Freeman of the prestigious Worshipful Company of Bakers in London.
Other recent Rising Stars from the University include Megan Roberts, who won the award in 2019, as well as 2017 winner Jessica Dalton.
Jo Lyons, senior lecturer in bakery at University College Birmingham, praised Will on becoming the latest winner of the prize.
"The lecturing team for higher education bakery would like to congratulate Will on winning the Baking Industry Rising Star Award," she said. "This is really well deserved.
"Will has always shown flare and enthusiasm for bakery, not only achieving well in his degree, but also taking advantage of any extracurricular opportunities that came his way. He regularly participated in the Alliance for Bakery Students and Trainees (ABST) competitions and was our first student to take up work experience at the Lom bakery in Norway.
"It is great to see Will continuing to achieve in the baking industry, as well as continuing to support University College Birmingham through delivering guest lectures and offering work experience placements to our students. Once again, well done Will!"
University College Birmingham is renowned for providing specialist vocational training for students looking to enter the baking and culinary industries, with world-class facilities and expert tuition provided on a range of college, undergraduate and postgraduate courses as well as apprenticeships.
Discover our full range of courses within our Birmingham College of Food.
Check out our latest news stories