Why choose this college course?
WORK PLACEMENT – Give your CV a huge boost by gaining real-life industry experience on a work placement
ENRICHMENT – Gain additional sporting qualifications and get involved supporting sporting competitions and events or working in local schools
RECOGNISED QUALIFICATION – Complete this sports college course and receive a recognised Level 2 Diploma, opening the doors to Level 3 study and beyond
There are lots of reasons why we think you should study with us, but here are our top 5. 
View video.
Our facilities
Students on our sports college courses at University College Birmingham have use of our on-campus sports facilities as well as state-of-the-art facilities at Avery Fields, a purpose-built 15-acre site which we share with leading Birmingham rugby club Bournville RFC.
Avery Fields features an all-weather pitch situated alongside two grass pitches and an impressive clubhouse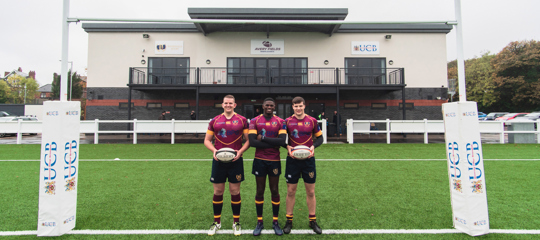 The clubhouse at Avery Fields includes a function room, modern changing facilities and a physiotherapy suite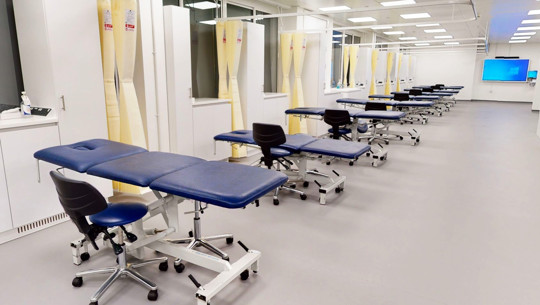 Open to the public, our sports injury clinics at Summer Row give students the opportunity to develop their massage skills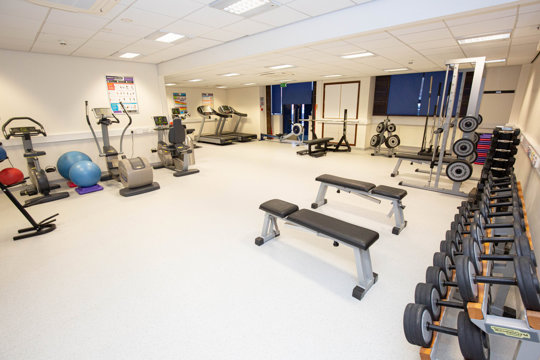 You will have use of the FE gym at Summer Row, dedicated for use by our college students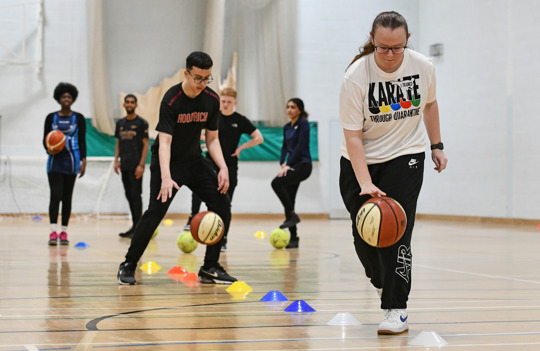 You will also have access to the sports facilities at The Maltings, including the gym and sports hall
Course breakdown
Participating in sport
Anatomy and physiology for exercise
Introduction to healthy exercise and nutrition
Physical fitness and injuries in sport
Developing sporting skills and tactical awareness
Performance analysis for sport
Lifestyle and the sports performer
Plan and set up an enterprising sport business
Strength and conditioning training
Please note: Units/topics of study are subject to change
You will also have an individual study programme to help you build the skills and experience you need to progress onto higher education or gain employment.
Maths and English
To help you secure your dream career, you will also continue developing your maths and English skills alongside your full-time course. If you haven't achieved GCSE grade 4/C in English and maths at age 16, you will continue to study these through resits or taking Functional Skills at an appropriate level.
How maths will support your career
Mathematics is central to an understanding of nutrition and sports formulae
Fractions are needed in calculating BMI
When designing fitness programmes, a sound understanding of basic numbers is needed for working out appropriate repetitions and determining increments in weight training
Measurements are also key in determining and monitoring client heights and weights
How English will support your career
Good quality speaking and listening skills are needed when communicating with colleagues/sponsors
Accurate spelling and a wide and specialist vocabulary are key in the presentation of sports services and products
Customer service requires good English skills in speaking and written communication
Accurate reading is a vital skill when following instructions
Secure English is important when preparing a CV or business proposal, advertising/marketing your business or designing a training plan for a client
Entry requirements
Our lecturers are looking for students who are enthusiastic and passionate about sport, together with a keen determination to succeed in the sector, so please contact Admissions if you do not have the specific requirements outlined below.
If you are unsure if your qualification is equivalent or if you wish to check if you meet the entry requirements for this course, please call 0121 214 2919, email feadmissions@ucb.ac.uk or use our live chat.
4 GCSEs at grade 3 (grade D) including English Language, or equivalent.
If you do not have a grade 4/C or above in English and maths and you are under 19, you will be required to study these subjects alongside your vocational subject. After enrolment you will complete an assessment with our teaching team so we can ensure you receive appropriate English and maths support.
Applicants over 19 are not required to complete maths and English.
Supporting documents required
School applicants will be required to provide a good school report, which must include attendance. This will be assessed in conjunction with your qualifications and application during the confirmation of your place at University College Birmingham.
If you are a school leaver (over 19), you will be required to provide a reference from a previous education provider or employer in support of your application.
Students who achieve Level 2 Sport, Exercise and Fitness and receive approval from the University College Birmingham teaching team will be permitted to progress onto one of our Level 3 sports courses.
Key information
You will be required to prepare work independently and as part of a team. You will be assessed through coursework, assignments, projects, practical observations and presentations, some of which will involve industry-related visits and external assessment.
Our teaching and assessment is underpinned by our Teaching, Learning and Assessment Strategy 2021-2024.
Additional qualifications and training
Our course offers opportunities to gain additional qualifications alongside your studies, such as:
EE Playmaker – Introduction to Coaching
FA Disability Football Introduction
This course requires a uniform and kit costing approximately £50, depending on the items you purchase. (Prices are subject to change each year – exact costs and information on how to order required items will be provided to you prior to enrolment.)
of graduate employers say relevant experience is essential to getting a job with them
Work placements
Work placements offer a wealth of benefits alongside your studies, helping you put your learning into practice, develop your skills and understanding of the workplace, boost your CV for your chosen career or enhance your UCAS application for higher education. Our Hired employability team can help find the ideal placement for you.
Our Sport Level 2 course requires you to undertake 10 days on work placement. Our industry links allow you to benefit from coaching sessions, qualifications and training sessions, as well as opportunities to assist at competitions at the Birmingham School Games, Inclusive Sports Festivals and working in local schools.
Work alongside experts in your sector
A snapshot of some of the employers we have worked with:
Alexander Stadium (Birmingham)
Birmingham Bouldering Centre (Birmingham)
King's Norton Boys' School (Birmingham)
Hampton in Arden Tennis Club (Solihull)
Fairlawns Hotel and Spa (Walsall)
Career opportunities
On completion of the Level 2, you could progress onto our Sport and Exercise Level 3, Sport and Fitness Level 3 or Sports Coaching and Development Level 3 courses, or you could pursue a range of employment opportunities within the industry.
Note: Some roles below may require further study/training. The roles and salaries below are intended as a guide only.
Sports coach (senior, employed by NGBs/professional sports clubs)
Average Salary: £32,500
Fitness instructor
Average Salary: £22,000
Teaching assistant
Average Salary: £23,000
Sports therapist (privately/with a professional team)
£17,000 - £35,000
Hired
We are here to support your career goals every step of the way.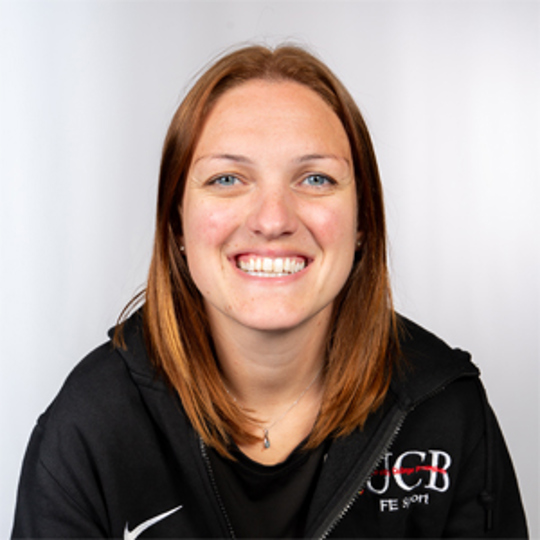 Jennie's Story
Lecturer Jennie is familiar with the wealth of opportunities available for working in the sports industry, having already had a varied career of her own in the sector.