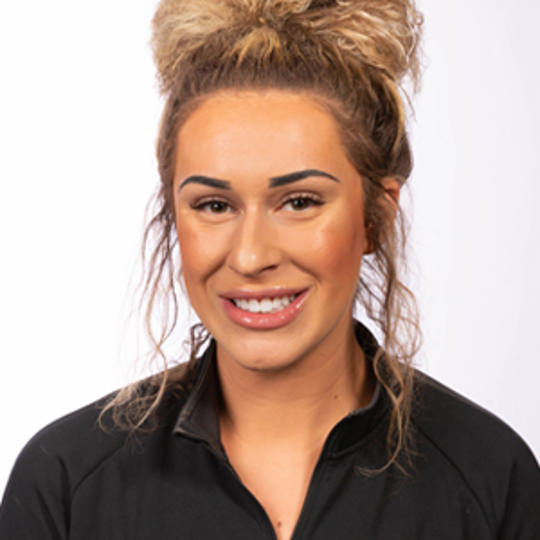 Megan's Profile
Academic qualifications
BSc (Hons) Sport Therapy and Postgraduate Certificate in Learning and Teaching in Vocational Education
Competing both nationally and internationally as a track and field athlete for over 10 years, specialising in the heptathlon and 400m hurdles, I have always had a passion for sport.
This passion made me determined in both my education and career. Following injury and medical setbacks, I took early retirement from high level track and field and completed a BSc degree in Sports Therapy, strengthening my interest in a wide variety of sporting environments. After this, I developed my own sport therapy business, applying techniques from my degree and further CPD to help athletes with injury prevention, sports massage therapy and rehabilitation.
Alongside my business, I became a graduate teaching assistant at UCB on the BSc/FdSc Sport Therapy course, a role I fulfilled while studying for my Postgraduate Certificate in Learning and Teaching in Vocational Education. This enabled me to continue to work alongside a number of specialised lecturers across a range of modules and observe and develop teaching styles and strategies, as well as develop further knowledge of sports therapy.
From this, I became a Fellow of The Higher Education Academy in recognition of attainment against the UK Professional Standards Framework for teaching and learning.
I now teach Level 3 Sport Development, Coaching and Fitness and the Boxing Education (BoxED): Diploma in Sporting Excellence (DiSE) FE courses at UCB, taking on the roles of year one and two tutor and lead tutor. I specialise in modules including Sport and Exercise Massage, Sport Injuries, Principles of Anatomy and Physiology.
The modules I teach arePrinciples of Anatomy and Physiology, Physiology of Fitness, Practical Individual Sports Study, Psychology for Sports Performance, Work Experience in Sport, Outdoor Adventurous Activities, Sports Injuries, Organising Sport Events, Current Issues in Sport, Sports Development, Fitness Testing, Fitness Training Sports Nutrition and Athletes Lifestyle. 
I am a sport therapist at MPD Therapy based at Emporium Gym, Birmingham, support British Athletics and teach first aid courses across the country for Oxford School of Sports Massage.