Welcome to University College Birmingham!

We hope you will agree that you have made a great choice in choosing to study with us. And we want to make sure you get off to a flying start. This college student guide has been put together to give you an insight into University College Birmingham and provides various valuable bits on information that will help you to settle into life as a student with us – and make the most of your experience. It is worth bookmarking this page, so you can easily find it, whenever you need to reference it.
Other documents to bring with you:
Please ensure that you bring the following items with you to Birmingham, if you do not live locally:
An official document to prove your identity and nationality e.g. passport or birth certificate.
If you were not born in the UK or EU, please bring either your passport, biometric residency permit or Home Office letter confirming your residency status in the UK. If your most recent passport does not contain your residency status (which confirms your current leave to remain in the UK) you must also bring the passport which contains this. 
If you are an asylum seeker - please bring your Application Registration Card with you too.
If you receive a government benefit in your own name, please bring a copy of your benefit letter (this must be no more than six months old).
GCSE and/or other qualification results, either the certificates or result slips. Even if your course does not have a GCSE entry requirement, we still need to record your results.

Your ID card
You will be issued with an ID card when you enrol on your course. The card should be kept safe as it will be valid throughout the duration of your course. You will need your card to enter University College Birmingham's campus buildings, to borrow books and other materials from the libraries, to join the Guild of Students, to use University College Birmingham sports facilities, to gain entry to examination rooms, when submitting work for assessment and when collecting certificates.
If you lose your card, you can obtain a replacement from the University College Birmingham Finance Office, on the First Floor of The Link. There is a charge of £5 for a replacement card.

The Guild - your students' union
As soon as you enrol at University College Birmingham, you automatically become a member of the Guild. Run by students (elected every year), for students; the Guild is your students' union and the home of student life at University College Birmingham.
The Guild exist to make sure that you have an amazing experience whilst studying at University College Birmingham. So make use of your Guild membership to enhance your time at University College Birmingham - and make the most of everything we have to offer.
Find out more information on the Guild and what opportunities they have available by visiting their official website.
Discover the Guild

Your award winning support services
From the moment you become a student with us, you will benefit from the outstanding support from teachers, career advisors, and our award-winning student services team, who will be there throughout your student journey.
The College Student Support section of our website contains information on all of the different info, advice, guidance and support services that are available to you, as one of our students (including health and wellbeing support, learning and development support, careers and employment support, disability support, financial support; and more.)
It will also direct you to all the information you need to help make the transition from school to college life, as smooth as possible!
Find out more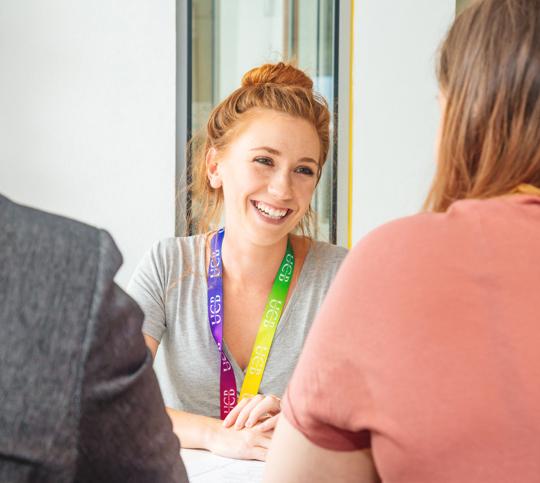 Where to find your support team?
Student Services is based on the Ground Floor of The Link and is the one stop shop for all students - providing information, advice and guidance on non-academic matters – across our range of support services.
There is no need to arrange an appointment, just drop in and speak to a member of the team.

The 'Student Engagement Team'
The Student Engagement Team work to improve communication between students, academic staff, and support services at University College Birmingham.

They help to organise university-wide events, collaborating with various courses and schools to enhance the student experience for all our college students. There is an open-door policy, so any students seeking support or advice can walk in and speak to a member of the team.

The Student Engagement Team can also help direct you towards the right support team, information, or key services; to help address your concerns.
Find out more
Looking for more information?