High-spec tech for all your study needs
As part of our investment into our campuses and facilities at University College Birmingham, we have continued to boost our IT provision with new high-spec computers along with additional quiet study and self-study laptop areas across campus.
Our Portal offers a handy 'Find a PC' feature, providing live information about the availability of computers to help you decide where to log on.
All computers have access to:
Microsoft Office
Internet
Email
Student OneDrive
Student Printing Service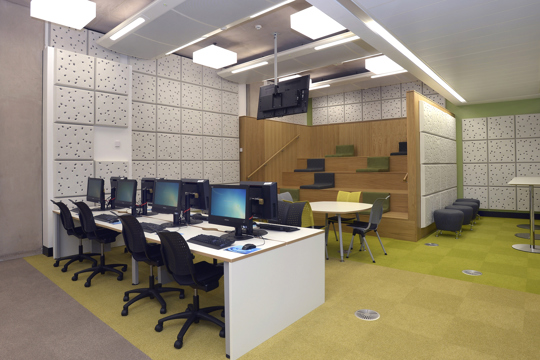 IT Support
Our IT Support Units offer technical help for all students enrolled at University College Birmingham. They can be found on the ground floor of Camden House East, the ground floor at McIntyre House and the Resource Centre at Richmond House.
We can help you with:
Software/hardware faults
Data recovery
File conversion
Virus detection and clearing
Printer faults
Wireless internet access
Internet connection at our student halls
Technology Hub at Camden House
Monday to Thursday – 8am-6pm
Friday – 8am-5pm
We are excited to announce that the IT Support Unit, DICE, Web Developers and AV teams have now joined forces and are all located in the ground floor of Camden House. By bringing the teams together, we are now able to provide an improved and more integrated service all in one central location. 
Students are welcome to drop in or call without an appointment for support, advice or feedback at any time.
Contact numbers
Please call 0121 604 1000, followed by the extension below:
All general enquiries and IT support – ext. 2666
Canvas and e-learning – ext. 2437
AV support – ext. 2244
Web development – ext. 2607
Media and video – ext. 2541
WiFi and internet access – ext. 2661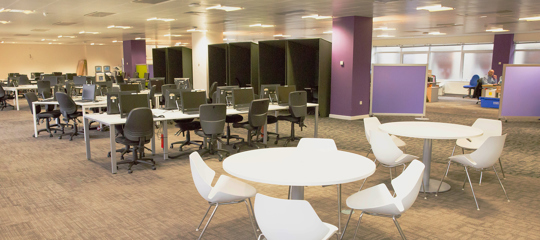 Monday to Thursday – 8am-5.45pm
Friday – 8am-4.45pm
The popular quiet study area previously situated within the library has now been expanded to a much larger and comfortable space with more than 100 PCs, group study areas and dedicated booths for private laptop work. Along with full-colour and black and white printing facilities, this is an ideal study space alongside the full support of the new Technology Hub, all under one roof at Camden House.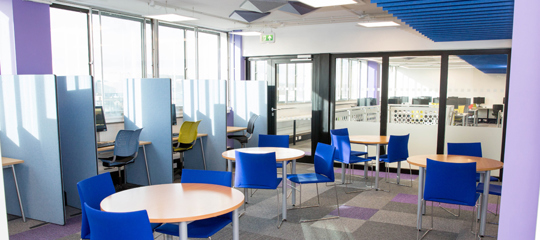 Monday to Friday – 9am-11.45pm 
Saturday – 9am-5pm
Sunday – 12pm-5pm 
Over 90 brand new top-spec computers have been added to the new library and quiet study area on floors 4, 5 and 6 of The Link. In addition, this area includes study spaces, workspace pods and personal laptop study spaces. This fantastic facility gives you the opportunity to work late into the night at times to suit you.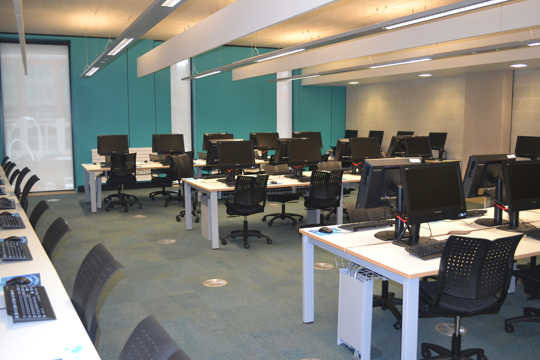 Monday to Friday – 8am-9pm 
Offering computer facilities in ThinkSpace as well as in the Postgraduate Centre, McIntyre House also has laptop loan lockers with 200 PCs and laptops which are available from the ground floor of ThinkSpace, and ideal for study within the many breakout spaces and glazed study pods.
These complement the existing student computers in the following locations:
80 laptops in the Traka lockers on the ground floor
32 PCs in the ground floor Thinkspace
40 dedicated PCs in the Postgraduate Centre
45 PCs available in MH room 232