May 2020
Salon and Business Management Graduate
By Shazia Nasir
Share post:
Shazia Nasir was apprehensive about returning to education, let alone starting university.
The single mum left school more than a decade ago and recalls sitting nervously at the back of a lecture theatre for the introductory session at University College Birmingham.
Shazia says: "All the other students seemed so young and I hadn't been in education since I was 16. I was not very confident, but going into higher education at UCB turned out to be the best thing I have done in my life. It has opened up so many opportunities.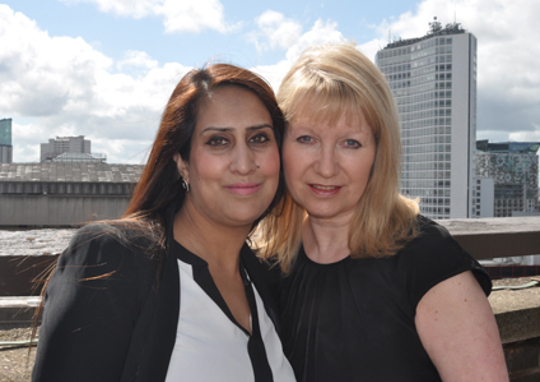 Shazia went on to take a foundation degree in Salon and Business Management between 2008-2010. She says: "I thoroughly enjoyed the practical aspect of this course. Having been out of education for such a long time I was very anxious about returning as a mature student.
However, there was a perfect combination of engaging, creative practical sessions along with interesting scientific theory. Studying a course that was less theory-based made the transition back to education a lot smoother.
Shazia says her relationship with lecturer and year manager Elaine Connolly was a crucial factor in building her confidence and allowing her to balance her responsibilities as a mum with her university studies.
UCB provides an excellent support network to help you get back into the studying routine.Shazia who is now 35 and has a baby son, Faizan as well as Ibrahim and Ariya. 
"The course gave me the resources and the skills to successfully open my own salon. Unlike other health and beauty courses, it covered not only the hairstyling and cutting but more importantly the fundamentals needed to run an efficient and successful business, from building a foundation of clients, managing stocks through to marketing."
Being a single mother, I was highly nervous about how university life would balance with my hectic home life. However, from the first week I started up until the day I graduated the tutors, staff and all my peers were constantly there for me.
My main tutor, Elaine, was not only the most inspirational woman I have met due to her experience and life skills in her profession – she was the most considerate and co-operative teacher I have ever had.
I would highly recommend UCB to anyone who would benefit from a similar support network and as a place where you can truly be yourself and be successful.
Shazia now teaches NVQ Hairdressing Level 2 and 3 as well as running an established hairdressing business. She said: "I have also paired up with a few of my friends who I studied with to provide wedding beauty and hairdressing packages, another busi