May 2020
College of Food and Domestic Arts Graduate
By Andrew Jones
Share post:
A University College Birmingham graduate has returned to Summer Row fifty years on to reveal how his studies helped set him on the way to a remarkable global hospitality career.
Andrew Jones studied at UCB in 1968, completing a City and Guilds 151 catering course at the College of Food – then called the Birmingham College of Food and Domestic Arts (BCFDA).
He then embarked upon a career that has seen him travel the world, from managing large hotels to chairing a major international travel association and even starting up his own sustainable tourism business.
"There are a lot of happy memories from my time as a student here," said Andrew, 68. "I had a lot of respect for the tutors and chefs we had."
From starting as a trainee food and beverage manager at London's Waldorf Hotel, Andrew was offered the opportunity to work at a hotel in Bermuda, where he progressed to running the food and beverage department.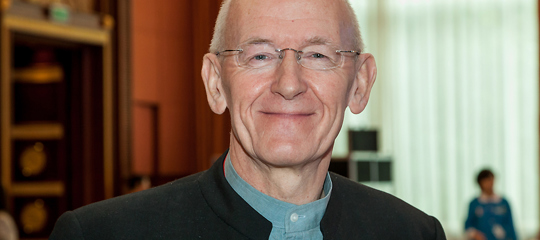 Upon emigrating to Canada, he worked at a number of large hotels in Toronto, Calgary and Vancouver before becoming resident manager of the Kowloon Shangri-La Hotel in Hong Kong, overseeing 720 rooms, eights bars and restaurants and 1,300 staff.
Having operated his own hospitality consultancy in Hong Kong as well as spending time in Korea, Vietnam and Australia, Andrew also served as chairman of the Pacific Asia Travel Association (PATA).
He is now the guardian of Sanctuary Resorts, which he founded in 1996, providing responsible and sustainable tourism experiences with a focus on mind, body and spirit as well as the environment and community development.
Andrew, who is also a fellow of the Institute of Hospitality, which provides accreditation for many of UCB's current hospitality courses – explained how his time at the University helped provide him with the grounding to launch his career.
"It was great basic training," he said. "The combination of theoretical and practical application of food and beverage production and service provided me with an excellent foundation, set of skills and knowledge of management principles for my career in hospitality.
"From good work ethics to interpersonal skills and interaction with guests – we learned a lot."
Andrew was among the students who lined up to meet the Duke of Edinburgh at the official opening of the Summer Row campus in 1968 – and he said the facilities and opportunities available for students at UCB continue to impress more than fifty years on.
"Prince Philip came and did the pulling of the cord," he said. "We were all in a line along the corridor as he walked along, and every now and then he would stop and have a chat to one of us.
"The college was just opening new premises at Summer Row and was known as one of the best industry training facilities in the country," he added. "Of course the facilities at UCB and the courses provided have greatly improved and increased from those days.
Andrew also offered his advice for any current and future students interested in pursuing a career in the hospitality industry.
"I like to encourage students to come into programmes to get involved, enjoy what they're doing and find out what their passion is," he said.
"Look for a career and position that resonates with your interests. Look for something that you know you will enjoy doing for a long time. Pursue your passions and have some fun!"