May 2020
Hospitality and Tourism Management Graduate
By Eren Wirizlay
Share post:
Eren Wirizlay made an unusual piece of aviation history when he became the first male flying butler.
Eren, a Hospitality and Tourism Management graduate, took to the skies in charge of Etihad Airways' airborne three-room apartment, the only one of its type in the world.
"The Residence by Etihad offers distinguished guests a bespoke butler service, tranquil surroundings, boutique furnishings and is only rivalled by private jets," says Eren, who studied a BTEC National Diploma in Hospitality Supervisions at UCB before taking his degree.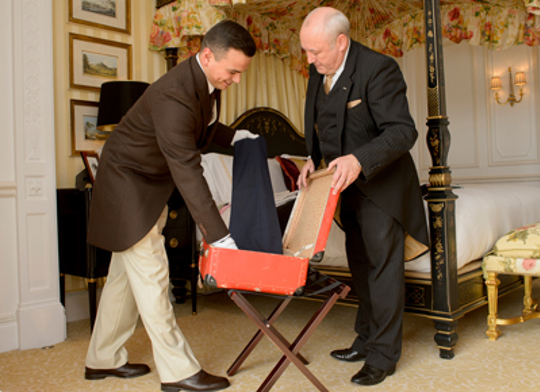 Eren was taught the ins and outs of butler etiquette at the Savoy in London, where he trained under the luxury hotel's head butler and a former Royal butler.
He says: "To be trained, coached and guided by two highly esteemed and influential people in hospitality only aids one's self development, confidence and knowledge."
Eren, from Telford, Shropshire, loved his time studying hospitality and enjoyed two overseas work placements, including the Algarve, Portugal, as part of the Leonardo Da Vinci programme.
Further international industry placements took place during his Hospitality and Tourism Management degree, including the Crowne Plaza at Hilton Head Island, South Carolina, USA.
The marketing modules, in particular, fascinated Eren during his undergraduate studies: "I learnt so much about the macro/micro environment of a business, the theories/models which connect the environments. Marketing for some can be an intense module, as it was for me, but I enjoyed it. I found inspiration, ideas and a new way of working/thinking.
"The marketing modules benefited me the most. Even now when I go to restaurant I always look at the clientele and question how do people know about this place, what are they doing which makes them so busy, are there promotions, lunch/dinner specials? Generally speaking, marketing goes through my head without me even realising it."
Eren has fond memories of his supportive UCB lecturers, who were "like a family to me."
Eren has lots of career highlights including working with Michelin star chef Marcus Wareing and his brother Brian when he was the assistant food and beverage manager at Hotel Latour in Birmingham. "The restaurant menu was inspired by Marcus Wareing. Both him and his brother truly inspired the kitchen team and the front of house staff not just with their presence but through their sheer drive, determination and passion."
Travel now plays a huge part in his life. So why does Eren love his job?
"This question is simple. I recently had four days off. I joined my partner in South Korea via Hong Kong, as the direct flight from Abu Dhabi was full. I had brunch in Abu Dhabi, dinner in Hong Kong, breakfast in Seoul, lunch in Dubai. My life at the moment summed up."
His advice to students, and graduates, is to follow your heart, not your head.
"If you follow your heart, you will never get bored of what you're doing. If your follow your head, a time will come where you doubt yourself. Your heart drives you. If you care deeply, no matter what the risks are, you will always find a solution. Where there's a will, there's a way. You never stop learning."