July 2022
University partners with Birmingham 2022 Commonwealth Games
By Melanie Hall
Share post:
University College Birmingham has been appointed as an Official University of the Birmingham 2022 Commonwealth Games, the biggest sporting event ever to be held in the West Midlands.
The Birmingham 2022 Commonwealth Games will see around 4,500 athletes from 72 nations and territories compete in 19 sports, and eight para sports, across 15 competition venues from 28 July until 8 August 2022. As the biggest sporting event to be held in the UK since London 2012, it is expected to attract more than one million spectators to the city and have a global TV audience of 1.5 billion.
Para sports are fully integrated into the competition programme and, for the first time in Games history, there will be more medal events for women than men.
University College Birmingham, which offers a wide range of highly practical and relevant degrees – many of which are awarded by the University of Warwick – has teamed up with the Games to showcase its industry-led offering and its diverse student population, 56% of whom come from within 30 miles of Birmingham.
The institution in the city's Jewellery Quarter is already right behind the Games, serving as the headquarters for Team Scotland during the event. As the central hub for around 300 Team Scotland athletes, staff and supporters, the University is providing a wealth of opportunities for its students.
"It's a fantastic opportunity for our students to get involved in something truly inspirational"
Sports Therapy degree students will be supporting Team Scotland athletes before and during Games time, while a digital team covering Games events and interviewing athletes will be made up of students from our Business School.
Students on the University's food and front-of-house courses will also play their part, catering for the team, family and friends, while also supporting staff and dignitaries as part of the renowned Birmingham College of Food.
The Maltings, University College Birmingham's halls of residence, will be used by young athletes and coaches from Team Scotland's Achieve programme, giving them critical knowledge of what it is like to compete at the Games.
It is the first time Team Scotland has had a university as its headquarters. A major factor was the University's £144 million investment in its Summer Row, Moss House, McIntyre House and Camden House campus buildings.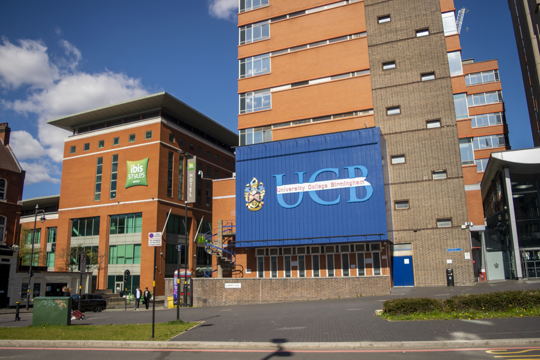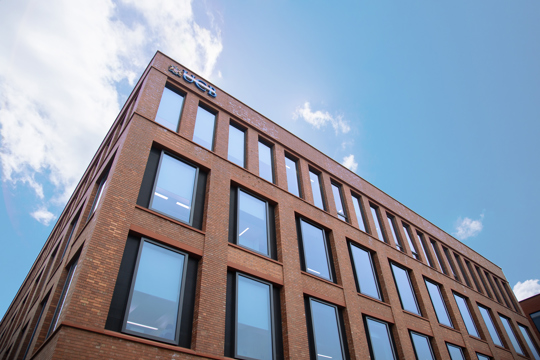 Our Summer Row and Moss House buildings will be used by Team Scotland during the Games
Aside from Team Scotland, a team of 30 specialist hair and make-up, aesthetics and beauty therapy students will be getting athletes ready for the cameras and events, including the opening ceremony, while also providing pampering and wellbeing sessions for all teams at a studio specially built at one of the Games' Athlete Villages.
Because of its central location and spacious areas, Camden House was chosen by the Games to be one of its Uniform and Accreditation Centres, with around 35,000 people expected to come through the doors during Games time.
Camden House will become home to a new sustainable construction and engineering facility with robotics technology and IT suite, ready for the next academic year.
Phil Godwin, Director of Campus Operations for University College Birmingham, said: "The Birmingham 2022 Commonwealth Games are really shaping up to be quite special for Brum and we are going to be playing such a huge part in it.
"It's a fantastic opportunity for our students to get involved in something truly inspirational and demonstrate what we – as an institution with a very unique offering – are doing to boost local talent and close the regional skills gap.
"Through our sponsorship, we have also been able to put four students forward to represent us in the Batonbearer relay in the run-up to the Games.
"The Games also come on the back of us winning University of the Year and the top award for student support at the national Whatuni Student Choice Awards 2022, so an unforgettable and exciting year all round for us and the city."
Matthew Kidson, Director of Sport for Birmingham 2022, said: "It's great to have University College Birmingham on board as an Official University of the Birmingham 2022 Commonwealth Games.
"The University joins us at an exciting time, with less than a week to go until the opening ceremony, their first-class facilities will offer an outstanding experience for Team Scotland, while ensuring students can maximise every opportunity Birmingham 2022 presents."
Katie Sadleir, Chief Executive Officer of the Commonwealth Games Federation, said: "We are delighted to partner with University College Birmingham as they become an Official University of the Birmingham 2022 Commonwealth Games.
"This partnership is the perfect example of a regional leader taking advantage of a 'once in a generation' opportunity in Birmingham and across the West Midlands, while supporting what promises to be an unforgettable edition of the Commonwealth Games this summer."
Check out our latest news stories