December 2021
Regeneration of iconic former print works to create sustainable construction skills centre
By Melanie Hall
Share post:
A sustainable construction skills centre is to be created by University College Birmingham as part of the regeneration of the iconic James Cond print works in Birmingham's Jewellery Quarter.
The new Engineering and Sustainable Construction Centre, set to open next year, will offer state-of-the-art courses and facilities specifically designed to train and upskill learners with skills that support employers and their supply chains.
The refurbishment of the historic art deco building, in the Jewellery Quarter's Conservation Area, will honour the area's heritage while providing the city with future skills, employment and training opportunities.
The regeneration project follows University College Birmingham's refurbishment of Camden House, due for completion in Summer 2022, which will create a bespoke STEM education and training facility.
"This is a fantastic investment by University College Birmingham that I cannot wait to see come to life"
Together, these projects mark the University's significant investment of more than £10 million into Birmingham, driving the regeneration of the city and creating leading facilities that will support industry needs and create jobs to drive economic growth.
University College Birmingham plays a key role in the economic, social and cultural growth of Birmingham, and the refurbishment of the James Cond building will unlock new opportunities and potential for the Jewellery Quarter and wider region by improving access to education and working with partners, locally and nationally, to address key regional challenges.
Central to this commitment is supporting the next generation of learners and helping the long-term unemployed develop the skills and expertise to move into meaningful employment. As part of this, the new centre will specialise in courses that support the region's growth areas, including sustainable construction methods, manufacturing technologies, renewable energy, robotics and cyber and digital skills.
Watch: How our new Engineering and Sustainable Construction Centre will look
University College Birmingham has also formed a new partnership with the University of Warwick, providing a unique opportunity to design progression opportunities for students across the West Midlands to enter the University on technical courses, and progress through to degree and master's level courses at the University of Warwick.
This partnership will also help widen access to education and training opportunities, creating clear pathways to employment for learners at all stages of their education.
Andy Street, Mayor of the West Midlands, said: "This is a fantastic investment by University College Birmingham that I cannot wait to see come to life.
"Not only will it help regenerate and breathe new life into the former iconic James Cond print works, but it will also critically help train people in the skills that employers need, helping residents find good quality, long-term work as part of my 100,000 jobs plan."

A plan of the new Engineering and Sustainable Construction Centre at the James Cond Building
'Catalyst for innovation and growth'
Michael Harkin, Vice-Chancellor and Principal at University College Birmingham, said: "The recent COP26 climate change conference included high emphasis on low carbon sustainable buildings with highly ecological specifications, and there is great need of new talent in this field, with hundreds of thousands of new workers expected to be required in the next few years.
"Our exciting new courses are centred around sustainable construction and design, plus developing advanced skills in engineering and construction, and are very different to those offered by other local providers.
"It is an offering that we will continue to develop from Level 2 and T-levels through to degree courses and apprenticeships, working closely with local employers to fill skills gaps and offer training in priority areas for the West Midlands.
"First and foremost, it is firmly about supporting young people and the long-term unemployed to gain industry-relevant skills and support them into work, further study and to gain critical skills to access high value jobs that meet local and regional needs."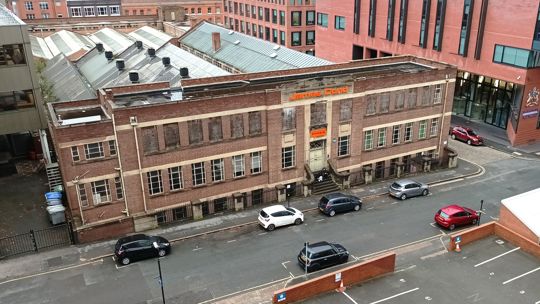 The James Cond Building is situated next to University College Birmingham's McIntyre House and Moss House campus buildings
Stuart Croft, Vice-Chancellor at the University of Warwick, said: "We are incredibly excited about this new partnership between the University of Warwick and University College Birmingham. Our institutions are jointly committed to unlocking talent potential within the West Midlands.
"This new centre will elevate skills, training and employment opportunities for learners of all ages, while also acting as a catalyst for further innovation and growth in the region's key sectors.
"This investment in state-of-the-art facilities and skills development will position the centre and its courses at the forefront of not only skills delivery and growth nationally, but as an exemplar of the inclusive learning pathways that can be developed through close collaboration between higher and further education."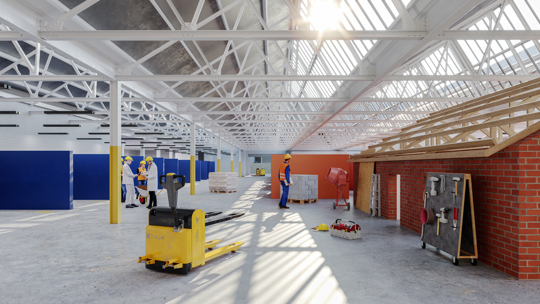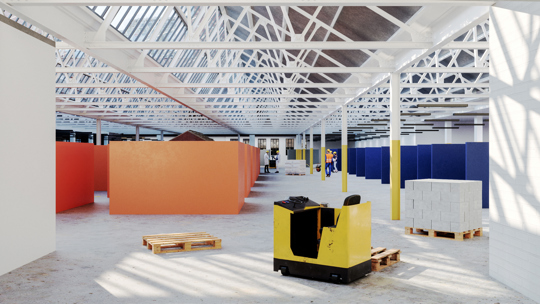 Impressions of what the inside of the new Engineering and Sustainable Construction Centre will look like
Addressing the skills shortage
Colin Hamilton, Strategic Account Director at Tilbury Douglas Construction, said: "Tilbury Douglas is delighted to be working in partnership with University College Birmingham on the development of the new sustainable construction courses.
"As an employer, it is vital that our employees can access robust, fit-for-purpose qualifications that will address the skills shortage and provide our future and existing workforce with the knowledge, skills and behaviours required to demonstrate competency in their roles.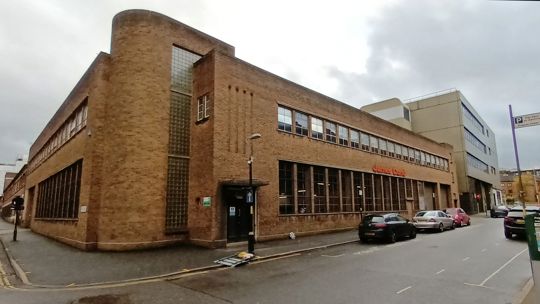 The refurbishment will help meet industry needs while honouring the heritage of the Jewellery Quarter
"We are passionate about recruiting and developing our own talent for the future, while ensuring we remain committed to sustainably delivering vital infrastructure to communities across the UK. This collaboration will help us to achieve this."
The James Cond and Camden House projects are the next phase in a £130 million investment in University College Birmingham's campuses and learning facilities, including the award-winning McIntyre House and Moss House, both opposite the print works.
Find out more about our new range of sustainable construction and engineering courses at University College Birmingham.
Check out our latest news stories